Print on demand sites are sites where printing is done in small quantities based on the order. They allow you to create your designs online, set up a shop or get a link to share on social media and sell without ever owning inventory or managing a shipment. The following are 11 best print on demand sites and you can choose suitable sites according to your demand.
Pod.cjdropshipping is a part of cjdropshipping which is a great dropshipping website with huge warehouses and database of products as well as worldwide shipping. It is one of the best and most popular print on demand site based on traffic and feedback. And it is in combination with dropshipping. Only thing you need to do is to sell online print on demand products. There are wide range of printable products that you can sell, including office, bags, shoes, jewelry, watches, clothing, sports, outdoors, home, toys, phone accessories, etc. You can sell these print on demand products on your own site, such as Shopify, WooCommerce, etc. It provide fastest shipping time by CJ fulfillment and there will be quality checking before shipping them out.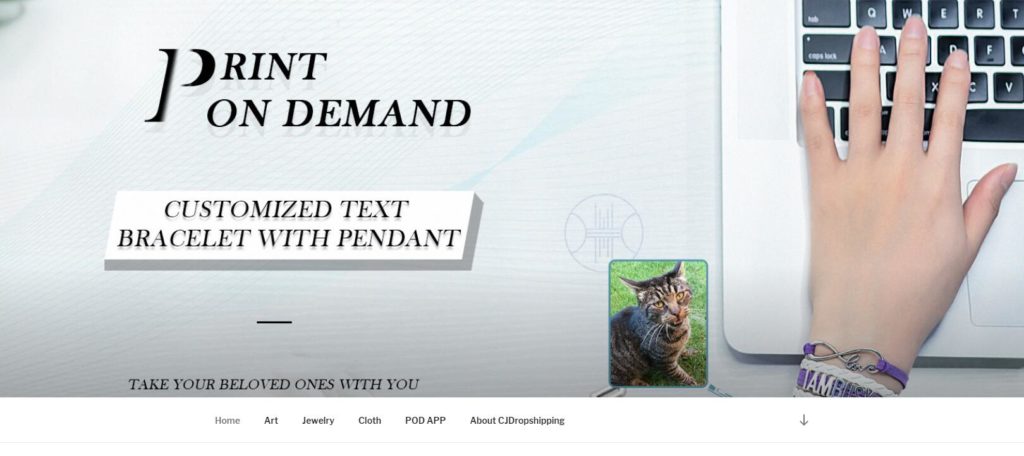 Redbubble is an online marketplace for print-on-demand products based on artwork submitted by a diverse community. It has a substantial online presence and designs are offered in their main marketplace, which means more traffic to your designs. Using quality designs and providing accurate listing details will help your designs appear in Redbubble search, bringing you new customers. Customers can print a wide variety of merchandise like t-shirts, skirts, notebooks, duvet covers, postcards, hoodies, scarves, stickers and more at Redbubble. Redbubble has a global third-party printer and shipper network that can make and send your customers' orders to their doorsteps. It is free to join and it has easy to use interface and a fast upload process.
Teespring is an online marketplace and has a minimum quantity requirement for printing. And you can either choose an existing design on the portal or create one of your own. You can print T-shirts and other apparel, home decoration, mugs and gift items. What's more, T-shirt designs can be browsed by Age, Family, Hobbies, Animals, Locations, Sports, Music, Occasions and alike. When you create a Teespring campaign, you can set the selling price of your products. The more items you sell from a campaign, the cheaper the base cost will be. International shipping can take 10-16 business days once production begins if you are in the US, Canada, or anywhere in Europe. Rush shipping is also available and takes 2-5 business days to reach the US.
Zazzle is another marketplace to list your products on. At Zazzle you can create 1300+ items and then further customize them to make them. One can choose the art of an artist or design something themselves. You can print t-shirts, buttons, tote bags, invitations, mugs, stickers, business cards, kid's clothes, kid's pacifiers and more. And there are tutorials and tips from Zazzle to improve your product. Zazzle handles production, payment processing, shipping, returns, and customer service so you can focus on creating and selling your products. It also offers helpful promotional tools, plus useful tracking reports. With Zazzle, you set up your own royalty rates and you can earn also on referrals. Their minimum payout is $50 and you can get 15% per referral sale and up to 17% if you do volume.
Custom Ink was found in 2000 and has over 100 million custom t-shirts. It is one of the print-on-demand websites for beginners. It has a friendly user interface and a good reputation. And it also allows you to create your own fundraiser which is one of their unique points. Your contributors become like your venture capital backers so you can start your own company and they can get some shirts with your brand. It is the t-shirt printing expert for team, school, company, or any occasion.
If you're an indie designer who specializes in funny and unique art, Teepublic is an excellent option. With Teepublic, you'll have the opportunity to put your designs on mugs, t-shirts, posters, notebooks, and more. After you put your design up on your digital store, Teepublic will do the other things for you. Teepublic will in charge of shipping and printing when customers shop your designs. They also guarantee high-quality products and exceptional customer service.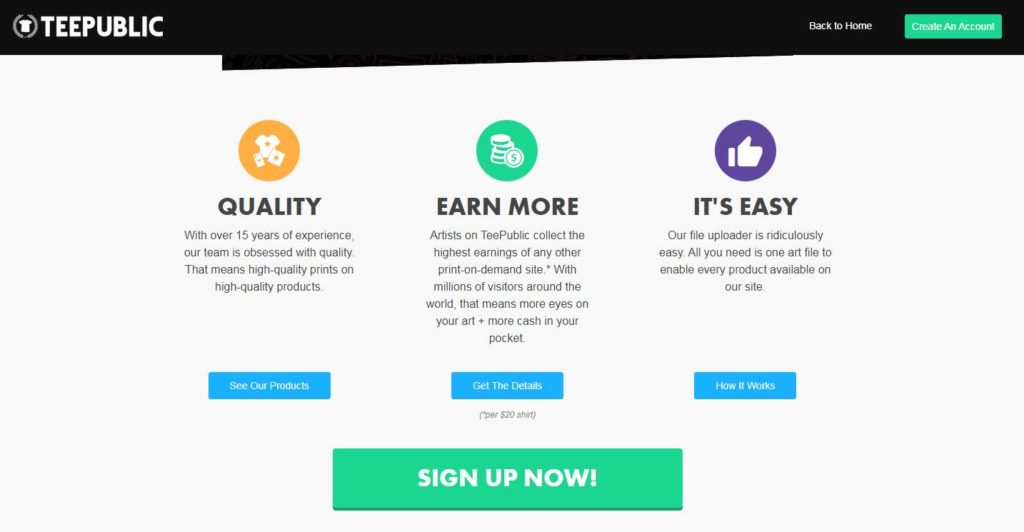 Fine Art America is a platform that is heavy on art and is a place where artists mostly publish their designs in the form of frames and canvas. You won't find shirts or any other type of clothing on Fine Art America. And you can print wall art, home decoration like cushions, shower curtains, bath towels, Tech products like chargers and phone cases and select beach gear at it. You can find higher quality products if you're into home decoration and art.
At Society6, artists across the globe can upload and sell their art. It's a very active community and marketplace where talent and quality can definitely be found. Apart from products like apparel, gifts, furnishings one can also order art prints, framed art prints and stretched canvases. Sometimes, it is difficult to put up art because each item has a different size specification. When you sell on Society6, you still control the rights to your artwork. You set the prices and select which products you are comfortable being made from your designs. With a built-in online store, setting up your digital storefront is quick and painless. The company has easy-to-follow guidelines to make sure your products print in the best resolution and handles all customer service for you.
CafePress has a ton of items to sell and offers good margins and lower base costs thanks to being one of the oldest on the list. It has one of the most extensive assortments of products available to host your designs. They have options to print t-shirts, sweatshirts, mugs, and posters, as you'd expect. But customers can also choose to print their creations on stuffed animals, messenger bags, calendars, and even clocks. CafePress offers international currencies for the USA, Canada, Australia, UK, and the European Union.
Spreadshirt has over 100 unique products for customers to make, buy, and sell their designs on in their marketplace. And it has an easy-to-use interface and a ton of options you can play with as an artist. It claims to have sold over 20 million items already. Some of the products you can sell at Spreadshirt are kid's clothing, water bottles, phone cases, tablet cases, etc. It usually goes for trending items so whatever is new in the market that's making waves might be available fast at Spreadshirt. Spreadshirt allows you to make your designs available through one or two sales channels. The one is that you can publish and sell your designs on Spreadshirt.com to 50,000+ daily visitors. And you earn your design price with each sale. The other is to sell in your own Shop which will make you a Shop Partner eligible to earn Affiliate Commissions.
Printful is the one print-on-demand site that easily integrates with more than 10 e-commerce platforms, such as Shopify, Etsy, Amazon, eBay and more. It has been in business since 2013 and is one of the top players in the POD industry. Having locations in both the USA and Latvia, allows Printful to offer a fast and reliable service to most countries in the world. You can add your design to more than 200 different products. There are different types of clothes, accessories, wall art, phone cases and other stuff like towels, bed accessories, etc. Besides print on demand Printful also offers Warehousing and Fulfillment service alternative to FBA.
Facebook Group Discussion