Market Of Phone Cases
The smartphone has become an integral part of our daily lives. It is predicted that in 2020, 2.8 billion people will have a smartphone. The grow in phones has been tremendous over the past few years and is only expected to increase. Most of the people are using Android phones or iPhones and they desire appealing cases for their mobile devices. And according to a survey conducted by Statista in 2017, 79% of smartphone owners have a case for their phone.
According to the google trend, you can know that the custom phone case is in heat over the past year in the US and have a growing tendency.
And globally, you can know the search popularity by region, and the top market are US, Australia, Singapore, New Zealand, and Malaysia.
Why People Buy Phone Cases
There is a similar survey by NPD found that there are 5 main groups of people who buy phone cases:
Durable protection—these people are looking for a solid, quality case that will protect their phone
Fashion and style—this group of people places the utmost importance on the aesthetics of the case
Practical fashion—this group also cares about the case's aesthetics, but they're more sensitive to cost
Basic protection—this group is the least selective; they want a functional case to protect their phone, but they're not particularly picky
Tech enthusiasts—these people are savvy and generally enthusiastic about all things tech
Phone cases are a popular must-have for many smartphone owners. The motivations for buying cases are vastly different – some people emphasize the practicality and protection, while others are more interested in a case that represents their personal style.
However, many phone cases can be bland and boring. The majority of the youth population opt for a customized phone case. This lets them add their own flair, individuality, and personality to a device that's going to be on show a lot among their peers.
Benefits Of Having A Custom Phone Case Business
You can sell the phone cases online, both on your own website or your own page on Instagram or Facebook. People can order from you and you can give them an option of bank transfer, Paypal or cash on delivery.
Shipping is easy because phone cases are small in size. When you sell phone cases online, you can get low shipping costs and can offer better pricing.
The cost of production of custom phone cases is relatively low. If you work with a phone printing company then the start-up investment will be minimal as well.
Phone cases are super easy to source. And you can use dropshipping suppliers to find low-cost phone cases. There are many great print-on-demand dropshipping suppliers, such as Pod.cjdropshipping, Printful, etc.
There is always a new phone model in the industry. It gives you the opportunity to cater to people's phone cases needs. You can sell custom iPhone case or custom Samsung cases because they are so much in demand and there is always a new model coming to the market.
Use print-on-demand services is a easy and convenient way to make and sell custom designs. You can make and choose your own designs or offer this level of customisation to your clients. Great for working with local sports clubs, fan clubs or promoting a local business.
Most of the mobile phone users buy a new phone case every two years. So, it can be an excellent opportunity for you to get repeat customers.
Product Attributes
Picture custom: Any picture is ok. The couple phone case is a big direction.
Writing custom: The best way to show your personality.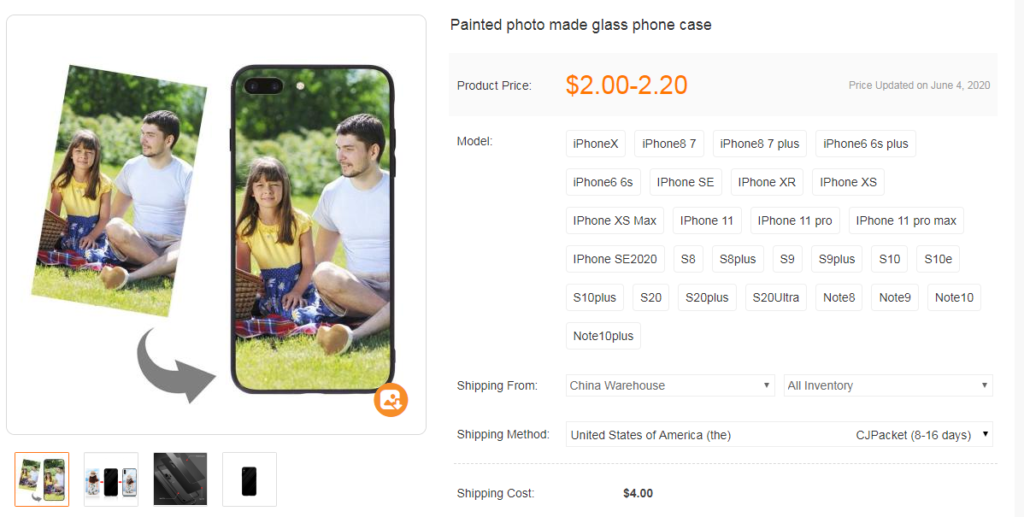 Facebook Group Discussion