CJdropshipping is one of the largest dropshipping platforms in China, our partnership programs are committed to your success by recommending your service to our worldwide audience.
Cooperation flowchart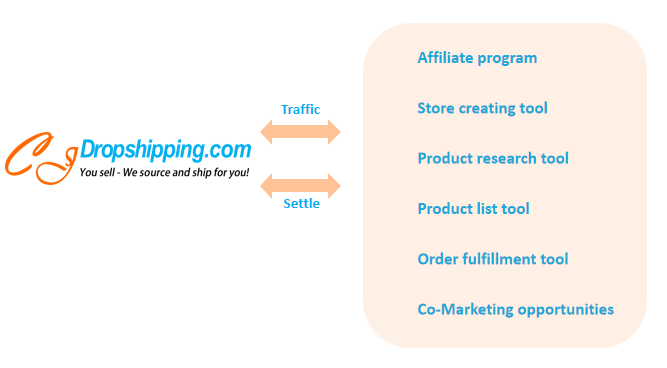 Why cooperate with us?
Over 200K registered dropshippers
Profitable Affiliate program – easy to start
One of the largest dropshipping company in China
Best shipping method created by our own – CJpacket
Integrated with shopify,woocommerce,amazon,lazada,shopee,as well as API
How can we cooperate together?
CJ has been working hard for 5 years in dropshipping industry and making lots of effort to help sellers to live out their dreams. We profoundly realize that a great business can not go far without great partners,that's why we are keep open attitude to develop various kinds of collaboration forms, the following are some cooperation models you can get started.
Affiliate program
We offer you four affiliate models to choose from,default model, private product model,single product model and original model.The default model is the easiest way and needs very few attention to it, just create your CJdropshipping affiliate link in seconds and start sharing it, you will get 2% commission of the order amount,shipping cost also included. For the rest 3 models, you can change the domain into yours but still use our web,the most important part is you can add your revenue space on it. Add the contact below to learn more.
Dropshipping related adds-on service platform/APP
1.Are you store building service provider

The first step to start dropshipping business is creating a store, dropshipper may have many choices such as Shopify, Woocommerce, Wix and so on. CJ as an all-in-one dropshipping service provider is seamlessly integrated with some of the main store creating platforms. We share the same targeted audiences, they need you and us! So let's advertise for each other!
2. Product research service provider wanted
What product to sell?This question haunts most of our dropshippers, we all know that product researching requires some market analysis skills and it is also time wasted. So dropshippers need professional product researching tools desperately to tell them which niche to pick and what products to sell. You got the product researching,we got the rest. If you are offering the very service, Bravo,contact us for a win-win business relationship!
3. Product listing service provider wanted
Push the would be winning products from suppliers into online store is also very important for dropshippers. We all know how frustrating download pictures from Aliexpress and upload them to the store can be. Your service helps complete listing just one click, they undoubtedly need it, CJ can recommend your helpful tool to our customers. So contact us and get down to boom our businesses.
4. Tools for order fulfilling and shipping also wanted
As you know CJ has over 200k items on the platform,we are a reliable supplier. There is no doubt that order fulfillment shipping tools are crucial for dropshipping business,we know how the important role it plays in the whole process. we would like to cooperate with such partners to boost both parties' website traffic and monetize your traffic.
Co-Marketing Opportunities
Of course, our cooperation is not only limited to the above models , we also have been seeking diverse collaboration forms with Facebook group,YouTube,guest blog and other methods. we have worked together with many YouTubers on video and we often post high quality blogs for our partners, and they do the same to us, which got satisfying results for both parties. You are very welcome to contact us if you want to develop a fruitful and joyful cooperation.
Contact us for a possible partnership
Park Huang  park@cjdropshipping.co