In 2023, Artificial Intelligence (AI) is evolving at a speed faster than anyone can imagine. Many online sellers regard the evolution of AI technology as an opportunity to improve their business operations. Among various approaches for using AI in dropshipping industry, using ChatGPT for dropshipping is the most popular strategy.
With the support of ChatGPT, repetitive tasks like product research, supplier evaluation, and marketing content generation will be way more efficient than in the past. And you can take your dropshipping business to the next level speeding up the whole process.
Still, there are also many dropshippers not know what ChatGPT can do for their business. Therefore, this article will go over the topic of how to use ChatGPT to scale your dropshipping business and boost your sales. Now let's get started!
What Is ChatGPT?
ChatGPT is a large language model trained by OpenAI. It can understand natural language and generate understandable responses. Its role in dropshipping is to help you make more informed decisions so that you can run a successful online store with ease.
In the following sections, we'll go over how to dropship with ChatGPT step by step, so you can try to use the same method to apply ChatGPT to your business plan.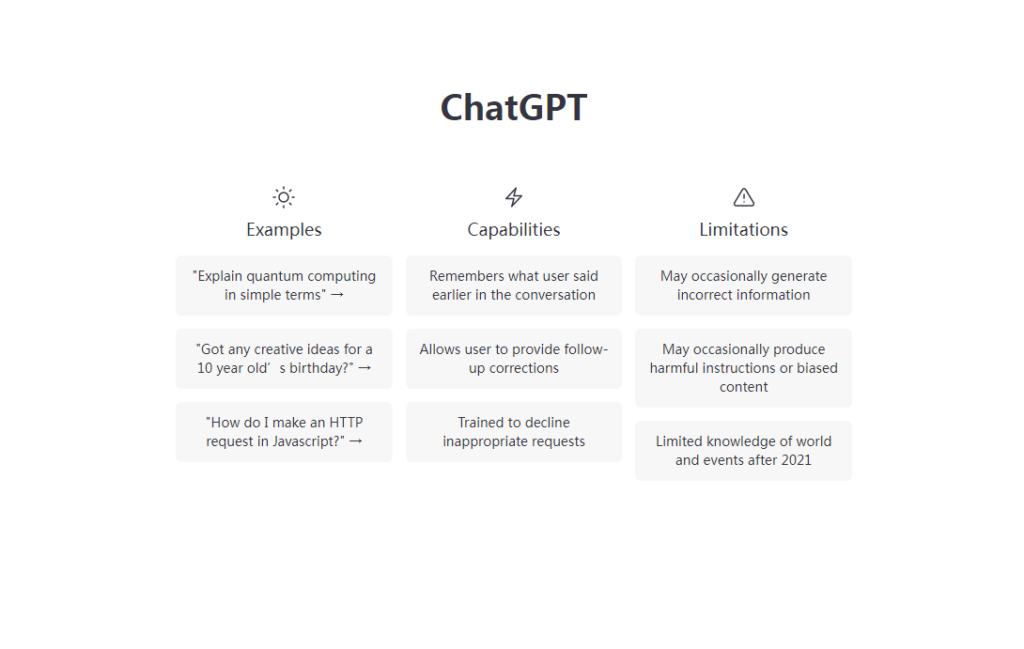 How To Use AI To Optimize Your Dropshipping Business
Start Your Business With ChatGPT
The powerful language database of ChatGPT can provide you with countless ideas in the beginning stage of your business. If you ever find it difficult to do tasks like selecting a business name or designing your online store, ChatGPT will come in handy for you.
Create Store Names
Choosing a catchy store name is an essential step in starting a dropshipping business. When customers browse online, Your store name will serve as the first impression of your business. So you need to think carefully when choosing the proper name for your brand.
However, coming up with a good name sometimes can be hard even for experienced dropshippers. Thus, if you want to quickly get more name ideas, just use ChatGPT to generate some creative business names for your brand.
For example, you can ask ChatGPT to provide 10 creative business names for personalized jewelry stores. Then it will automatically generate a list of creative names for you to choose from. If you want to get more name ideas, you can also ask ChatGPT to regenerate a new list. In this way, you will save plenty of time at the beginning of the business.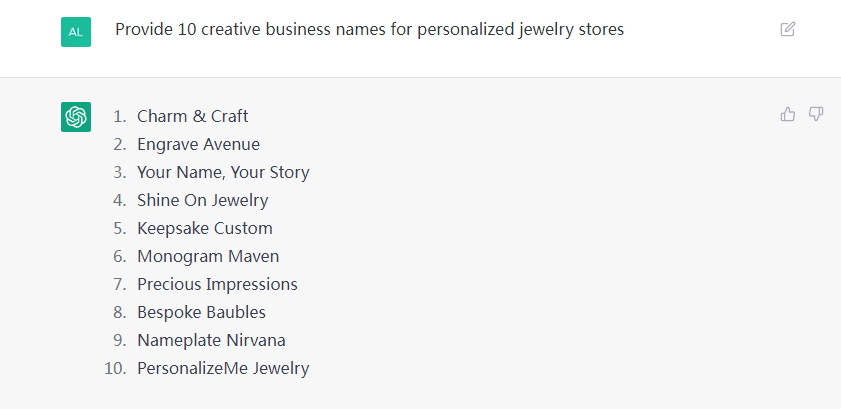 Design the Website
Once you've chosen a business name, it's time to design your website. The storefront page is where customers will go to browse and buy your products. So the user interface should be visually appealing and easy to navigate to attract customers. Therefore, you can use ChatGPT to get some useful design ideas for your website.
Let's say you want to build a storefront for a jewelry store called "Shine On Jewelry", then you can ask ChatGPT to provide design ideas for this store. In a few seconds, ChatGPT will generate some suggestions for your store. With this feature, you can make an astonishing storefront even if you are not a professional designer.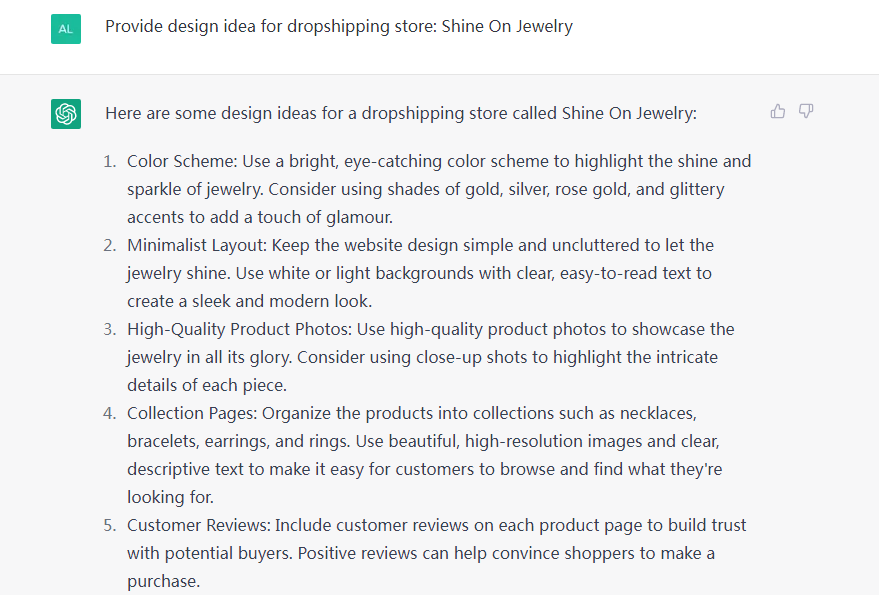 Use ChatGPT in Marketing
Marketing is crucial for any business, and dropshipping is no exception. To successfully market your products and attract more customers, you'll need to use various methods. And most marketing methods such as search engine optimization (SEO) need you to produce a lot of marketing content.
Generate Product Descriptions
In the past, you may need to edit product descriptions one by one for your store. But now you can use AI as a free copywriting tool to do the same thing in a more cost-effective way.
For example, if you want to sell jewelry products, you can use ChatGPT to generate jewelry product descriptions or ad copies in a flash of light. Therefore, you don't need to write product descriptions again and again for each product. Just use the free copywriting content generated by ChatGPT.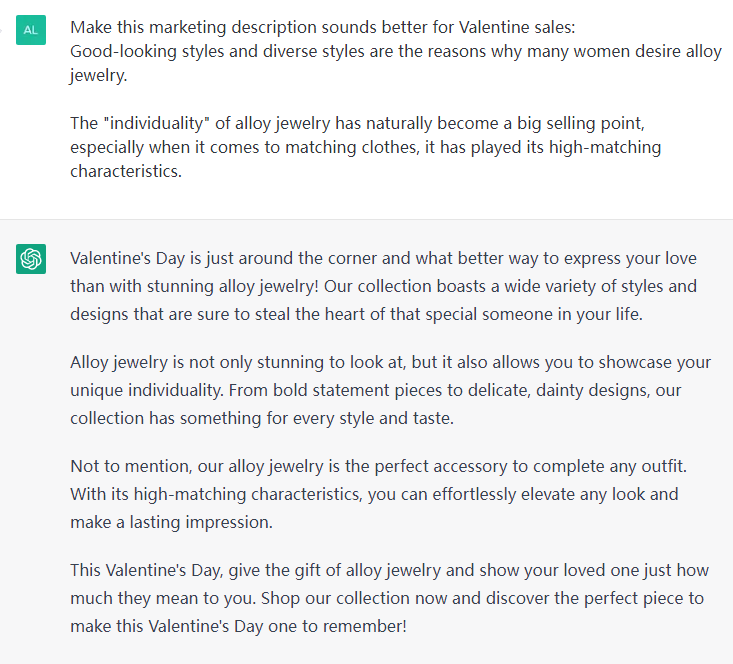 Write Posts and Blogs
When it comes to marketing your dropshipping business, creating engaging marketing posts and blogs is crucial. These contents can help you attract more potential customers. Also, your customers can get valuable information about your products and services from these contents.
However, coming up with fresh and relevant ideas for marketing content sometimes can be challenging. That's where ChatGPT comes in handy.
ChatGPT can be a valuable tool for generating ideas and content for your marketing posts and blogs. However, it's important to remember that AI-generated content should always be reviewed and edited by a human to ensure accuracy and relevance.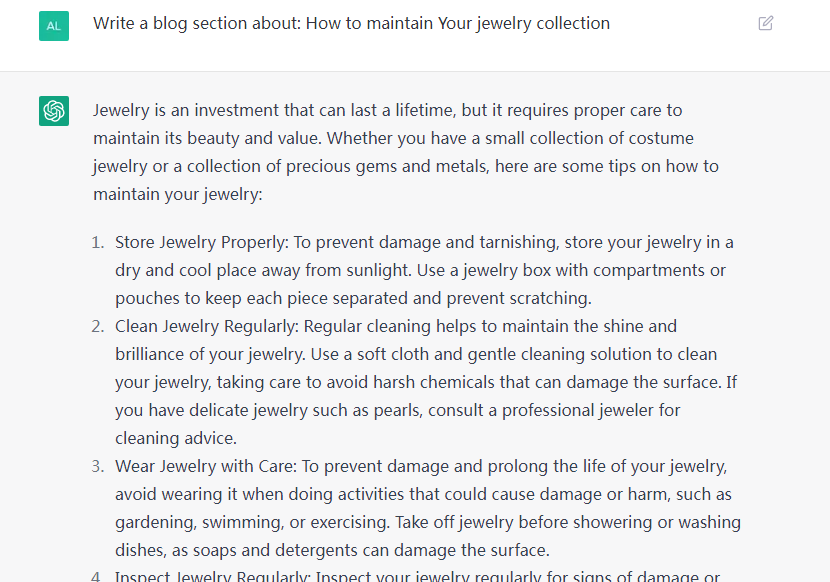 Improve Business Efficiency With ChatGPT
Managing a dropshipping business usually requires attention to several different aspects of the business. But as a business owner, you can't invest all your time and budget in some repetitive tasks. So finding solutions to improve business operation efficiency is necessary for you to scale the business.
Improve Customer Service Efficiency
As a business owner, responding to customer inquiries and complaints can be a daunting task, especially if you receive a high volume of requests. To provide your customers with the best shopping experience and maintain a positive reputation, you'll need to answer all customer inquiries.
Normally, you can either answer the customers on your own or hire some staff to do it. But now you use ChatGPT to generate replies and write emails efficiently for you. Just enter the customer's question and some basic information, and ChatGPT will generate a proper and relevant answer to the question in a few seconds.
Since ChatGPT is an AI-powered language model that can generate responses to various prompts and questions. It has been trained on a vast amount of data, allowing it to provide accurate and relevant responses to customer inquiries. So it can answer most frequently asked questions naturally like human customer service.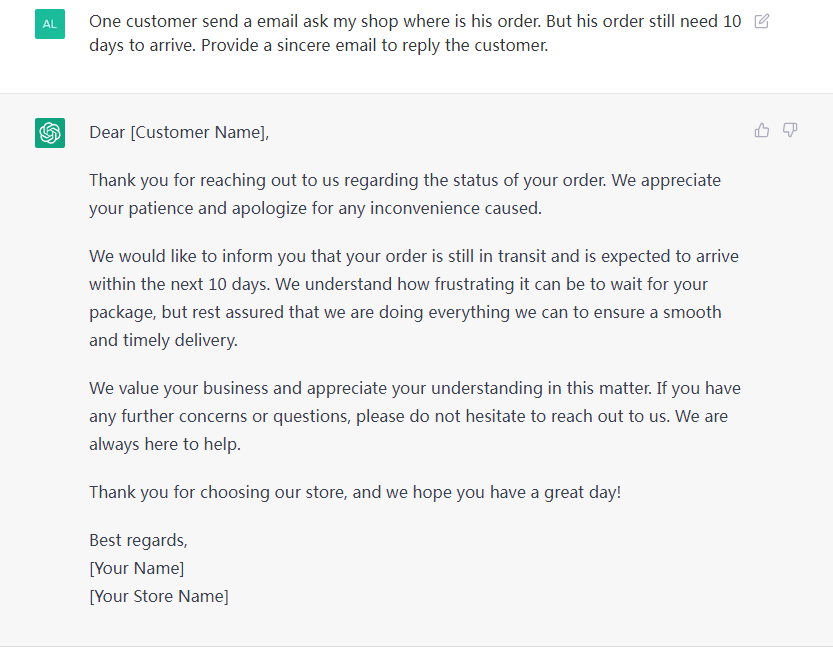 Write Store Codes
Another incredible thing ChatGPT can do for you is to generate system codes. These codes can help you customize your store sections or blocks, making your store interface more creative and interactive.
For example, you can ask ChatGPT to write a sticky "Add to Cart" code for your Shopify store. Then ChatGPT will write an example code for you. In the past, you may need to install extra applications or extensions to have to customize your store. But with the support of AI, store customization would be more convenient.
However, using ChatGPT in this way requires you to have basic knowledge of code editing. So if you are not familiar with code writing, consulting experts to help you build the store would be a better option.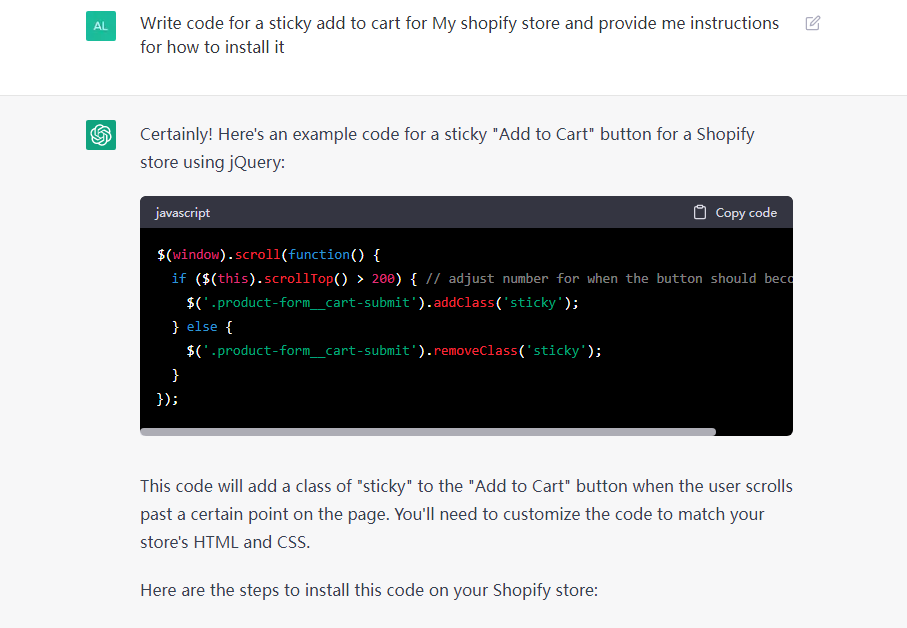 Conclusion
By using ChatGPT, you can start a dropshipping business in a more cost-effective way. The speed advantage of ChatGPT can help you save more time in marketing and managing business.
However, you should also notice that ChatGPT is not an almighty AI that helps you do everything. ChatGPT is just a language model that serves as an effective tool to optimize your business operation, it can't make decisions for you or tells real-time information.
Therefore, you can use ChatGPT as an AI assistant to attract more customers and increase sales for your business. But AI still can't replace human staff completely. So if we want to achieve a complete AI dropshipping business model, we still got a long way ahead.