TikTok's popularity has skyrocketed in recent years, making business owners realize the huge marketing potential of this social platform. For many dropshipping beginners, the rise of TikTok is also a great opportunity to start their own business. However, dropshipping on TikTok is a new concept for many entrepreneurs and many people do not know how to actually start earning from it.
Therefore, this article will provide a comprehensive guide for people who are interested in starting a dropshipping business on the TikTok platform. Now, let's dive straight into it.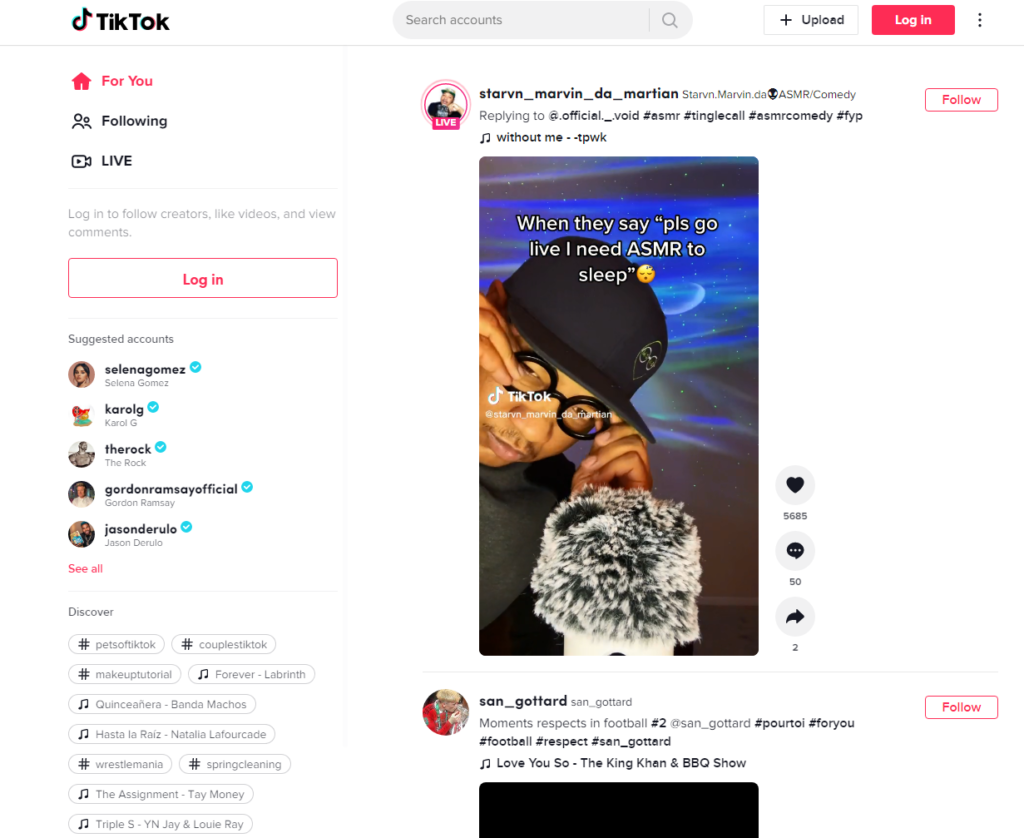 What Is TikTok Dropshipping?
Curious about all the fuss surrounding TikTok? The popular social video app made its debut in 2016 and has since amassed about 80 million users in the United States alone. With such a wide market reach, it's no surprise that TikTok has become a promising platform for dropshipping.
As a low-risk, high-reward business model, dropshipping allows us to offer in-demand products while enjoying a significant global audience. And when it comes to scaling dropshipping success, TikTok marketing is now one of the most effective ways.
By leveraging TikTok's global audience, you can offer in-demand items and scale your success to new heights. If you're looking to take your dropshipping business to the next level, TikTok is the latest and greatest way to do so.
The success of marketing on TikTok depends on a variety of factors, including the nature of your product, your business type, your understanding of your target audience, and your ability to tailor your approach to the platform.
So it's worth noting that TikTok boasts a massive user base. According to Statista, half of TikTok users are aged 18 to 29, which may not be the most lucrative demographic for some businesses. As such, it may not be advisable to advertise high-priced products on the platform.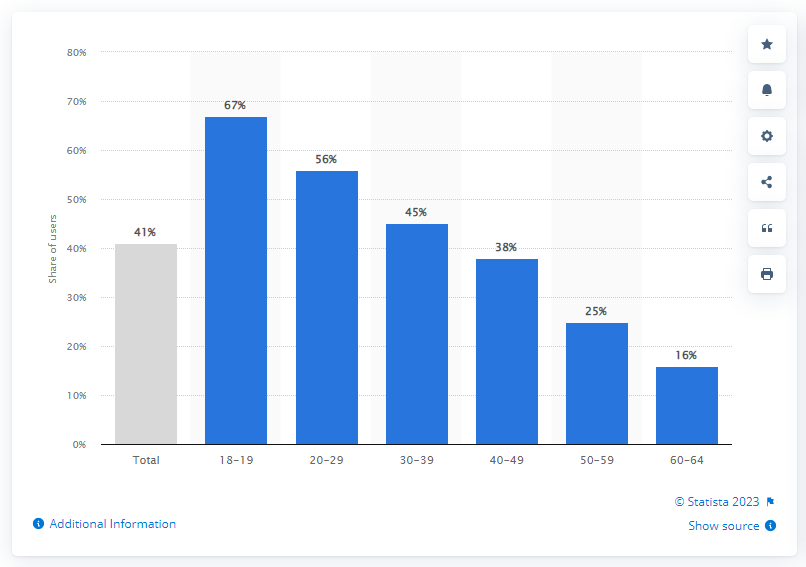 Should You Start Dropshipping on TikTok?
"Should I do dropshipping with TikTok or Facebook?" Honestly, this is a tough question to answer, as the best platform for your business always depends on your unique circumstances. While some businesses may find success on Facebook and Instagram, others may thrive on TikTok.
Think of it as a small trial run. The potential downside is minimal if you don't succeed, but the rewards could be enormous if you do. So why not take the plunge and see what TikTok can do for your dropshipping business?
The Advantages of Dropshipping on TikTok
Dropshipping on TikTok have a range of benefits for savvy entrepreneurs. Firstly, TikTok platforms allow us to quickly test the market by tapping into current trends and customer preferences.
With millions of active users, TikTok offers a unique opportunity to increase brand awareness and expand our reach to new audiences.
Additionally, the platform makes it easy to connect with customers through direct messaging and commenting features, fostering meaningful relationships with our audience.
The Disadvantages of TikTok Dropshipping
Yet, there are also some drawbacks of TikTok dropshipping. First off, keep in mind that TikTok is a mobile-only platform, meaning you won't be able to target desktop users. If you want to reach both mobile and desktop users, Facebook Ads might be a better option.
Another thing to be aware of is that it's not uncommon for ads to get disapproved on TikTok. The platform has been known to censor videos or disapprove ads quickly without much explanation. If you run into this issue, customer service may not be the most helpful, so be prepared to troubleshoot on your own.
Lastly, while TikTok's audience can be a con depending on your business and product, we don't necessarily see it as a con when it comes to TikTok Ads. With TikTok Ads, you have more control over who you're targeting, so it's worth considering for your advertising strategy.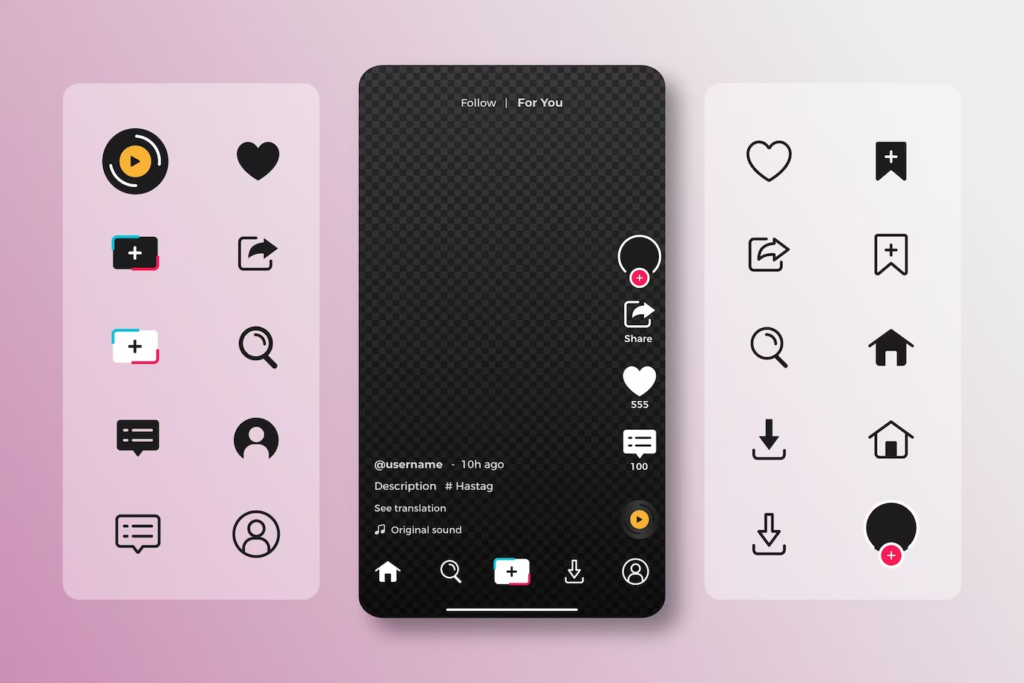 Tiktok Marketing Strategies
When it comes to advertising products on TikTok, there are a few key methods to consider. While these approaches may bear some resemblance to other marketing tactics you're familiar with – such as Facebook Ads or Instagram influencers – they each come with unique considerations.
To make the most of these common marketing strategies and boost the visibility of your TikTok dropshipping business, here are a few key tips to keep in mind:
Host Livestreams
TikTok's algorithm is unpredictable, so hosting consistent live streams can help capture the attention of the audience. Plan an engaging and entertaining live stream to keep viewers interested.
Influencer Marketing
Influencer marketing is one of the most effective ways to promote your dropshipping business. If the influencer has a huge fan base and a lot of followers.
They can help you promote your products and get instant traffic by producing quality content. It might even be better than running an ad campaign. Moreover, influencers know how to grab the attention of the audience and help you make your brand more recognizable.
Giveaways & Contests
Giveaways & contests are an evergreen method to capture the attention of the masses, I mean…Who doesn't like free stuff?! Combine exciting giveaways with hashtag challenges and you have a recipe for going viral.
Your TikTok giveaway entry guidelines should be kept simple. Discuss the rules in your TikTok video and briefly address them in the video captions.
Typically, a contest may request that people follow you, use your hashtag, comment on your video, tag someone, or a duet or stitch your video. You will also need an entry deadline with the end time and time zone.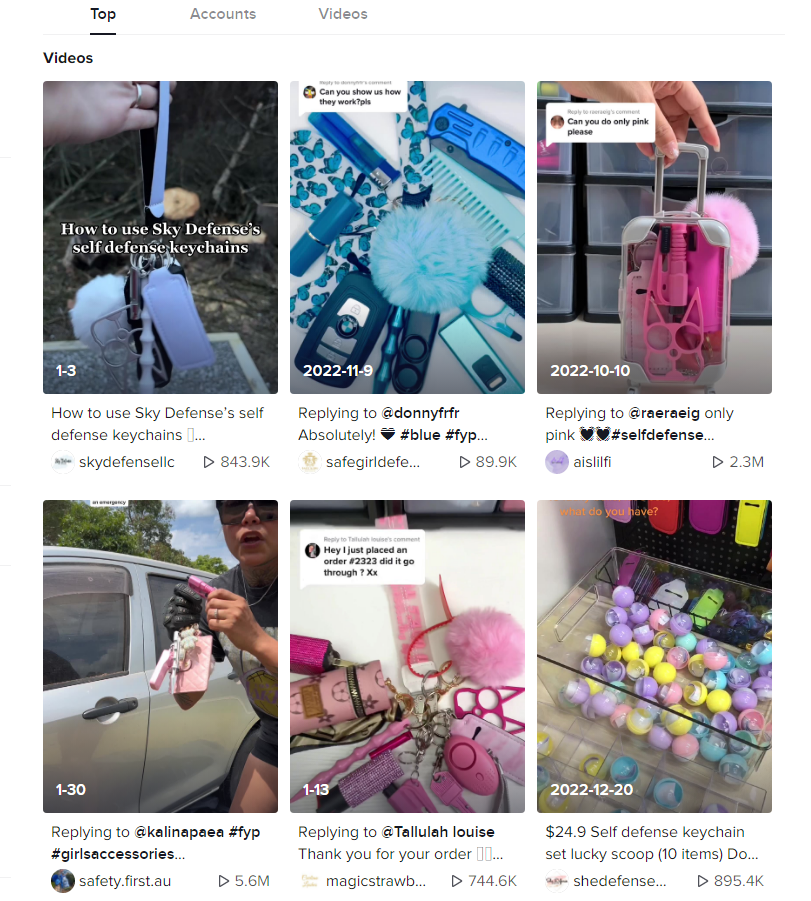 Setting Up Your Dropshipping Store
TikTok is a great marketing platform where you can post various content to attract potential customers. However, as a social media, your customers can't directly buy things on TikTok. So if you want to do dropshipping on TikTok, you still need to open an online store and redirect customers from TikTok to your store.
Among various dropshipping platforms, you can choose the one you prefer to start setting up your own dropshipping store. And before you make your decision, you should also check if the platform support TikTok integration.
After you set up your dropshipping store, you can access Store Manager through TikTok For Business interface to manage your store interface and product lists.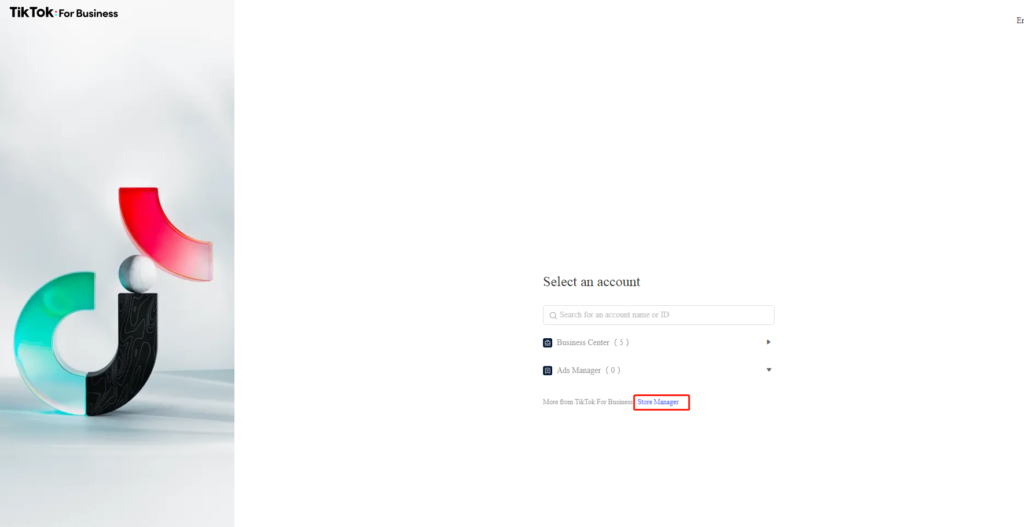 TikTok Shopify Store
Shopify's integration with various marketplaces makes it easy for sellers to connect their platform with their online store. With its popularity, Shopify dropshipping has the potential to bring high-quality traffic.
However, for beginners, it may be difficult to jump right into the Shopify platform without experience and investment. A successful Shopify store requires investing in paid advertising on Google and a good SEO strategy to rank in search results.
But integrating Shopify with TikTok is a game-changer. TikTok's ability to engage with millions of active users daily makes it a promising platform to target your audience and provide them with great products using dynamic content. As a dropshipper, creating convenient ad campaigns on TikTok becomes easier.
Shopify enables an in-app shopping experience, allowing sellers to place their products on the platform's discovery feed, boosting TikTok commerce's reach.
Moreover, Shopify and TikTok partnered up to bring product links to Shopify merchants. This enables sellers to tag products in organic TikTok posts and allows the community to shop directly from the seller's storefront or click on a tagged product in a TikTok short video, taking the user directly to the seller's online store for checkout.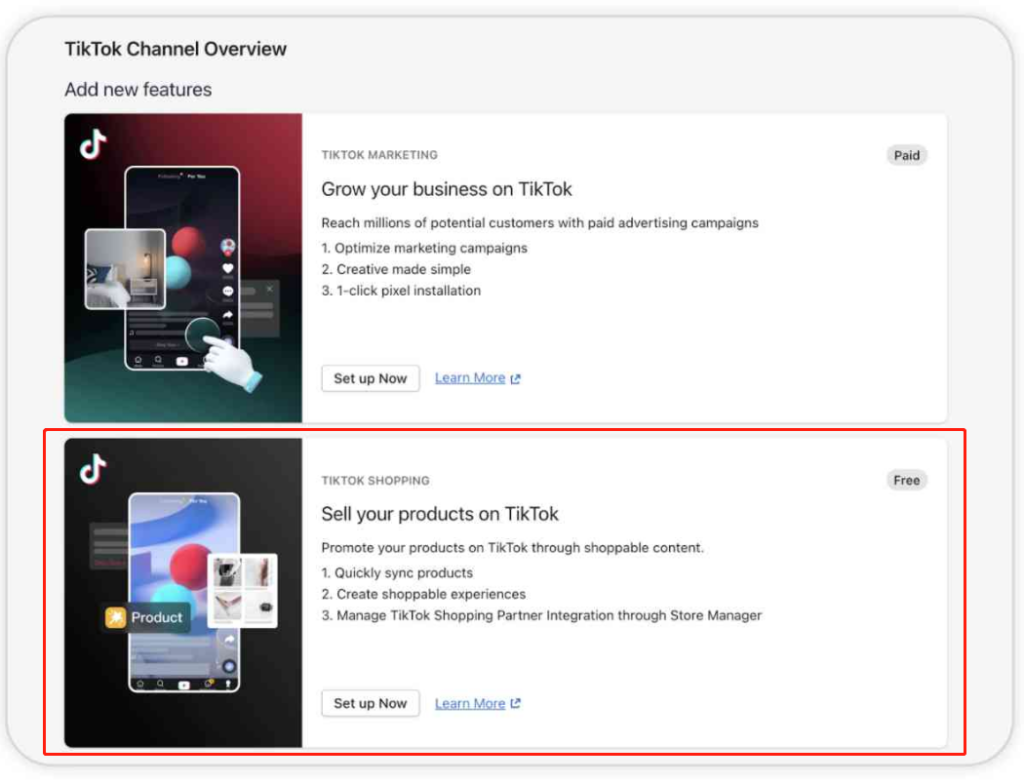 TikTok WED2C Store
WED2C is one of these eCommerce platforms that you can use to start a business on TikTik. It integrates the functions of product supply, shipping, and marketing, and also allows you to open your own store with a simple process.
Once you registered your own store on the platform, you can send any product link from WED2C to your customers. Every time your customers purchase a product through your store URL or product link, you will get a profit after the platform deducted the product price and shipping cost.
Unlike Shopify, using WED2C does not require you to pay monthly fees for maintaining the store. You only need to complete a simple registration process and set up the prices for your store before selling. Therefore, WED2C is a great platform for dropshippers who want to start a dropshipping business with 0 costs.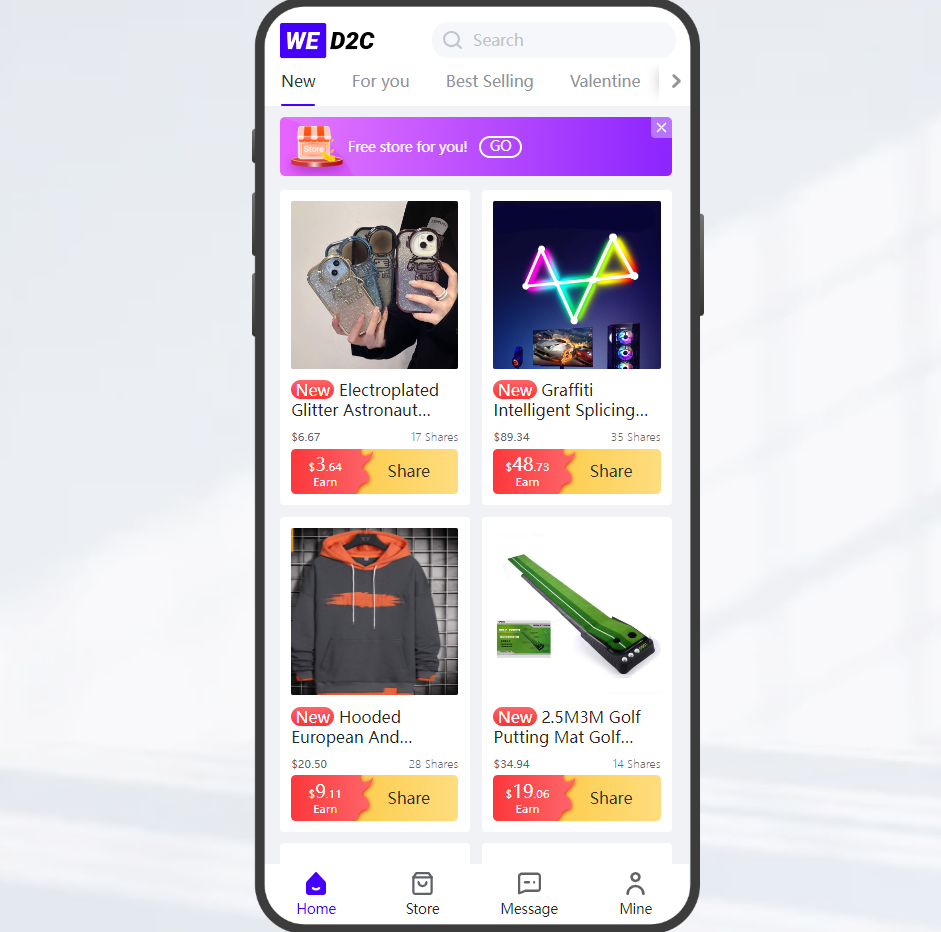 Find Your Dropshipping Suppliers
While TikTok offers a great platform for advertising and promoting your dropshipping business, it does not currently offer order processing and shipping services like other popular marketplaces such as Amazon and Walmart.
Therefore, it is important to find a reliable supplier who can provide support for product sourcing, order processing, and worldwide shipping to effectively scale your business. To assist with this, we have compiled a list of the best dropshipping platforms that can help you with these services:
Dropshipping on TikTok with CJdropshipping
CJdropshipping is an exceptional dropshipping platform that operates globally with warehouses scattered across different regions. The platform is loaded with a wide range of top-notch services that make life easy for sellers.
These services include product sourcing, order fulfillment, warehousing, packaging, and parcel shipping. With CJ Dropshipping integrated into your Shopify account, you can import and manage your inventory with ease, ensuring a seamless and hassle-free experience.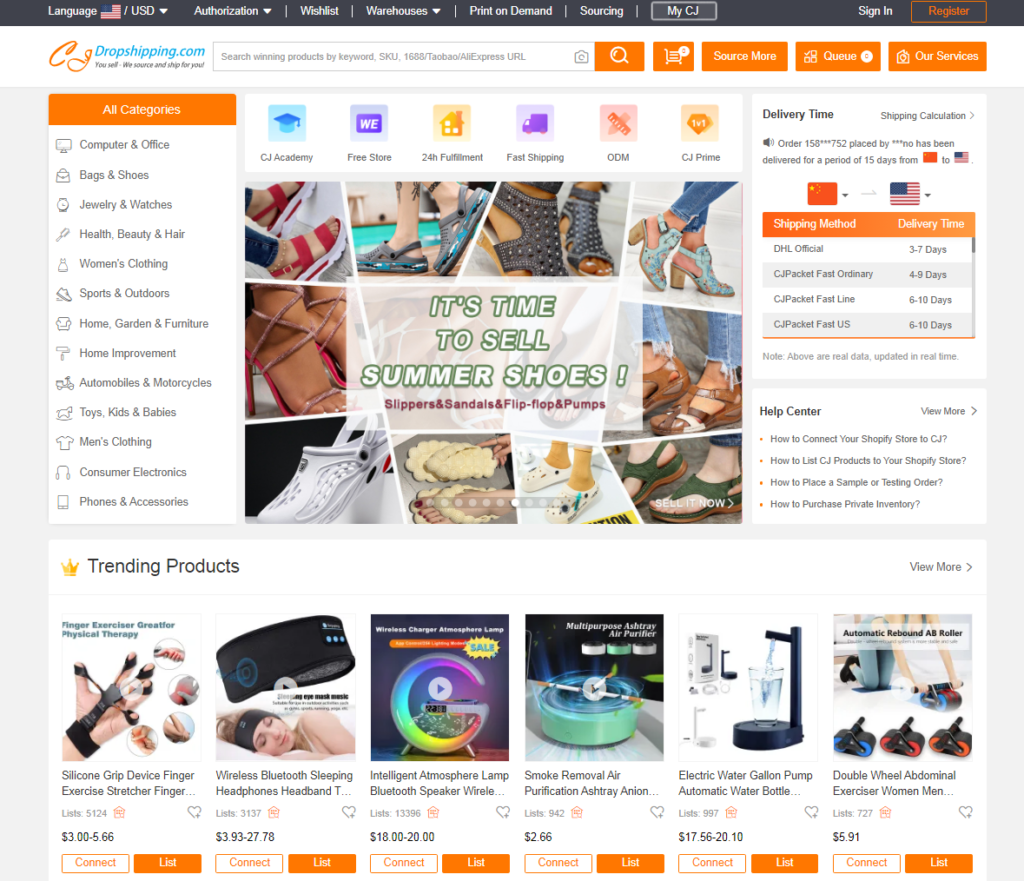 Dropshipping on TikTok with Aliexpress
Dropshipping with Aliexpress is another option you can use to find the suppliers for your TikTok store. As one of the most classic dropshipping supplier platforms, Aliexpress can provide all the basic services for dropshipping beginners.
Besides, Aliexpress has collected a vast database where you can find thousands of different suppliers all over the world. So no matter what kind of products you want to sell, you can always find a supplier who provides the same category.
However, unlike some unique dropshipping platforms that offer customized dropshipping services, the suppliers on AliExpress usually do not provide any special service for dropshippers. So if you want to find suppliers who provide specific fulfillment services, AliExpress may not be the best choice.
In summary, dropshipping with AliExpress is an excellent way to start your online business with the minimal financial commitment. However, to succeed in this competitive market, it's crucial to differentiate yourself and pay attention to the small details that can make all the difference.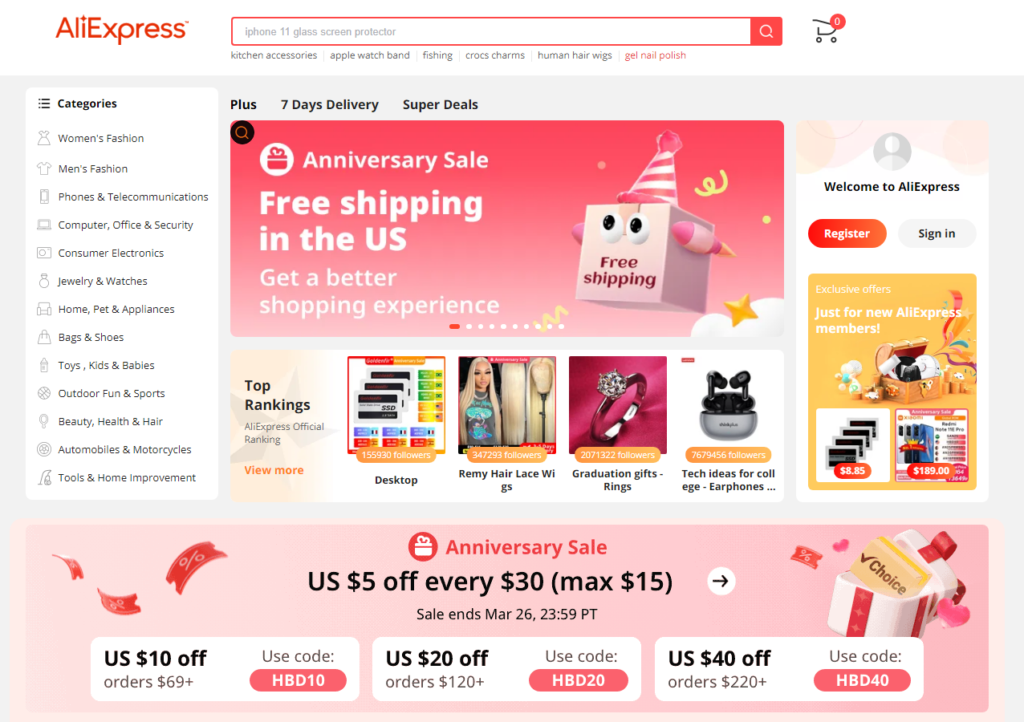 Conclusion
TikTok has revolutionized the social media landscape, surpassing other platforms in terms of online traffic. With billions of users engaging with content on the app, TikTok is not only a platform for entertainment but also a gold mine for sellers.
Thanks to its unique traffic and engagement, and with the help of Shopify's business integration via the Shop tab, brands can easily showcase their products. This makes TikTok Dropshipping an exciting new opportunity for online shops to reach potential customers.
To tap into this potential, it's important to understand TikTok's algorithm, your market niche, and the type of content that resonates with your audience. You can achieve exposure through paid Ads, by collaborating with relevant influencers, or by focusing on organic reach. The key to success is consistency in posting high-quality content.