Is eMTB worth a try? What should we look for before purchasing our first eMTB? How can we ride more smoothly and safely? Talking about eMTB or you call it an electronic mountain bike, which has already shown itself in terms of its fast-growing popularity as one of the major ebike categories, they are constantly receiving no end of attention from interested followers in these few years.
Fascinated by the amazing riding experience and capability of multiple terrains that electric-assisted device offers, not only mountain bike lovers but a surging number of newcomers start to find themselves fitted eMTBs to enjoy a completely different riding pleasure.
On the other hand, as ebike lovers increasing all these days, nearly all the bicycle brands are offering specialized ebikes to support riding preferences from different groups of people. Even though male riders are still making up a bigger part, the growing demand from female riders is the same with big potential.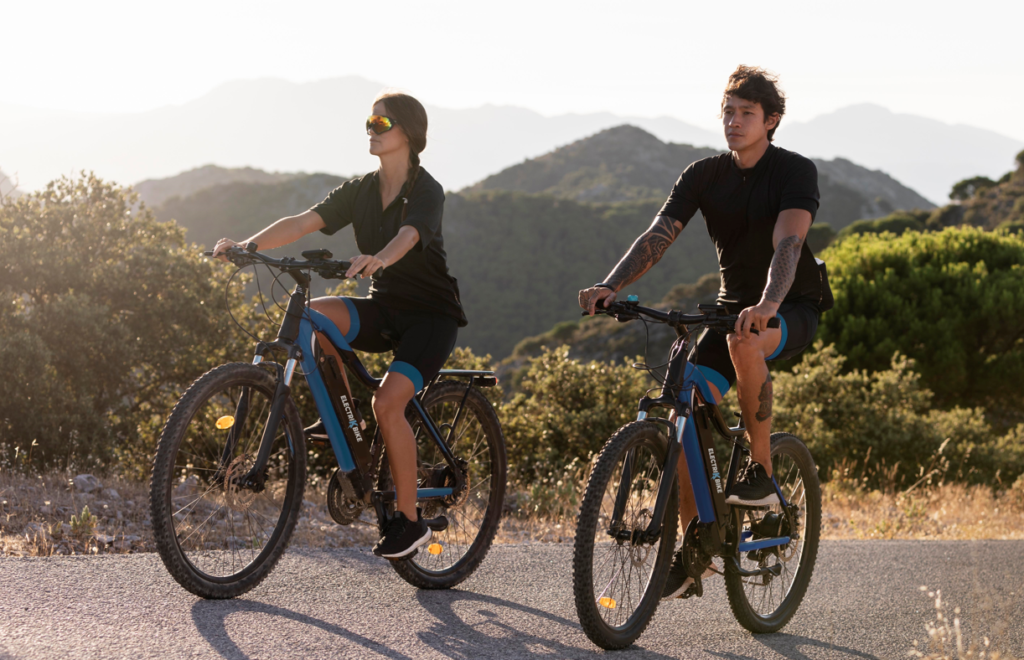 Hence this article is all for women riders who are interested in or planning on having their first eMTBs by revealing the most fundamental but crucial factors when picking the electric mountain bike.
1. How does eMTB win people's hearts?
Future transportation. The booming of the ebike industry can be seen as foregone progress on the path of human transportation development, which reflects how people's lifestyles changed. Different from motor vehicles, the ebike works still like a bicycle essentially. The electric-powered motor that is installed on the bike does not carry people and drives automatically, it only supports riders while pedaling.
With a safer top speed under 20 km/h (US regulation, 25km/h in EU countries) as well as being agile enough to handle complicated terrains, it's hard not to try eMTB no matter for working out, travel, or daily as a replacement of motor vehicles.
Healthier, easier and more economic. Ebike does not take away the control when riding, the interaction with riders is still well-connected. Most people who love riding bicycles tend to consider it as a way of keeping fit and mountain cycling is, even more, a popular outdoor activity that attracts so many people to participate.
Unlike traditional mountain bikes, eMTB effectively lowers the barrier to entry by their electric-assisted design but will never keep you away from getting enough exercise outside. Almost everyone can ride an electric bike, it does a really good job to provide extra power when you need support for tough routes and long-distance riding.
This means a lot – people are able to explore a larger range of traveling with less time and energy, and what's more, without the burdens of the heavy traffic, and the cost of gas like owning a car does.
A more sustainable lifestyle. Another important reason why ebikes go popular is that they conform with the concept of sustainability that more and more people are being aware of in this modern society.
When reducing carbon footprint becomes a mission of every citizen on the earth, when we start to witness the result of climate changes, our life habits are bound to evolve accordingly.
2. Ladies eMTB trend
The popularity of eMTBs among female buyers is rising at the same time with great potential from a point of view of the future. In terms of a related study in New Zealand, ebikes are considered to be a key incentive for the development of a more female-friendly bike retail environment along with proven reasons. And when it comes to specific eMTB for women, the benefits just surge from every aspect of life.
Mentally: enhance confidence and sense of control and independence by a pleasant cycling experience with eMTB.
Physically: Fewer restrictions for beginners with different body sizes, weights, or strengths.
Healthier Lifestyle: An emerging outdoor activity with a great potential of developing into a prevalent long-term habit.
Daily essential: Make commute and longer-distance trips even more convenient.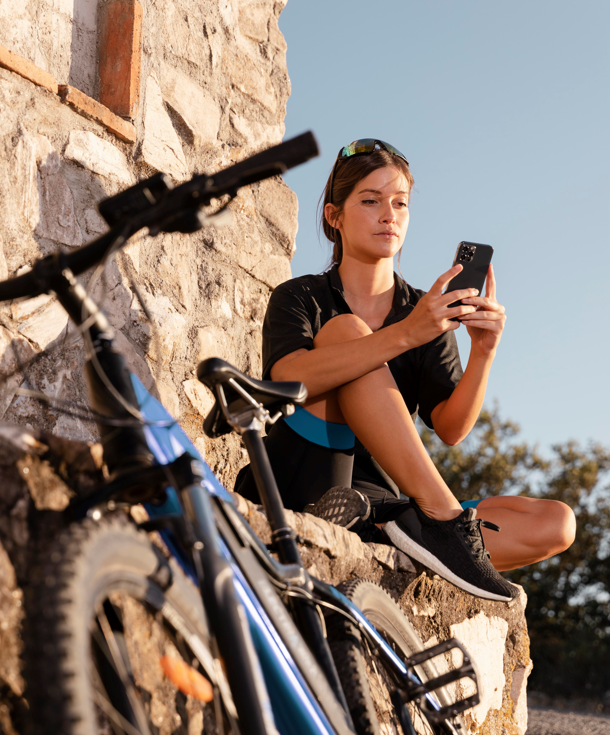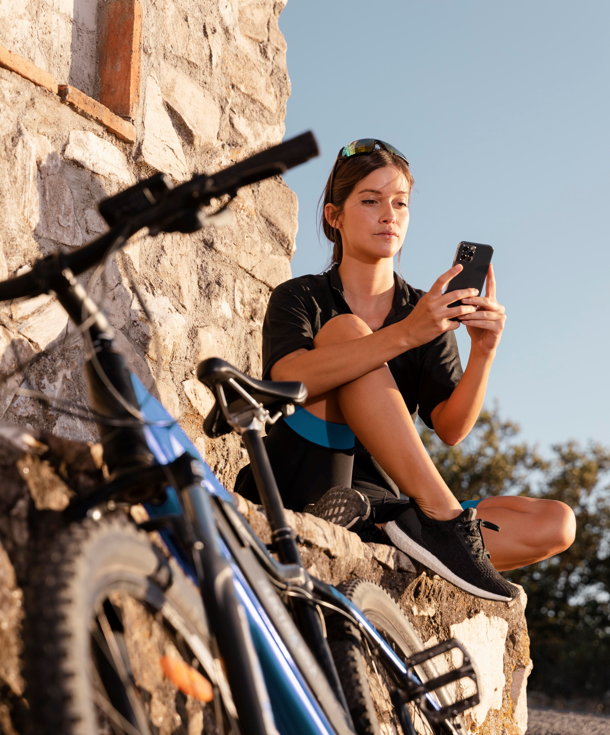 3. Ten must-read tips for women eMTB beginners
The unisex model differs from the women-specific model
You may find that even though some bands are specialized in women-specific eMTBs, unisex types seem to be more preferred by ebike companies. But there is no fixed standard to choose a so-called "winner" while making the comparison, since picking an eMTB for oneself is quite a personal thing.
The unisex model tends to emphasize "size" rather than "gender", and for ladies in larger body sizes or long legs and arms, unisex eMTBs are good fit alike.
Women-specific eMTBs are designed based on loads of female-specific geometry data, making every part of the bike fits the female's body, especially for shorter or less powerful ladies.
What is suggested is to try both two models before making the decision, your own riding experience will never lie to you. If you are with a limited budget, unisex models are way more optional.
Hardtail or Full-suspension? Make decisions from a long-term perspective
Generally speaking, with the suspension device on the rear, full-suspension eMTB usually are heavier and may cost more than hardtails on the average and because of that hardtails seem to be a more reasonable choice.
However, hardtail eMTB relatively lacks versatility and capability – unless you are 100% sure that you will only ride them on smooth pavements, and do not care about a more stable and comfortable riding experience, otherwise, full-suspension eMTBs are worth investing in as a real all-rounder from a long-term perspective.
Carbon frame VS Aluminium frame, not every component is the lighter the better
Talking about the women-specific mode, the first concept that comes into our minds might be "a lighter design for better control." A lightweight frame is certainly what we are looking for.
So far carbon frame and aluminum frame are the two main options and with the advantage of amazing properties carbon models tend to have more flexibility in shaping as well as lighter weight. Nevertheless, the benefits of carbon frames all come at the expense of cost which is usually over $1000 higher than aluminum eMTB.
The good news is that you don't have to be disheartened because of this. Compared to the carbon frame, the aluminum frame offers almost the same good performance while riding, and the slight weight difference won't bring any fundamental change.
Ladies still can choose aluminum models with walking-assistance functions to save your efforts of pushing bikes on the slopes.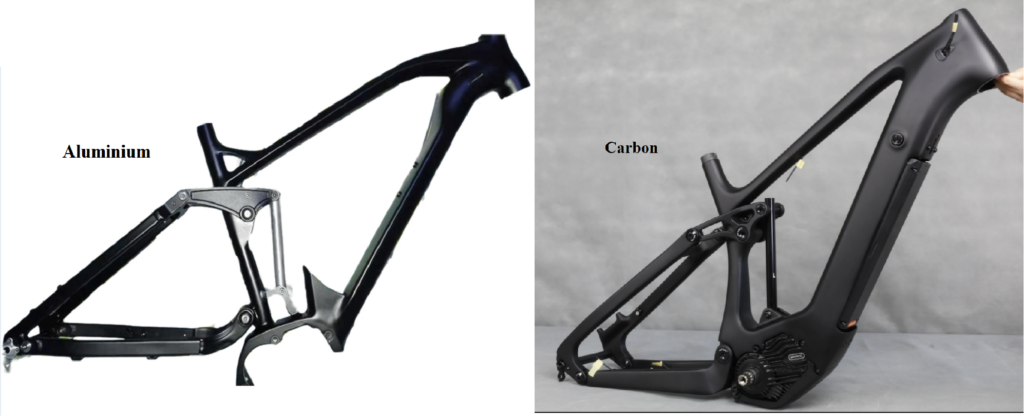 Choose mid-drive motor electric mountain bikes
The motor is one of the utmost qualities when looking for an electric mountain bike. You may hear about two different kinds of motors, the hub motor, and the mid-drive motor. Let's stick with the conclusion first: you may want to choose a mid-drive motor if you are going to purchase an eMTB.
Hub motor is widely used in ebikes, it requires fewer efforts on maintenance and costs you less money for buying one – usually, it is for low-end types and only fit for simple commute since where hub motor is integrated is not stable enough for complicated routes like climbing hills and the whole body of the bike will be led to imbalance easily.
In contrast, the mid-drive motors are more common for good quality eMTBs, since they are lighter and more capable, and safer on hilly or rocky terrain with better gear usage.
The price of longer riding is a heavier battery but should support at least 30 miles per charge
Another reason why we love eMTB is that we can climb higher or go further with its amazing power system. Like we need to fill the car up with petrol, the battery of ebike needs recharges alike after a long riding trip.
Thus a higher capacity of the battery is what we may prefer, which means a further distance you can ride each time after charging. Yet the output of the battery is calculated in Watt-hours, the larger battery capacity it is, the heavier itself will be. Normally, the battery should support at least 30 miles after a single charge.
Similarly, the more powerful your eMTB can be, the higher power that the motor should be able to assist and the finally more capacity of the battery will be asked for.
Safety: test the stopping power of the brakes
Even though the top speed is strictly limited, the safety of riders should be guaranteed as much as possible while enjoying the fun of eMTB. So safety is another crucial principle we need to follow when selecting the bikes.
Integrated with power and sensor systems, eMTB tends to be heavier than common bicycles, which indicates more unstable situations when we are riding downhill or on other challenging routes. Especially for ladies with lighter weight or strength, powerful brakes should be reliable enough to keep you safe.
No matter how the performance inspection is written, testing the real stopping power of the brakes will be better.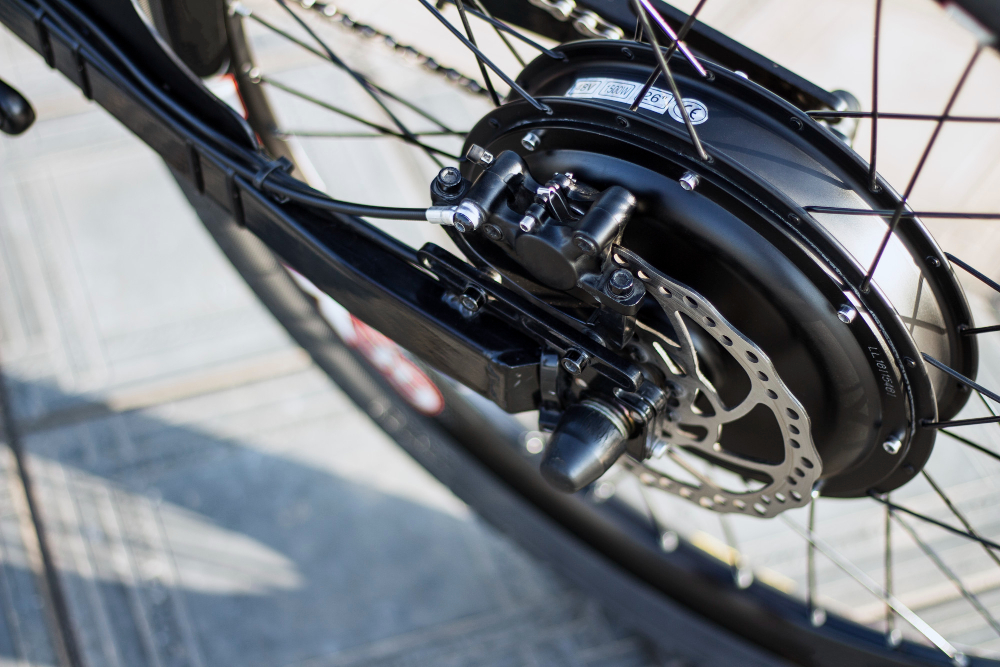 Wider tires perform better instability and grip
What's more about safety, the tires need to pay attention to alike. eMTB is heavier than the normal bike as we know, though there is no rule emphasizing that only eMTB-specific tires will work, sure thing is that wider tires need to handle more force they bear and perform better in ground-gripping as well as stability. For the range of eMTB tires, from 2.3″ and up to 2.6″ will be enough.
Find a saddle matches perfectly may take you some work, but it will be worthy
The saddle is a vital supporting part of eMTB that contacts the rider directly, in addition to power and safety such fundamental requests, whether the saddle is comfortable enough for you in a long time riding is also of great importance.
And yes, how a saddle design fits one person is a very personal experience, Searching on the internet for pictures can barely help you to make the decision.
For ladies, there are many specific designs as options like a central cut-out, truncated saddle nose, special wings, etc. It may take you some time to find out which one suits you the most, but you will know everything is worth it when you are riding on it.
Check whether the battery can be charged easily by yourself
In addition to the riding experience, the experience of maintenance is also needed to be put into your consideration. One of the most important processes is to charge the battery. The battery should be swapped out and charged easily, otherwise, the charging will become a burden that haunts you every time but not just a simple routine.
Take real use case into consideration before buying additional components
Indeed, no matter if you think the additional components or kits are a trap of sellers who try to redirect you to pay more or requisites for entry-level eMTB lovers, what do need to notice is that the real demand from our daily use cases is the only criteria.
From protectors to lights and bells, from professional shoes to each customized component to modify your eMTB (guess beginners will not want to try it at first), spending so many dollars on components that fail to fit together brings only unpleasant memories.
4. Conclusion
Save these ten tips for women eMTBs, hopefully, all the information mentioned above can save you a lot of effort to explore unknown aspects step by step. Cycling is an amazing outdoor activity for both men and women to enjoy.
With so much experience in selecting the perfect women eMTB being said, the other easiest way for everyone is reaching an off-line shop to test everything by yourself.
Furthermore, ebikes are believed to be not only a new form of cycling sports but also new widespread transportation with potential soon, whether you are a newcomer or an experienced bicycle lover who wants to try eMTB, the freedom and convenience it brings you will be endless.