Here are six simple steps explaining how drop shipping works::
Step1: Retailer determines a target audience and what products best suit their needs.
Step2: Retailer partners with Suppliers that can fulfill orders on demand.
Step3: Retailer then lists the products on their personal ecommerce website.
Step4: Customer places an order on the Retailers website, typically paying for both the product and shipping fees.
Step5: The Retailer would then contact the Supplier and pay for the goods at a lower rate while giving them the Customer's credentials as the shipping address.
Step6: Finally the Supplier packs and ships the order directly to Customer.
For visual learners, here's a chart detailing the supply chain to make it a little easier to understand.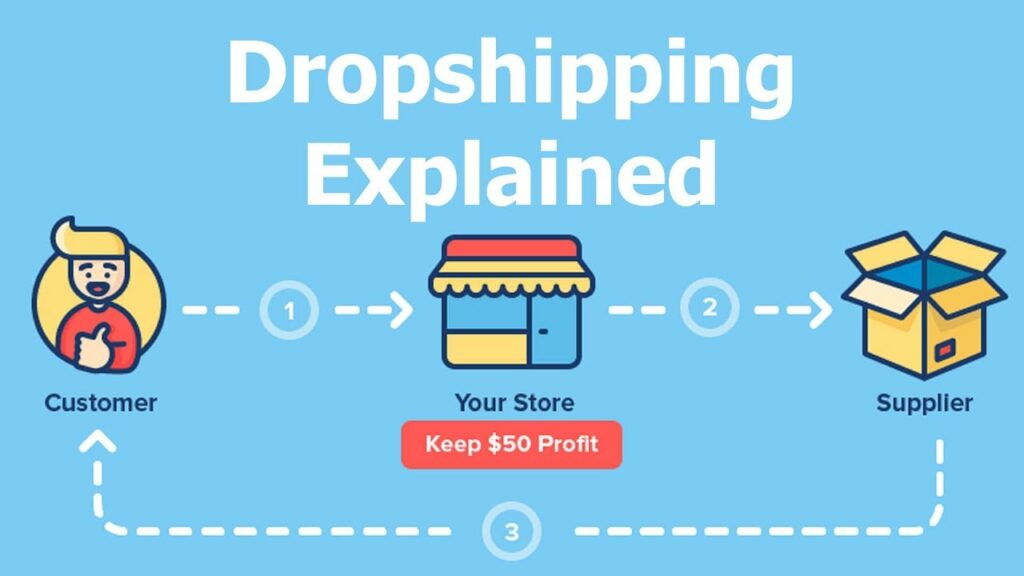 The customer orders a product from your e-commerce website, which is listed at a profitable margin.
You then forward the order details, either manually or automatically, to the supplier, manufacturer or wholesaler.
Then the Supplier charges you for the product at a cheaper rate, and ships the product directly to the Customer. The shipment is sent without an invoice and is marked with your logo. Thus, the customer is none the wiser. This is generally known as "Blind Dropshipping."
In conclusion, dropshipping is one of the simplest business models to be implemented in the e-commerce industry. You can theoretically run your own dropshipping business from anywhere in the world. If you have a stable internet connection and a laptop you can potentially start today.
Facebook Group Discussion
Dropshipping Business Earthquake, after one of the dropshipping tools Shopmaster shut down. Oberlo is shutting down too. Dropshippers have to find alternatives.

cjdropship.com/topics/oberlo-is-shutting-down-what-are-the-best-alternatives-to-oberlo/

Oberlo Is Shutting Down – What Are the Best Alternatives to Oberlo?
CJ Dropshipping
May 17, 2022
Oberlo Is Shutting Down – What Are the Best Alternatives to Oberlo?
What should dropshippers do?
What are the best Oberlo alternatives?
1. DSers
2. CJ Dropshipping
3. NicheDropshipping
4. Spocket
5. Printify
Today we got breaking news for dropshippers. Oberlo, one of the most well-known apps on Shopify will officially close its entry on June 15th, 2022.

Oberlo has been a successful dropshipping app. It provides a convenient method for store owners to fulfill orders with AliExpress.

Among all the various dropshipping apps on the market, Orberlo has got a great reputation in the community. It has helped countless people become successful entrepreneurs.

However, the sites will officially shut down on June 15th. For the people who are currently on a paid Oberlo subscription plan, they can cancel it now and get a refund.

What should dropshippers do?
There are many possibilities for Oberlo to make such a decision. And shutting down the Oberlo app doesn't mean the Oberlo company is going to shut down.

We will talk about this topic in our latest articles and share some insights about the dropshipping industry in the short future.

For now, Oberlo will shut down soon. If you are one of the entrepreneurs who have been using Oberlo, you need to think about what to do next and find a solution for the incoming event as soon as possible.

In this article, we will present some best dropshipping sites as alternatives for Oberlo. If you wish to take this challenge as an opportunity with a new service provider, this is the chance.

If you are not using Oberlo, the event may also lead you to some deep thoughts about the industry. In case your current supplier or service provider got the same situation in the future, preparing in advance is always a good choice.

What are the best Oberlo alternatives?
1. DSers
On the official Oberlo FAQ page, Oberlo has suggested the users migrate to a trusted Shopify partner, DSers.

DSers is a dropshipping app that provides multistore management. You can use it to manage most dropshipping platforms such as Shopify, Wix, and Woocommerce.

Just like Oberlo, DSers allows you to sync orders from your store to AliExpress and then fulfill the orders in a more convenient way.

Also, you can use DSers to source the products on AliExpress. Instead of sourcing products on your own, using DSers will save you a lot of time to locate the specific product you want among the massive category.

In addition, DSers is also available for data transferring from Oberlo. If you wish to migrate your Oberlo account data to DSers, you can do it directly on the Oberlo admin home page.

What makes DSers unique?
Good Chrome extension
Multiple store order manage
Optimizing sourcing time
Allow data migration from Oberlo
Good chrome extension
Still, DSers is not the best choice if you wish to save your budget and justify the cost. This is because if you want to fully use the functions of DSers to manage more than 3 stores, you will need to subscribe to the paid plan first.

2. CJ Dropshipping
CJ Dropshipping is a one-stop dropshipping platform that provides a complete Dropshipping service.

The service of CJ dropshipping covers sourcing, shipping, order management and even filming ad videos.

CJ Dropshipping has both features of Oberlo and AliExpress, you can find products that come from various international suppliers at cheap prices on the site. By using this sourcing feature, you can easily find better suppliers different from AliExpress.

If you need some information about the recent trendy products or best-selling products, you can also explore the trendy products recommendation columns on the CJ Dropshipping site. Every season there will be brand new innovative products for you to choose from.

Besides, the overall shipping time of CJ Dropshipping is faster than AliExpress suppliers. This is because many suppliers on CJ Dropshipping got their own international warehouses.

Also, if your business volume is big, you can actually have your own private inventory in CJ warehouses. Then your orders can be shipped out within 1 to 2 days.

If you are not only looking for a store integration service provider but also suppliers with better prices, CJ Dropshipping will be a good choice for you. Unlike other paid-to-use platforms, most functions on CJ Dropshipping are completely free to use.

What makes CJ Dropshipping unique?
Free sourcing for better suppliers
Trendy products recommendation
Faster shipping time than AliExpress
International warehouses
Bulk order management
Various extended services (POD, Photography)
3. NicheDropshipping
Niche dropshipping is a site that combines sourcing agents and dropshipping suppliers. You can find various product collections on their site just like searching for products on AliExpress.

When you want to search for any products with better quality or price, you can directly consult the agents of NicheDropshipping to find the product you want.

If some products got higher prices than you expected, you can also negotiate with the agents. Agents of Niche dropship are also professional in getting the best quotation from the suppliers.

Besides, Niche Dropshipping got international warehouses in both China and the USA. So if your market is in the US and you wish to optimize the processing time of the products, you can also choose to bulk purchase the products to stock in their USA warehouse. Once products are stocked in the USA, shipping and processing time can be amazingly fast.

In addition, the photography service is available if you wish to see the actual quality of the products. You can also request photos or videos for advertisement usage. But keep in mind this service is paid, the cost will depend on your request content.

What makes NicheDropshipping unique?
Free product sourcing quote
China & USA warehouses
Automated dropshipping service
Photography service
4. Spocket
Spocket is a high-rated dropshipping platform that allows you to connect with suppliers all over the world.

Most of the suppliers on Spocket are from the USA & the EU. This special feature makes it an excellent tool to search for products within the US and the EU.

The best thing about domestic suppliers is the shipping time. If you buy products from domestic suppliers, shipping will only need takes 2-5 days to deliver. This is why international warehouses are also recommended by other dropshipping platforms

Still, the limitation of domestic suppliers is the product variety. If your wish to expand your business, you will need to explore more international supplier platforms.

If your target market is in the US or in the EU, Spocket is a great choice for you to find the supplier you prefer to work with.

What makes Spocket unique?
Available US & EU suppliers
High-quality products with samples
Winning products recommendation
Support multiple platforms (Shopify, Woocommerce, Wix)
5. Printify
POD (Print on demand) is a special major category among all different kinds of products. When we talk about POD products, Printify must be the top to mention. It is also a dropshipping site that specialized in integrating POD suppliers.

On Printify, you can source a wide range of customizable products including hoodies, accessories, T-shirts, and so on.

Wish to see the effect picture? You can simply upload the picture to the platform then the editor will automatically generate an example picture.

Still, not all the products are customizable and some products are only customizable if you have a large order quantity. Many suppliers require MOQ (minimum order quantity) to provide customization services. And of course, it's not free.

So if you are running a general store with various product categories, Printify may not be the best option.

If you are looking for customizable products or wish to brand your products with store logos, you check out Printify to make your own products.

What makes Printify unique?
Specialized in POD products
Wide range of customizable products collection
No extra charges except product and POD fee
Simple editor for designers ... See MoreSee Less