Here's the list of the top 100 best sellers on CJdropshipping in the past half month, ranked by growth. From the list, we can see the product names and their orders and growth. 56 Items got growth, the left items got decreased.
Many niches got good sales in the past fortnight but some are not promising niches because many items under that niche got negative growth, which means that niche could have been saturated.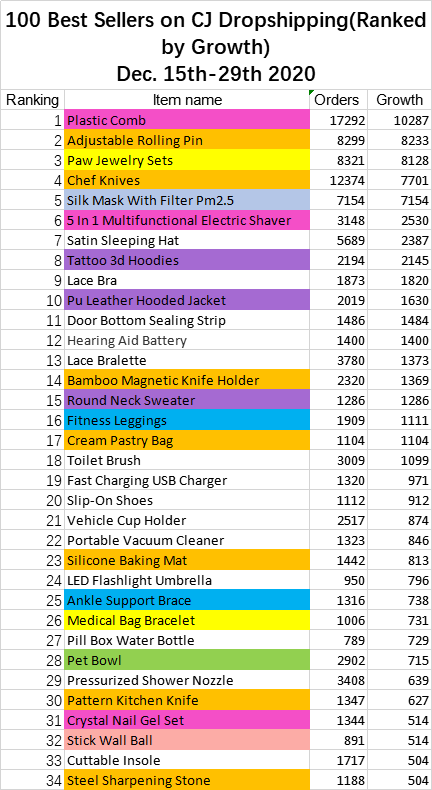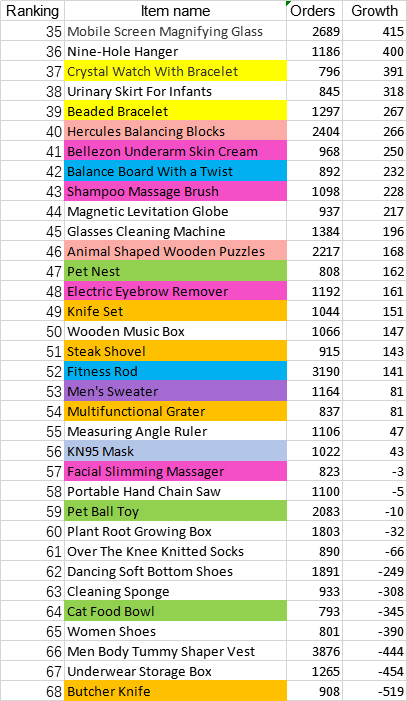 DON'T SELL THESE NICHES IN Q1
There are 4 niches that got good sales in the past Q4, but they got obviously decreases in orders in the past half month, this is a signal that those niches may be too saturated, or Q1 is not their season to sell. Those niches are pet supplies, lights, toys, and warm wear.
Warm wear is one of the seasonal products, they got surging demand in Q4, and as the weather gets warmer, their sales fell. So in the past fortnight, the sales of three warm wears: thick velvet leggings, plush blanket hoodie, and outdoor waterproof gloves on the top 100 sellers dropped markedly. So warm wears are obviously not a good choice to sell in Q1.
Lightings help to create a bright, cozy atmosphere, so they are always hot in Q4. But as the spring comes, days become longer, so the demand for light products in Q1 may get obviously decline than in Q4. On the list, we can see, though 5 lightings got not bad sales, all of them got a sharp decline in sales. So find something popular in spring to sell, lightings are no longer attractive to consumers.
There were 8 pet supplies on the list, 5 of them ranked top 50. But when ranked by growth, we'll find the sales of 6 pet supplies got decreased. Pet supplies are some kind of an "evergreen" niche for dropshipping, but it seems to be too saturated in Q1. Make comprehensive market research before you set about in this niche.
Toys were a proven hot niche in Q4, there were 8 toys on the top 100 best sellers list of the past half month, but 5 of them got negative growth. The demand for toys seems to decline, but new hot sellers keep on coming out, so if you find a new winner, just catch it.
DO SELL THESE NICHES IN Q1
Kitchen products
Kitchen products are a big hot niche, knives and baking products are the major two sub-niches. Knives have long been hot sellers on CJdropshipping, we got many big sellers who made a great success by selling kitchen knives.
Baking products are promising as the lockdown continues, people dine and cook more at home, and the demand for kitchen products seems not to decline. And many will prepare for Mother's Day in Q1 like people love to bake for Mother's Day, so baking products are good to sell.
Jewelry
Jewelry was hot in Q4, and this niche is still promising for Q1, as there is Valentine's Day in February. People love shopping for special days. Couples buy gifts for each other, jewelry is always one of the top choices as gifts for Valentine's Day. Customized pendants have your name or photo on them, couples bracelets and fashion watches are all good ideas to sell.
Personal care products
Personal care products are hot in Q1 and Q2. People seem to pay more attention to their appearance in Q1 and Q2 and value the cozy surroundings more in Q3 and Q4.
That is to say, people have a greater preference for products to get them to look better, and spend more time keeping fit. So apart from personal care products, fashion and fitness products are too hot niches to do.
Hoodies, jackets, and sweaters are all hot to sell, but you need to have the insights to find stylish wears popular in the markets, or it is not easy to do the fashion niche. And the high demand for fitness products seems to increase due to the second wave of the lockdown.
Masks
Talk of the lockdown, the demand for masks and related products never decline, but the hot sellers evolve. At the beginning of the lockdown, KN95 masks and medical masks sold like hotcakes, as time went by, they became saturated. Then cotton masks with filters, then mask clips, then transparent face shield, then mask bracket.
Final Word
Hot products evolve. If you can find a winner before others and sell it, this is a great niche to make quick success. Just subscribed to our channel to get the latest trending products every week. And you can find more hot-selling products on CJ Dropshipping.