Is portable blender a good product to dropship? Recently the searches and sales of this specific portable blender have significant increase worldwide. Many store owners are now considering adding the same product to their online store.
Thus today we will talk about the potential and possibility of dropshipping portable blenders and then see how much budget it needs.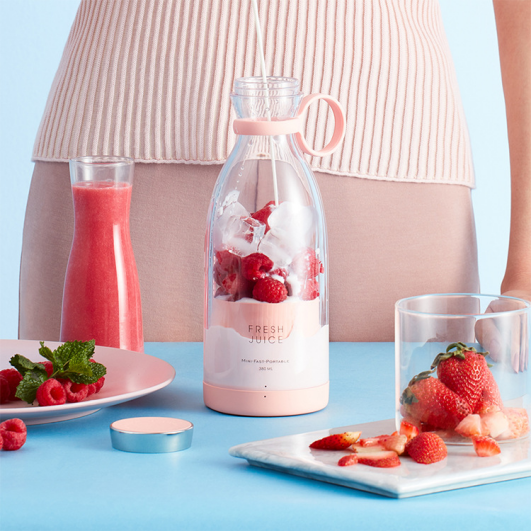 Selling Potential
Market Trend
According to Google Trends, the search trend for portable blenders has been steady this year. But since the April of 2022, a significant increase in searches appeared and it reached a peak on 8th May.
On Amazon US, 357,000 searches for the term "portable blender" has been generated in April. Which is 30% higher than the search rate in March.
So we can tell this niche still got high potential recently and now is the best time to catch the trend. However, the major challenge of selling portable blenders is the competition. After we checked Amazon's sales data, we find over 50% of sales are generated by top brands.
This means it would be hard for beginners to sell this niche as winning products. Because most top brands already have stock for their products and their shipping time is incredibly fast with their own inventory. If you want to compete with the best shops you may need to get the best shipping time and lowerest cost.
Still, adding a portable blender to your store as a trending product is also not a bad option. But bulk ordering such products when you got enough budget seems to be a better choice if you want to sell it as a winning product.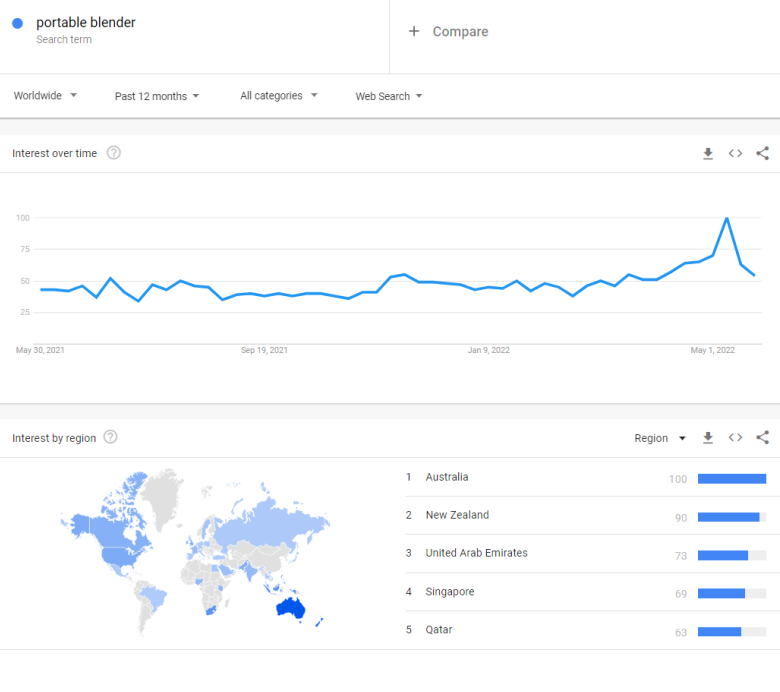 Product Feature
Today we bring this trendy portable blender, let's see what's special features about it:
Easy to Clean: The product can be divided into 3 parts and washed individually. The base of this product is waterproof so it can be washed with the bottle together.
Environmental Friendly: The material used for this product is environmentally friendly. It used non-toxic and ecologically safe PCTG and ABS material, so customers can use it without any health concerns.
Compact Size: The whole product is designed in a compact size so that customers can put it into bags or backpacks. The size feature makes the product portable during traveling and camping scenarios.
Wireless Charger: The blender can be charged with a wireless charging station powered by any USB device. Charging to full power takes 1 hour and the charged blender can be used more than 15 times.
Safe to Use: If the bottle is detached from the base, then the blender will not start to operate. Such a unique feature prevents customers from accidentally triggering the blades.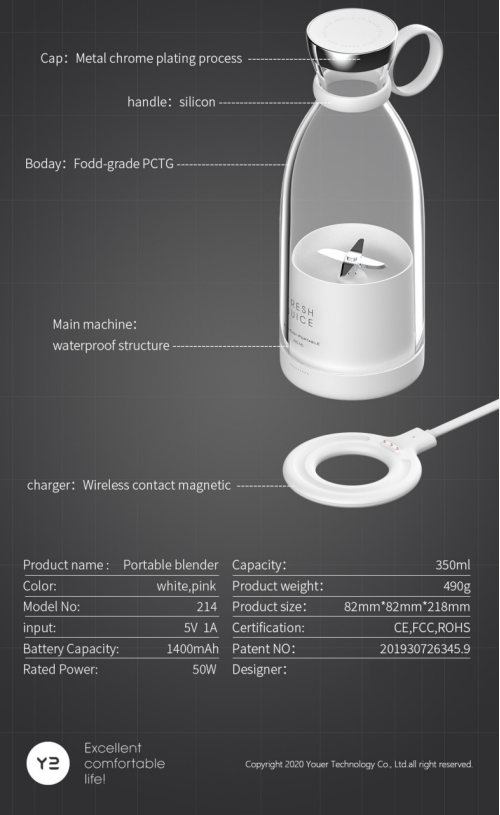 Rating
On Amazon, the rating of this specific portable blender is scored at 4 on average. By checking common negative reviews, we find many reviews are either about the fans is not powerful or the product not working as the customers expect.
On the other hand, the same product got mostly positive comments on AliExpress and other retail stores. It is possible that this supplier got better quality products but some of the comments sound really robotic. So it's still hard to tell how the product actually performs in real-life situations.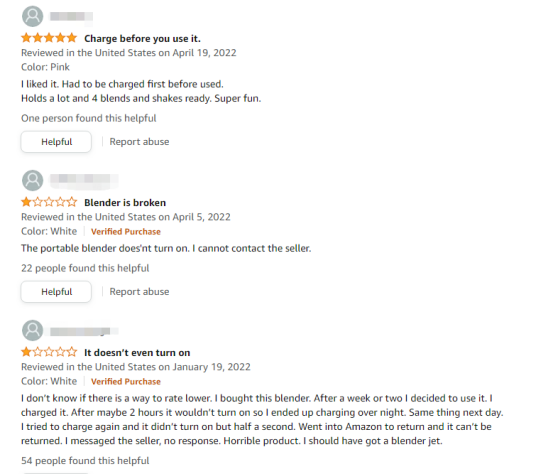 Although not all the ratings or reviews are trustworthy, we can still see there are significant quality differences between the products provided by different sellers. If you want to try selling this niche, testing the quality of products is necessary to avoid unnecessary negative reviews.
Besides, having a product sample of your own will bring you many advantages in business. For example, it allows you to take photos or videos freely and you can use these contents of your own in the advertisement as well.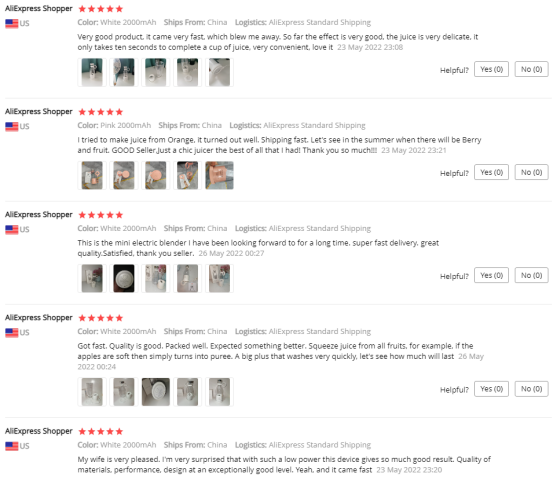 Pricing
Portable blender is considered a high-value product in dropshipping business. If you search it on Google, you will find most Shopify stores sells this same portable blender at $58 – $64.
This is good pricing for ensuring dropshipper's profit, but the price is significantly higher than the ones on Amazon. On Amazon, the same product is priced at $30 – $43.
Still, you should also notice the shipping times of these stores are incredibly fast. Their shipping time achieved 3-6 days and it is no doubt that they got warehouses in the US. Because such fast shipping can only be processed by a local warehouse.
So considering the shipping cost (Which we will talk about in the next section), the best way to sell this product sell it as a whole sell product. You can purchase a small amount and stock it in international warehouses. Then once your customers place orders, products can be delivered in 3-7 days. Such a method can also help you save a significant amount on shipping fees.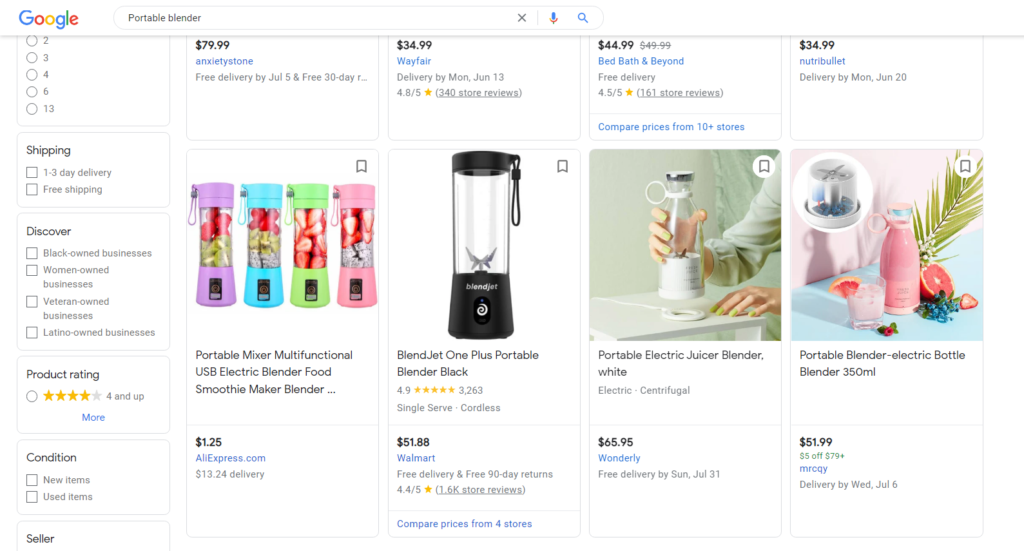 Dropshipping Costs & MOQ
Shipping Rates
Along with the high retail selling price, the cost of dropshipping a portable blender is also not cheap. This is mainly because the product is oversized when we consider the lightweight and big packaging. If a product is identified as oversized, then the shipping company will charge fees by its size instead of weight. And since many portable blenders contain inner batteries, the shipping fee can be even higher.
So how to reduce the budget? The best way perhaps is to purchase the product in bulk with wholesale methods. When products are shipped with wholesale cargo, the shipping fee for each product will significantly decrease. You can see what the benefits of wholes dropshipping are from the article — Is Dropshipping Dead in 2022? The Future of Dropshipping.
Besides, if your budget is not enough for bulk purchases, you can also consider selling different products as bundles. For example, you can sell portable blenders with other heavier kitchen products as a bundle. Then shipping 2 products together will save you way more shipping costs than shipping them individually.
CJ Dropshipping
Total Dropshipping Cost: $33.17
Processing time: 1-2 days
Shipping time: 8-18 days
Shipping method: CJ packet sensitive
On CJ Dropshipping, purchasing one portable blender cost $17.54 for the product. The fastest shipping method is CJ packet sensitive and it takes $15.34 shipping cost + $2.09 service fee with 8-18 days shipping time to the US. So we tell the total dropshipping cost will be $33.17.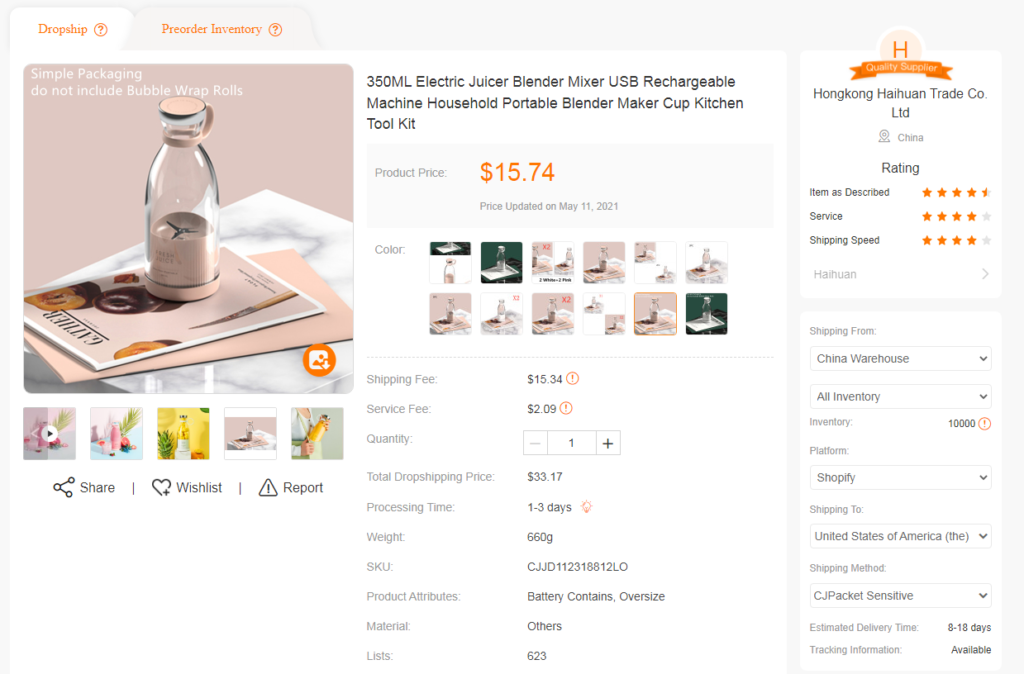 Aliexpress
Shipping method: AliExpress Standard Shipping
On Aliexpress, one unit of portable blender cost $25.55. The best shipping method available is Aliexpress standard with a $2.87 shipping fee. So we can see the total dropshipping cost is 28.42 with 26 days of shipping time.
Total Dropshipping Cost: $28.42
Processing time: 1-3 days
Shipping time: 26 days
Shipping method: AliExpress Standard Shipping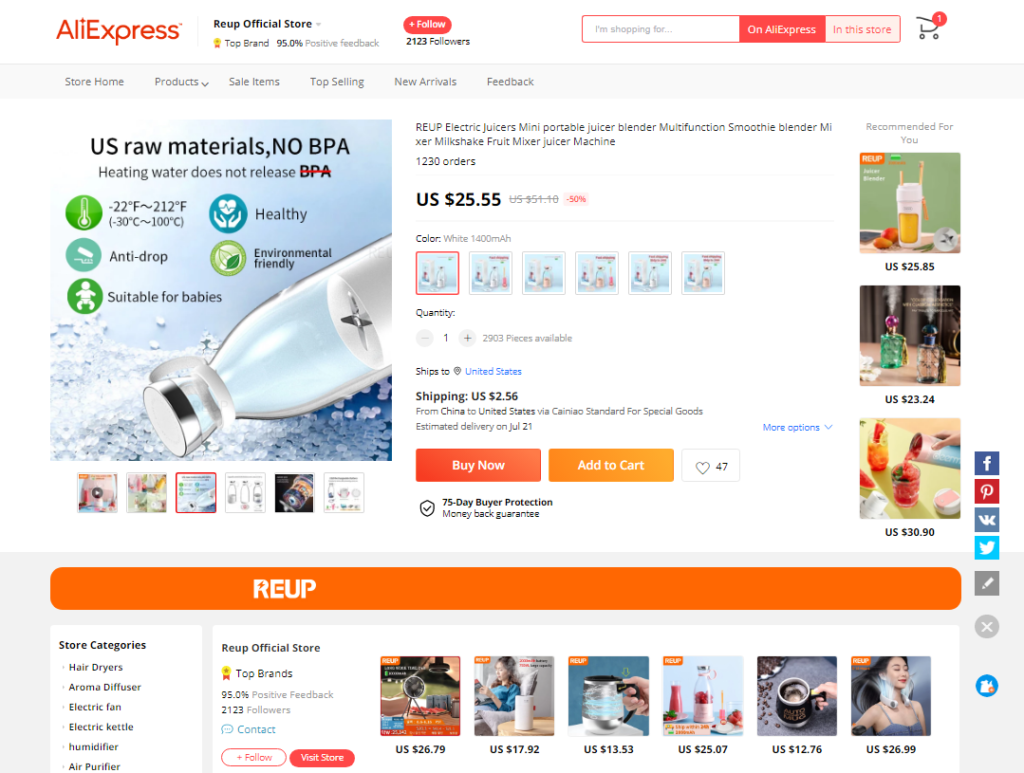 Comparison
It's certainly not hard to tell that the dropshipping one of this portable blender from AliExpress is cheaper than from CJ Dropshipping. There is a $4.75 difference between the 2 sites.
However, one advantage CJ Dropshipping got is the shipping time. While AliExpress needs to take 26 days plus 1-3 days processing time to deliver the product, CJ Dropshipping only needs 8-18 days plus 1-2 days processing time.
Since most portable blender stores sell the products with 3-7 days shipping time. It would be really hard to convince the customer to buy a product that needs nearly one month to deliver.
So if you wish to provide your customer with a better shopping experience, CJ Dropshipping is the better option. On the other hand, AliExpress is good when you want to save more budget.
In addition, if you are going to bulk purchase the products, it is always good to negotiate the price with the suppliers. For example, if you think the shipping fee on CJ Dropshipping is too high, you can always contact the agent or supplier to give you a discount. As long as your order volume is considerable, most suppliers will be willing to give you a better quotation.
Certifications
Both the suppliers from AliExpress and CJ Dropshipping can provide a full list of certifications including FDA and CE. So dropshipping this product is totally safe and legit.
If you need specific files of the certifications, you can also ask suppliers directly for them.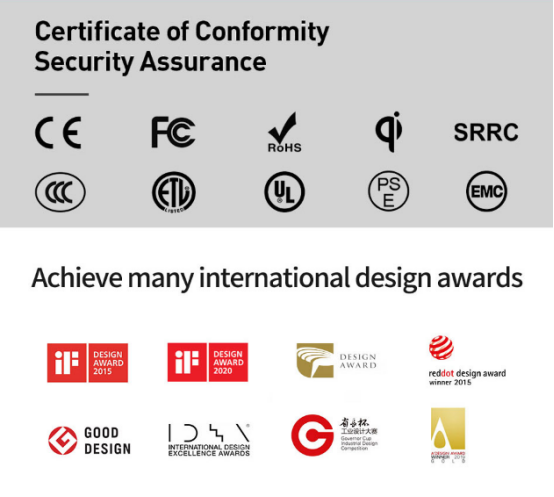 Customization
The suppliers also support logo print services. Yet, the factories can only provide printing on the product if you got a really high minimum order quantity. And the requirement for customized packaging is even higher. So it's not recommended for beginners with a limited budget to think about branding the products.
Logo on the product: 1000pcs
Customized packaging: 2000 pcs
Sampling fee: $80
Still, you can try the custom packaging service provided by CJ Dropshipping. Since CJ got its own packaging suppliers, you can get your own branded packaging with only dozens of order quantities. You can consult CJ's online customer support if you wish to know more details about it.