More and more new entrepreneurs are starting their own online businesses via dropshipping these days because of all the benefits it reveals.
However, there are huge earning gaps between the businesses; some people are achieving 6-7 figures per month while others still struggling. Not surprisingly, behind every successful dropshipping store, there is a dropshipping tool helping it run smoothly and efficiently.
From importing products, price, stock monitoring, and store optimization to automating orders. Whether big or small, these tools are crucial for every dropshipping store to be able to scale properly. And here is how to save time and simplify your dropshipping experience with this magic AutoDS-the dropshipping tool.
Product Importing To Your Store
US vs. China Import
When selecting a product to sell from CJdropshipping, you will see the option to choose "Shipping From." You will have a dropdown menu present itself where you will need to click on either US or China.
If you want to choose products from US warehouses only, you can do so. Simply filter by clicking US Warehouse on the top menu, and you will see all your product options.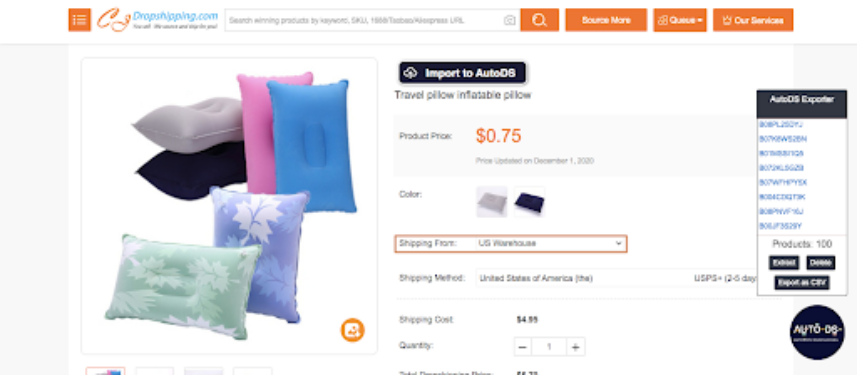 AutoDS Helper
AutoDS is a comprehensive dropshipping tool/helper specifically designed for dropshippers. Its developing team has created its very own Helper Chrome extension to save you time. One of its functions is an item grabber to ease your daily work routine and help you increase your sales.
The Helper allows you to grab items from the supported suppliers' sites in just a few clicks of a button.
For example, you could go to CJdropshipping, search for a keyword, click the extension's icon on the bottom right side of the page, and click "Extract" to extract all products from the current page into the grabber table.
Bulk Imports
Save time on importing products to your store—no more single imports and working on one product at a time. Bulk imports are easy and efficient. When adding products to your dropshipping store using AutoDS, you have two options for bulk importing.
You can simultaneously take multiple product URLs or IDs and copy-paste them to the area shown in the image above. Or, using the Helper extension, if there is a product page on CJdropshipping you like, click the extension "Export as CSV" button to download a CSV file immediately.
Then, go to the ready file, select which items you want to import from the list, and upload the CSV file to AutoDS to start the import process.
Price & Stock Monitoring
Once you're done importing, you need price and stock monitoring. This is an essential feature that is critical for your dropshipping store. Without price and stock monitoring, your store and its products are not safe. Here is an example of why.
Let's say a product you are selling suddenly goes out of stock. You are not going to be stuck sitting in front of your computer all day checking each product to see its status. So, if the product slips out of stock and you have not updated that in your dropshipping store, that product can still be bought by your customers.
If you get a sale and the product is no longer available, you will need to cancel the order and lose a sale. That's not good! Customers might start doubting the reliability of your store. The same can happen with a price change. If your supplier decided to increase the price and the change was not automatically synced to your store, you will not necessarily lose your sale, but instead, you will have a sale with no profit. No one wants that.
The AutoDS platform conducts scans for all your products from the various suppliers every 60 minutes. That is the fastest scan option on the market, therefore keeping your store as safe as possible.
Automate Your Dropshipping Orders
This would be your favorite part! Orders. As soon as you make your first sale, you need to fulfill it for your buyer. That means you will have to check your buyers' order in your dropshipping store, go to the supplier site, copy your buyer's name and their address, paste it on the supplier site at checkout, and complete the payment for the order. Additionally, when tracking information becomes available, you need to provide it to your customer as well.
Long story short, this is a timely process. Whether you're a beginner or an experienced dropshipper, you don't need to waste your time like this. Time is money.
However, the more orders you get, the more detrimental this gets. Imagine you're getting multiple orders a day, or multiple orders for multiple items a day. You will not be able to keep up.
Here is where AutoDS comes in. AutoDS offers 2 innovative and headache-eliminating solutions for dropshippers.
Address Copier
The Helper extension that is introduced to you earlier has many functions. Besides grabbing items and helping you import, it can also greatly minimize the time you spend on manually fulfilling orders, and help search for products using multiple suppliers at once.
It will semi-automate the processing of your order by quickly copy-pasting your buyers' information. This has proven to be a priceless feature.
Fulfilled by AutoDS
The "Fulfilled By AutoDS" service automatically handles 100% of your orders.
This means you no longer need to deal with the source site's orders, cancellations, returns, or the fear of having your source account restricted.
All you need to do is load the balance to your AutoDS account, and it will process everything for you. The entire lifespan of the order will be handled for you: placing the order, updating tracking, and processing a return label when needed.
This saves you from processing the order and then later getting the tracking information from the supplier to your buyer. Additionally, not having to worry about locked buyer accounts, cancellations, and returns will allow you to focus your time and attention on scaling your business further or give you that extra time with family and friends.
Last words
Here it is—the magical tool to scale your dropshipping business. This article packed in all the most important features about AutoDS to send beginners on their way to a successful dropshipping journey while making sure that experienced dropshippers can learn a thing or two from this, too.
This is the time to take everything you've learned and put it to work. Start slow and take it day by day. For those of you using AutoDS, this platform offers a feature called "Tagging" to organize your store easily. Creating tags for niches is a great way to keep track of your products.
Once you start adding products from suppliers to your store, make sure to create tags according to niche or supplier. That way, you can analyze and optimize their performance in the future.
Happy dropshipping to all!