Preview
At the beginning of 2022, the influence of the coronavirus is still lingering in our lives, and more communities start to pay more attention to helping elderly people overcome their isolation and loneliness during the pandemic crisis.
In the last Q4 season, many products for elderly people had reached great sales amount. According to Google Trends, searches for elderly products is still steadily rising in the US and the UK.
Thus, you can see this specific niche still got good potential in the market. In this article, some of the best-selling products for the elderly this year are presented to help dropshippers to get an idea about what's the best products to sell this year.
A massage ball is good for helping people recover muscle strength and relieve stress. For elderly people who have to stay at home, such a product is helpful to improve their health condition both physically and mentally.
Besides massage balls, there are many different kinds of massage and muscle recovery products on the market. Such vivid variations allow you to list a good selection of products for your store for customers to choose from. It's also a good choice for you to sell them in bundles or as supplement gifts to your other products.
As a dropshipping product, the massage ball is light and small, so the shipping fee of it normally won't be high. Besides, the supply chain of this product is really stable, except for some special types or specific colors usually it won't have out-of-stock issues.
If you are interested in making your own brand by selling this product, the MOQ( minimum order quantity ) is 1000pcs on average.
According to Amazon scout, the overall sales of massage ball has dropped since the end of last year. However, the monthly search amount and sales amount shows that future sales of this niche have a trend of raising.
In addition, the general rating of this product is 4.5. It's higher than average on the market. Still, about 40% of the massage balls on the market have been identified as brand products, so you will face competition when selling this product.
Product Example
When you search the term "massage ball" on google, you will find the price of this spiky pointed massage ball is about $9~$10.
If you source the same product on CJ dropshipping, you will find one product that total cost $5.7. The market margin is reaching 40% profit. Besides, if you sell it in bundles, you can save more shipping fees per order.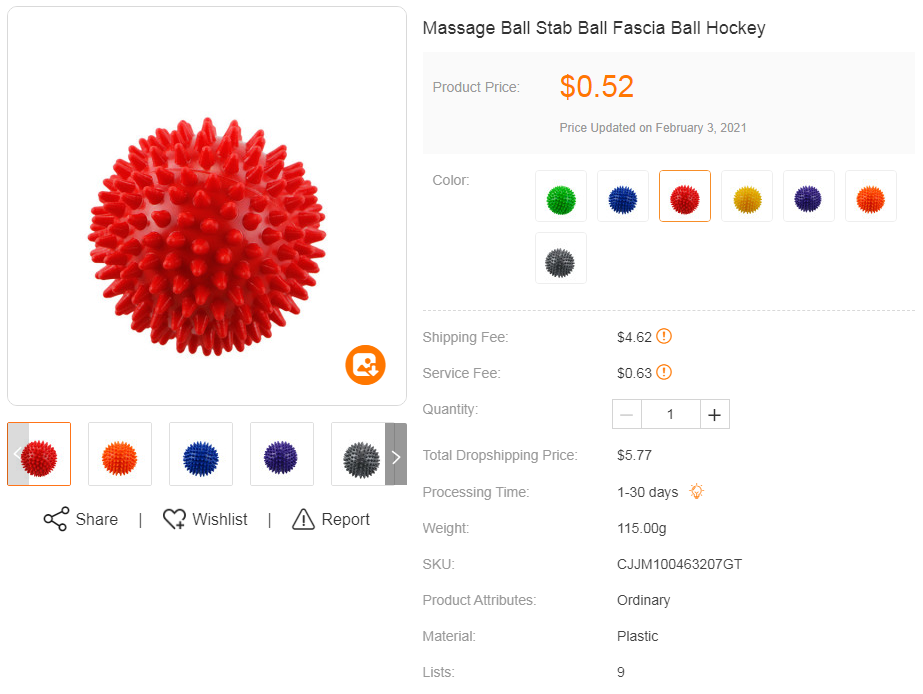 Shower grab bars can be used for preventing slipping and falling when walking out of the bath for elderly people. Sales amount of grab bars have been increasing since 2020 globally, and the market demand is still high even in 2022.
Unlike other products for the elderly, shower grab bars do not have a significant sales drop in the early months of 2022. The steady sales and searches increase made the shower grab bar a good product that you can consider adding to your store.
The supplier chain of shower grab bars is also stable most of the time, so you don't need to worry about out-of-stock issues. The profit from selling it is also really high. According to Amazon Scouts, the sales margin of a shower grab bar can reach 40%.
Yet, most shower grab bars do not have the best shipping size for niche dropshipping. Some of the variations even exceed the 60 cm shipping limit. It's not hard to predict the shipping fee of these products will be significantly higher than the product cost. So if your store provides different size choices for the customers, using a wholesale stock strategy for shipment might be a better option.
Product Example
When customers buy one suction grab bar from the online market (e.g. Walmart, eBay), the price is about $15~$20 including the shipping fee. But let's when you check one of the most common suction grab bars on CJ dropshipping, you will find this product only cost about $10.6 for each order. So you can see this product got a profitable price and a stable supply chain that good for dropshipping.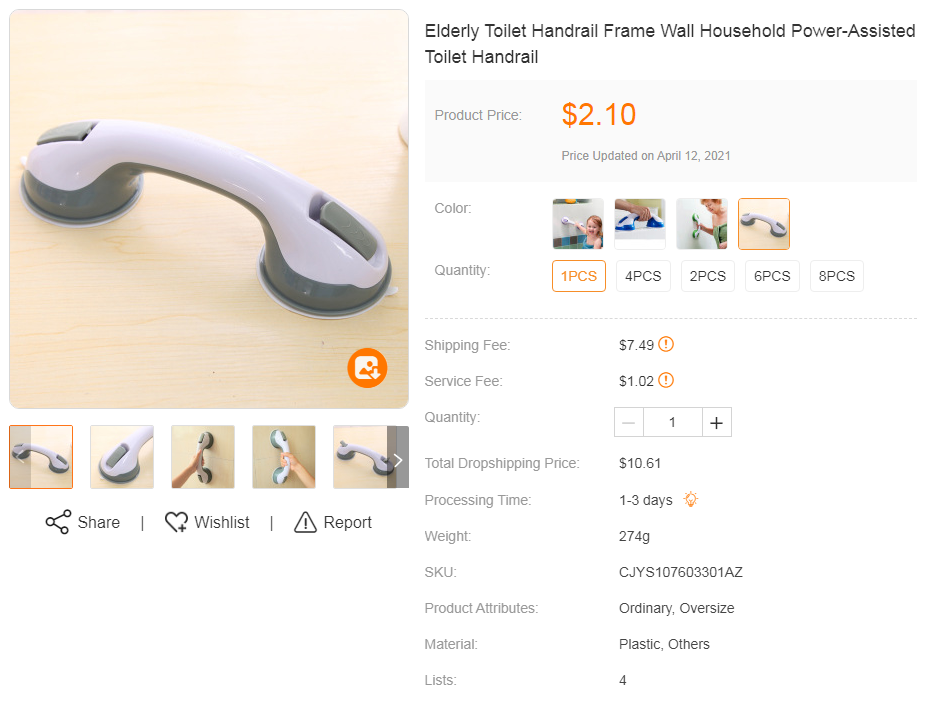 Jar openers can be used for helping people who may have difficulty opening jars. Especially for elderly and injured people who have a hard time sustaining their strength, having a multifunction jar opener will be convenient.
According to Google trends, the searches for jar openers is fluctuating recently. Also, the sales of this niche have been increasing in recent months. Amazon scout shows the monthly sales amount of jar openers have increased by about 6,000 -7,000 in March.
As a dropshipping product, jar opener has a really stable supply chain, so normally you don't need to worry about stock issues. Besides, most of the jar openers are not oversize products, so the shipping fee will not be really high.
Still, since jar opener is a profitable category, there are many online stores already selling them. If you just started marketing this niche, you may need to prepare for competition.  
Supply Example
There are many types of jar opener product choices on the Internet. Let's take one of the most trendy jar opener products as an example. On CJ dropshipping, the price for a single unit is $6.3 in total for shipping in the US. When the average price of such a jar opener is around $12-$13, such a low product price is good for ensuring your profit.
However, many stores online also sell such products by using international warehouses so then the orders can be processed 3 days after a customer placed the order. In order to provide fast shipping and processing time, having your own stock in the shipper's warehouse is also a good option for long-term profit.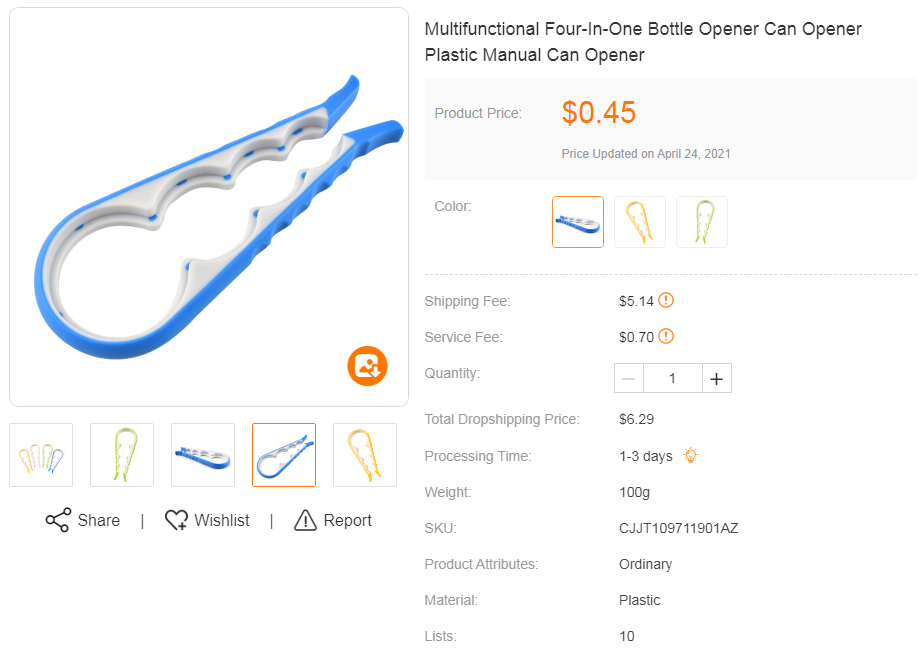 Foot Brace serves as an external production tool that helps prevent foot pain or injury. This niche is not only applicable to the elderly group but also can be used by people who do daily exercises or injured people who need ankle protection.
There is a large demand for foot brace products in the market currently. In the US, monthly Searches of "foot braces" reached 16,800 last March and it's still increasing this April. Besides, people who are looking for this niche may not only specifically want to purchase foot braces. Instead, people may search for healthcare products in general.
Thus, when you sell this kind of niche, you can consider selling other products with similar functions as bundles too. For example, people who are looking for a foot brace may also be interested in an elbow brace or knee brace.
When shipping this product, a foot brace is regarded as a good product with lightweight and small size. So the low cost of shipping is really helpful for you to get a great market margin.
With the large demand on the market, this product also got a really sustainable supplier chain, sellers usually do not need to worry about stock problems in this niche. These reasons made the foot brace a great product to sell for a dropshipping business.
Yet, good products always come with competition. According to Amazon scout data, About 40% of the orders on the market are fulfilled by Amazon; About 66% of the market has been taken by sellers of top brands. Based on this fact, selling this niche requires you to prepare for the marketing competition when you brand this product in your shop.
Supply Example
The average price of a pair of feet braces is around $19 in most online stores. Take one product from ALIExpress as an example, a pair of such foot braces takes $7.1 product cost and 3.8 shipping cost. Then we can see the profit is about $8.1 if not considering ad costs.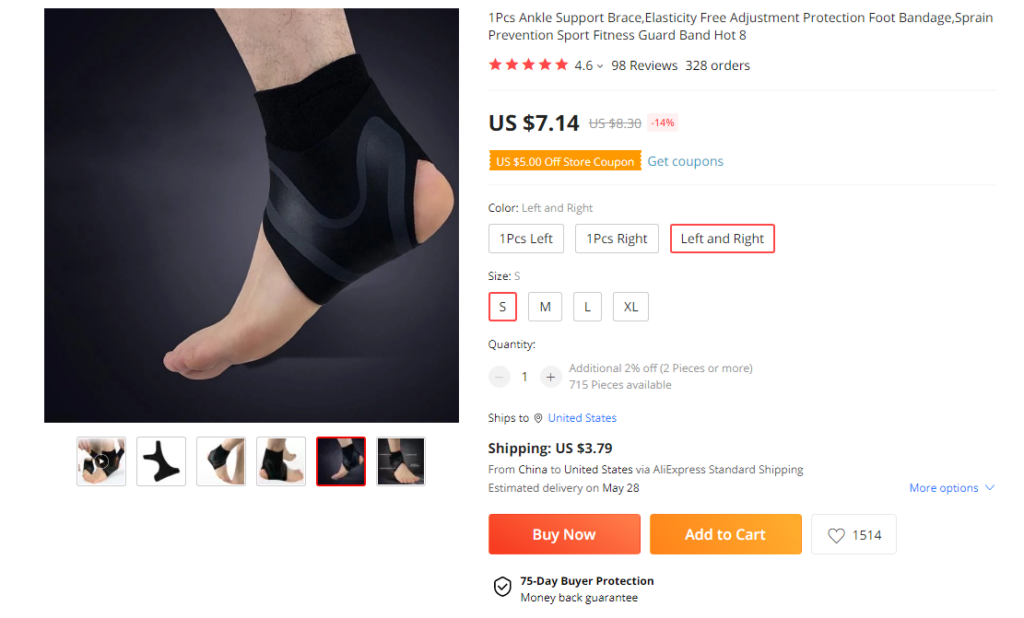 In addition, on CJ dropshipping the total cost of the same product is $7.74 for each pair. You can compare to the supplier on AliExpress, then choose the one that you think is suitable for your store.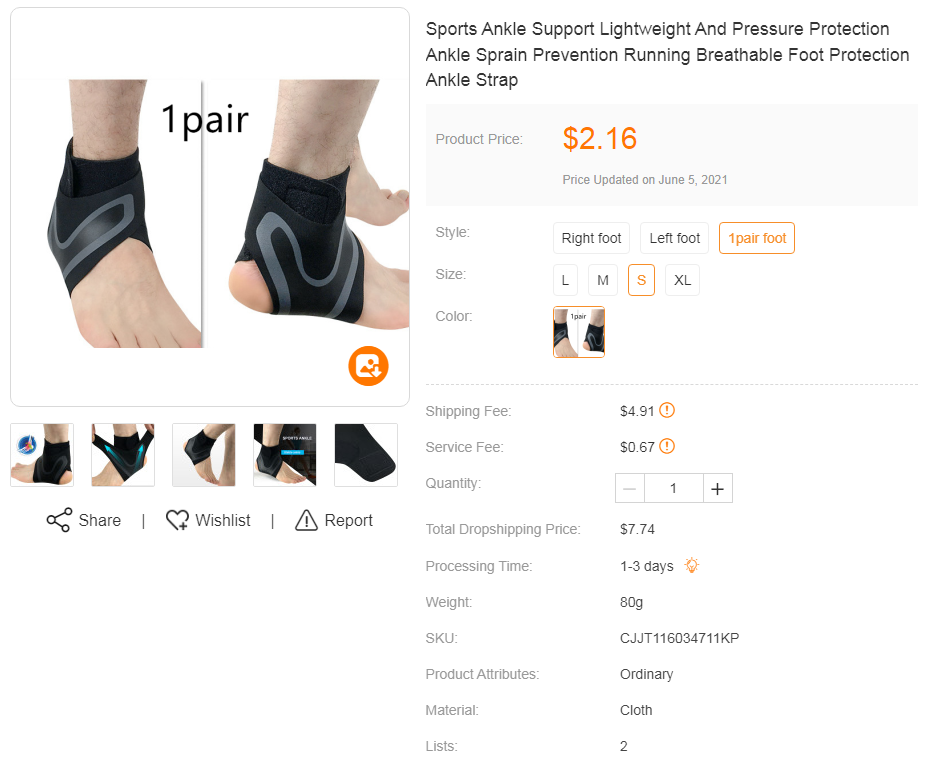 Generally speaking, bath mats are not products designed for the elderly group. It is one of the daily life products that most people need to have in their homes. Although there are many kinds of bath mats designed for different occasions, the main purpose of bath mats is always about preventing falling and absorbing water.
In the last march, 880, 000 searches have been generated in the AU with the term "bath mat". The sales of this niche also keep a steady trend. If you want to market this niche, the main country you may consider is Australia, New Zealand, and Canada.
Considering there are many variations and subcategories under the term "bath mat". It is still hard to determine the overall weight and size information for this niche. Normally most bath mats are good for shipping because they can be folded and have lightweight. But there are some mats of larger size and heavy material. So it is possible some of them require an extra shipping fee in shipment.
The various categories of this niche also mean there will be plenty of competitors on the market. If you want to market this product, you will need to make your product looks unique.
For the most common bath mats, the supply chain is really stable. However, because there are many types of variation, specific sizes or colors of this niche can easily get out-of-stock issues. So it's important to keep communicating with suppliers or even have your own stock with international warehouses.
Supply Example
In most cases, the length of bath mats can easily extend beyond 60cm. One example on CJ dropshipping shows the product cost $17.47 including a $13.68 shipping fee. As you can see the shipping fee is way higher than the product fee. Thus, if you wish to sell this bath mat, it might be a better option to contact an agent first to see if there is any chance to reduce the shipping fee.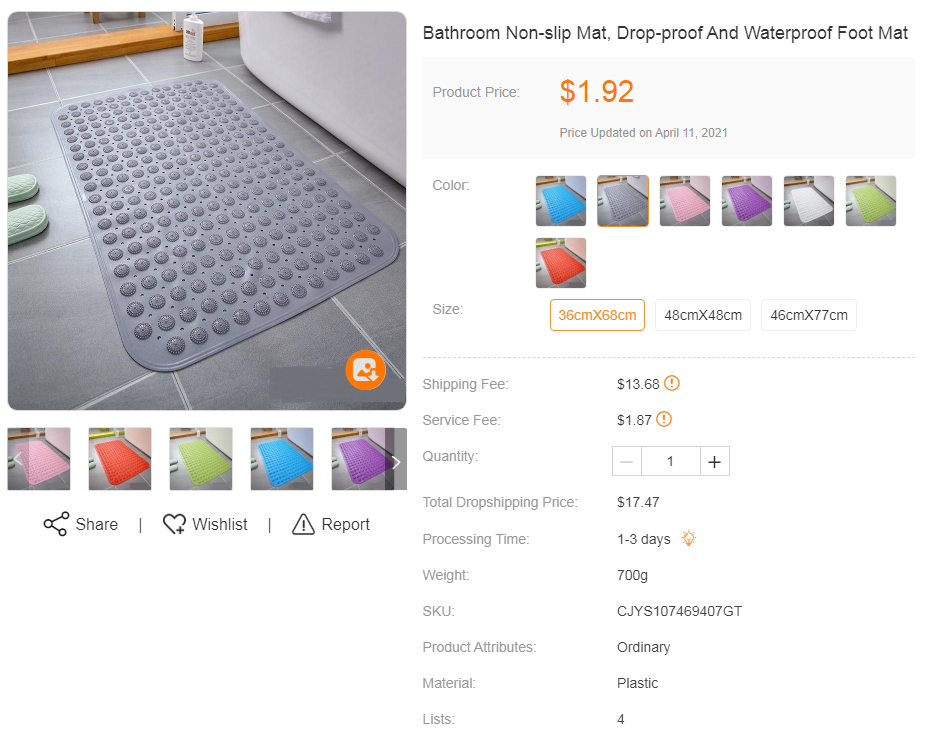 As a product that basically designed to assist elderly people, the walking stick shows a good demand on the market. According to google trends, about 27,5400 monthly searches were generated for the term "walking stick" in the AU.
The sales amount of this niche also has a significant trend of increase in the US and the UK. So, if you want to market a walking stick, you can focus ads in the United States, the United Kingdom, and Australia.
One good thing about selling walking sticks is the products have a stable market demand thanks to the growing global elderly population. Also, the competition is not so high for selling walking sticks online, only 10% of sellers have chosen Amazon FBA for this type of product.
Still, one thing you should notice is the shipping fee. Because there are many different sizes selection for each kind of walking stick, and not all of them are foldable. Due to this, the shipping fee can be unexpectedly high since they can be regarded as oversized products easily. That is why you should be aware of the product size before you market it.
We suggest you insure the shipping fee with the dropshipping site and supplier. Or make a sample order for the product so you can check the packaging by yourself. By doing this, you can avoid paying unexpected oversized shipping fees after your customers placed orders.
Supply Example
The price of a cheap foldable walking stick usually is around $28-$30, some variants with large sizes may even cost $50-70. But if we consider the budget for shipping walking sticks, the market margin also looks great.
This product is a foldable walking stick with a telescope function. On CJ dropshipping, shipping one of these products will cost $19.86 in total. Comparing the price with most online stores, the market margin is about $10.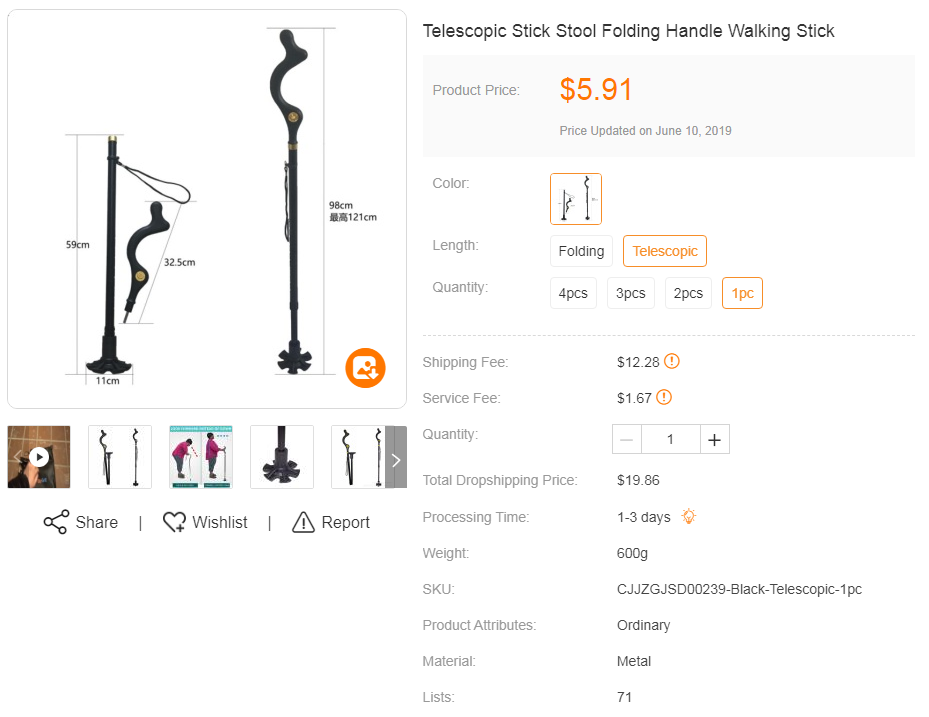 Reading glasses is one of the essential product for many seniors. With the growing percentage of Internet users and increasing use of mobile, the market for vision aid products will steadily expand in the future.
In the April of 2022, the monthly searches for reading glasses increased to 130,000 within the US. Accompanying the increase in market demands, selling reading glasses online can be a good choice for many online stores.
Also, we find the term "reading glasses for women" generated significantly more searches in the whole category. So if you want to sell various stylish reading glasses, you should consider focusing the ads on the female group.
In addition, the weight and sizes of glasses allow shipping with small packages. Small packages do not need a large budget for shipment, this feature makes shipping reading glasses a profitable choice.
Yet, since most of the market trade has already been taken by top brands, you will meet fierce competition if you are at the beginning stage of business.
Besides, if you wish to brand glasses, you can consider customizing the glass cases and frames with brand logos. Suppliers normally require 200-500 orders for printing on glasses products.
Supply Example
The price of a pair of reading glasses usually varies from 10~20$ based on materials and designs. Magnet reading glass is one of the most popular types in this niche, it got a special attribute so you may find it has longer shipping on most dropshipping sites.
On CJ Dropshipping, a pair of reading glasses only cost $5.57 in total for shipping to the US, and the estimated shipping time is 8-18 days.