Calluses and corns on the feet are usually ignored by many people. However, since more and more people realized the importance of maintaining a healthy body nowadays, how to keep a pair of healthy feet also become a popular topic.
Besides, there are plenty of people who are still suffering from pains caused by thick feet calluses. And they do not have time or can't afford to go to see a doctor frequently for foot problems.
Thus, various callus removal products are created to provide an easier way to do daily foot health maintenance. Among all the different products, this Wand Shape Electronic Foot Grinder has been trendy for a while and it has generated plenty of sales on many eCommerce platforms.
Based on its selling trend, this article will help dropshippers to check out if the electronic foot grinder is a good product to sell online. The dropshipping cost information will also be provided to give you an overall idea about how much it would take to dropship this product.
Selling Potential
Market Trend
By checking the searches on Google Trends, it shows the search rates of the term "foot grinder" and "callus remover for feet" are increasing in recent months. This result suggests there is an increasing demand on the market.
On Amazon US, the sales of callus remover products are also showing a steady increasing trend. About 299,200 monthly sales are generated from May to June this year. And the searches are also going up on Amazon as well.
Besides, most of the searches are generated in the US. So if you are selling related products, you may want to consider the US market first.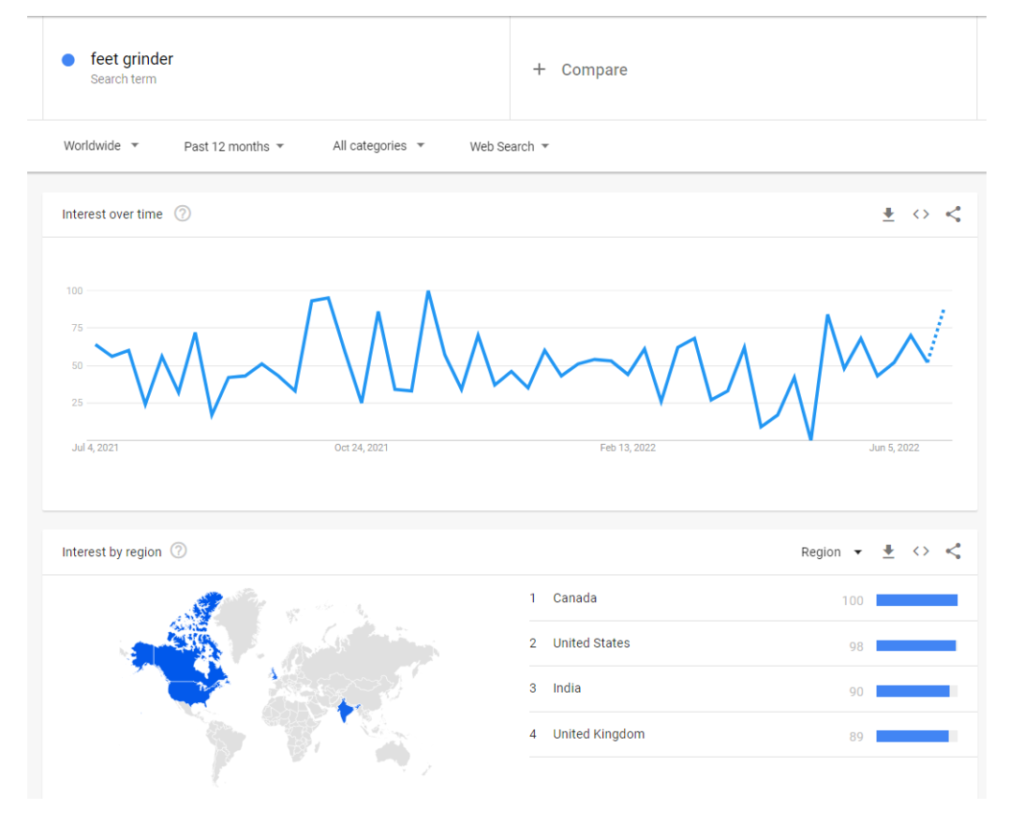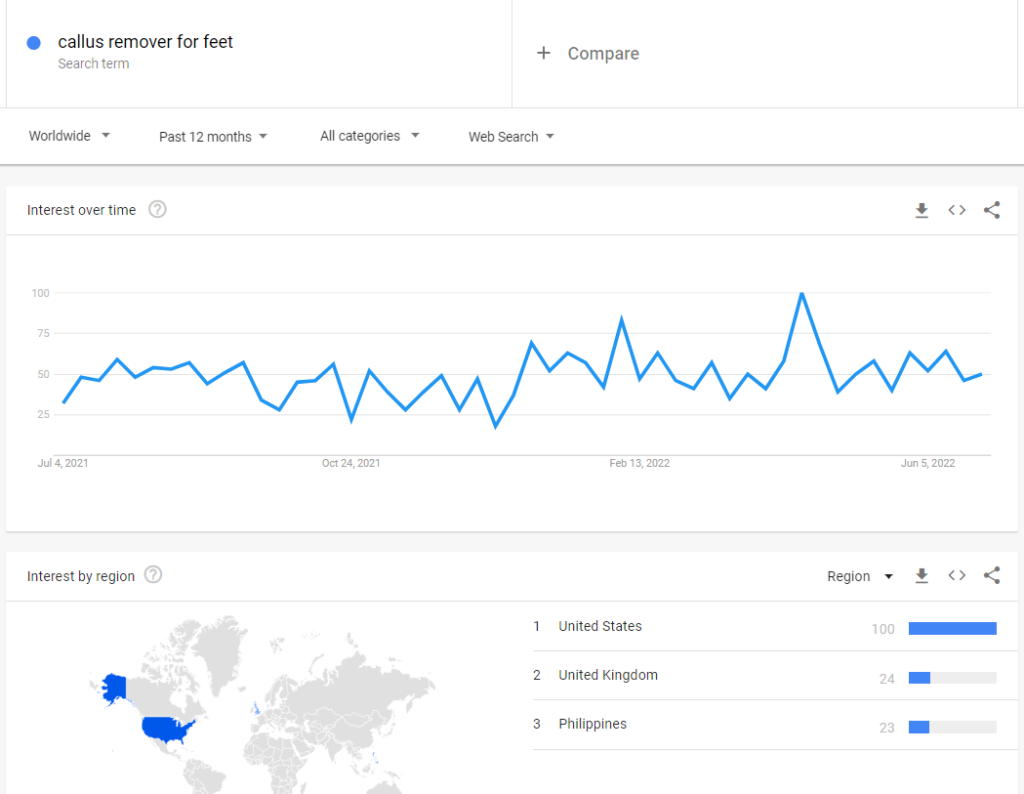 Product Feature
Among all the different kinds of foot grinder products, this Wand Shape Electronic Foot Grinder has been standing out with its cheap price and compact size.
Yet, only a limited number of sellers have started selling this product on the market currently. So this Electric Foot Grinder still got good selling potential.
Let's check what special features it got.
Ergonomic Design: The electric foot grinder is designed as a wand. It's easy to hold and can be used on any kind of foot callus.
Compact size: The size of this product is 7.7*1.4 inches. Which is easy to carry and convenient for outdoor use.
Two Speed Option: Hight & Low speed modes are available for different needs.
Two Different Roller Heads: The package included a fine roller and a coarse roller. Customers can use the fine roller for daily foot maintenance and use the coarse roller to do deep cleaning.
Waterproof Material: The whole product is waterproof, and it's easy to wash after use. It's also applicable to use after taking shower or bath.
Rating
On Aliexpress, the overall rating of the Wand Shape Electric Foot Grinder is 4.6. It's not bad and many buyers left positive comments. However, some buyers pointed out that the battery of this product is not durable and it needs frequent charging.
After reviewing many reviews on different platforms and consulting with the suppliers. We find the main problem with this product is it takes too much time to charge. Customers usually need to take 2-3 hours to charge it after 20 minutes of use.
If you want to make this product your winning product. The best way would be to contact the supplier to ask if there is any solution to the battery issue. Because the product itself is cheap originally, the suppliers may not use the best battery or charging methods for it. But if you got bulk orders, you can request the supplier to improve the product quality.
Even though it may lead to raising in product costs, better products will eventually attract more customers.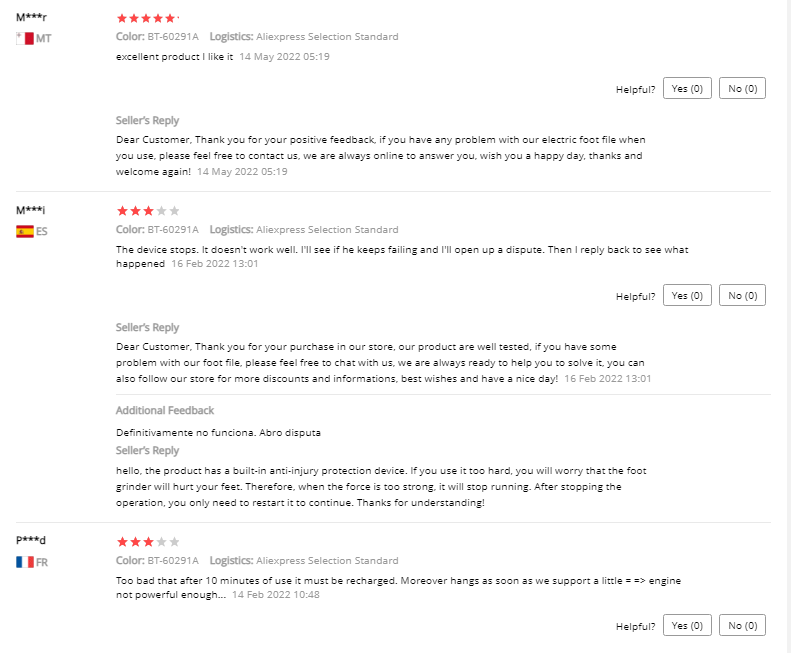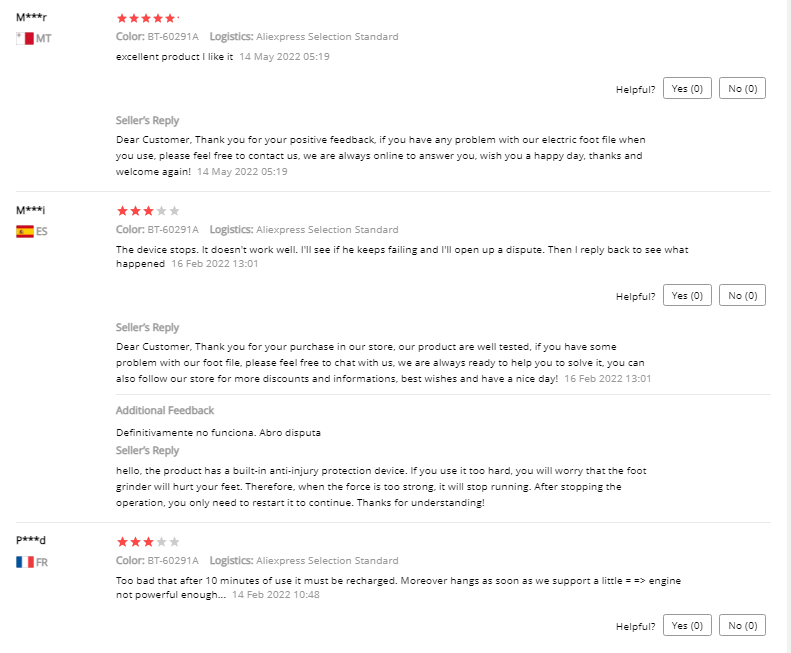 Pricing
Most electronic foot grinding products are priced at around $20 plus a $5-10 shipping fee. Considering the dropshipping costs, the average market margin is about $15 per order when shipping orders to the US. So this product is surely profitable by now.
Then if we consider the supply costs, the market margin per order can reach $20. So this product is really profitable in terms of dropshipping.
Besides, there are also many different types of electronic foot grinding products with different designs. If you are interested in this specific niche, you can find more potential products on CJDropshipping or AliExpress.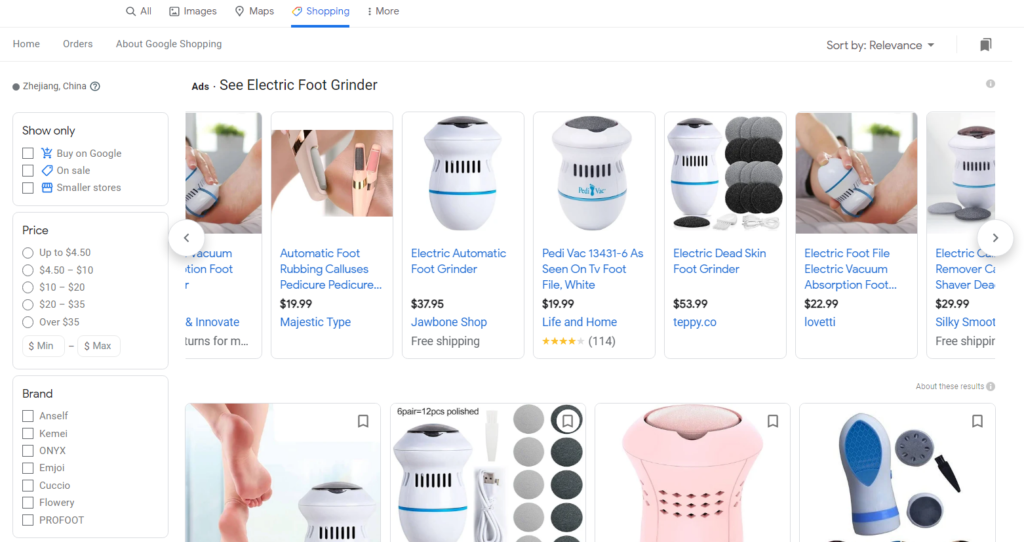 Dropshipping Costs & MOQ
Shipping Rates
Normally shipping electronic products will cost more than shipping ordinary products. However, thanks to the compact size of this foot grinder, the shipping cost is quite cheap. Shipping 1 unit of foot grinder normally takes $7-9 and the product.
Also, because there haven't been a lot of sellers selling it yet, most of the suppliers still got enough stocks prepared for sale. Thus dropshippers do not need to worry about it being out of stock for the moment.
CJ Dropshipping
Total Dropshipping Cost: $10.46
Processing time: 3-4 days
Shipping time: 8-16 days
Shipping method: CJPacket Sensitive
On CJ Dropshipping, ordering an electronic foot grinder takes $10.46. It includes $2.75 product and $7.71 shipping fee.
The best shipping method would be CJPacket Sensitive and the shipping time is about 8-16 days. There are also other cheaper shipping methods but the shipping time is much longer than CJPacket Sensitive.
In addition, the option for only ordering roller heads is available. So if customers want to order rollers for replacement, CJ can also send the rollers as well.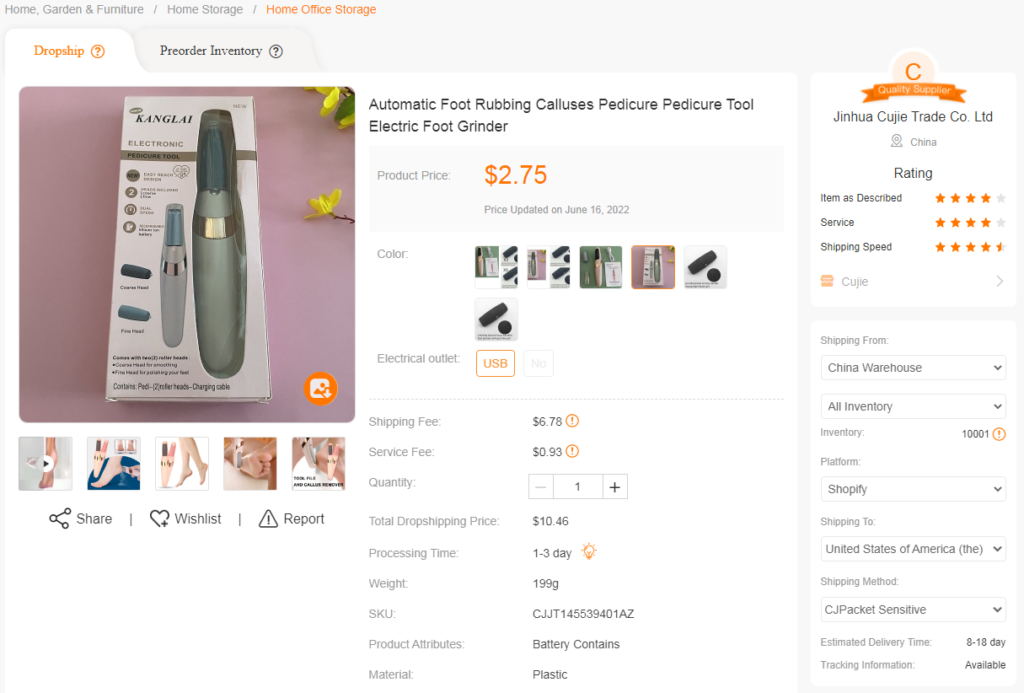 AliExpress
Total Dropshipping Cost: $11.39
Processing time: 1-5 days
Shipping time: 25 days
Shipping method: AliExpress Standard Shipping
On AliExpress, purchasing an electronic foot grinder takes $11.39. The shipping fee is free but the product price has been set much higher than CJ Dropshipping.
Besides, the estimated shipping time can reach 25 days when using AliExpress standard shipping. If customers want to buy replacement rollers heads, it is also available but only the 4pcs option is provided.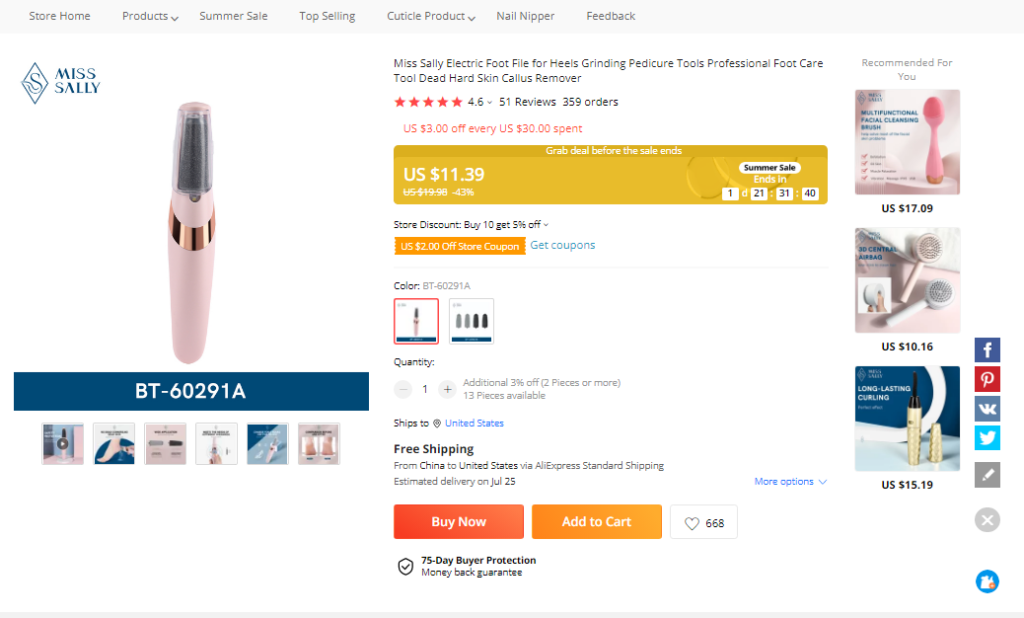 Comparison
By comparing the price, we can tell that there are not many differences between Aliexpress and CJ Droppshippng. But the $0.93 price on CJ Dropshipping is indeed a bit cheaper and it's for good long-term business. And what more important is the shipping time of CJ Dropshipping is way faster than the one on AliExpress.
So generally speaking, CJ Dropshipping got more advantages than AliExpress when shipping this electronic foot grinder. With the lower shipping and product costs, most dropshippers would choose CJ Dropshipping for it.
Also, the shorter shipping time is good for improving the customer experience. If you wish to have a 3-7 days shipping time like some top-sellers, you can also bulk order the products to CJ's international warehouses to stock them there.
In conclusion, this Wand Shape Electric Foot Grinder is a good product to dropship. Although the trend is not so hot, it still got great potential to become the next winning product in your store.