Everyone who takes charge of home cooking knows that the preparation work can be time-consuming and exhausting, especially when it comes to getting all the needed ingredients ready. As the innovation of products brings greater convenience to households around the world, people are increasingly starting to enjoy the process of food cooking. Luckily, the product we represent today—Manual Vegetable Slicer—falls into the category of men-liberator.
In fact, the manual vegetable slicer is not uncommon in the kitchen. Most of them can either turn foods into slices or strips. Today's product, however, combines three functions. It can turn foods into crumbs, slices, or strips, thus drastically saving expenses and space.
Therefore, this article aims to share detailed information about this product for dropshippers. Through this article, they can figure out if it is a lucrative product to sell. So, let's get started now.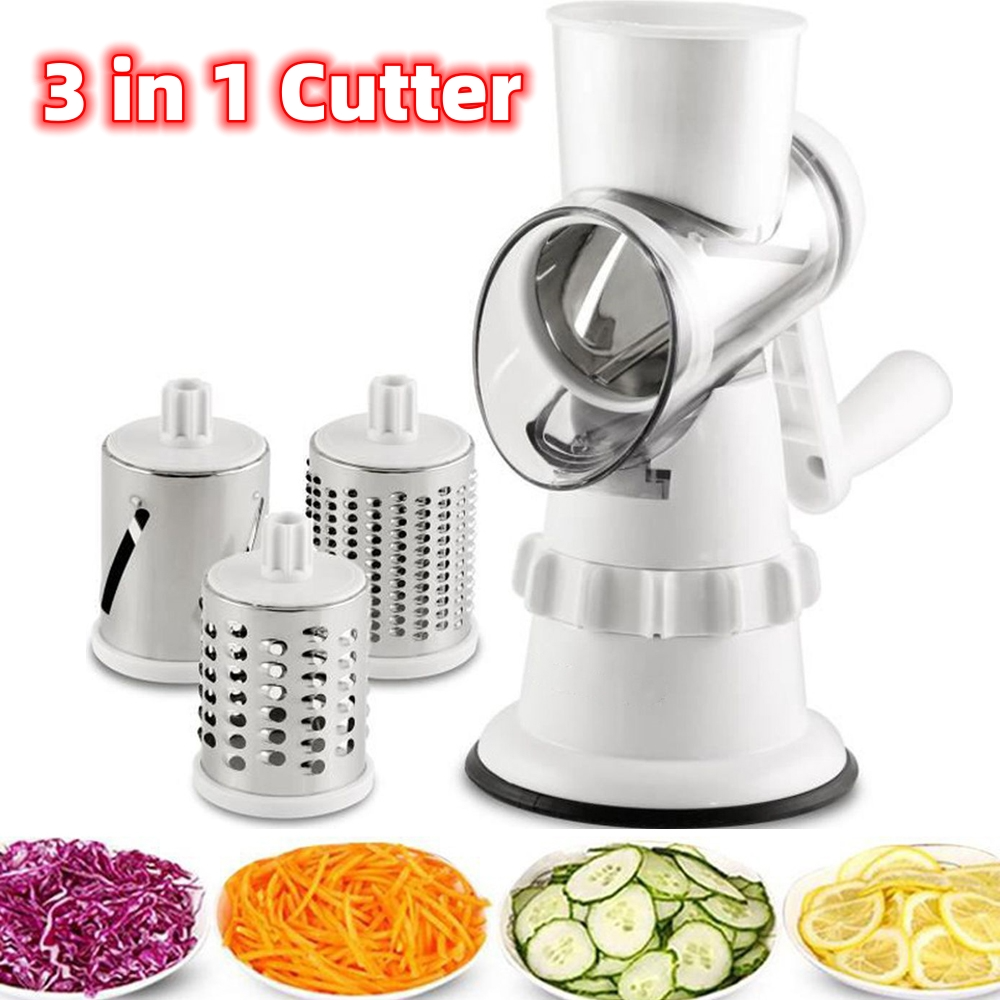 Selling Potential of Manual Vegetable Slicer
Market Trend
As shown on Google Trends, the search trend for manual vegetable slicers has seen constant fluctuation in the previous month but it has the potential to increase in the future. By estimate, the trend will start to grow soon.
More importantly, this product is quite popular in Australia considering how much they like cooking, which is to say that investing in this marketplace should not be a bad choice. Of course, as a kitchen necessity, this product can be profitable in almost all marketplaces. Give it a little patience, you will gain what you sow.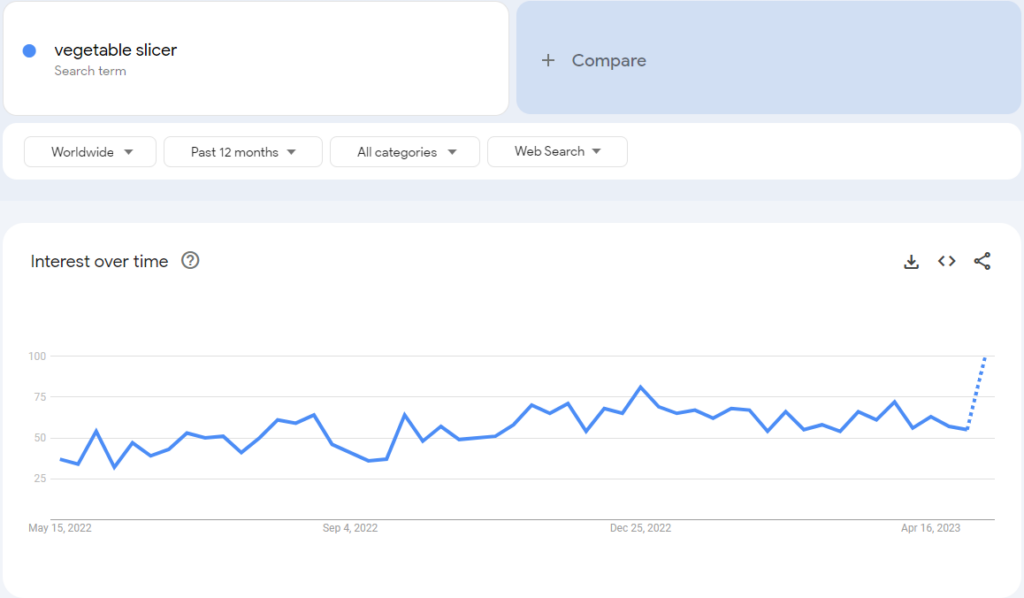 Product Features of Manual Vegetable Slicer
Free your Hands: Make super easy and quick work of creating uniform spirals from fruits and vegetables for curly fries, salads, and pasta within seconds.
Kitchen Necessity: For vegetable Julienne, Slicing and Grinding, all functions in one piece of equipment mean more room in your kitchen cupboards without mess.
Human-friendly Design: A reasonable drum-type rotating vegetable shredder has powerful suction feet for stability on your table. This makes it efficient and easy to operate!
Safe and Heavy Duty: BPA-free food grade ABS plastic and 3 Sharp stainless steel blades ensure product longevity for everyday use.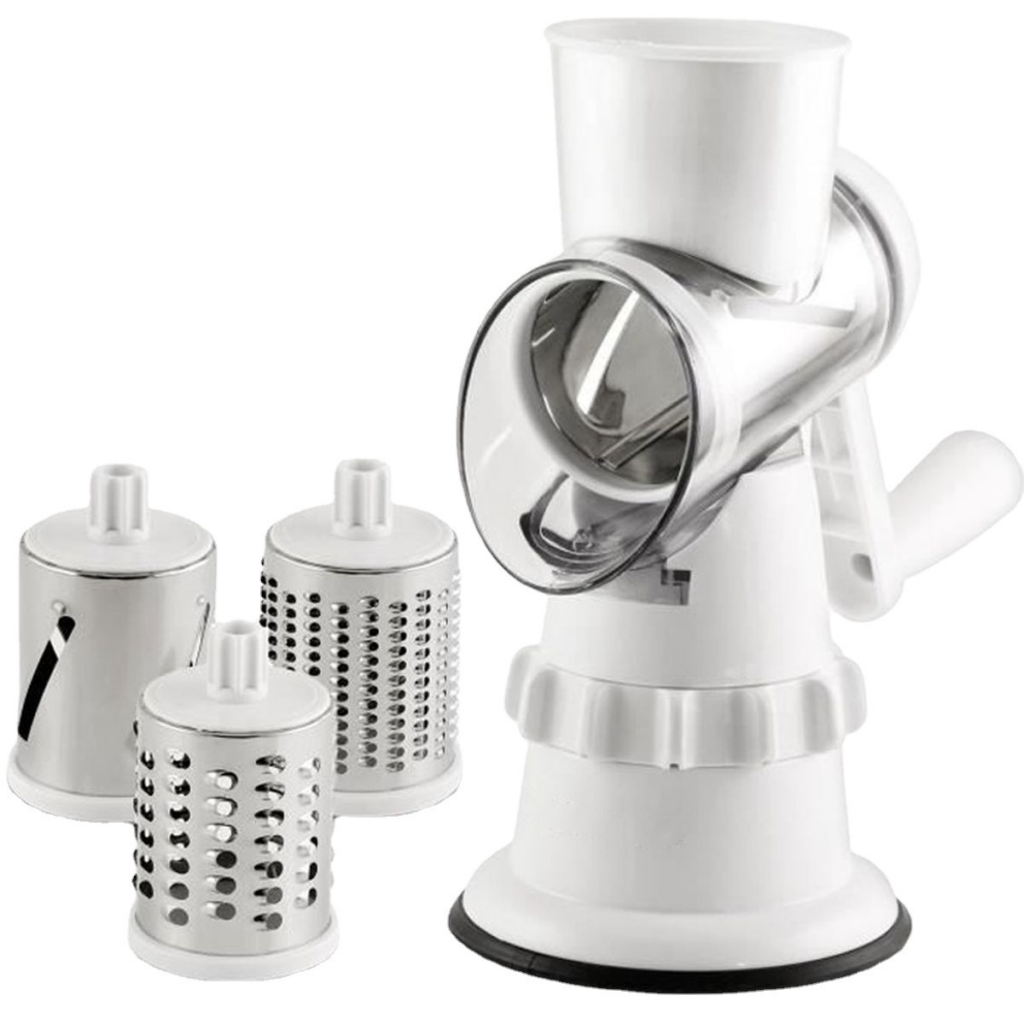 Rating
Much to our surprise, the rating of manual vegetable slicers is mediocre in major dropshipping platforms like AliExpress. On AliExpress, the rate only stands at 4.4 out of 5, a relatively low point compared with our previously recommended products.
Moreover, some customers who give it negative reviews claim that this product is poor-packaged and that the materials in it were damaged because of this. This could be a terrible experience for customers.
Undoubtedly, packing and shipping play two critical roles in international transportation. Definitely, a damaged package can negatively affect your business. Luckily, we have confirmed that CJ can provide quality inspection service, which means all products in CJ will undergo a round of quality inspection before dispatch, thereby vastly reducing the risk of damage. It could be a reliable source for dropshipping businesses.
Generally speaking, this product is indeed a good product to sell considering how badly needed it is in the home. As most customers say it is well-functioned and has good quality, you can give it a try.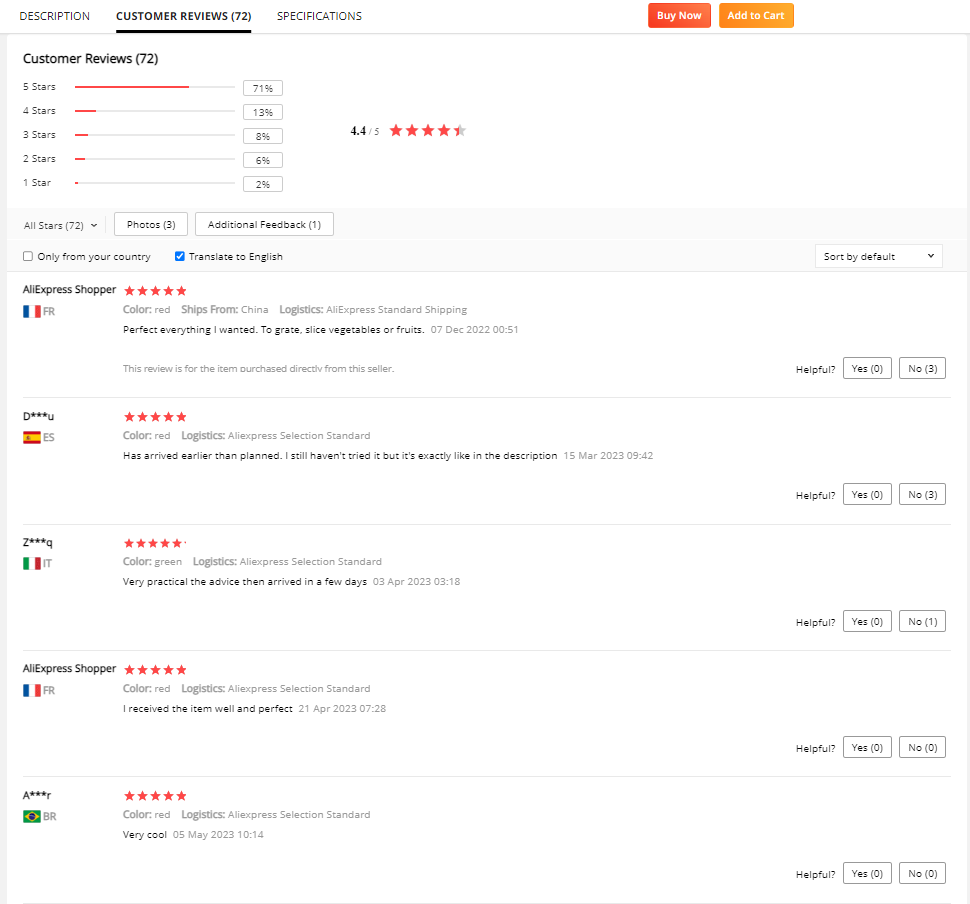 Pricing
The market price of one manual vegetable slicer is around $30-$50. Nevertheless, the one we represent is much lower, standing at around $17. This leaves you with a wider profits range.
In case you are puzzled as to price-setting, we suggest that you may make it in conformity with your total dropshipping cost. Generally speaking, the selling price should be two to three times the cost. For example, if your cost is $20, then $40 is fair.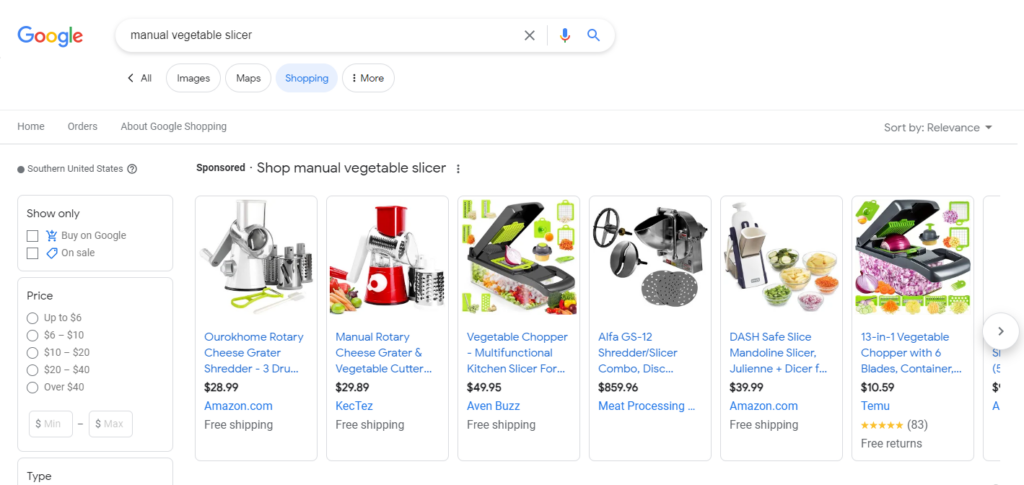 Dropshipping Costs of Manual Vegetable Slicer
Shipping Rates
A manual vegetable slicer is a tool to save your labor in the preparation of food, especially when it comes to chopping and cutting. With proper operation, it can help you easily handle ingredients for cooking.
Ordinary product as it is, the shipping cost of this product is not so high. Moreover, the market is large with worldwide coverage and there are no restrictions on crowds, regions, religions, and seasons.
For your reference, you may compare the dropshipping cost from the following two major platforms so as to pick a trustworthy supplier if you want to sell this product.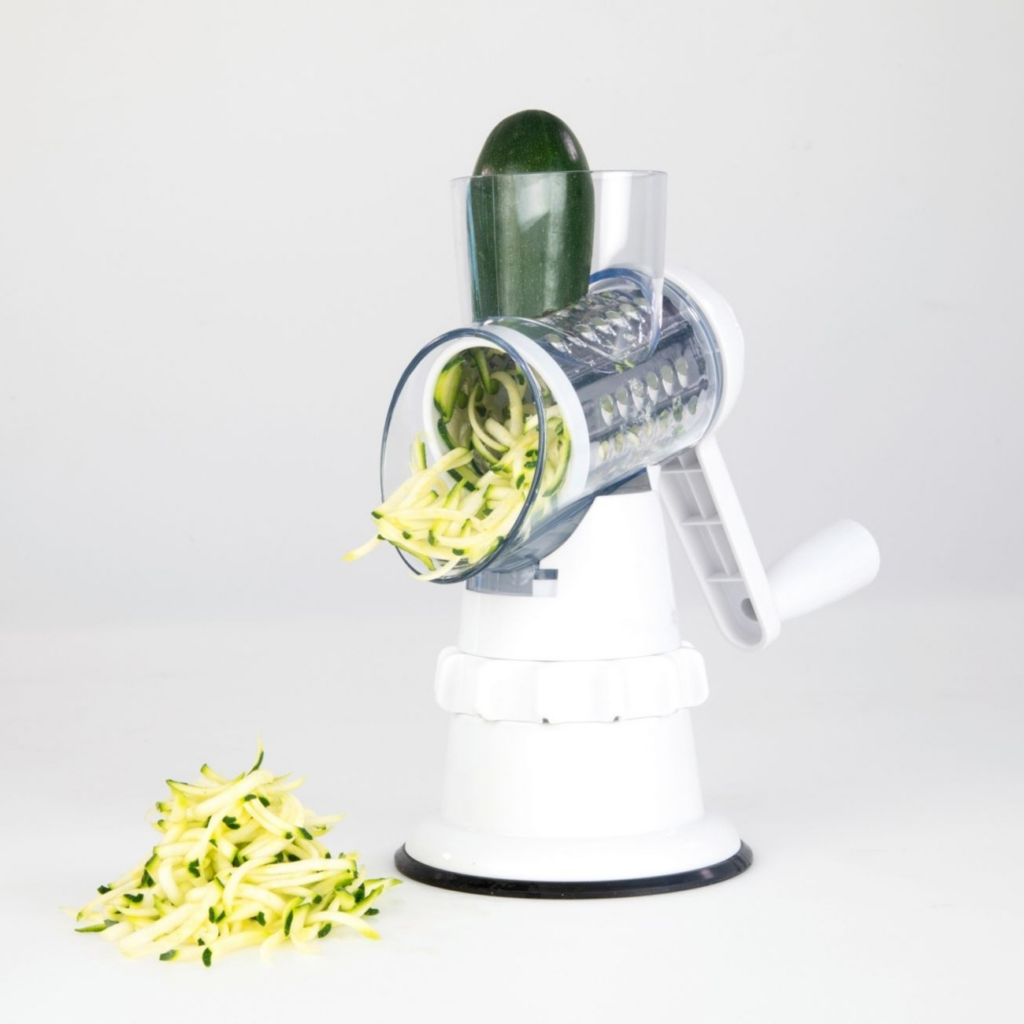 CJ Dropshipping
Total Dropshipping Cost: $17.11
Processing time: 1-3 days
Shipping time: 7-15 days
Shipping method: CJPacket Ordinary VIP
On CJdropshipping, the total dropshipping price of the manual vegetable slicer is $17.11 The price includes $6.51 for the product and $9.33 for the shipping plus $1.27 for the service.
If you want to sell it in the US, the most cost-effective shipping method is CJPacket Ordinary VIP, which provides 7-15 days of shipping time.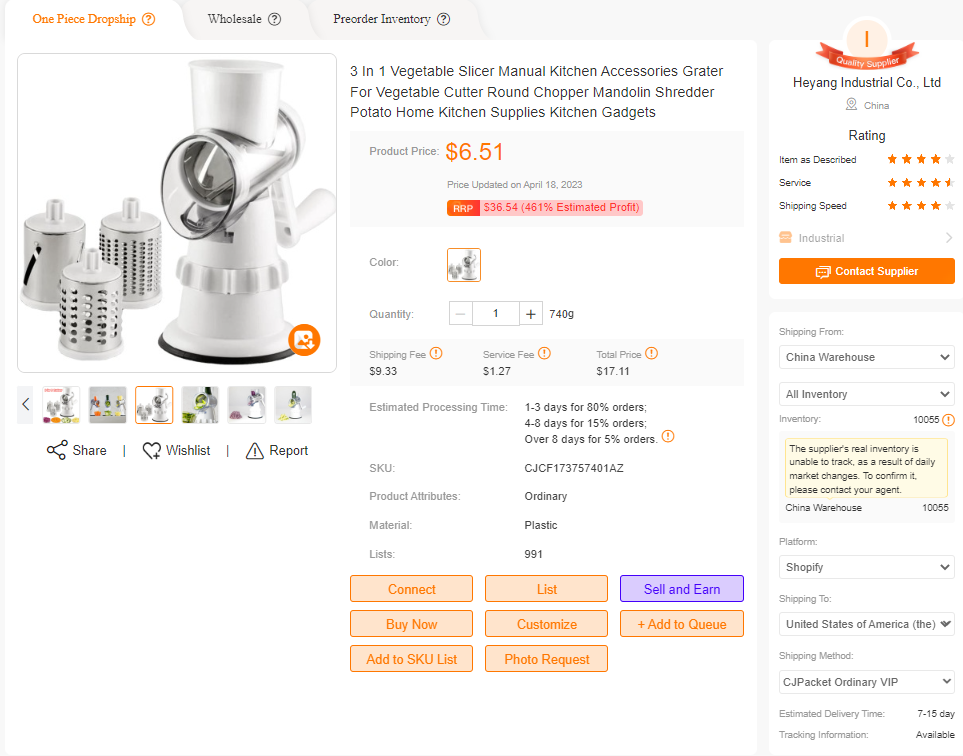 AliExpress
On AliExpress, the price of shipping the manual vegetable slicer to the US is $17.34, with free shipping.
Total Dropshipping Cost: $17.34
Processing time: 1-5 days
Shipping time: 12 days
Shipping method: AliExpress Standard Shipping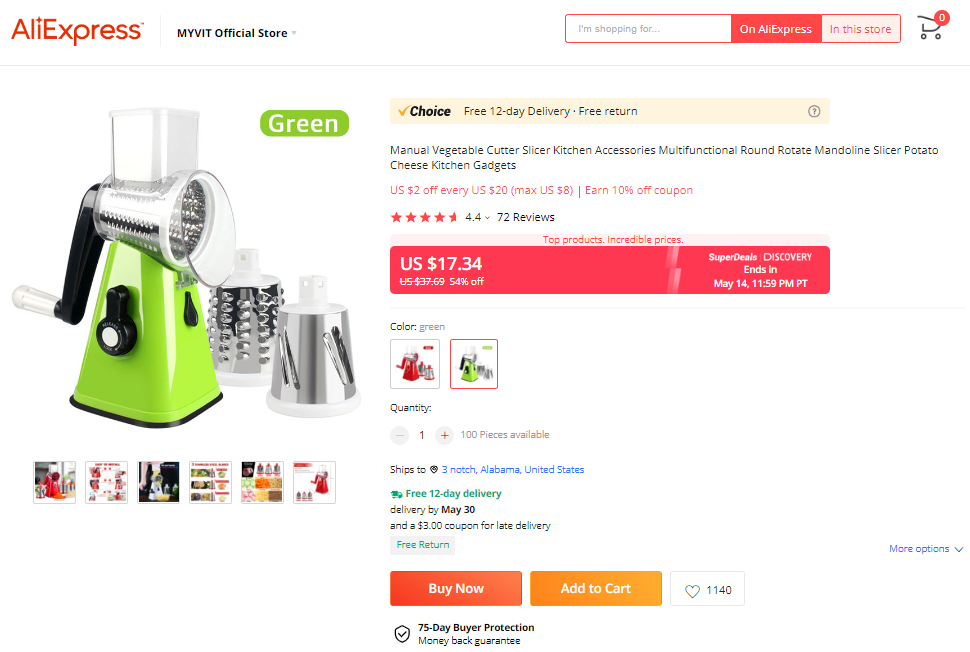 Comparison
Clearly, CJ has a minor edge over AliExpress when it comes to pricing, when the two have a similar shipping time. By the way, AliExpress promises a $3 coupon when they cannot deliver it in 12 days.
In fact, you can place a sample order on both dropshipping platforms to test their shipping time and the product's quality before establishing a long-term partnership. It is indeed a safe way to start a business.
What sets them apart is that CJ offers a global warehouse delivery service. For instance, you may buy inventory on CJ to have them stocked at warehouses in US, so that the shipping time can be curtailed to only 2-6 days. A game-change advantage, so to speak.
Final Words
Kitchen can be a place both for joy and quarrel. For those who keep their family well-managed, the kitchen can serve as a place for the fun of shared cooking. Nevertheless, it can get us caught up in quarrels if we can designate clearly who is responsible for a series of tasks. Here is when a manual vegetable slicer comes to your aid. It can free your hands from laboriously cutting ingredients into slices, preventing you from getting raged. With its great convenience, households around the world can enjoy merry-making in the kitchen.
For dropshippers around the world, it is a highly cost-effective product to start your business in the middle of this year. What are you waiting for?