When it comes to summer, high temperature is always the number one killer of laptops. Although most laptops are equipped with a cooling fan, if there is too much dust inside the machine, the cooling function will also be disturbed. That's why many people are caring so much about cleaning their computers regularly nowadays.
Following this trend, this 7-in-1 multifunction keyboard cleaner also becomes hot in the eCommerce industry this summer. But is it a good product for dropshipping? Let's find out.
Selling Potential
Market Trend
According to Google Trends, it shows the term keyboard clean has been popular since the beginning of 2022. Till the end of July, the overall searches have been slightly going down, but recent data shows the popularity is uprising again. If you want to catch up with this trend, it's not too late to start listing keyboard cleaning products from now on.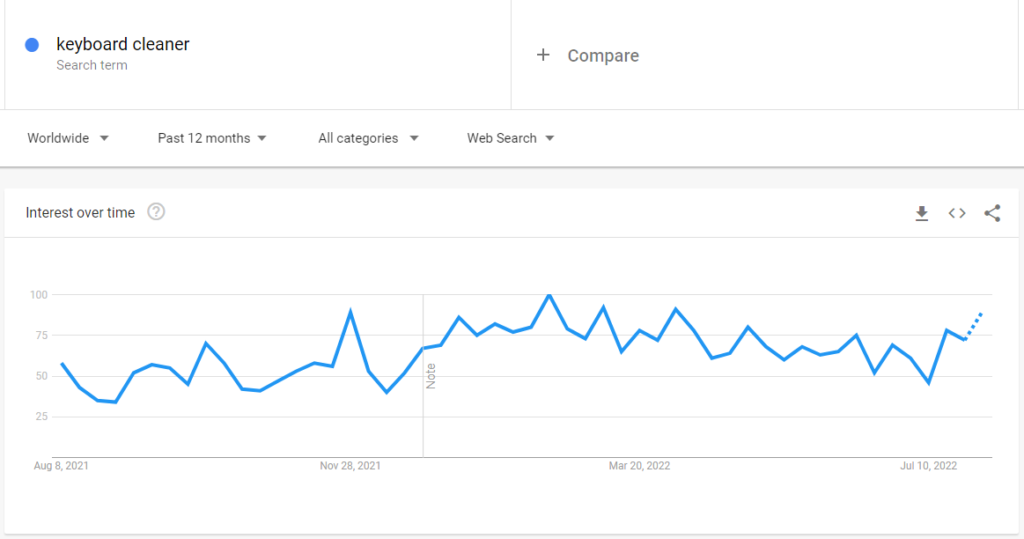 Product Feature
Multi-function: The keyboard cleaner laptop combines 7 functions together to help clean most electronic devices. It includes an airport cleaner pen, a retractable keyboard cleaning brush, a keycap buckle, a sprayer bottle, and a screen cleaning flannelette.
All necessary tools included: The product contains silicone nib and earbud brush, which can clean the stubborn metal mesh and ear cap in the headphone without scratching. If customers want to clean the headphone charging chamber, they can also use the sponge swab to do it.
Easy to use: The product does not need a complex manual book to use. The unique shape and designs of the tools will help the users understand how to use them properly. It makes cleaning electronic devices become an easy task in daily life.
Easy to store and carry: All the cleaning tools are stored in a small brush, customers can keep the brush in a drawer and carry it in their pocket when going out.
Rating
The average rating of multifunction keyboard cleaners on Amazon is around 4.2. Most customers are satisfied with the product but there are also some people saying it is hard to use.
Still, there are not many comments about this product on the internet, most customers did not leave comments about it after purchasing. So we can assume that there aren't many aftersales problems with it.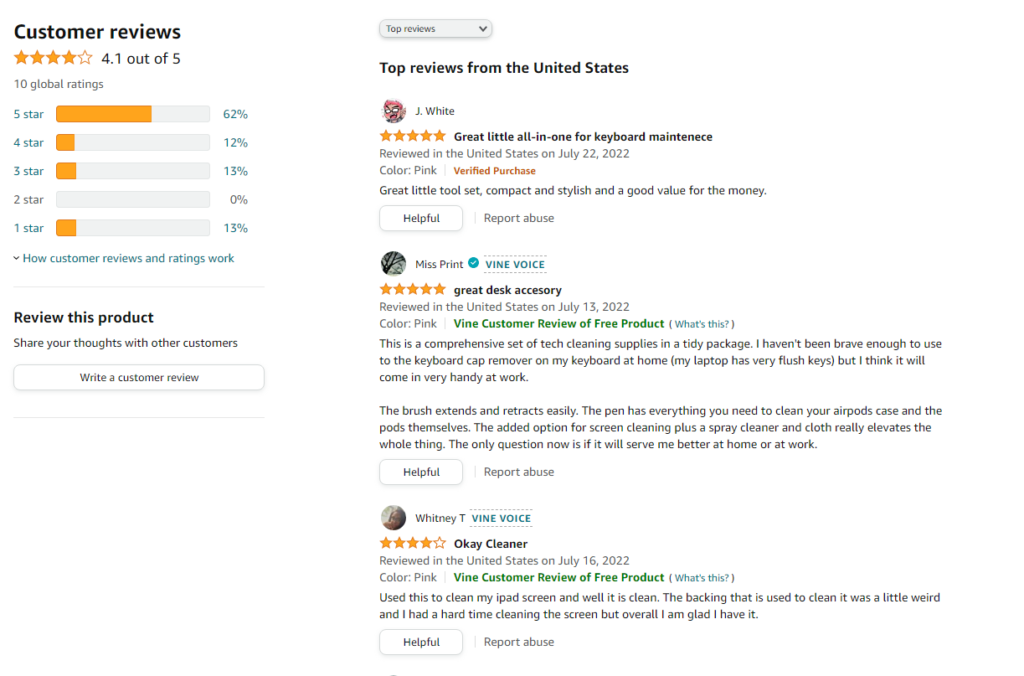 Pricing
The top-ranked shops on Google are selling this multifunction keyboard cleaning brush at $17-$20. Such a price is ideal for dropshipping since the shipping cost of this product is not high.
If you want to attract customers with lower a price, you can also refer to the price on Amazon US. The same product is priced at $12-$16 on Amazon, which is cheaper than most online stores. This price is good for wholesalers to make profits but it is not recommended for dropshippers.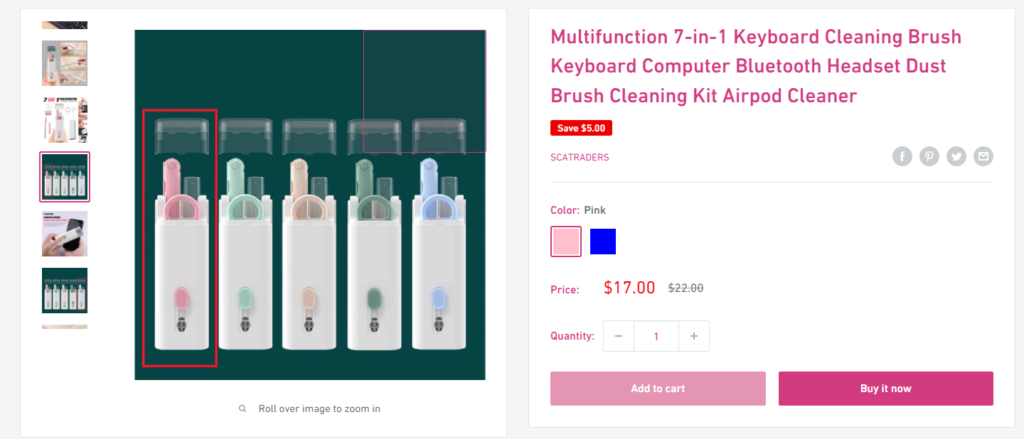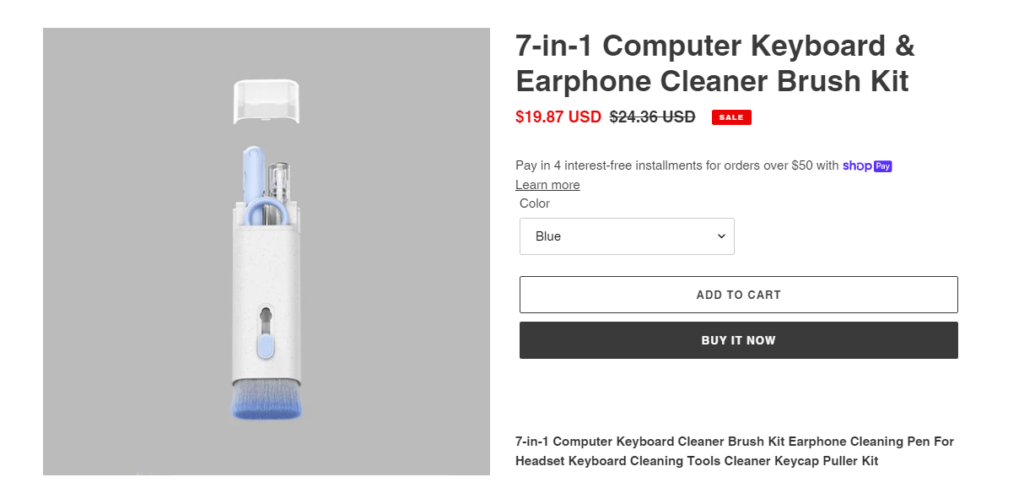 Dropshipping Costs & MOQ
Shipping Rates
When it comes to shipment, the multifunction keyboard cleaner doesn't need much shipping fee since it is small and lightweight. However, because the product contains cleaning liquid, so shipping companies can only use a liquid shipping line instead of using a fast ordinary product shipping channel. This is the reason that cleaner products sometimes need 30 days to get delivered on some platforms.
For now, this product only got pink and blue variations available, and the suppliers do not have plans to make other variations currently. So if you want to list the product in your online store, you only need to list the blue and pink colors.
Furthermore, the manufacturing time of the multifunction keyboard cleaner can extend to 15 days. So once the suppliers ran out of stock, your customer needs to wait for a long time for the production. Thus, if you want to sell this product, we recommend you have some private stock of your own in a warehouse when you got enough budget.
In the next section, the total dropshipping costs of this product on CJ Dropshipping and AliExpress will be presented to help dropshippers get some ideas about how much budget is needed to sell this product. Because there are multiple suppliers on AliExpress, we will look into the one that got the highest order amount as an example.
CJ Dropshipping
Total Dropshipping Cost: $9.07
Processing time: 1-3 days
Shipping time: 8-16 days
Shipping method: USPS
On CJ Dropshipping, shipping one multifunction keyboard brush will cost you $9.07. The cost includes $3.56 product fee and $5.51 fee. The most recommended shipping method is USPS which has 8-16 days of shipping time currently. If your market is not located in the US, you can choose CJPacket MY sensitive since it's available for most major countries.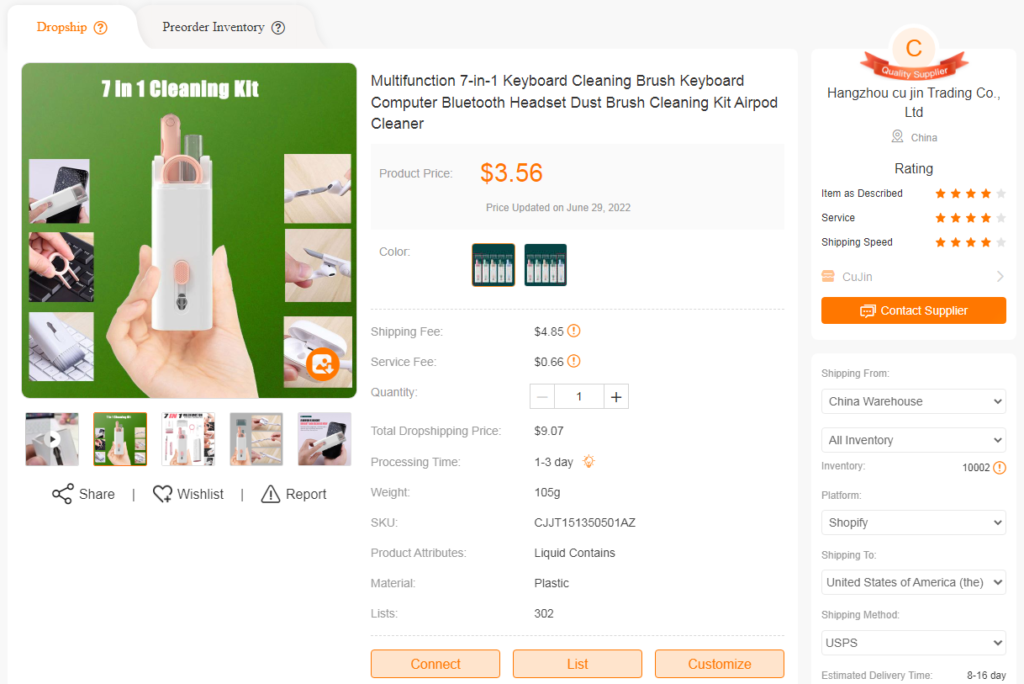 AliExpress
Total Dropshipping Cost: 7.68
Processing time: 1-5 days
Shipping time: 22 days
Shipping method: AliExpress Standard
On AliEpress, you only need to pay $7.68 to get one unit of multifunction keyboard brush, and the shipment is free. However, this price is a discounted selling price and it may raise soon.
By using AliExpress standard shipping method, the product can be delivered to US customers within 22 days. If your customer only needs some replacement parts of the product, the AliExpress seller also provides several selectable variants.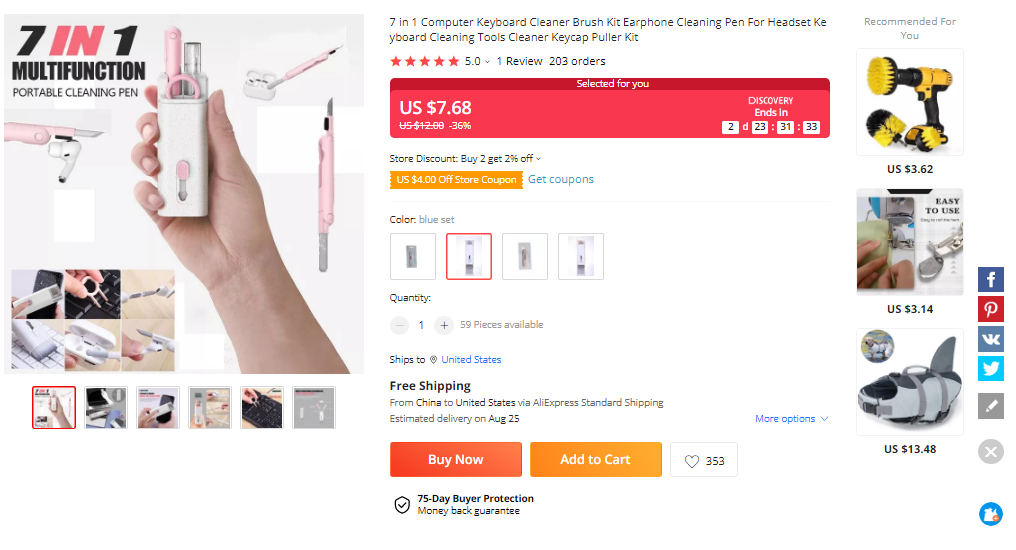 Comparison
Comparing the price of 7 in 1 computer keyboard cleaner on AliExpress and CJ Dropshipping, shows the price is relatively similar between the 2 platforms. There is only a $1.39 difference and when order includes multiple items, the shipping cost on CJ Dropshipping will be cheaper.
For shipping time, CJ Dropshipping provides a fast shipping line that can achieve 8-16 days to the US. In contrast, AliExpress standard shipping needs more time to deliver the product to the customers.
So if you want to get both cheap prices and fast shipping time for your store, CJ Dropshipping is the best option to choose. If you want to cut down on the budget and find the cheapest supplier, then AliExpress is your best choice.
You can choose one supplier as the main supplier and save others as backup. After all, it is always good to have several backup suppliers because not all suppliers are honest with their stock amount and shipping efficiency.
Customization
The suppliers of 7-in-1 multifunction keyboard cleaners also support product customization, but the minimum order quantity is not so friendly to most dropshippers. After consulting with the suppliers, we were told that it requires purchasing 2000 pieces at least to get logo printing. So this logo printing service is mostly for wholesalers who want to do bulk purchases.
Still, this doesn't mean you can't make your own brand as a dropshipper. If you are a dropshipping beginner, you can choose to use the custom packaging service of CJ Dropshipping. CJ Dropshipping provides various customize packaging options for different products and most packaging only needs a small amount of MOQ to start with.
If you don't want to your customer see any Chinese letters or supplier logos on the product, the custom packaging service is the best option to get unique alternative packaging.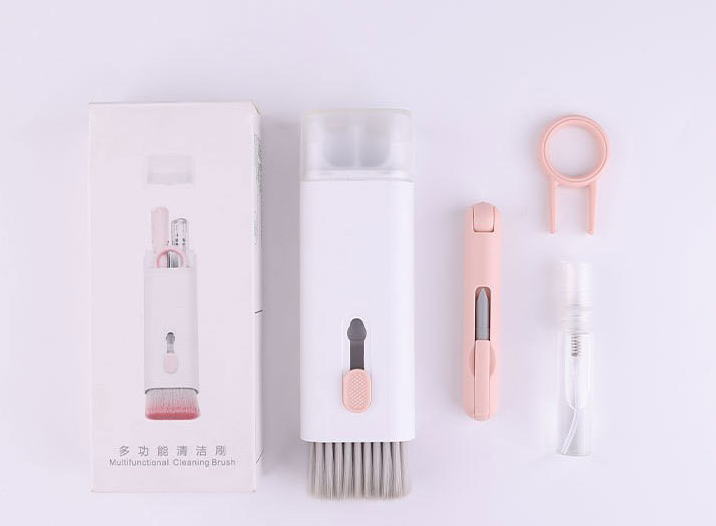 Certifications
The suppliers have registered CE certification for the 7-in-1 multifunction keyboard cleaner, so it can be sold to most European countries. If your store platform needs a copy of the certification, you can contact the supplier directly to get it.
In conclusion, the 7-in-1 multifunction keyboard cleaner is a good product to sell. The low cost of shipping makes it a great product for making stable profits.