This summer, this multifunction vegetable cutter has become a trending product on Instagram. It is a 4-in-1 electric vegetable cutter that can be held in one hand, many people are attracted by the convenience it shows.
There are also plenty of sellers started listing this product in their stores. But is this trendy product really a good product to sell in online shops? Let's find out.
Selling Potential
Market Trend
Google Trends shows the term "vegetable cutter" has become suddenly popular all over the world at the end of last July. On Instagram, a post showing how to use the multifunction vegetable cutter received 78,000+ views so far. And there are many people interested in this product and left their comments to post.
This trend shows the demand for related products is surprisingly increasing in the global market. So it might be the best time to list this product in your online store.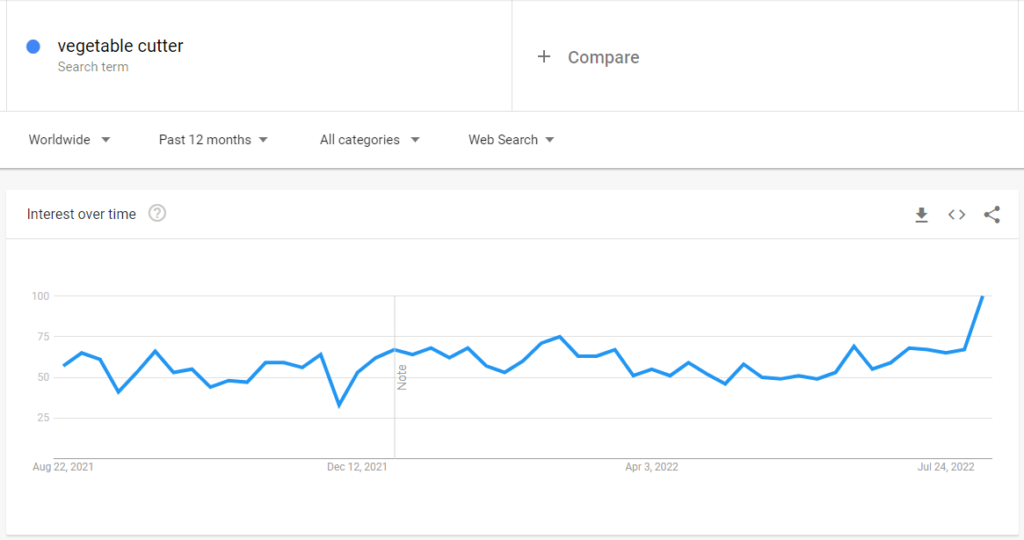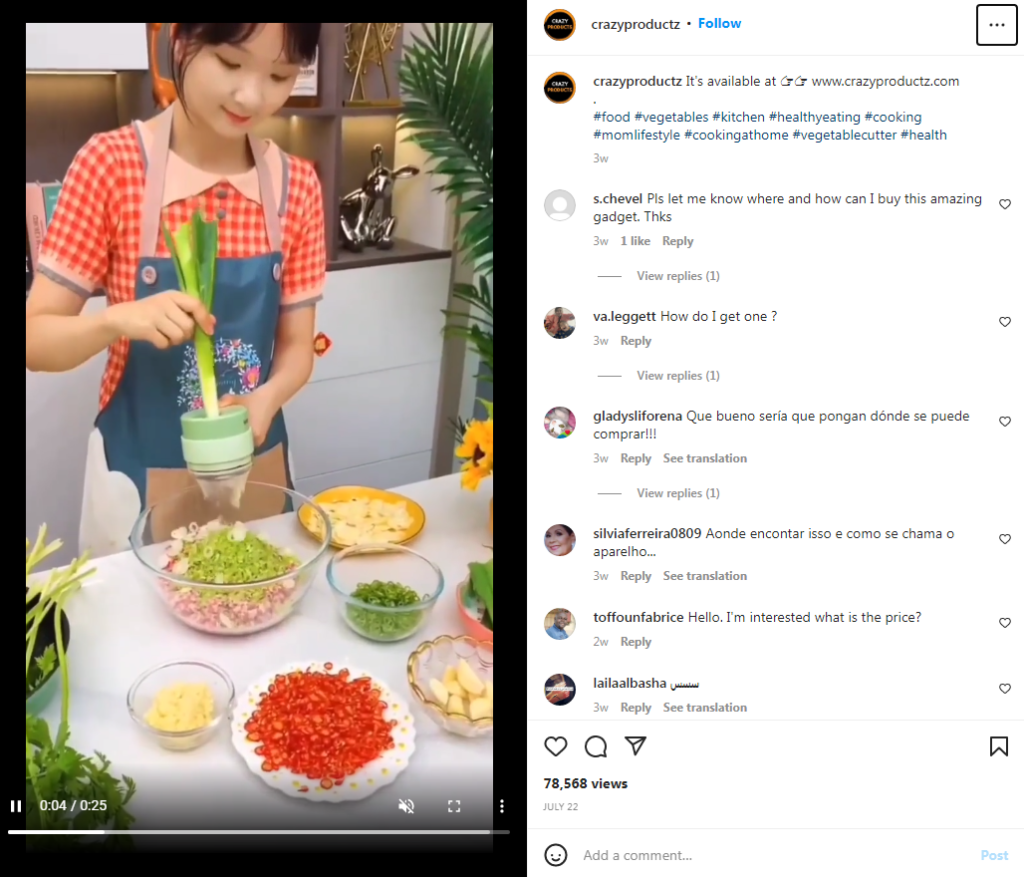 Product Features
Why does this multifunction vegetable cutter attract so many people? Let's see what unique features it got.
Multifunction Cutter Set: The product combines 4 different functions into one useful tool. You can use it for slicing vegetables, mixing ingredients, smashing spices, and mincing meat. In addition, it also comes with a brush head that allows you to clean other kitchen tools in a convenient way.
Easy to use: Unlike a regular vegetable cutter, this product does not need you to push or use a lot of physical strength to operate. The automatic cutting blades can make vegetable cutting become easy and fast. All you need to do is turn on the device and insert the ingredients into the filling hole, then let the cutter do the rest.
Safe and healthy: This product is made of ABS, food-grade PC plastics, and stainless steel blades. It's durable and eco-friendly, so customers can use it without health concerns. With this product, there is no need to use a kitchen knife to cut most vegetables anymore. So it can significantly reduce the chances of cutting yourself accidentally.
Idea Gift: If you love cooking, this product absolutely is designed for you. Even if cooking is not your thing, you can also choose this product as a great gift for your friends or family who do the daily cooking. With this little helper, they will have more time to enjoy themselves with their loved ones.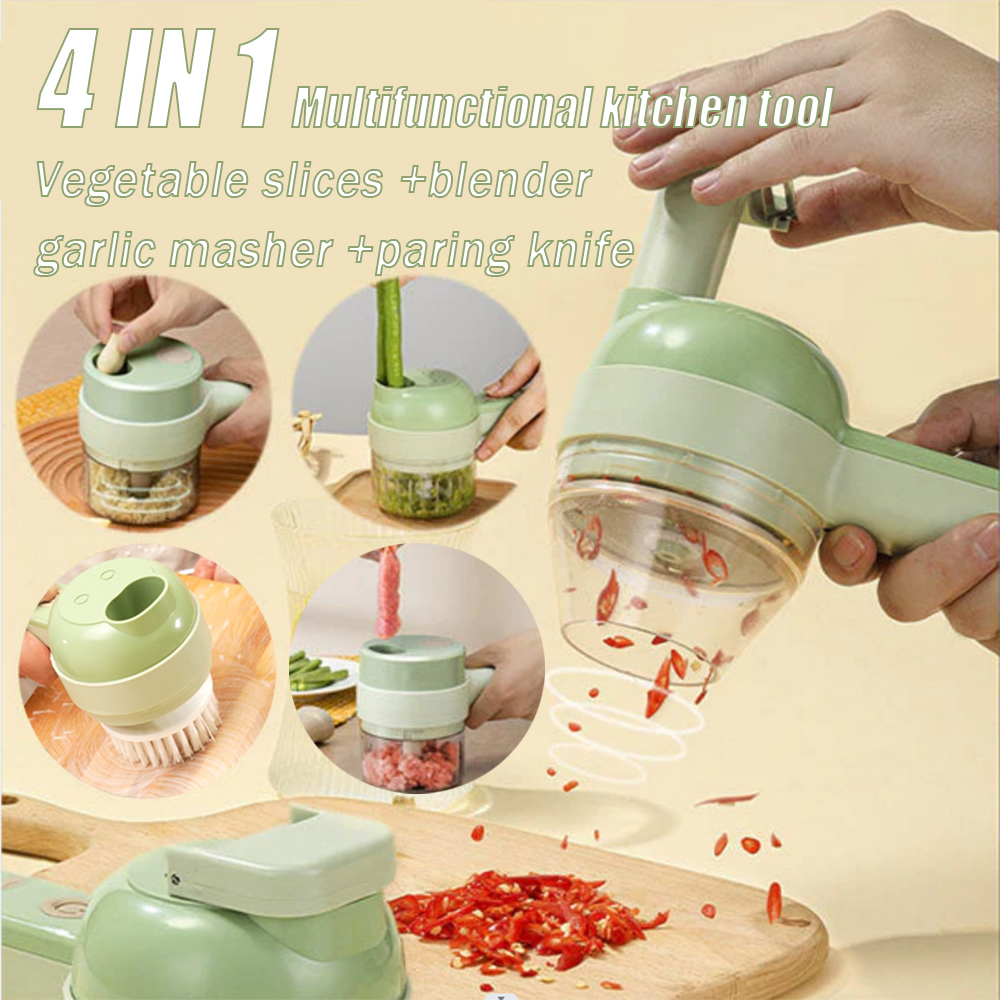 Customer Reviews About Multifunction Vegetable Cutters
On Amazon, the rating of the same multifunction vegetable cutter is around 4.5 on average. Most comments are positive but there are also some negative reviews.
These negative reviews show that customers sometimes will complain about the product not being durable. Some people have their devices broken after using them several times. So it is important to check the product quality with the supplier in advance.
Overall, a 4.5 average score means the vegetable cutter is a good product to sell and the product's reputation is not bad. But in order to get as many positive reviews as possible, you still need to have to prepare a completed aftersale service with your supplier.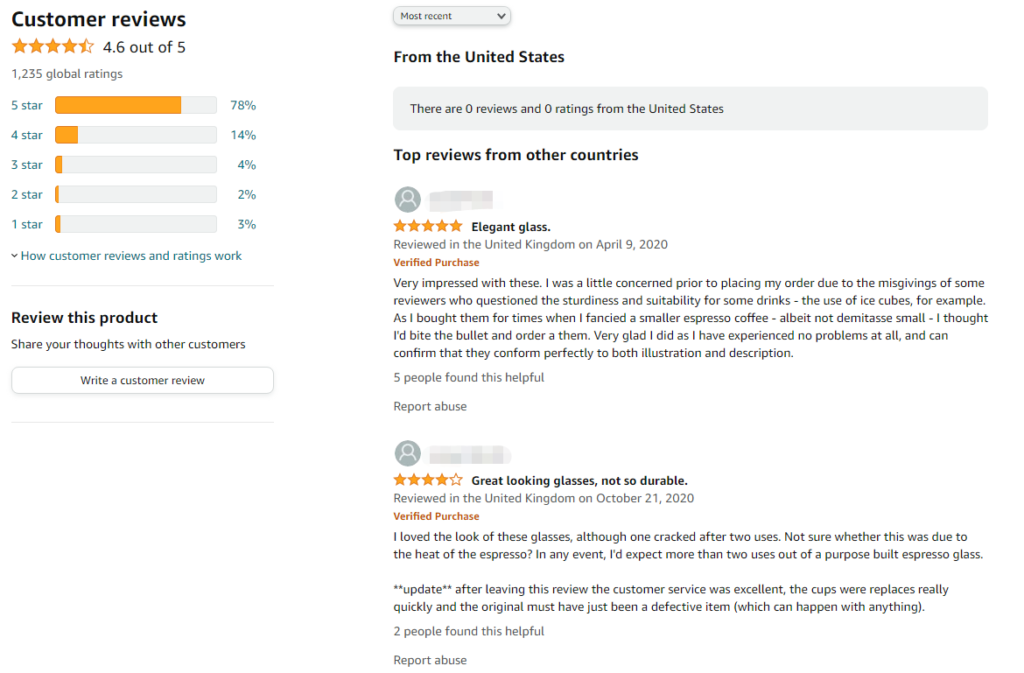 Pricing
By searching the term "4-in-1 handheld electric vegetable cutter", you will find most stores price it around $38-$45. Considering the dropshipping costs, this price range is fair for most dropshppers to earn profit from each order.
In addition, there are several sellers on Amazon who have started selling this product but there is no Amazon prime shipping at the moment. And the product price on Amazon is also similar to individual online stores.
This means most sellers are still selling this product by the FBM method, so there is still plenty of market space for individual sellers to sell this product.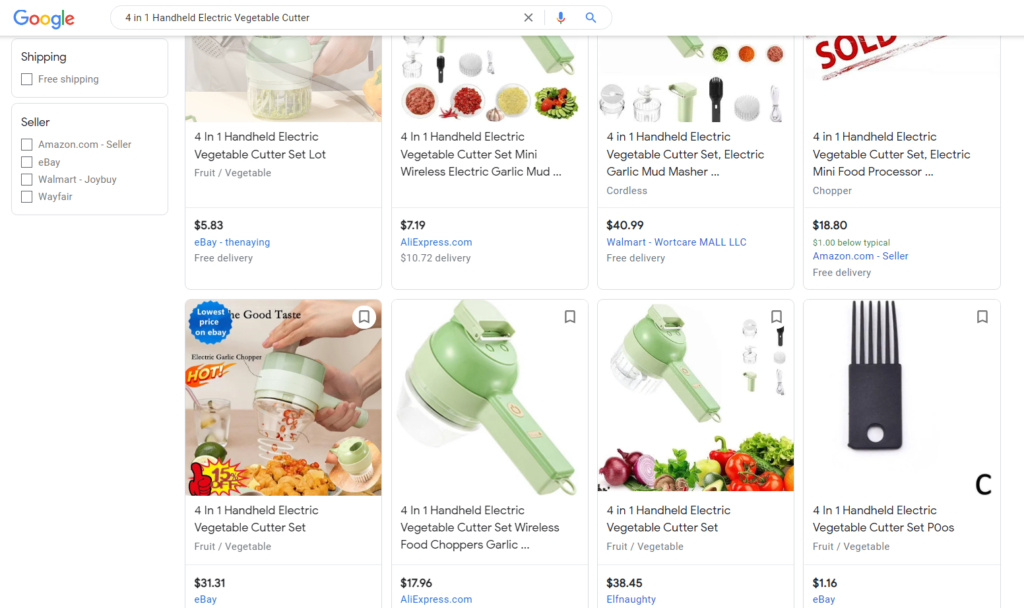 Dropshipping Costs & MOQ
Thanks to the compact size of the multifunction vegetable cutter, shipping is relatively cheap compared to regular cutter products.
However, it will still take at least $10 to ship one unit of the product, because there is a built-in battery within the device. Usually, logistics companies only provide limited shipping lines for products that contain batteries. This resulted in the unavoidable raising of shipping fees.
So if you want to get a cheaper shipping price for this product, the best solution would be to purchase multiple items together or even arrange a bulk purchase. In this way, you will be able to negotiate with the suppliers to provide more discounts for you.
Shipping Rates
CJ Dropshipping
Total Dropshipping Cost: $18.03
Processing time: 4-5 days
Shipping time: 8-18 days
Shipping method: CJ packet US sensitive VIP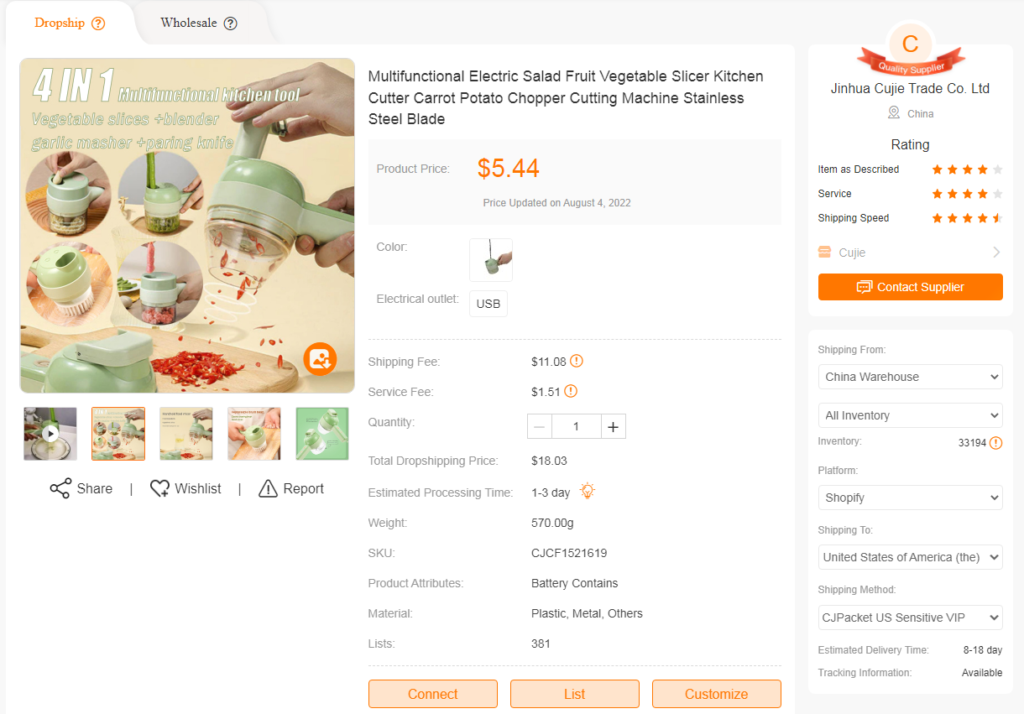 Buying one multifunction vegetable cutter from CJ Dropshipping will cost you $18.03 in total. It includes $5.44 for the $12.51 for shipping. For US customers, the best shipping method is CJ packet US sensitive VIP and it takes 8-18 days to get the product delivered.
Aliexpress
If you purchase a vegetable cutter from the top sellers on Aliexpress, one unit of this cutter will cost you $18.75. The shipping method Aliexpress standard is free but the product fee is significantly higher. After you paid, the seller will send the product within 5 days and deliver the product within another 24 days.
Total Dropshipping Cost: $18.75
Processing time: 1-5 days
Shipping time: 24 days
Shipping method: AliExpress Standard Shipping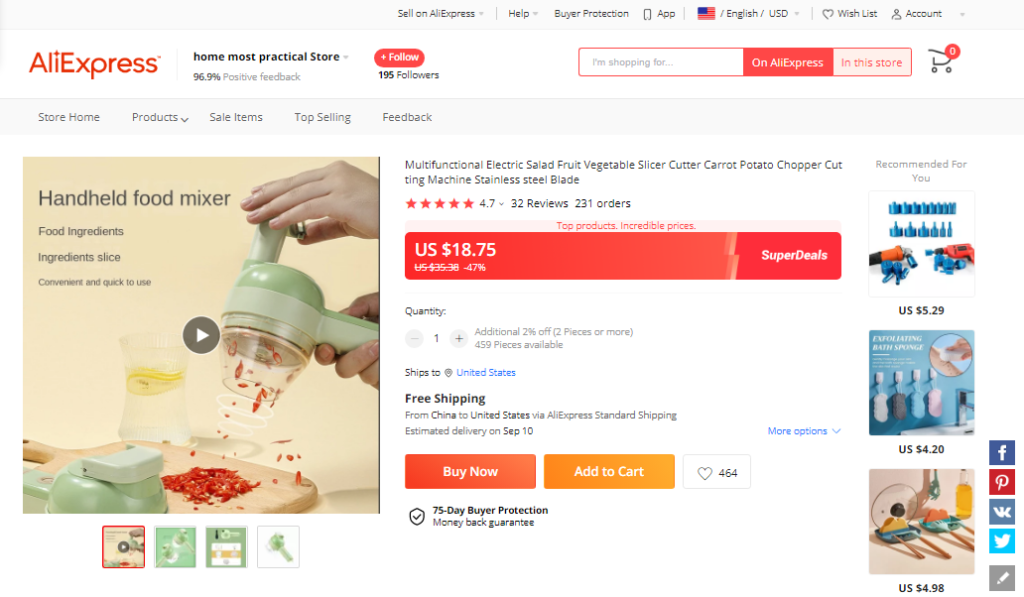 Comparison
Comparing the price on each platform, there is no significant price difference between CJ Dropshipping and Aliexpress. Considering the price of CJ Dropshipping is $0.72 cheaper than on Aliexpress, most dropshippers may choose CJ since it can bring more profit.
Therefore, CJ Dropshipping also got the advantage of a faster shipping time. When Aliexpress sellers may need 24 days to deliver the product, CJ Dropshipping only needs maximum18 of days.
However, CJ Dropshipping also got its own limitations. If you check the processing time, you may have noticed that the processing time of CJ Dropshipping is around 4-5 days. Such a long processing time is obviously longer than what Aliexpress sellers promised. This is because CJ Dropshipping usually does not hold stock for most of the products, so they need time to get the products from local suppliers.
If you want to use CJ Dropshipping and get faster processing time for your store, the best way is to use CJ's warehouse service to get your products stocked in advance. In this way, the processing time can be reduced to 1-3 days.
Customization
Many suppliers of multifunction vegetable cutters do not provide customization options for the product. So if you want to put your own store logo on the product, there will be a large requirement of minimum order quantity.
Still, after checking with the suppliers, we noticed this product already got English packaging and English manual. So there is no need to add extra customization to the product. If you want to print your own brand on the packaging, it would be better to order some customized stickers instead.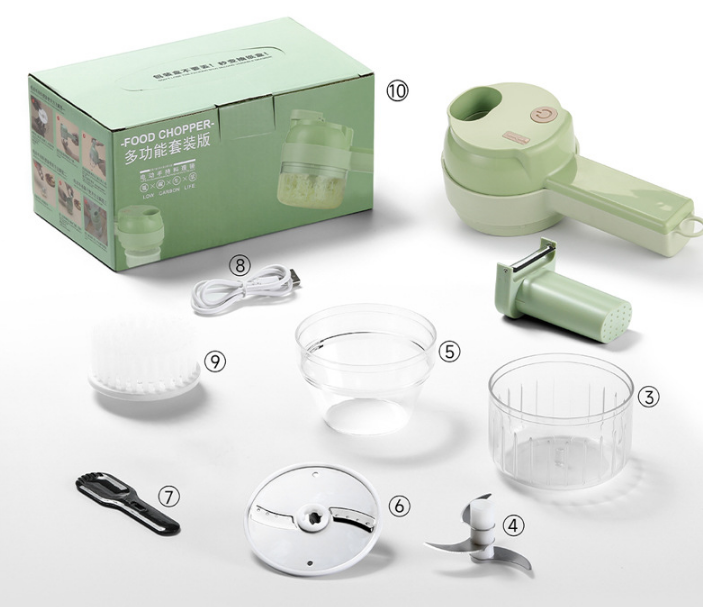 Conclusion
Based on the information above, we can see multifunction vegetable cutter is a good product to sell. The price of it is fair on the market and the top sellers haven't dominated this niche as well.
Also, the dropshipping cost is relatively cheap in terms of electronic products. Thus, selling multifunction vegetable cutters is a great choice to earn more profit for dropshippers.