In the post-pandemic era, camping becomes popular in 2021 and 2022. Since more and more people all over the world tend to have more outdoor activities regularly, the sales of outdoor products are also increasing. Following this trend, there are many dropshippers thinking about selling portable power stations.
However, is portable power station really a good product to sell? This article will compare trending portable power stations on Aliexpress and CJ Dropshipping to see if they are really profitable.
What is a portable power station?
A portable power station is a multi-function portable energy storage power supply. It stores electric energy and has stable AC output, and its lightweight and high capacity make it easy to carry and can be for charging most electronic devices. Its main purpose is to provide charging functions for digital and automotive products and low-power home appliances anytime.
Therefore, portable power stations are not only used for outdoor activities but also can be used as emergent indoor power supplies.
Selling Potential
Market Trend
According to Google trends, it shows the term portable power station has a steadily increasing trend in 2022. The uprising trend is significant since May, which is exactly when the camping season begins.
On Amazon US, there are 130,700 monthly sales for portable power stations. The high volume of searches and sales suggests there is still great demand for this product in the market. However, about 54% of these sales are from the top 10 brands. This means the supply chain of this product has already been dominated by big brands.
If you are a small business owner who just started selling online with a low budget, selling portable power stations can be hard for you because you need to compete with the top brands.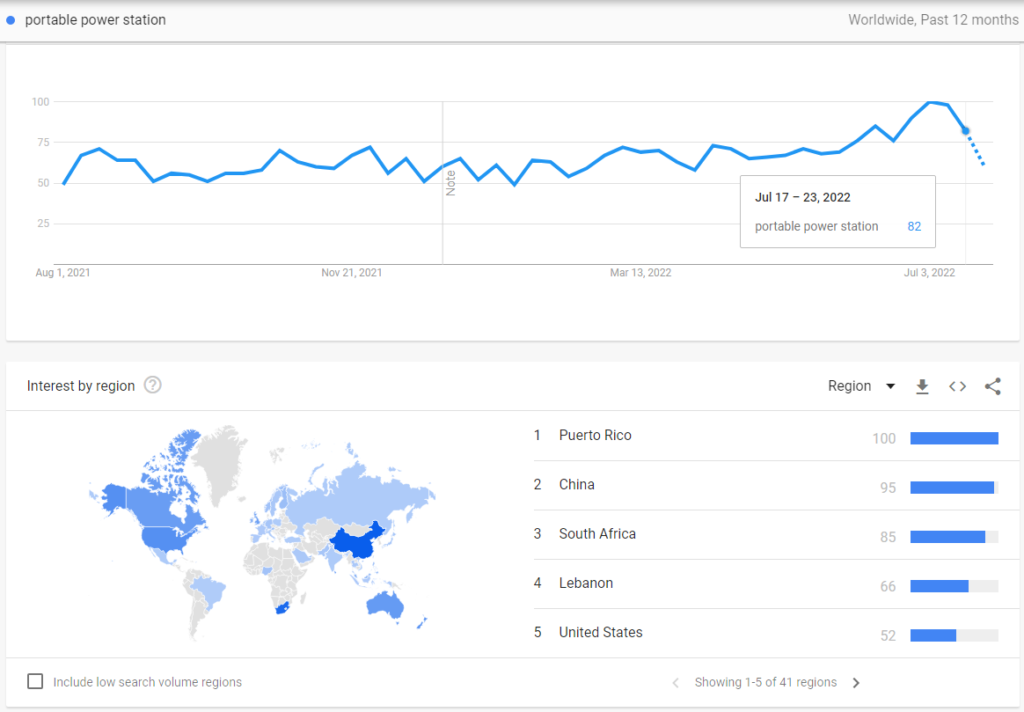 Product Feature
There are various kinds of portable power stations with different AC continuous outputs. Higher AC output means the power station is more durable, and the price will be more expensive as well. In this article, we will take a common 300W portable power station as an example to see how much market potential it has.
Enormous 300W AC Power: The 300W portable power station got an 80000mAh capacity, and the Max output power is 500W. It is designed for various scenarios such as camping, picnics, and emergent medical use.

Quiet & Eco-Friendly Clean Power: The product is powered by a 296Wh (80000mah) lithium battery. It's relatively Eco-friend than devices powered by gasoline or fuel. When the product is operating, it will not cause any noise, so customers can use it at any time.

3 Ways to Recharge: Customers can charge the portable power station with 3 different methods: Solar panel, car outlet, and wall outlet. So even if it's run out of power, it can be recharged easily.

Real-Time Output Display: The LED screen on the product allows customers to check the real-time output wattage, and how much power is left. A low battery alert and temperature alarm are prepared to advise customers to charge the product in time.

Designed for Various Scenarios: The product comes with a LED flashlight to help you see clearly at night or in a dark environment. With a solid handle, it is easy to carry wherever you go. This 300W emission-free portable power station is suitable for camping, outdoor activities, music festivals, and any emergency situations.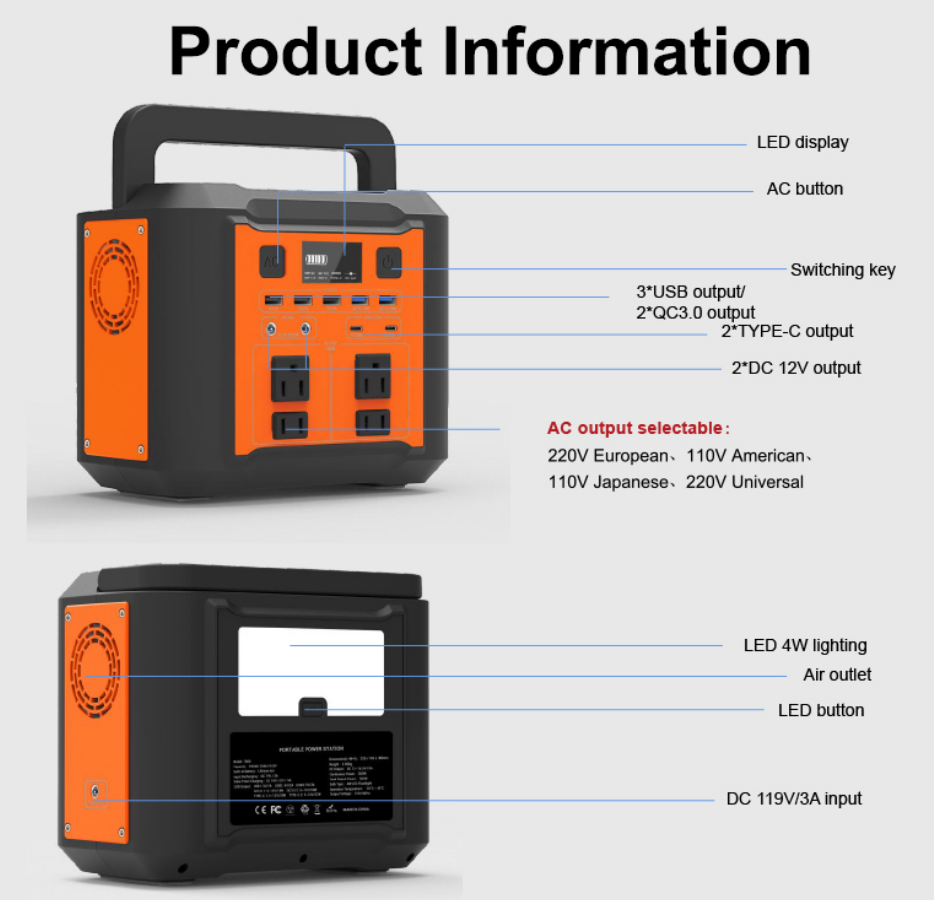 Rating
The average rating of portable power stations on Amazon is 4.3. The products have positive reviews most of the time. Most people think the portable power station is a great invention for camping and emergent use. However, there are also some voices about receiving defective products or thinking the products are not as useful as USB battery packs.
So if you are going to sell this product, it is better to make sure to work with a supplier who provides a complete aftersale service and quality inspection. In case there is any chance that your customer receives defective products and needs a replacement.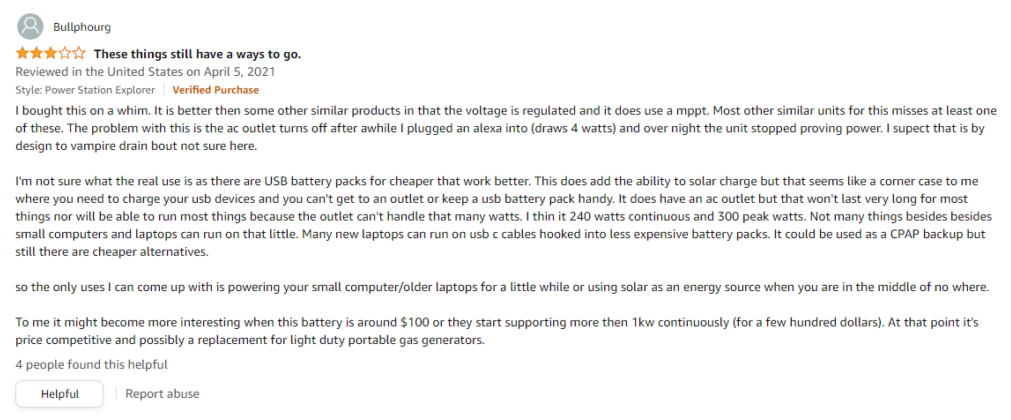 Pricing
The price of portable power stations has significant differences in the market. Some are priced at $200-$300 while some are priced at $700-$1000. So it's hard to say there is a specific price range you should refer to.
Still, the price of a product is usually related to its manufacturing and shipping costs. If the price of a product is too low compares to others, people may think the product does not have the best quality or even is defective. So higher prices also got their own advantage.
If you are going to sell portable power stations, the recommended price would be 1.5-2.5 times higher than its dropshipping costs. For example, if shipping a portable power station will cost you $200, then the best price in your store would be around $300-350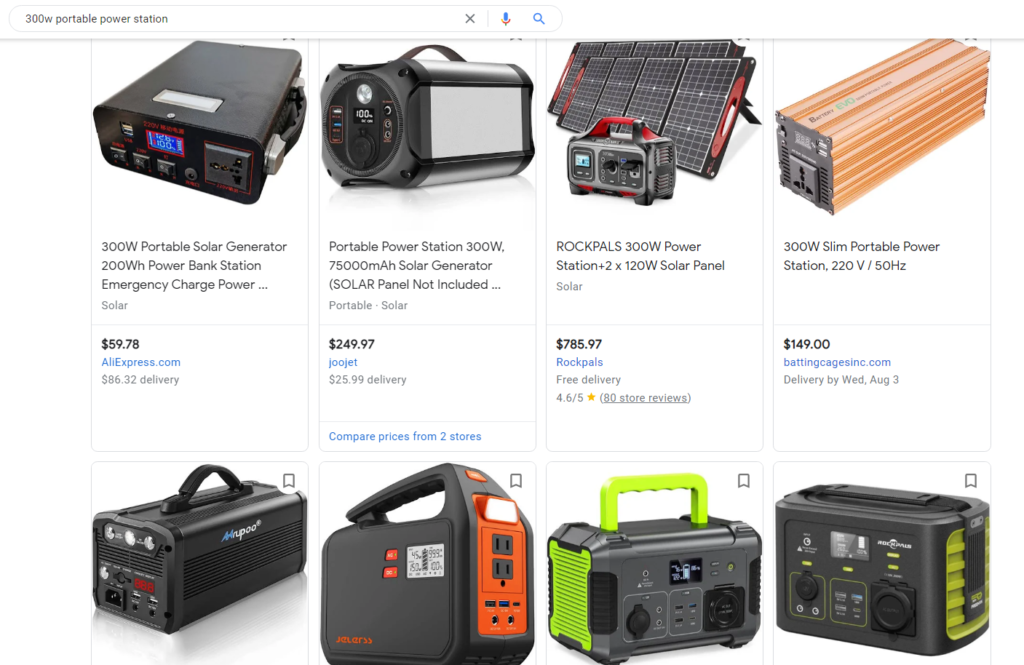 Dropshipping Costs & MOQ
Shipping Rates
Starting Price: $172 (Negotiable)
Processing time: 10-15 days
Shipping time: 15-30 days
Shipping method: CJPacket Battery AirMax
On CJ Dropshipping, you can choose dropship or wholesale methods to sell portable power stations. For the purpose of earning more profit, selling it with the wholesale method would be a better choice. The product is priced at $172 with a MOQ range of 3-10, which means you need at least to purchase 3 products to buy them.
Therefore, if you wish to have some discount on the product, the supplier suggests that clients can feel free to negotiate with them. Based on your order amount, CJ Renewable Energy can provide a 5%~15% discount at maximum.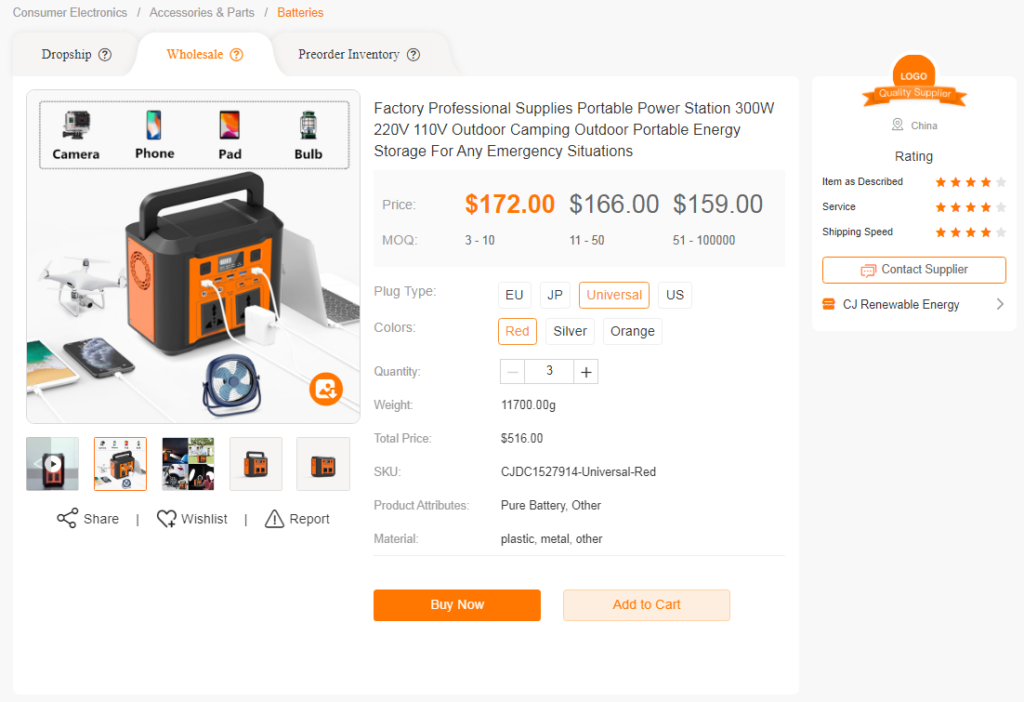 If you want to get the best price and you have enough budget, purchasing more than 51 pieces can maximize your profit as long as you can sell them out. For wholesale orders, suppliers will only start to manufacture the product after you ordered them. And after confirming with the supplier, we find the processing time of production is 10-15 days.
Besides, the product page only shows the product cost which doesn't include the shipping fee. This is because the global shipping fee is changing all the time and for a large number of products, it's hard to determine the cost in advance. Still, one thing we can ensure is that the shipping cost will be cheaper as your ordering quantity increase.
So if you want to know the real-time shipping fee of the product, just try clicking the Contact Supplier button on the right. Then you can ask the supplier directly.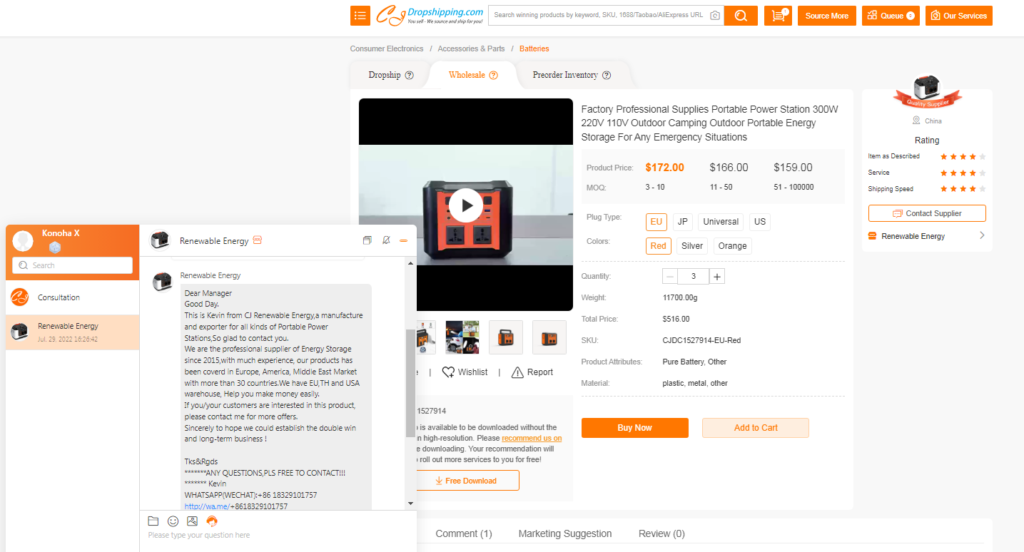 Certifications
Most portable power stations on the market got all the necessary certifications. If your target market is in Europe, then a CE certification is required for selling this product. And if you are going to sell it in the USA, the FCC certification is surely necessary. Fortunately, the suppliers on CJ dropshipping provide all these certifications that you may need.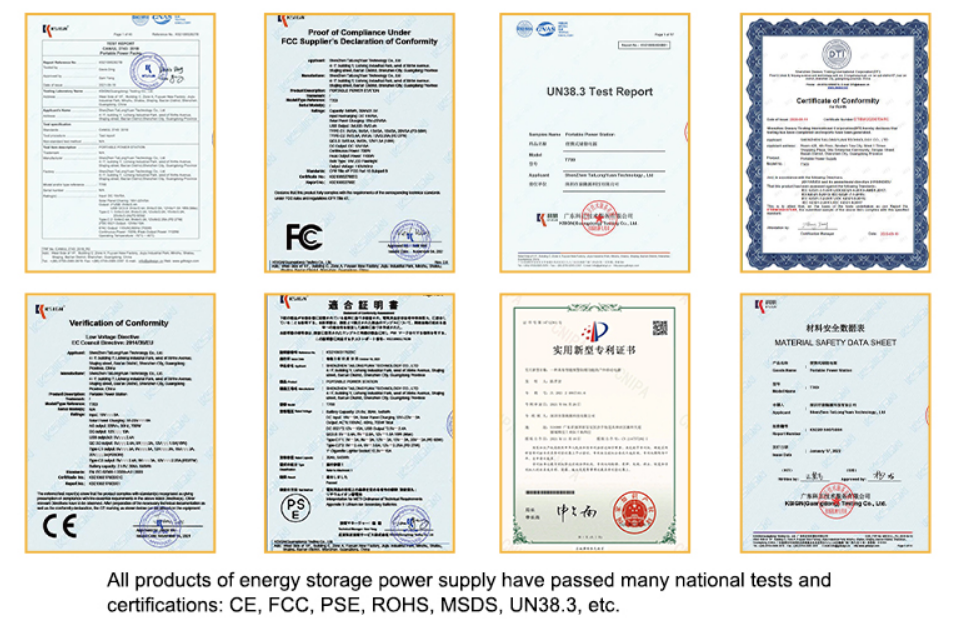 Customization
By doing research on Amazon, we find that 54% of sales of portable power stations are from the top brands on the market. So if you want to compete with the big brands, you may also need to develop your own brands.
For example, you can ask the supplier to print your own store logo on the products. If you want your products to have some special features or unique designs, you can also ask the supplier to do it for you.
The supplier Renewable Energy on CJ Dropshipping is capable to do all different kinds of customization requests since they have years of experience in making portable power stations. But since every customization request is different, so it will come with a different MOQ based on your specific needs. If you are interested in making your own brand, you can contact Renewable Energy to find out more details.