There is no exaggeration to say that watermelon is a must-have in the summer, regardless of region, especially when the temperature keeps increasing as a result of climate change. Households worldwide spare no efforts to find a way to ward off the summer heat. Eating watermelon is a good way, but is in need of laborious work.
That is when today's product—Watermelon Cutter—comes to our recommendation list. In fact, a watermelon fork is not uncommon in many's households, but the one we recommend is multi-functional, which serves both as a fork and a cutter. Is it good when it comes to dropshipping?
In fact, this article aims to share detailed information about this product for dropshippers. After lifting through this article, you can figure out if it is a lucrative product to sell. So, let's get started now.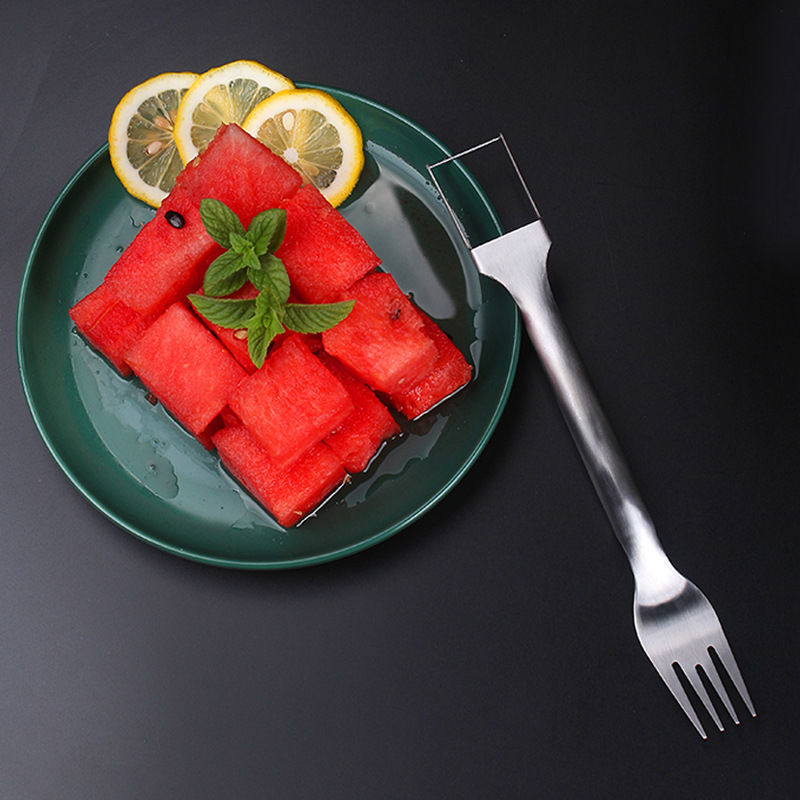 Selling Potential of Watermelon Cutter
Market Trend
According to Google Trends, the search trend for watermelon cutters has been low in the previous months but has recently shown an increase as the summer approaches. By estimate, the trend will continue to grow fast.
More importantly, this product is quite popular in the US, evidenced by how much search people from this region contributed to. As a matter of fact, watermelon is one of the welcoming fruits with worldwide customer coverage and there are no restrictions on crowds, regions, religions, and seasons. watermelon-related products, of course, are no exceptions.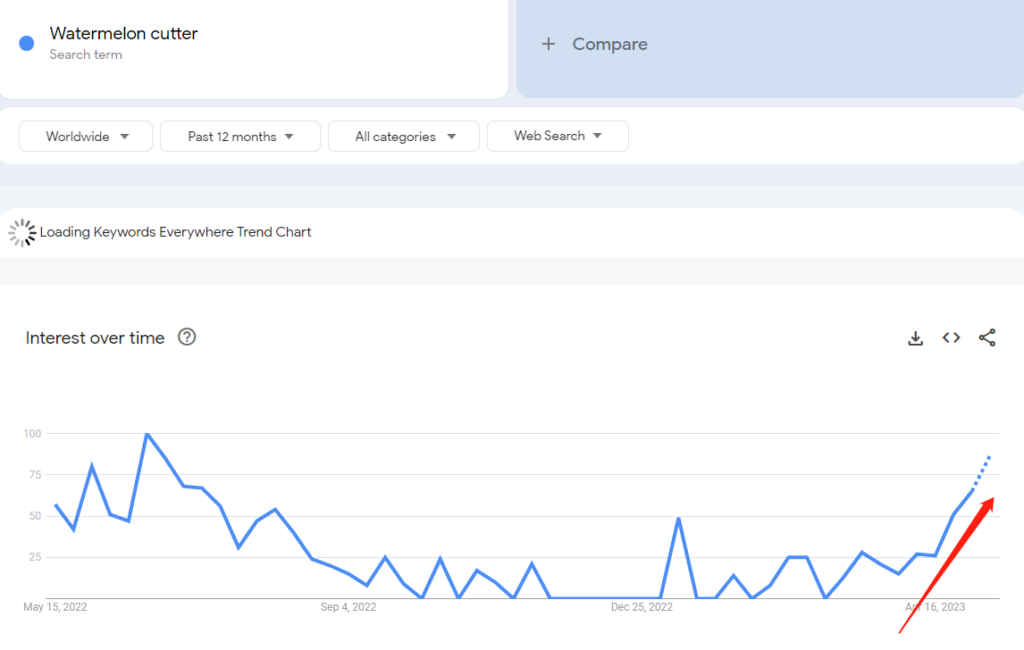 Product Features of Watermelon Cutter
Food-grade Material: The watermelon slicer is made of 304 stainless steel food-grade material, safe, smooth, corrosion-resistant, not easy to rust, and easy to clean.
Watermelon Cubes: The watermelon fork is easy to cut the melon into even pieces and cubes. Suitable for the platter, you can enjoy refreshing watermelon cubes without dealing with a drippy table.
Rounded Fork Head: The rounded fork head does not hurt the mouth, which is convenient for a fork to take. And the lengthened handle fits the palm of your hand and has a comfortable grip, and is not easy to slip off.
Lightweight and Portable: The lightweight and compact design makes the watermelon slicer easy to use, carry, and store, very suitable for family use or outdoor camping.
Wide Range of Uses: The watermelon cutting tool can not only be used as a fruit fork but also be used as unique tableware for cake, bread, pies, pizzas, and more.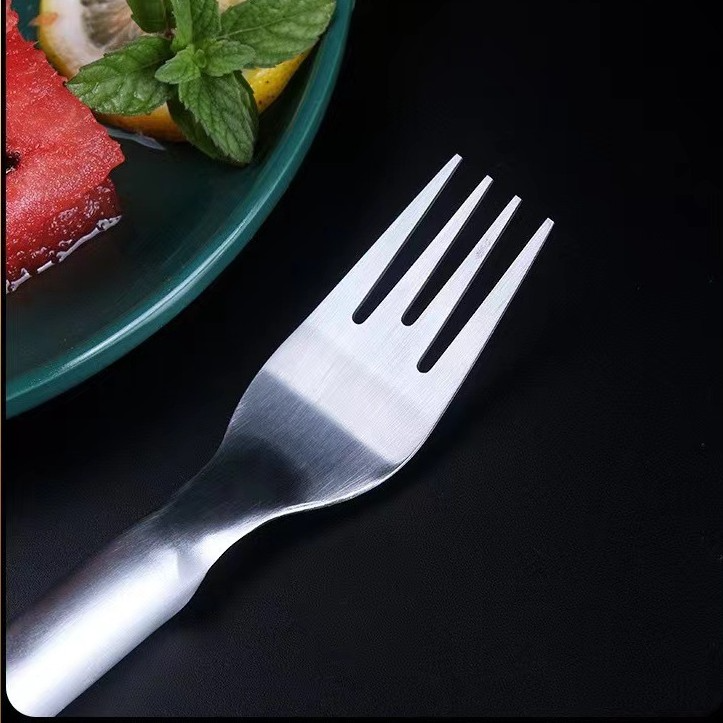 Rating
Unsurprisingly, the rating of watermelon cutters is near perfect in major dropshipping platforms, including AliExpress. On it, it gains a rate of 4.9 out of 5.
When you look at the negative review, you'll find that there are no specific reasons why customers don't like this product. On the one hand, this can be confusing as we don't know exactly what are customers unsatisfied about. On the other hand, this can also be rest-assuring as this product has no noticeable flaws.
One thing you should pay attention to when it comes to dropshipping is packing. Undoubtedly, packing and shipping play two critical roles in international transportation. Definitely, a damaged package can negatively affect your business. Luckily, we have confirmed that CJ can provide quality inspection service, which means all products in CJ will undergo a round of quality inspection before dispatch, thereby vastly reducing the risk of damage. It could be a reliable source for dropshipping businesses.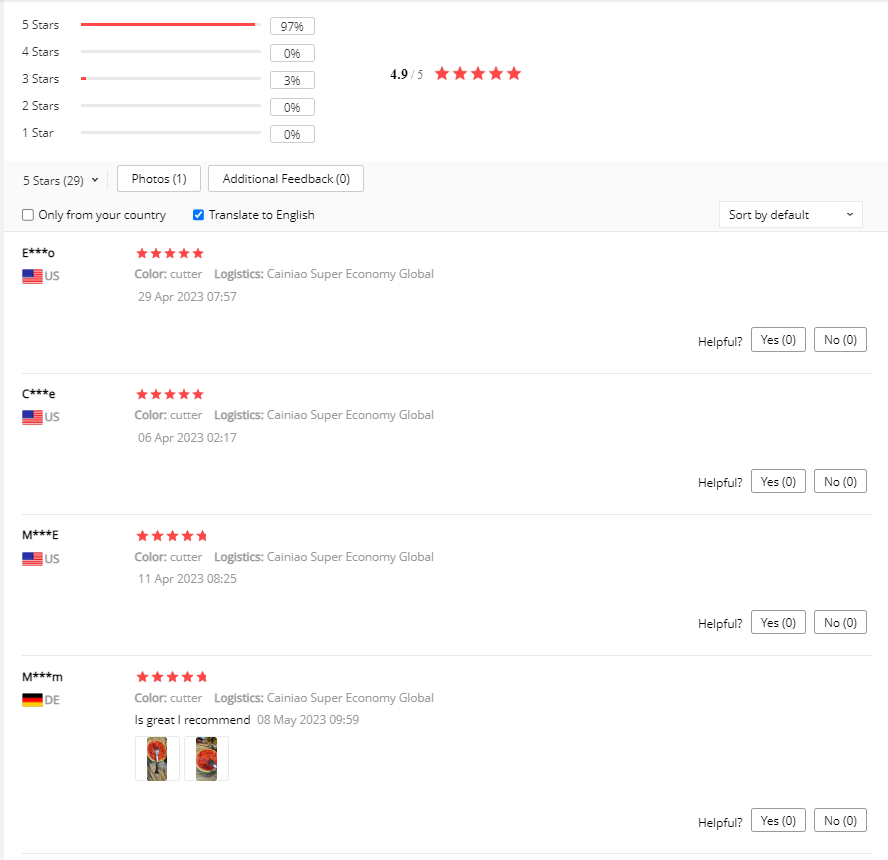 Pricing
The market price of one watermelon cutter is around $10-20. Nevertheless, the one we represent is much lower, standing at around $5, twice the price lower than those on other platforms.
In case you are puzzled as to price-setting, we suggest that you may make it in conformity with your total dropshipping cost. Generally speaking, the selling price should be two to three times the cost. For example, if your cost is $5, then $10 is fair.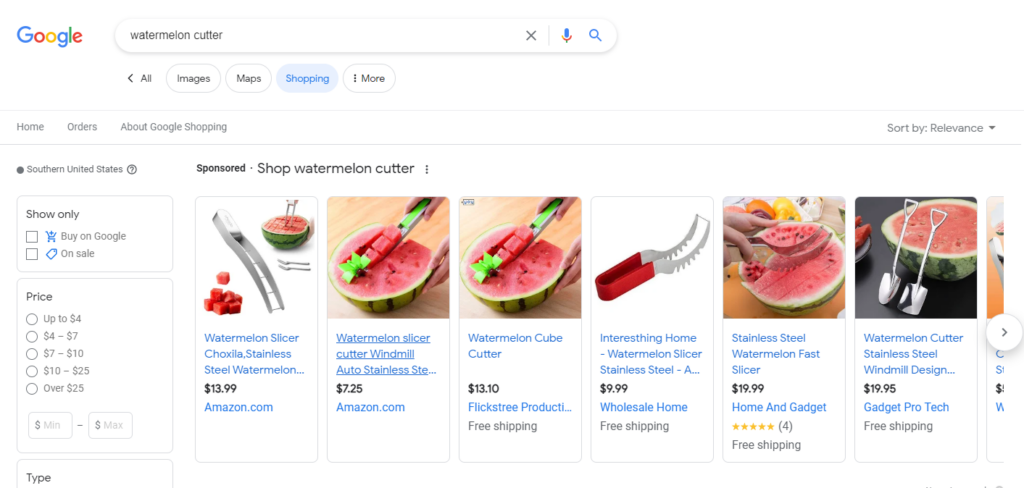 Dropshipping Costs of Watermelon Cutter
Shipping Rates
Dropshipping kitchen products is a good option for dropshippers, because these kinds of products usually are not heavy and do not take much space in shipping cargo. Therefore, the shipping cost of shipping watermelon cutter is affordable for most business beginners. For merchants who want to scale their business by doing wholesale business, shipping such products is also a good option to save budget.
So how much does the watermelon cutter exactly cost? For your reference, you may compare the dropshipping cost from the following two major platforms so as to pick a trustworthy supplier if you want to sell this product.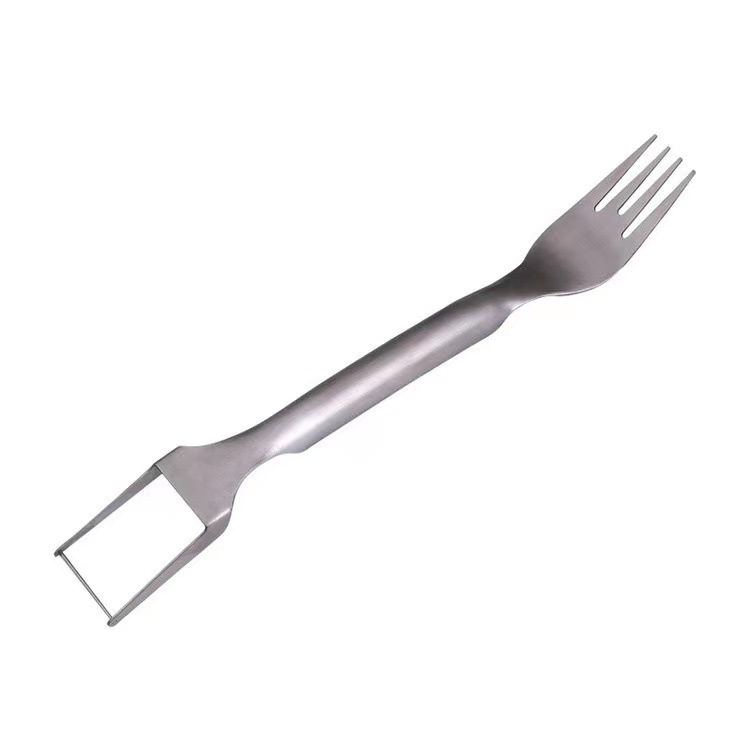 CJ Dropshipping
Total Dropshipping Cost: $5.46
Processing time: 1-3 days
Shipping time: 7-15 days
Shipping method: CJPacket Ordinary
On CJdropshipping, the total dropshipping price of the watermelon cutter is $5.46 The price includes $1.03 for the product and $3.90 for the shipping plus $0.53 for the service.
If you want to sell it in the US, the most cost-effective shipping method is CJPacket Ordinary, which provides 7-15 days of shipping time.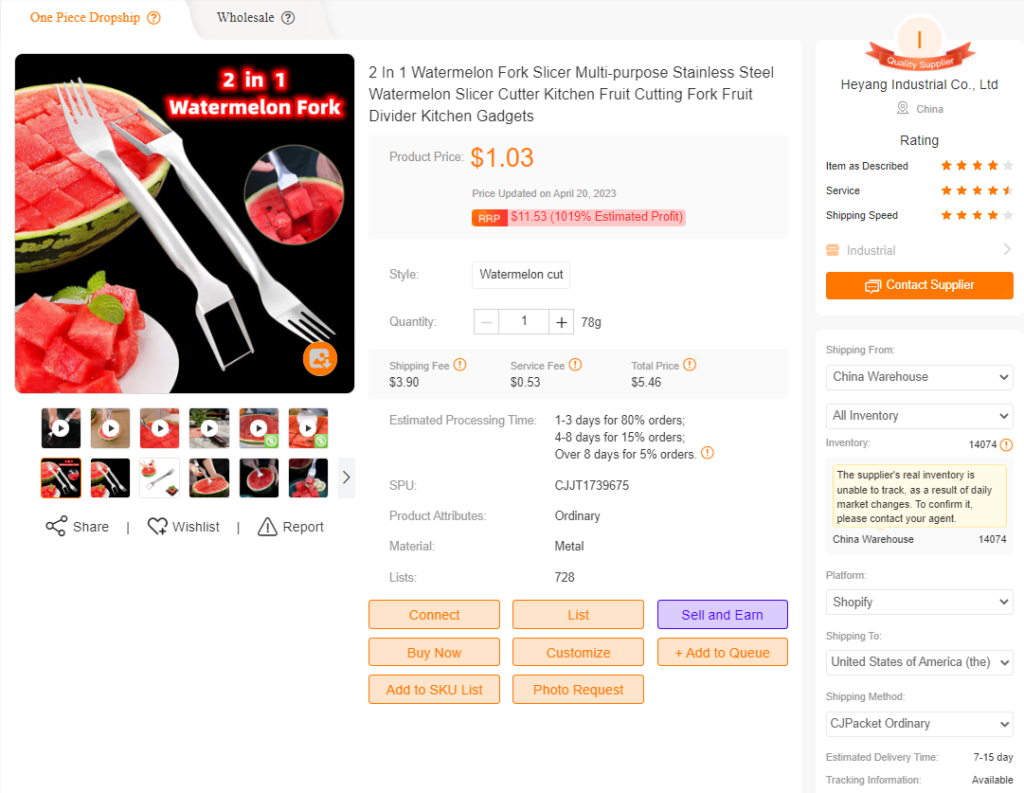 AliExpress
On AliExpress, the price of shipping the watermelon cutter to the US is $4.29, with free shipping.
Total Dropshipping Cost: $4.29
Processing time: 1-5 days
Shipping time: 25 days
Shipping method: AliExpress Standard Shipping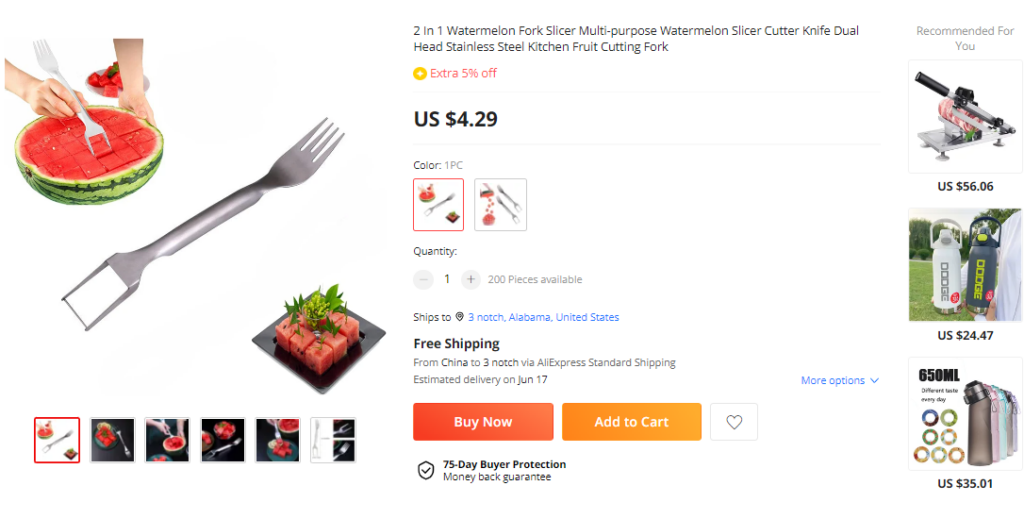 Comparison
Clearly, AliExpress has a minor edge over CJ when it comes to pricing. Actually, the price difference of $0.17 is too narrow to take into consideration.
What really matters and what customers really care about is the shipping time, a point at which CJ has a huge advantage. A delivery of almost one month is the least thing customers are willing to accept, witnessed by many negative reviews complaining about it.
If you think a shipping time of 7-15 days is also comparatively long, CJ also offers a global warehouse delivery service. For instance, you may buy inventory on CJ to have them stocked at such warehouses as in the US, so that the shipping time can be curtailed to only 2-6 days, identically to the speed of domestic logistics.
Final Words
To summarize, selling watermelon cutters is a good option for dropshippers who want to start their business in the summer season. But since this product may be a common one in the market, beginners shall take more effort to gain a pie and monetize.