CJ team is dedicated to assisting anyone who is interested in eCommerce and wants to start their own businesses to become successful entrepreneurs. As more people show interest in online business, CJdropshipping launches the mentorship program for everyone to share experiences and learn on the platform. CJ will invite tutors from all around the world with completely different backgrounds to share their knowledge in the industry, and help all of you to become experts in eCommerce.
CJ will regularly hold free live video events on CJ's Facebook group, and different mentors will be invited to talk about all kinds of popular topics. Keep an eye on CJ's Facebook group just in case there are topics that you care about. Also, please let us know if you come across any questions, CJ staff will try our best to help you, and we are eager to see you succeed in your online business.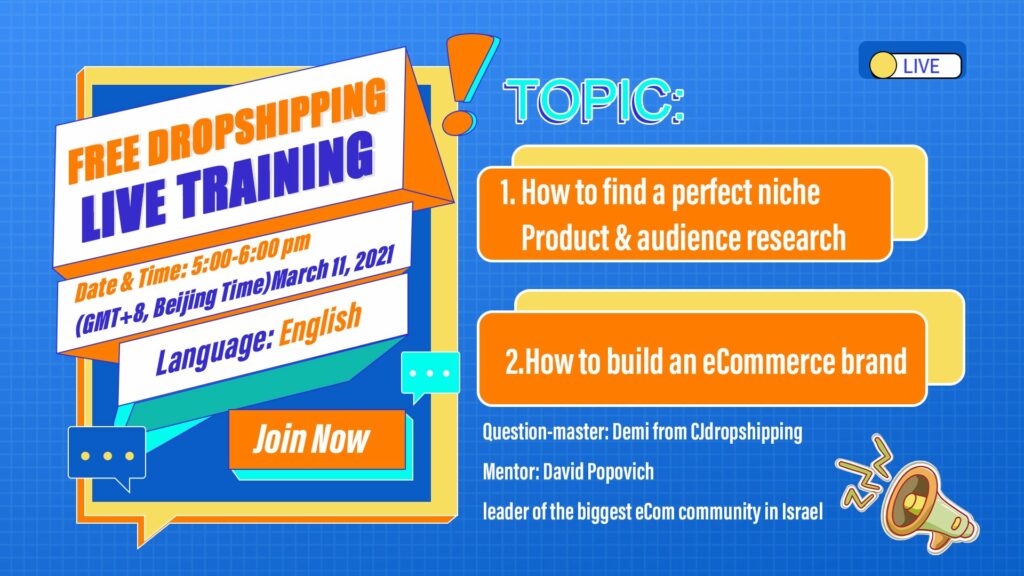 CJ Facebook Group Live Video
We are going to have our first live video on CJ's Facebook Group.
Click to join the event

It's a free live training about :
How to find a perfect niche/Product & audience research
How to build an eCommerce brand
If you want to turn your online store into a compelling business, come and join us!!
Date & Time: 5:00-6:00 pm (GMT+8, Beijing Time)March 11, 2021
Language: English

It will be hosted by Demi from CJdropshipping
And we have invited David Popovich – leader of the biggest eCom community in Israel to be the key speaker to share his valuable experience in dropshipping business.

Join CJ Facebook Group now for more coming free training: