Here is a graph taken from Google Trends showing the incline of interest in dropshipping as had over the last 5 years.
Clearly, an interest in this business model has climbed steadily over the years. So what's the hype all about and why are people rushing to incorporate this business into their lives?
Two words, "Passive Income." People are striving, now more than ever, to increase their quality of life. Here are 7 reasons why this business model is so appealing.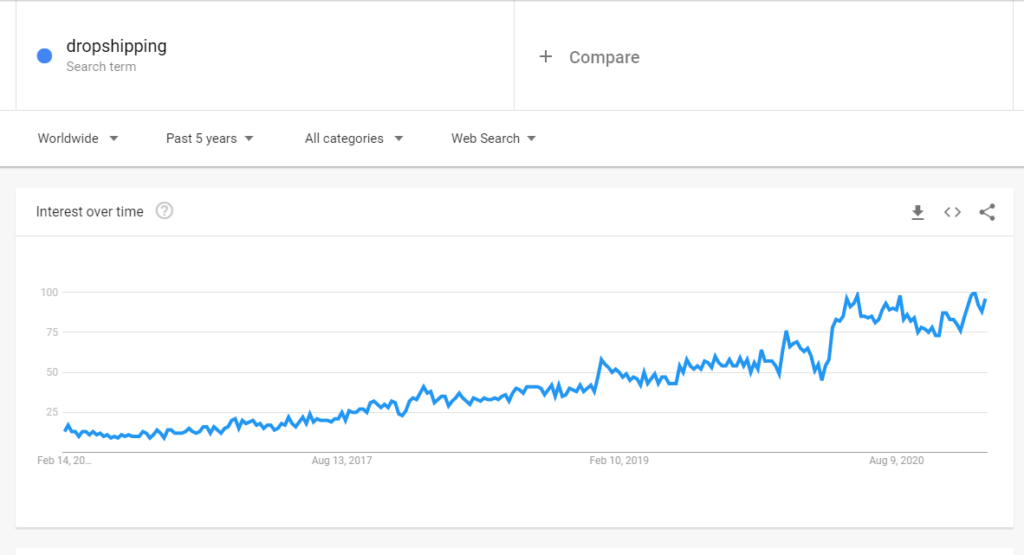 1. Easy to start
You can technically have a shop up and running within a day and have units sold within a week. It literally never been easier to start your very own business.
2. Low cost
Most goods are manufactured in China because the cost of production is rather low. And because you don't necessarily need to buy inventory, it means you can purchase your stock as you make a sale.
The higher you place yourself up in the supply chain gives you have access to products at their lowest cost. Enabling you to charge for those products at a more profitable margin. And because this is a web-based business model, there's no need to pay rent for a storefront or warehouse.
3. Low risk
Testing the marketability of any given product can be relatively cheap. You can scale and buy inventory once you found a real winner. When playing your cards right, overhead should be a non-issue.
4. Customer retention possibilities
It's possible to structure your business in a way that has customers buying from your store every single month. If you're constantly testing all your products and rotating the winners throughout the seasons, you can find a way to stay profitable every month throughout the entire year.
5. Set your business on autopilot
We live in a day and age where anything can be automated. If you're willing to put in the time and effort upfront, then you can set up a system that allows you to import and process orders in one click.
The tools are out there, you just have to find them and learn them. It is a lifesaver for those with busy schedules, full-time jobs, or are currently in school.
6. Enable expansion into new markets
Sometimes getting products across international borders can be challenging, not to mention costly. But if you do your research and partner with suppliers who are strategically located, you can often get the same or similar product to almost any region. This permits you to test the market and validate if a given product is worth importing.
7. Virtually unlimited inventory
One of the main reasons the dropshipping industry exists is to help retailers and suppliers combat inventory distortion: the problem of over-stock clearances and out-of-stock shelves. Theoretically, by tapping into inventory further up the supply chain, you can get access to virtually unlimited inventory.
By contrast, dropshippers may find it harder to work with Amazon and eBay. As their policies do not support the dropshipping business model. Prefer retailers to buy inventory of products and fulfill orders manually.
This means a higher investment for the retailer and therefore higher risk. Not only that but entrepreneurs find it hard to convert sales when linking their eBay and Amazon product pages to their advertisements.