As a dropshipping store owner, we know that you would like to embrace the right tools that will help you to see your business succeed. Knowing these tools will help you to stay savvy and successful in the rapidly expanding drop shipping business.
If you are still dedicated more than ever to making sure you took into account everything it needs to make your business more profitable, you might be searching for some advice on what are the best dropshipping tools and extensions that can save your time and money. Don't forget to bookmark the ones you want!
The best Chrome extensions for dropshipping
Dropshipping Chrome, or any other browser, extensions are typically used for market research and marketing, daily tasks automation, cashback, and everything around the day-to-day work of the dropshipping seller.
The extensions below are more than just dropshipping extensions, it is a curated endlessly growing list of Chrome extensions that can help you increase your productivity as you work on your business.
Best Scanner-Extensions for Dropshippers
1. Keepa-Amazon Scanner Tool
This free wonderful amazon scanner works with all Amazon sites and offers easy check-ups on all items, with a fast site and great browser extensions that will help save precious time.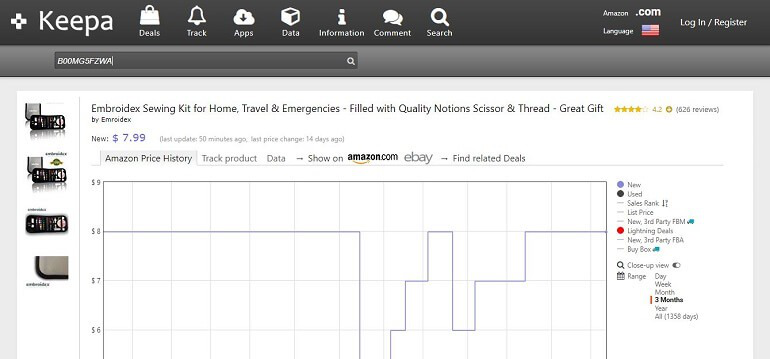 2. Camelcamelcamel-Search Hot Selling Items
Another easy tool to use is the Amazon scanner and price tracker. The Camlizer is their helpful browser extension. Here you can also browse and search for hot selling items and track price drops.
3. Walmart Price Tracker
A similar easy-to-use tool for tracking the prices in Walmart: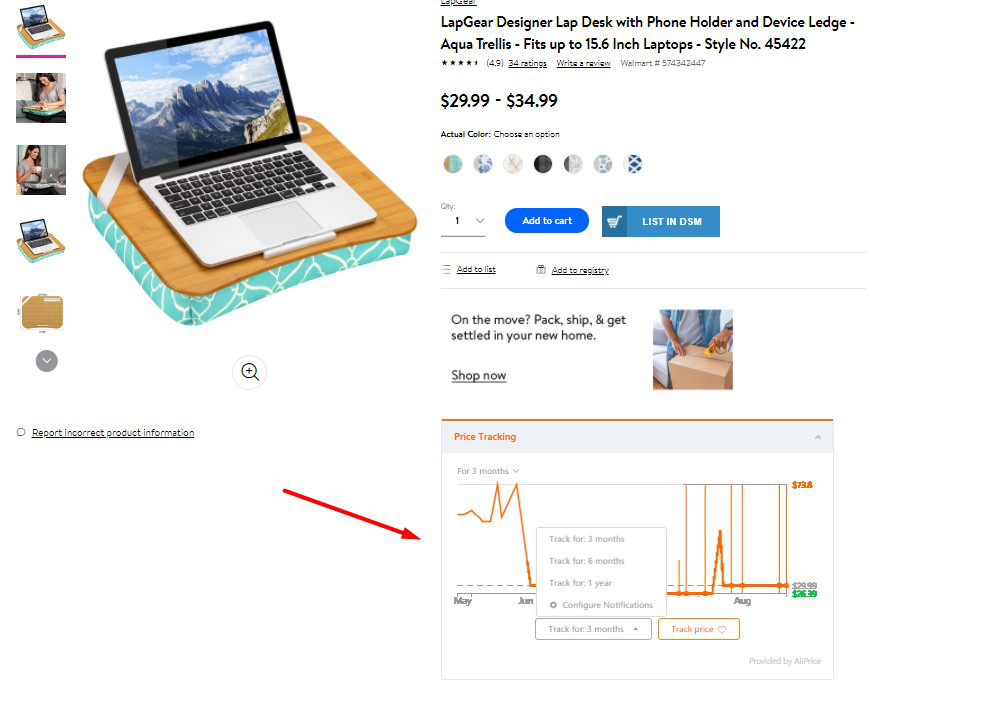 In case you dropship from other sources, you can check the available free price checkers for them on AliPrice.com. For instance, they also offer similar extensions for Banggood, DHGate, Aliexpress, Joy Buy, Gearbest, etc.
Chrome extension for automation
If you are looking for innovative dropshipping software that allows eBay and Shopify dropshippers to source products from an endless variety of dropshipping suppliers and control their stock, check the Dsm Tool dropshipping software
The DSM Tool Chrome extension will help you automate dropshipping tasks and save you a lot of time while you're dropshipping. You can use it to import the product details from websites like CJdropshipping, Amazon (the title, images, description, etc.) and to automate the ordering process once you make a sale on your dropshipping store.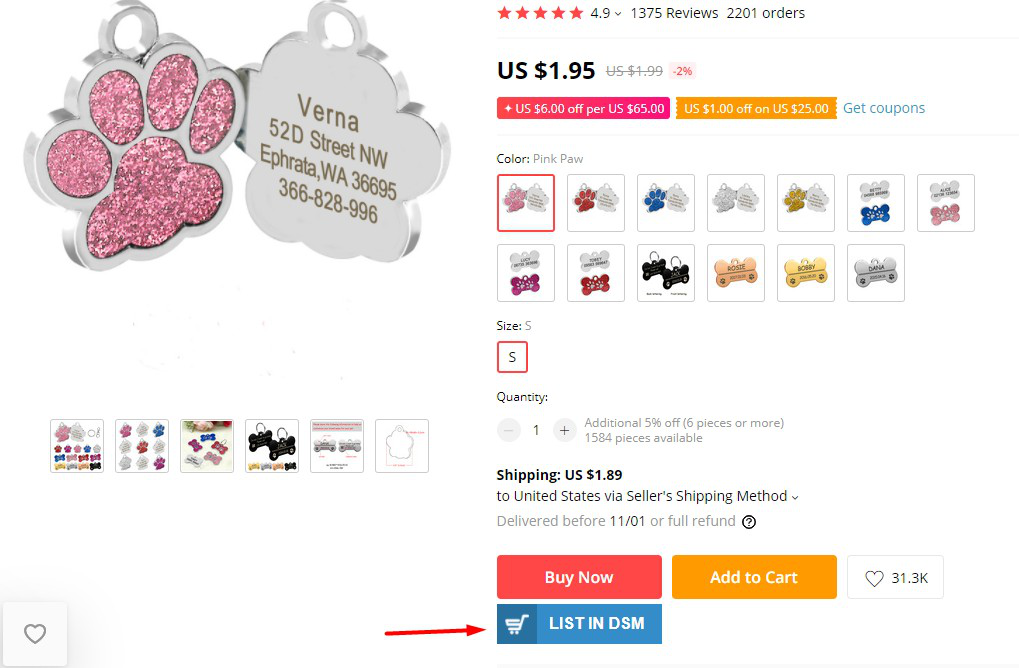 Dropshipping Market Research – Free Tools:
5.Google Trends
A research tool that lets you pick up on highly searched trends, items, and niches.Where to find the trending product is maybe one of the most popular questions among dropshippers. This tool can help you to make your own research on the search volumes for the selected niches, evergreen, and seasonal products.
Additionally, it offers the possibility to check the trends depending on the location (worldwide, country, region, city), which is peculiarly handy if you sell in different marketplaces. Read more in our dropshipping sourcing with Google Trends.
6. Google Shopping Insights
This dropshipping tool is a more robust and comprehensive research and free tool. Read more in Google tools tip.
7. Google Keyword Planner
It's another useful tool from Google that helps see the viability and competition for the searched keywords (your ideas for products or niches, for example) and, besides, it offers you new ideas related to them. In addition, this tool allows you to set the necessary time, location, and language filters to narrow down the results. If you dropship and don't use DSM tool title builder or any other similar one, you may check here the best keywords for the title optimization of your listings on eBay or Shopify.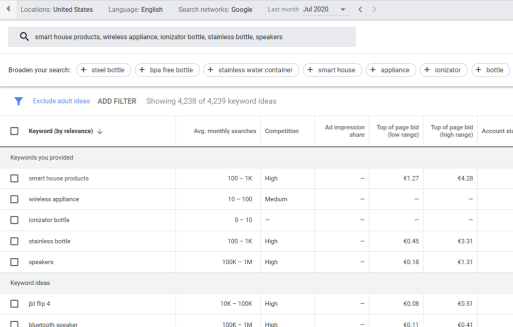 Reminder: The title optimization is crucial for eBay dropshipping, where the sellers do their best to get their products to rank high in eBay SEO. To keep it simple: the better keywords you use in your title, the higher your chance to get sales.
8. What's hot weekly
An intuitive site that lets you find what is selling well this week by categories and a search bar. You can also filter by country to know your market better.
9. Grabley
Is a dropshipping chrome extension that lets you work faster to filter, search and compare items and the use of hotkeys on multiple sites like eBay, and Amazon.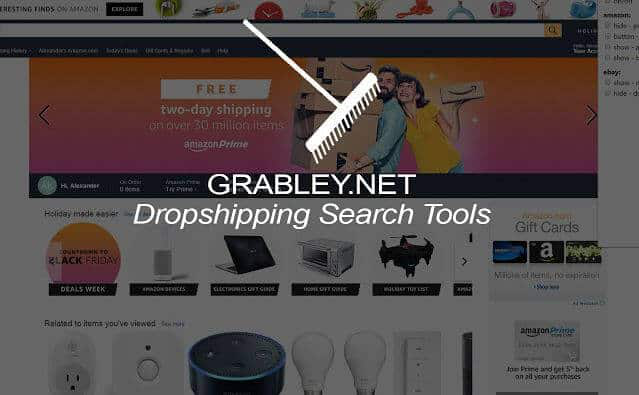 10. Google Express
Another great new tool by Google helps with comparing prices between a great number of suppliers in the US. Learn more about it in this update.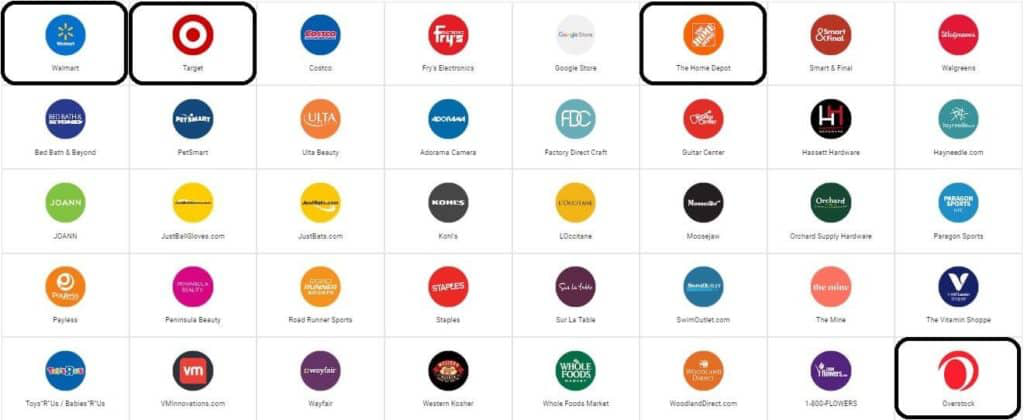 11. Shopzilla
A veteran huge site that gives you an extensive market research platform.
12.BizRate
Convenient product exploring and researching the site. Like Shopzilla, BizRate is also a part of the connexity group.
13. Algopix
With Algopix, you can make smart choices and reduce your confusion. You can create a business strategy based on facts and data geared towards a better chance of success.
Make smart choices – know what to buy, where to sell, and at what price to sell it – all with the help of one simple tool.
Dropshipping Tools for CJdropshipping
CJdropshipping, aka CJ, is an integrated dropshipping platform that provides one-stop services that include product sourcing, automatic order processing, fast shipping, product branding, custom packaging, and some other useful features for eCommerce sellers.

With the following free tools, you can enjoy advanced services when dropshipping from CJdropshipping.
14.CJdropshipping Chrome Extension – Best product sourcing tool to source from AliExpress, Taobao and 1688
CJdropshipping Chrome Extension is a free tool developed by the CJ team. With the tool, you can easily post a sourcing request to CJ with a few clicks when you see interesting products during product research on AliExpress, Taobao or 1688.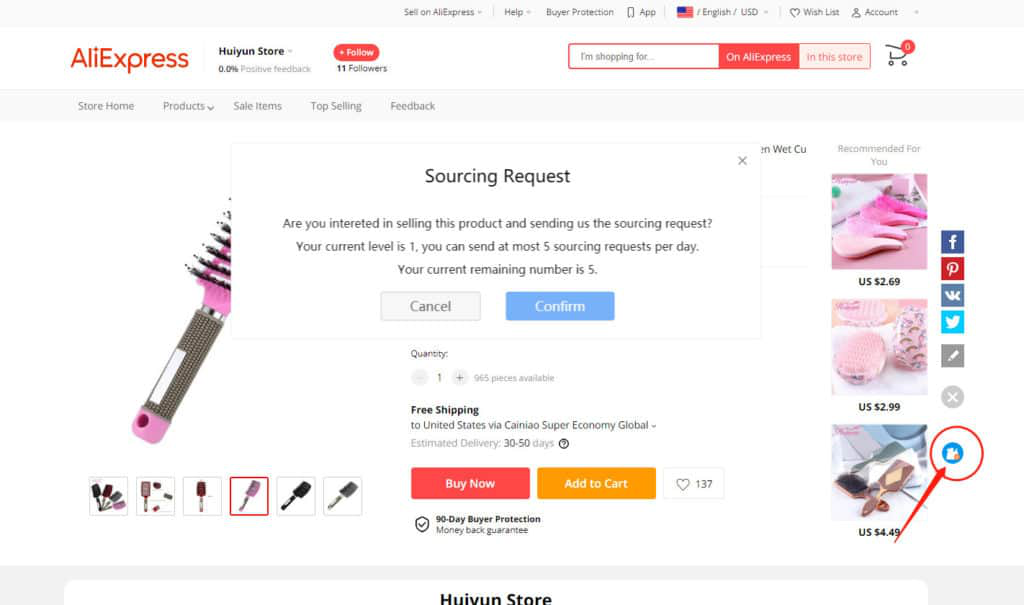 After you posted your sourcing request, the CJ sourcing team will get back to you within 48 hours, usually with a lower price than it is on AliExpress, then you can import the product to your store or buy it directly from CJ.
When you are sourcing on 1688.com or Taobao, the CJ extension converts the currency into USD automatically, and you can post a sourcing or a directly purchasing request to CJ.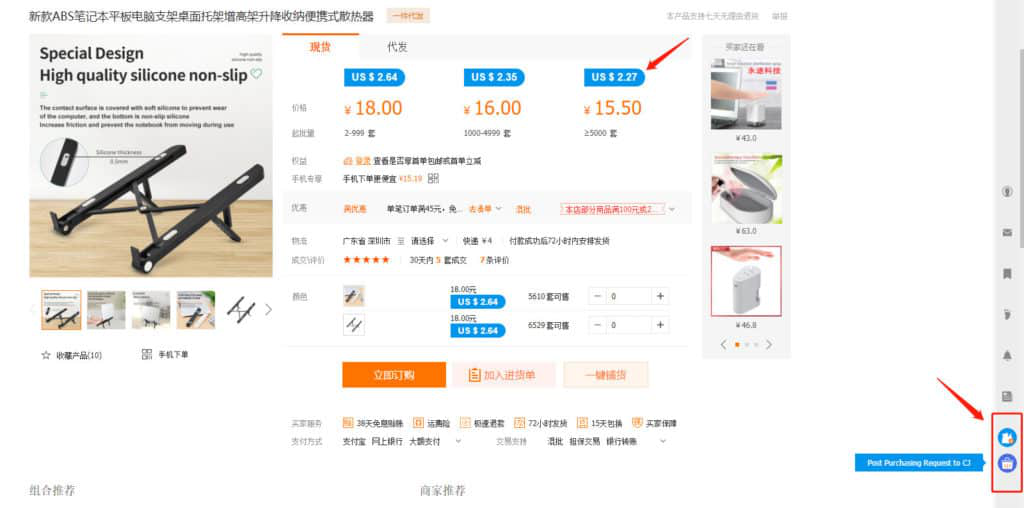 15.CJdropshipping Shopify App – A free product importing and order fulfillment tool for Shopify stores
With CJdropshipping Shopify App installed, you can enjoy the following services:
Easily list and source any products into your stores, normally price lower than Aliexpress, and thousands of POD products are available
Convenient order fulfillment service, everything automatically syncs with your stores, CSV orders are available too
As fast as same-day processing, shipping from the US warehouse directly to your US customers
Brand packing and insert available, quality control before dispatching, almost one by one checking
Track your orders anytime and make the delivery analysis
The team working with your team and almost 24/7 online support
16.CJPacket.com–A tool for tracking CJ packets
CJ Packet.com is a site where you can track your CJ packages online in real-time. If you don´t know yet, CJ Packet is a special air shipping line that streamlines and makes faster the process of shipping products from China.
Dropshipping Tools for Amazon
If you are looking for a free dropshipping product research tool for Amazon, these dropshipping extensions might come in handy as they offer a variety of tools that will help you in your research process.
17.AmzChart–#1 Amazon BSR & Product Research Tool
AmzChart is a leading Amazon analysis tool with the largest Ecom intelligence database. It can analyze 10K+ active products to help you to find out the best sellers and provide you with the analysis of top-selling items on Amazon.
As an Amazon seller, AmzChart would save your time to find lucrative niches with advanced research of Amazon Best Seller Rank (BSR), category, star ratings, reviews, etc. Additionally, it presents the performance of specific products and analyzes the categories with advanced filters, so you can get insight into the most profitable niche market on Amazon. Most importantly, it's totally free to use.

18. Amazon Assistant for Chrome
A browser extension helps with great input and quick links to items that you find on the Amazon search pages.
19.BQool Inc
BQool is a SaaS company that develops innovative cloud-based software services for Amazon sellers to resolve daily business challenges. Since 2013, BQool has helped thousands of sellers in different parts of the world to succeed on Amazon.
Dropshipping Tools for Aliexpress
20.FindNiche– Best Analytics Tool for AliExpress and Shopify
FindNiche is a powerful dropshipping tool that you can use to analyze profitable products. You can find out the trending products through advanced research with its various filters, such as Low-competition, High ROIC, New hot-selling, etc.
All of these features would help you to do completed product research and sort out the dropshipping niches. As an eCommerce store owner or someone dropshipping on platforms such as Shopify or AliExpress, FindNiche is a must for them to save time and has been proven to be helpful for many startups looking to break in and compete in the eCommerce industry.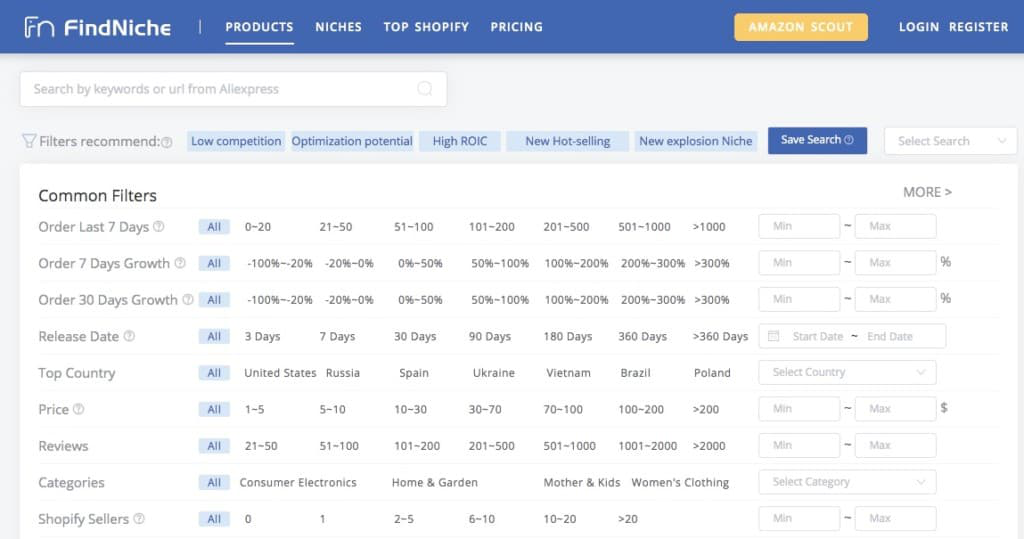 21. Alitools shopping assistant
With the help of this extension, the dropshippers can gather information about the product's price changes, seller's rating, and reviews right on the product page in Aliexpress, and, besides, get the list of similar items with the indicated sellers' rate.
If you source in other Alibaba group sites (for instance, BangGood), this tool will show you the sellers of similar and related products with their lowest prices, but from Aliexpress.This information can be really helpful when it comes to choosing a supplier for your trending item.

22. Dropshipping Tools with Cashback
All of these are great cashback sites, see what works best for you and enjoy some bonuses:
23. Ebates–Get a $10 bonus via this link
24. Giving assistant–Get a $5 bonus via this link
25. Be Frugal–Get a $10 bonus via this link
26. Quido–Get a 5GBP bonus via this link
Tools with Coupons
A unique browser extension that will find you coupons before checking out your purchases on sources in the US and the UK.
A similar chrome extension finds coupons for you upon checkout with plenty of great sources.
Tools for Optimization
29. Seller core
Find and create great templates for your unique listings in all sorts of different categories and themes.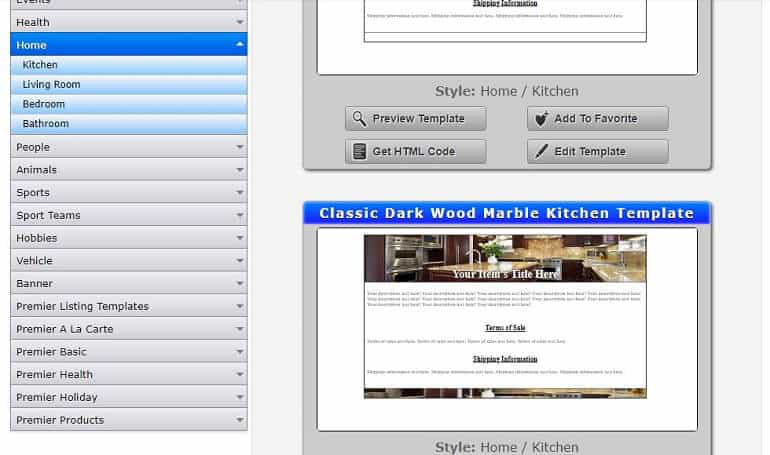 30. Title Builder
Optimize your titles to make your listings on your dropshipping store stand out in from of the rest.
31. Isoldwhat
Helps you find the right categories on eBay and their unique ID numbers.
Tools for Graphic Design
32. Canva
Practical and simple online tool for image editing and creating for the ones who are not graphic designers … just yet.
33. Freepik
A large stock image site with vectors, photos and PSD files.
34. Picjumbo
Another great free to use stock site.
Miscellaneous
35. Trello
Agile-based free to use task organizer to give you more control on your business model and the work being done.
36. Google Drive
Forget about traditional office solutions and use the cloud to create and store all of your important information.
37. Mailchimp
Email marketing complete solution to get your buyers hooked and keep asking for more.
38. Grammarly
Native English speakers or not, we all are bound to make some misspells and grammar errors. Don't work too hard and let Grammarly extension clean up your language.
This article is sourced from:
https://blog.dsmtool.com/start-dropshipping/free-dropshipping-extensions-and-tools/
Author: Shai Waisbrod