One of the most exciting and easy-to-start business models in 2021 is dropshipping. Dropshipping lets you choose what to sell, which is good, but finding the right niche requires a lot of hard work and patience. Since it's June now, in this article we only present the most suitable niches to start with in mid-2021. Before start talking about the top niches, let's clarify what is a great niche first.
What is a profitable niche?
There is no doubt that we are selecting products for profit margin, in order to gain the biggest profit margin possible, there are three factors you need to focus on when it comes to niche-picking.
Low cost: Low-cost items are easier to sell because of the attractive price. The tempting price will make the product more likely to make an impulse purchase.
Small and light: To increase profitability, find small and light products that can minimize shipping costs. Not only will these items help lower your expenses, but they will also help attract more customers.
Already popular: The most important thing to consider when choosing a niche is whether it is already popular. If it isn't, you could end up wasting your money on expensive marketing campaigns.
After applying all these rules, below are the hot-selling niches in mid-2021.
1. Pet
Millions of households worldwide have a pet, and more and more young generations adopt pets each day, according to Amazon, there's a massive increasing demand for pet supplies. Although pet is a well-known niche, I have to say there are reasons for this niche to be popular for this long time.
From Google trends, we can see in the past 5 years, the search demand for pets is stably increasing worldwide. Pet products often have a high repurchase rate, which means you have a better chance of having returning customers.
Pet owners are looking for products that are unique and healthy. There are plenty of options when it comes to creating pet-friendly products, many opportunities for cross-niche choice of pet, like travel, organic…
If you are looking for a sub-niche that is not as competitive as pet supplies in general, you should consider pet cooling accessories. The recent heat warning in the US makes the weather is unbearable for both people and pets, so the pet cooling accessories will be a great sub-niche for the next few months.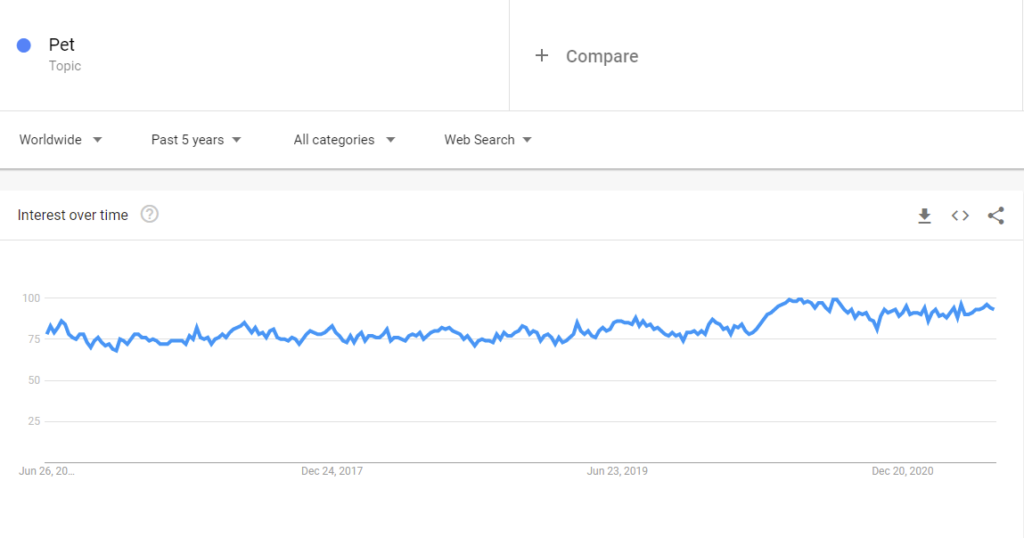 2. Babies
Every day there are babies coming to this world, and parents need lots of supplies to keep their newborns happy and healthy. Plus babies grow fast, so parents will need to buy different supplies for every stage of babies, hence the repurchase rate for babies and kids products is high for small items, and low for large items. However, once you build up the trust with the parents, they will have higher loyalty to your brand than any other type of customers.
3. Home and Garden
Due to the impact of Covid-19, people were forced to stay at home in the beginning, then gradually getting used to staying at home. In any case, after a long time of staying at home, we start to spend more time on decorating the home.
As you can see, there was a large search increase for home improvement in 2020, which was due to the epidemic outbreak at that time. When people slowly returned to their normal life and got used to the lockdown, search volume for home improvement began to decline slightly but remained stable at an average higher point.
In the middle of 2021, the most popular sub-niche under home and garden will be garden decorations.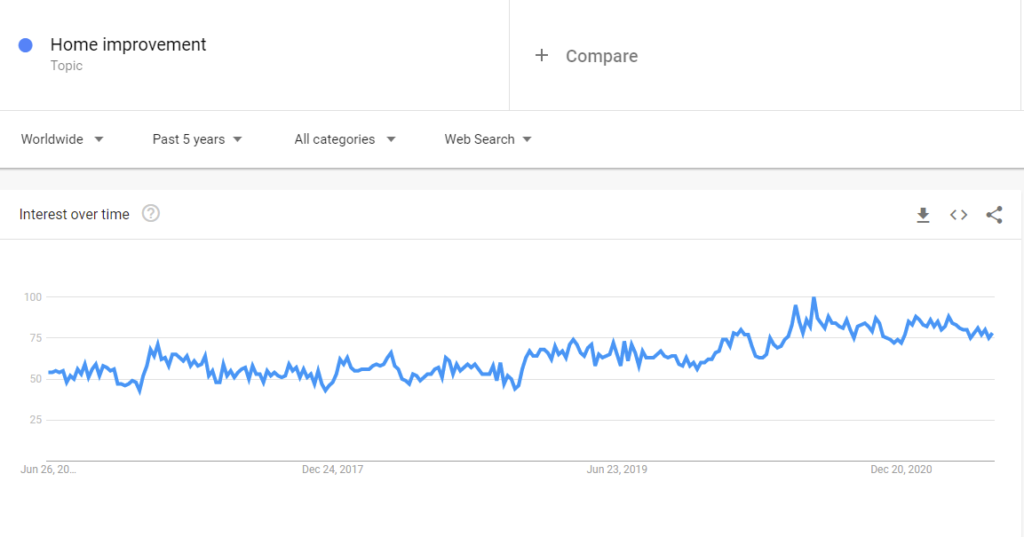 4. Sports and Entertainment
Sports and entertainment don't really equal to fitness niche. It's more like a personal hobby for activities. The sports and entertainment industry is one of the most popular niches in today's world. It includes a wide variety of products such as cycling supplies, swimming supplies, water games, and so on.
Search volume of outdoor activities has dramatically increased since the beginning of 2021 and now even reach the highest point, almost twice the regular peak point. Training bag, sports sunglasses, waterproof earplugs, storage bag for bike, velcro straps for bike, grip tape, camping tent, camping lights are all great examples.
What's more, with the impact of Covid-19, schools haven't open and all kinds of summer camps were still remaining closed. So these middle-class families face the same concern: where and how can their kids spend a meaningful and valuable summer? So equipment has entertainment purposes and can help with parents and child bonding are lovely choices.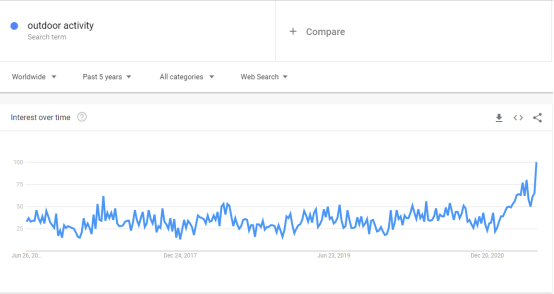 5. Mobile Gaming
The gaming industry is well-known popular. Switch, PlayStation, Xbox, either you've just heard of them or actually have one of these, or even several collections at home. Mobile gaming accounts for 50% of the global gaming industry. When the latest version of Call of Duty was released, it broke all the records.
The mobile gaming market is expected to become more mainstream in 2021. This means that mobile gaming is becoming the future of gaming. These gadgets are becoming more prevalent in the market. As seen from Google's search volume, more and more people have become interested in mobile games since June.
The more interest this gadget got, the higher the chance people will purchase it—gaming gadget products including gaming glasses, game controller and headphones etc.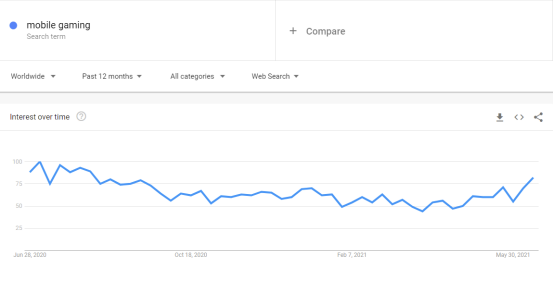 Conclusion
That's all the top 5 popular niches in mid-2021, hope these 5 niches can help scale your eCommerce store and start making money from now. If you are looking for more products under all 5 niches, a huge welcome to explore them out on CJdropshipping.