At the start of 2021, the first festival is Valentine's day. Talk about Valentine's Day, we all know it's a day for loving couples to express their feelings and give away gifts. Flower bouquets, chocolate, cards, stuffed animal, so basically it's a gift niche.
We can see Valentine's keyword start to heat from the end of January to the 15th of February from Google trends. I know it's a bit late and we only have less than one month to prepare for the day. But don't forget after Valentine's Day, there are Mother's Day and Father's Day. These also are holidays suitable for the gift niche.
Memory is everything. How to show the loving ones that you really care about them? Check out this memory film.
Unlike regular memory albums, you will need to flip through the pages. Once pull it away, you will have a wow effect immediately seeing all the different photos like a replay of memories in the movie. Vintage film style, each film can have 10 pcs photos inside. It's a customized style, customers can create their unique memory filled with photos and words. It's a typical product for a gift niche store, suitable for Valentine's Day, anniversary, Mother's Day, and birthday.

Jewelry is an indispensable element of Valentine's gifts. Engraved rings, projector necklaces, and custom necklaces are old-school tricks. Check out this video for the adjustable ring sets hidden in the mystery Rubik's cube.
After opening the Rubik's cube, you will see one unique ring. It is a retro-style projector ring that can be separated into 2 parts. If you don't like the ring set or the Rubik's cube box, you can also open up your mind to create your unique combination gift set.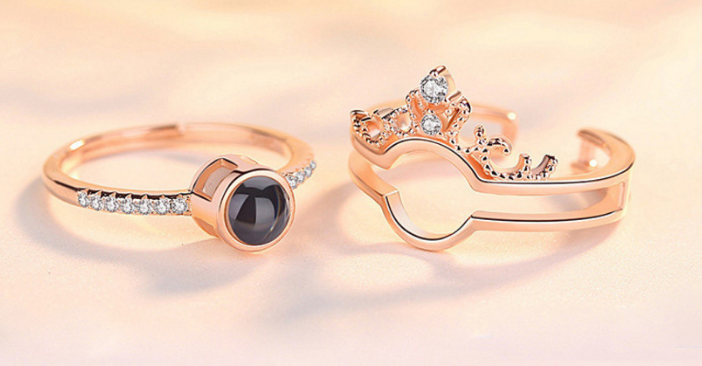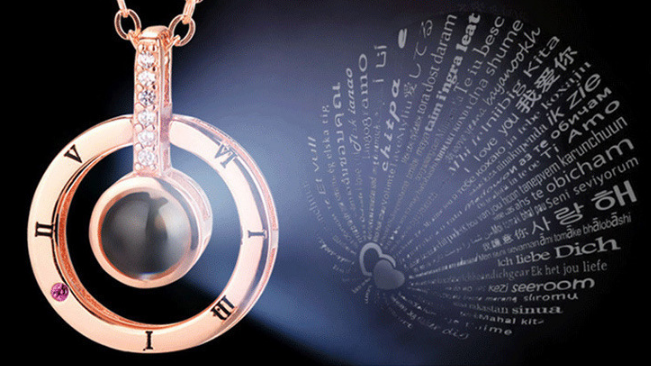 Products related to immortal flower has been popular on many social platforms. It can be a great choice for sales Valentine.
The heart jewelry was manufactured by a trusted supplier who has been working with CJ Dropshipping for many years. Cooperate with a professional packaging producer, this unique product is created with special gift packaging. You add this product to your store before Valentine's day, so your customer can order it in advance.
Couple Matching Clothes
POD (Print on demand) products are those we can't missed out on for gifts. Couples loving have the matching shirt, matching hat, couple socks, and couple shoes.
If you are running an apparel niche store, instead of just giving a valentine's day discount, why not upload some POD socks, hats, clothing, and shoes to increase some extra sales. You may think it's too cheesy, but the couple loves it. Ordering pairs of socks with your loving one's avatar or your pet's image, it's quite funny but also sweats.
Check this dad cap or unisex beanie, and you only need to list it to your store, then customers can create their own design on your store page. You can check out more POD products on the CJ POD page.

Moon Lamp
Not every couple is a big fan of public displays of affection. So the matching couple staff may not be their type. But what kind of gift for them to express their love-moon lamp.
Moonlight also be a term for romance which means they guided you through the darkness. This 3D printing moon lamp allows the customer to create their own design, and it could be pictures or slogans. It comes with one remote and can adjust up to 16 kinds of light, 6 sizes are available from 10cm diameter to 20cm diameter.
More moon lamps are available in CJ. Moon lamp with scars, moon lamp style speaker, moonlight ultrasonic humidifier, etc. This product is an age-covered gift. Not only suitable for valentines but can also be sold in the coming holidays.

Men's Gift Set
We have talked about the gift for her, don't forget Valentine's Day gift for him. Don't know what to give for your man, watch? Pen? Wallet? What about this men's watch gift set.
It's a gift basket that has all your straggles, and it includes a watch, a wallet, a cologne, a belt, a pen, and one key chain. With all these products, it only cost 9.19$ and 18.48$ shipping to the USA. So the total dropshipping value is 27.67$. Currently, it only has 4 people listed in CJ. List it now before anyone else.

POD Fitness Products
The last gift idea is POD fitness products. Guys love fitness. What's the best gift for fitness freaks, of course, is fitness products. Let the customer design their fitness products for their man. This customized portable push in CJ. I'm sure you guys have more creative ideas about which fitness product can be customized.
Once you have the idea, you can post a sourcing request in CJ, and our sourcing team will source it within 48 hours. If you are currently running a fitness niche store, these products can still be selling even after Valentine's Day.