When you start a print on demand and dropshipping business, it is necessary to know the information about the industry in time. There are many bloggers, entrepreneurs, and influencers who are experts in print on demand and would like to share their knowledge online. The following article will introduce the best print on demand and dropshipping experts. Following their experience, you can also become a successful online seller.
Sarah Crisp
As a leading eCommerce educational video provider and prominent Youtuber, her Youtube channel, Wholesale Ted, has over 14.6 million views and 424,000+ subscribers, and she shares her success with eCommerce opportunities with Shopify, print on demand, dropshipping, and many other categories. With her methods, she's been able to realize seven-figure profits for herself.
In specific, she discusses all topics for eCommerce business owners:
Case studies on successful eCommerce stores.
Tutorials for apps & online tools.
Low-cost, beginner-friendly product sourcing methods (Print On Demand & Dropshipping).
Discussion on more advanced product sourcing strategies (such as Wholesale combined with Fulfillment Centers).
Sales psychology tactics to increase conversions & get customers to buy from you & click on your ads.
Videos to help you with the "legal stuff" (creating refund policies, setting up taxes, etc).
Justin Cener
Justin Cener is a web and startup master, and expert in how to make money selling on Shopify by dropshipping and printing on demand, etc. His YouTube channel has over 1.57 million views and 31,800+ subscribers. He constantly provides new, fresh, super useful training that will help you make your first (or millionth) dollar online on YouTube. And he has many great videos for beginner and intermediate Shopify users. What's more, Justin has a great ability to break things down in an easily understood, easily digested way.
Travis Marziani
Travis Marziani is experienced in Shopify, Amazon FBA, and many other online platforms that help people become independent. His Youtube channel, Effective Ecommerce, has over 61,500 subscribers, and dishes out advice on this like the best eCommerce platforms, how to market on social media, and how to do product research. If you need a diverse, information-packed channel about all things eCommerce, it's a great idea to hit up his channel.
Andrew Youderian
Andrew Youderian is a serial entrepreneur particularly experienced with business exits, SEO, and community building. And he found the Ecommerce Fuel blog which covers just about every topic entrepreneurs need to understand to run successful online stores, such as business optimization and scaling, branding, Facebook, SEO, influencer marketing, video, photography, shipping, etc.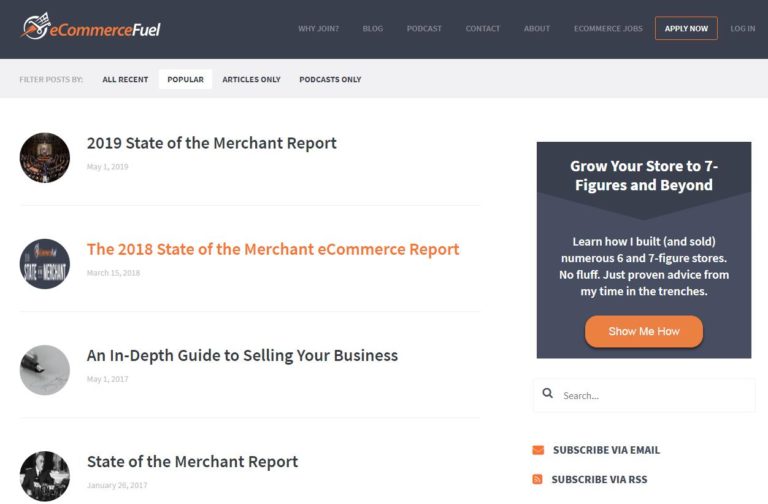 Ecommerce CEO blog
The Ecommerce CEO blog walks merchants through every step of the process of creating an eCommerce business. They take the complexity and mystery out of eCommerce by simplifying complex concepts. 
The blog focuses on 3 main areas:
Step-by-step guides to building online stores from scratch
Reviews of the best platforms and tools
Marketing strategies to boost conversions and sales for online stores
About print on demand, there is a blog 125+ Print On Demand Products To Drop Ship 2020 on it.