The first step to start a dropshipping business is choosing a suitable platform that provides reliable services for your store. The choice marks the very start of your business, and the right dropshipping supplier can help you weather the storm in the ocean of business.
With the assistance of a good service provider, you can easily import products, list goods, fulfill orders automatically, then scale up your business quickly.
Before you make up your mind about which supplier to go for, knowing what they are capable of will help you to choose the one that suits you most.
This article will compare Oberlo and CJ Dropshipping, the 2 major e-commerce platforms. The featured functions and services will be presented, hope the information will help you select the platform that suits you most.
Fundamental Difference
CJ Dropshipping and Oberlo have differences in many aspects, but the fundamental one lies in their target customers.
Oberlo is one of the earliest dropshipping platforms to launch and is a dropshipping app extension for Shopify that helps you find trending products and add them to your store. It can only work with one eCommerce platform—-Shopify. But it allows you to import goods from AliExpress.
In a word, Oberlo can help you find a supplier with specific goods that your customers need, and ship them to customers directly on the condition that you own a Shopify store.
CJ Dropshipping is a platform integrated with product sourcing, automatic order processing, and shipping fulfillment. It's like a combination of Aliexpress and Oberlo, dropshippers list or connects products on CJ to their stores, then CJ syncs orders from their stores and takes care of everything.
Warehouse service, photo/video shooting, POD, affiliate, API support, and the like are all available. CJ is a one-stop service platform covering all the services related to dropshipping business.
In short, CJ dropshipping has combined all the possible functions to provide a thorough service to all kinds of merchants and store-owners from different platforms, including Shopify, WooCommerce, ShipStation, Lazada, Shopee, etc.
They vary in the target customers and equip their platforms with different functions and services to better cater to their target markets. It is the fundamental difference that leads to a series of other differences.
User Interface & System
Aiming at the Shopify store owners only, the system of Oberlo is quite simple with a clean UI that makes it easy for you to go through the products it offers, connect to your store, and begin your sale without drowning in a sea of hands-on information.
Managing dropshipping in Oberlo can be simple and smooth while owning a Shopify store, otherwise, you are not able to enjoy the effectiveness and simpleness.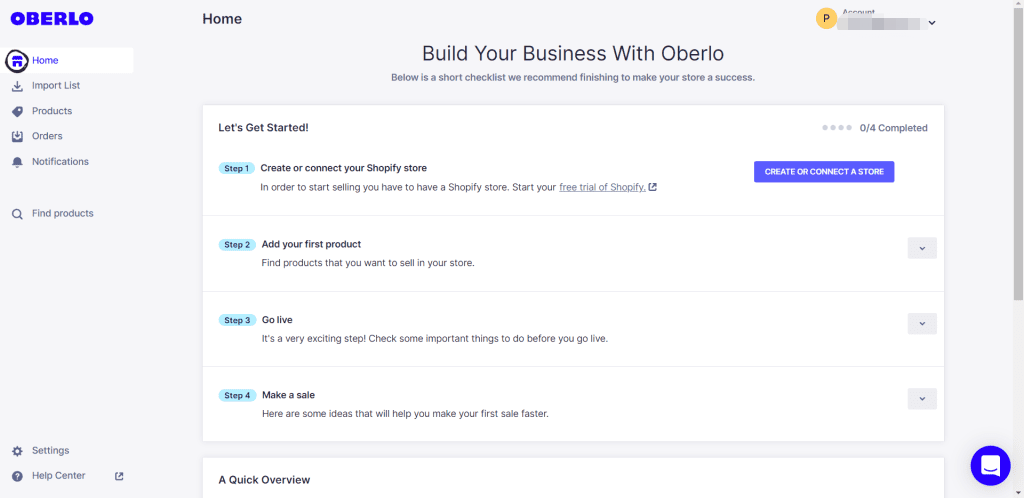 Meanwhile, the system of CJ is more complicated, because it combines the functions of Aliexpress and Oberlo, and goes further than these two platforms can do. But once you have set the features you need in place, you can save tons of time and energy.
To make things easier for new users, CJ Dropshipping has made a tutorial video for every feature. If users encountered any questions when using the platform, they can consult the 24 hours online customer service for support as well.
In a word, CJ Dropshipping offers various services, a freshman may need to sort through a flock of choices in the very beginning, but eventually, everything will be worthwhile.
However, if you wish to get more support for building your own dropshipping business, you can also try the CJ prime plan.
Pricing
Oberlo Pricing
Oberlo has fixed pricing plans for clients to choose from:
Explorer: Free
Grad: $7.90/ month
Boss: $29.90/ month.
The service Oberlo offers 3 major parts: Learning, Coaching, and Dropshipping. The access to each section depends on the service plan chosen.
The free explorer plan is a start version that allows you to use the basic functions of Oberlo. You can use the Oberlo Chrome extension to manage your orders with the 500 product limits. And you can get 2 free courses to learn the basics of dropshipping business.
If you wish to consult Oberlo's advisors to get some advice and trendy product report for your store and business development. The Grad version is suitable for you to select.
However, if you are already an experienced dropshipper and have already started running several stores, the Boss version is the best choice. It will provide you with up to 30,000 product limits and give you access to bulk order management and shipment tracking service.
CJ Dropshipping Pricing
CJ Dropshipping is a membership-driven website, allowing users to try its pro-service for free including Print on Demand(POD), fulfillment services, and sourcing. The levels of each user account will steadily increase as they place orders with CJ. Users of higher levels will be able to request more daily sourcing and other supplementary services.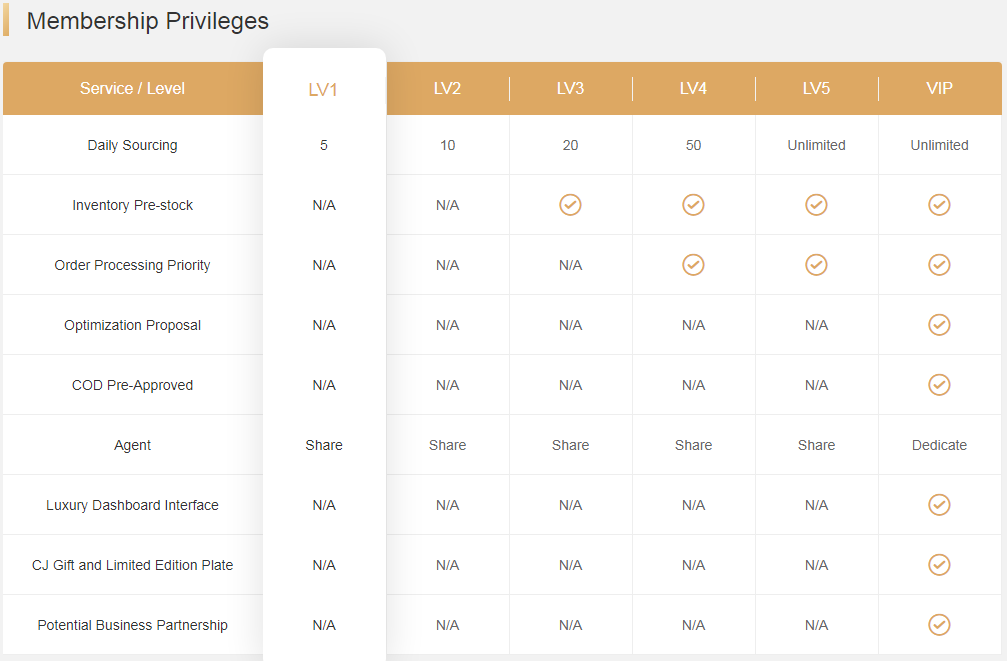 If you wish to work with CJ Dropshipping, the free functions are already enough to develop a successful business. The only essential costs you only need to pay are the product fee and shipping fee when placing orders. You can refer to the total dropshipping price on each product page for details.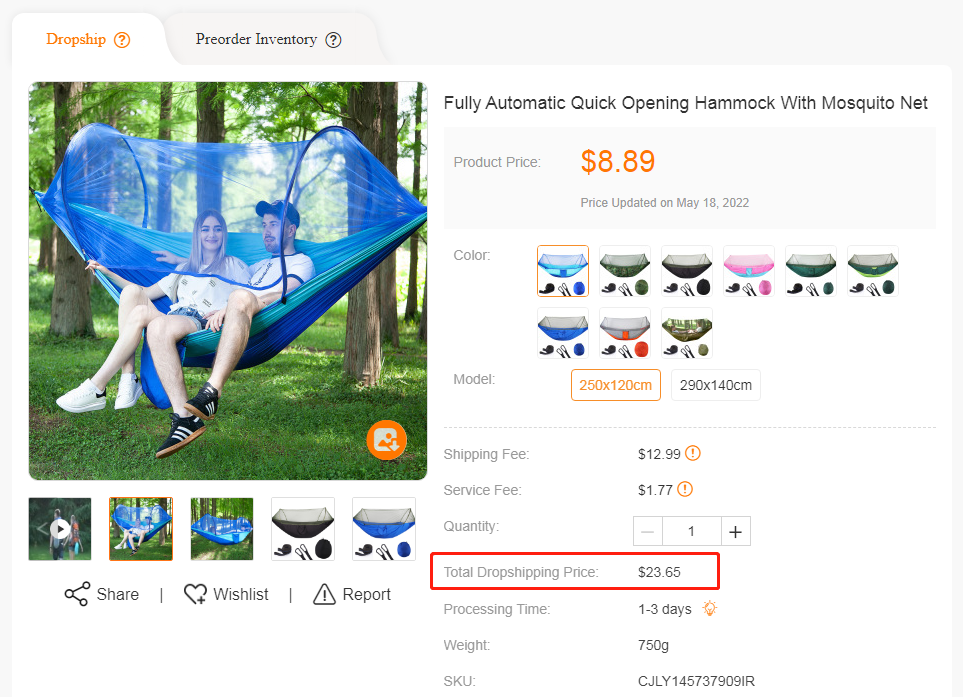 Plus: $15.99/ month
Prime: $19.99/ month
Advanced: $59/ month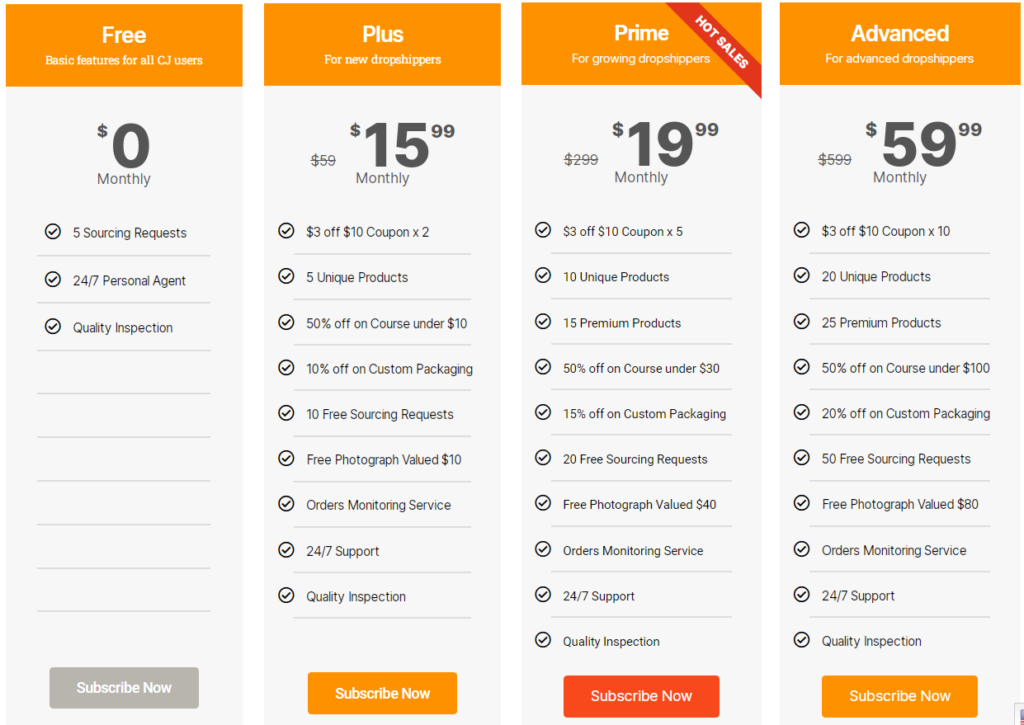 Join the prime plan will significantly increase the limit of sourcing requests you can post per day. This option is good for people who want to source the best price for many different products.
Besides, the different versions of the prime plan also contain multiple coupons that you can use directly in your future orders. These coupons can be used when your order value reaches 10$, each coupon will save $3 on each order.
The prime plan also offers various different discounts on supplementary services.
CJ academy course is helpful for dropshipping beginners to study the insights of the industry. The mentors are all professional or experienced droshippers who have achieved their own success in the industry. The prime plan can provide a 50% discount for most courses.
Custom packaging is prepared for entrepreneurs to build their own brands. If you wish to make your own products look unique, custom packaging is the best option for you. The prime plan offers up to a 20% discount for packaging orders, which is great for saving the budget.
Photography service is a special service provided by the CJ photography team. You can request CJ photographers to film commercial photography content for you to list products or post advertisements. Normally commercial photography can be expensive but the prime plan allows you to request free photography for once.
Also, CJ Dropshipping users can download monthly product reports. And they can join the CJ Facebook group where dropshipping influencers, tutors, and experts can help to solve their questions about the dropshipping business. Unlike Oberlo, CJ has offered those services for free.
Product Sourcing & Listing
Given the difference in target customers, their ways of sourcing products apparently differ from each other. Currently, Oberlo only supports adding products from AliExpress according to its announcement on the official website.
In this case, it can only support suppliers from AliExpress to work with dropshippers to offer better prices, packaging, or product customization. It has more specific and simplified services and functions that help online store-owners find products or source them in their stores to start selling.
But the production listing can be limited because of its pricing, it only allows you a maximum of 500 products listed for the Grad version and 30,000 products listed for the Oberlo Boss version.
While on CJ Dropshipping users are provided with diversified eCommerce platforms for product sourcing. CJ supports other platforms besides Shopify, so does it support a diverse way to import products. Users can search the products by the name and URL, or sync products with their stores.
Users can put forward a sourcing request once they find a winning product – the CJ team then sources the requested products for them. CJ Dropshipping, on the other side, has over 400,000 products. CJ focuses on listing products according to evident demand or customer requests.
Product Details
Oberlo has offered product details and product statistics for your reference before you decide what products to purchase or list. Product statistics are quite helpful and useful, presenting data, such as reviews, ranking stars, how many people imported the products, and the order amount.
Same as Oberlo, CJ Dropshipping also got product descriptions from suppliers and customer reviews imported from retail sites. However, there is also a comment section for dropshippers to leave their own thoughts about the products.
For some trendy products with great sales, CJ Dropshipping will provide marketing suggestion on the product details. So sellers can get some helpful information when list the product to the stores.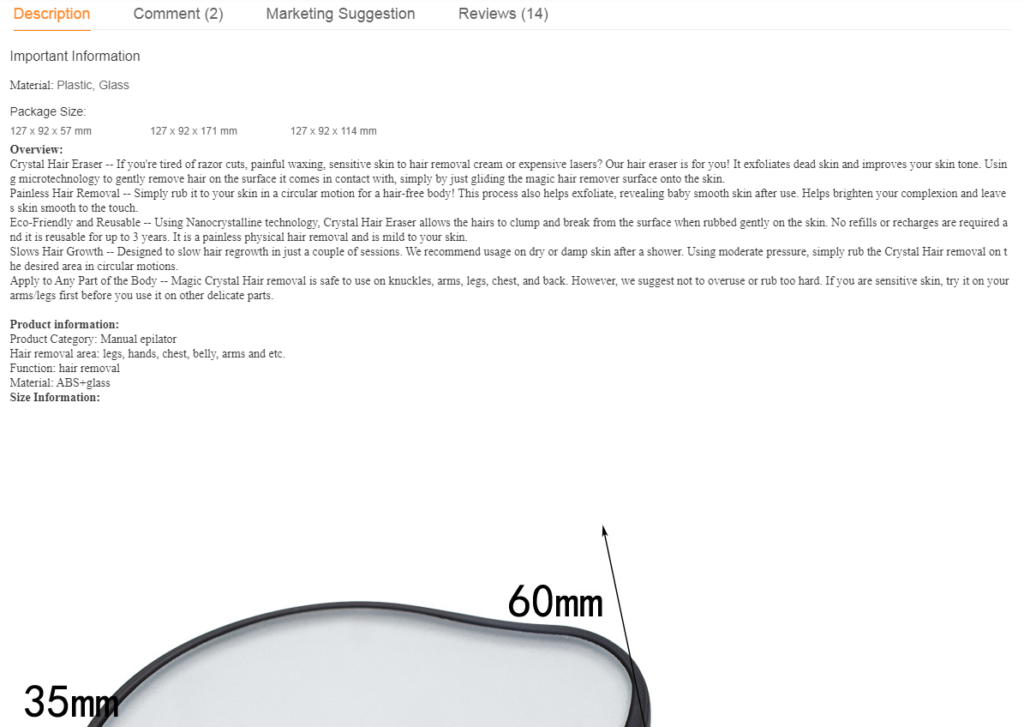 Costs of Purchasing Product
Oberlo imports its products from ALiExpress, so the price it offers syncs with AliExpress. Sometimes the product price on ALIExpress has significant difference compares to CJ Dropshipping.
This is because those AliExpress stores are mostly owned by individuals or partners who have no inventory or stock. Adding to it, manufacturers only provide competitive prices exclusively for retailers or other sellers on Alibaba, a wholesale platform known as a famous B2B solution.
In this case, AliExpress sellers have to pay more to buy inventory and pay extra fees, including the annual fee, showcase fee, and charges for advertisement on AliExpress. All these factors make products having price difference.
On the contrary, CJ Dropshipping directly purchase the product from suppliers and ship them out from CJ warehouses. The product costs did not have been added with extra fee except the delivery fee from supplier to CJ, so it can be cheaper.
However, the shipping costs on CJ Dropshipping is generally higher than AliExpress. Because the inventory service costs (such as quality inspection and packaging) are included in the shipping fee. Also, considering most shipping methods on CJ dropshipping are faster than AliExpress, it's not hard to understand why the shipping fee is higher.
Packaging and Shipping Methods
With AliExpress as the only channel for product sourcing, Oberlo adopts the package and delivery offered by suppliers on AliExpress. In this case, you can only choose among the methods provided by AliExpress for shipping and delivering products to your customers.
Problems may occur when your customers order different products that their orders will be delivered by split-shipping, which may affect the shopping experience.
While CJ has offered CJPacket services, allowing customers to make their own choices of the packages and delivery. CJPacket provides insurance for packages from China to most countries.
CJPacket is a shipping line established by CJdropshipping, mainly for ordinary and electronic products, including CJPacket ordinary and CJPacket sensitive according to different product attributes. Furthermore, CJ will make a refund or resend if the package is damaged or lost during the transition.
Final Words
Oberlo and CJ Dropshipping have their own specific target customers and markets, which lead to their unique advantages and services.
Oberlo is more dedicated to Shopify store owners and has a rigid pricing plan, and CJ Dropshipping is a one-stop service platform covering all the services related to dropshipping business.
Inevitably, CJ Dropshipping owns a complicated system but offers comprehensive services needed for a dropshipping business. It is important to choose a platform for your dropshipping business, so take your time to know what works well for you.