Valentine's day has always been a great opportunity for many dropshippers to boost sales at the beginning of each year. On this special day, many people around the world would choose to prepare a gift for their loved ones to celebrate their relationships. Therefore, this date is also a good chance for merchants to sell their Valentine-themed products. So, which product is good to sell on Valentine's day 2023? Let's take a look at this trending creative night lamp.
Since 2022, many successful dropshippers have already been selling this product. The unique features of this product also make it a wonderful and meaningful gift for Valentine's day. Thus, this article brings some helpful information about this night lamp for dropshippers to know about its market potential. Now let's check it out!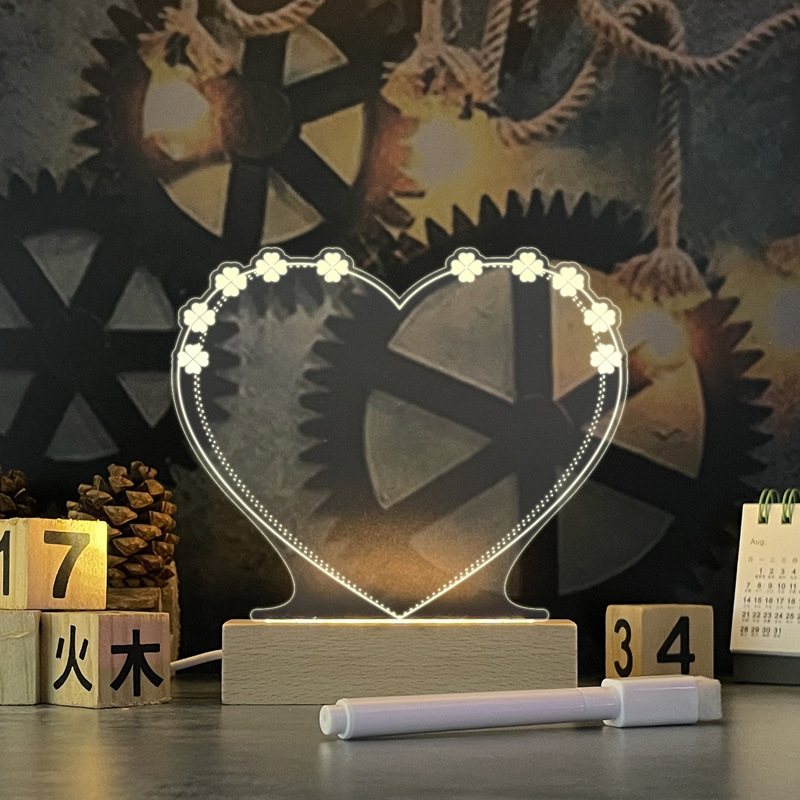 Selling Potential
Market trend
According to Google Trends, the search trend of the term "night lamp" has always been stable in recent years. The record shows the peak season for selling night lamps starts from December to February, so the best time to list this product is in the wintertime.
Besides, if you are interested in this product and want to sell it in your store, you should realize that there will be many competitors selling the same product in the market. Because this Valentine's day is a big opportunity for dropshippers, so most people won't miss the chance to sell a trending product in their store. Thus, if you want to sell this night lamp as a Valentine-themed product to boost your store sales, then you should prepare your store as early as possible.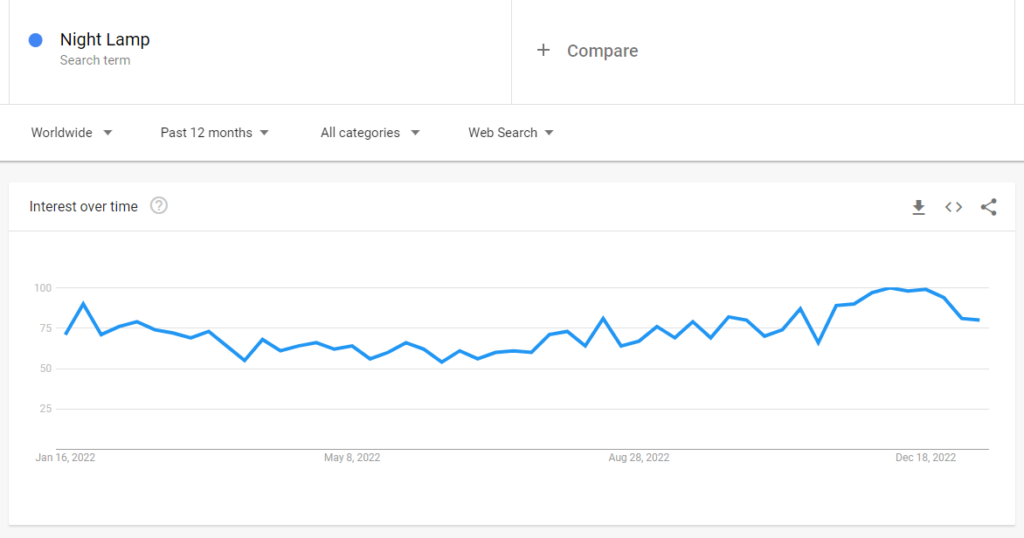 Product Features
Soft Light Technology: The creative night lamp generates a soft warm light, which provides a gentle atmosphere for your room. You can use the light to do night reading or decorate your room on every dark night.
Multiple Functions: The product not only functions as a night lamp, but it is also a small transparent board. You can write any words you like or draw some simple pictures on the board for decoration. You can also use it to leave some notes for your family.
Selectable Board Options: You can choose the message board you like from different selectable board shapes. If you are sending it as Valentine's gift, the heart-shaped board is right there for you. If you are sending it to a friend or family, the calendar type is also a good option.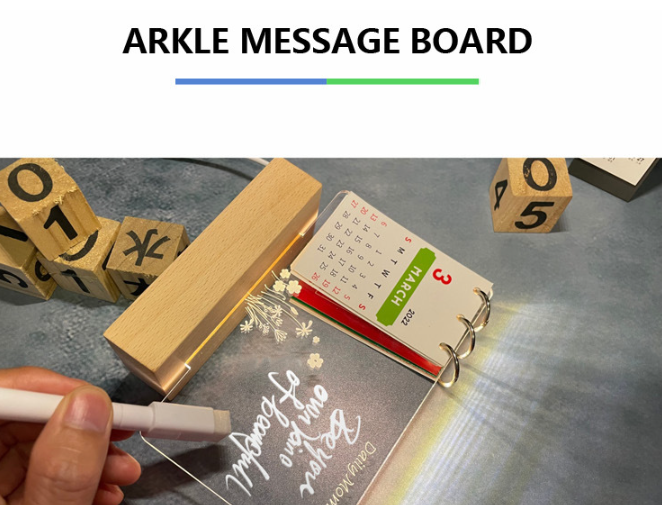 Pricing
Most eCommerce shops you can find on Google are now selling the creative night lamp for $20-$30 including the shipping cost. Considering the initial dropshipping cost of this product is around $10, this price range is fair for most dropshipper to earn a profit.
On some large platforms such as Amazon and Temu, the price of the same night lamp is no higher than $20. However, competing with these large platforms and keep lowering the price is not a good strategy for dropshippers to run long-term business. So if you also want to sell this product, your pricing should also be above $20.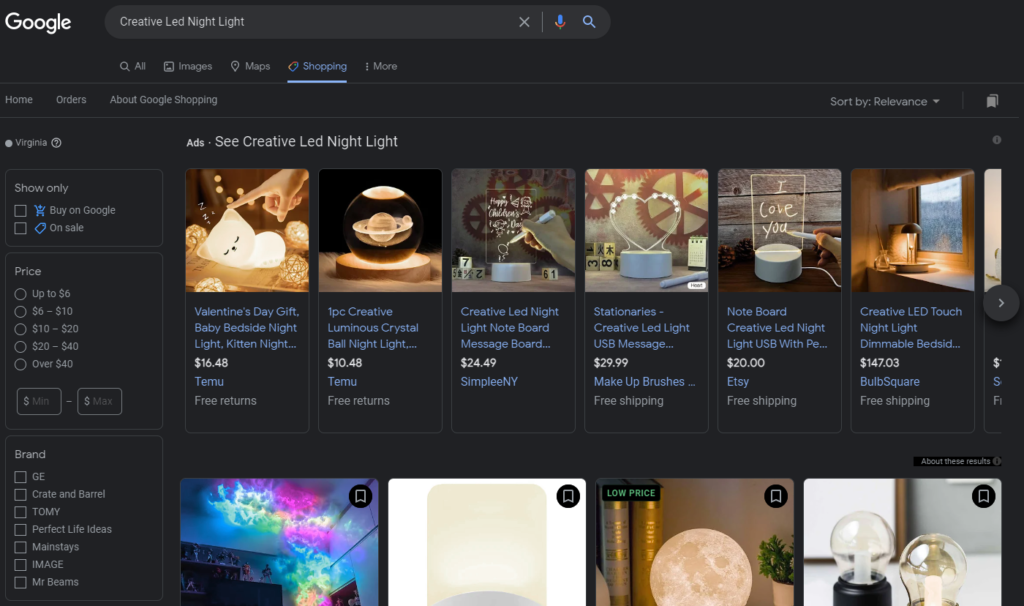 Dropshipping Costs & MOQ
Shipping Rates
Regarding shipment, lamp products often cost a lot of the shipping budget. However, you don't have to pay tons of shipping fees to send the creative night lamp. Because compares to most lamp products, the creative night lamp is small and light. And shipping companies usually won't charge much for shipping such an ordinary product.
In this section, the total dropshipping costs of the creative night lamp on CJdropshipping and AliExpress will be presented. Then you can check how much budget you need for dropshipping this product. And since there are multiple suppliers on AliExpress, we will look into the one that got the highest order amount as a specific example.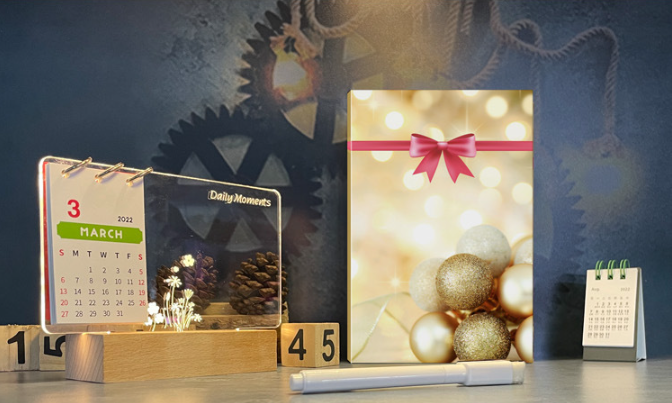 CJ Dropshipping
Total Dropshipping Cost: $9.94
Processing time: 3-5 days
Shipping time: 7-15 days
Shipping method: CJPacket Ordinary
On CJ Dropshipping, shipping one creative night lamp will cost you $9.94. The product is priced at $3.40, and the shipping to the US takes a $5.76 shipping fee with a $0.78 service fee.
The best available shipping method to the US is CJPacket Ordinary, which offers 7-15 days of shipping time for customers to receive the product.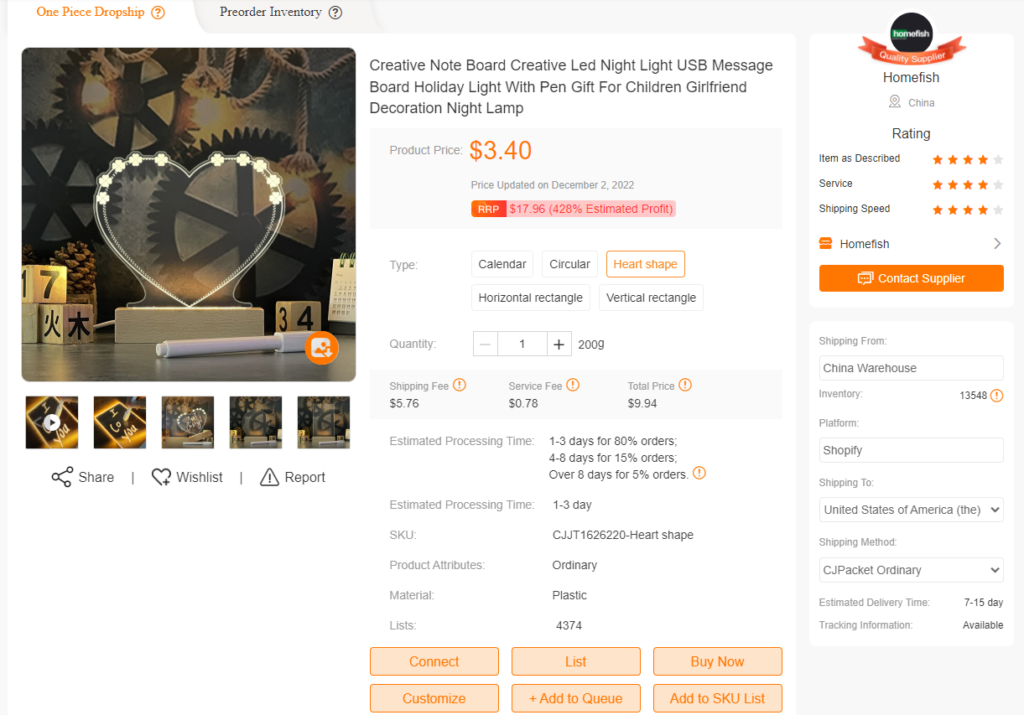 AliExpress
Total Dropshipping Cost: 7.28
Processing time: 1-5 days
Shipping time: 35 days
Shipping method: AliExpress Standard Shipping
On AliEpress, the total dropshipping cost of a creative night lamp is $7.28. The cost includes $4.99 for the product and $2.29 for the shipping.
The best shipping method is Aliexpress Standard Shipping. For shipping a regular US order, Aliexpress Selection Standard needs more than one month to deliver the product to the customer.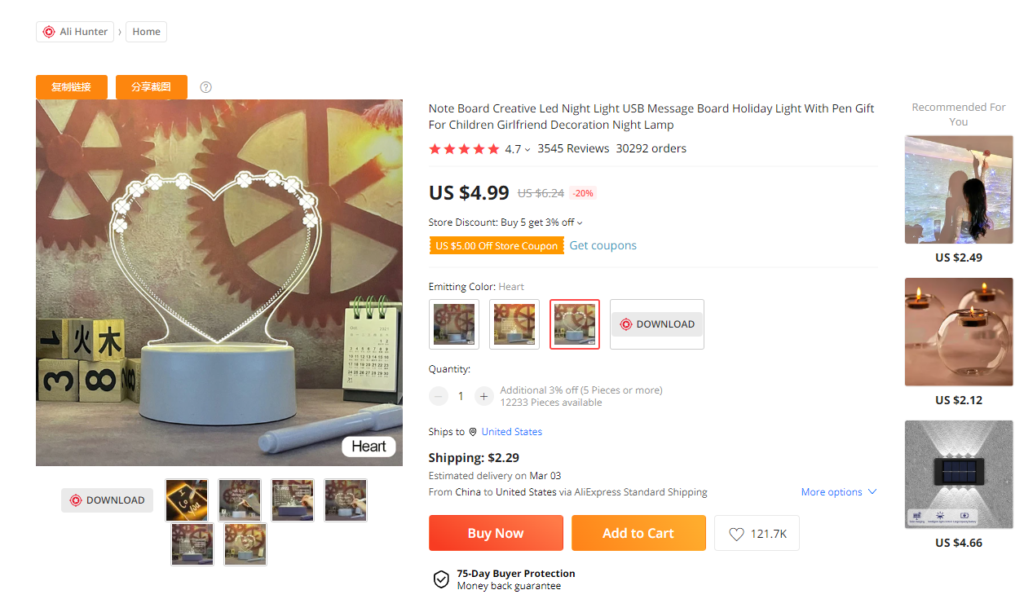 Comparison
When we compare the price of creative night lamps on the above two platforms, we find the supplier from Aliexpress offers a cheaper option than CJdropshipping. But if you are looking for long-term business cooperation, CJdropshipping is also not bad considering the shipping time advantage.
Sometimes, dropshipping a product from AliExpress can be a pain in the ass for many dropshippers because the shipping time of Aliexpress standard shipping takes too much time. Nowadays not many customers can wait for a causal item that takes nearly one month to get delivered. So if you order this product from AliExpress for your customer, it is highly possible that the customer may cancel the order due to long time delivery.
Therefore, CJDropshipping is also a better option considering the shipping time. Moreover, if you want to get faster shipping time, you can also use CJ international warehouses to stock your product in advance to get a 3-7 days shipping time. So although Aliexpress got a bit advantage on the product price, CJdropshipping is still a better choice for long-term cooperation.
Certifications
Sometimes your dropshipping platform may ask you to provide certifications to prove that your product is valid to sell. And since dropshippers are not manufacturers of the products, you may need to ask the suppliers for the certifications.
The supplier from CJdropshipping can provide all the essential export certifications to ensure the quality of their product. If you want to list the creative night lamps in your store, you can request images of the certifications from the supplier.