The business model for dropshipping is much more simple than most other e-commercial business models, you get orders from customers, then suppliers or agents will take care of everything, and you can focus on marketing your products and scaling up your business.
What you choose to sell counts a lot on whether you will succeed or not. This article shares 12 brilliant websites that could help you in hunting for trending products.
CJ Dropshipping
You sell, and we source and ship for you. What CJ Dropshipping can do is more than this. Product recommendation is one of CJ's services. On the homepage, there are hand-picked winning products in different niches, trending products, and new product recommendations, as well as recommended products for you customized by your selling niche and searches.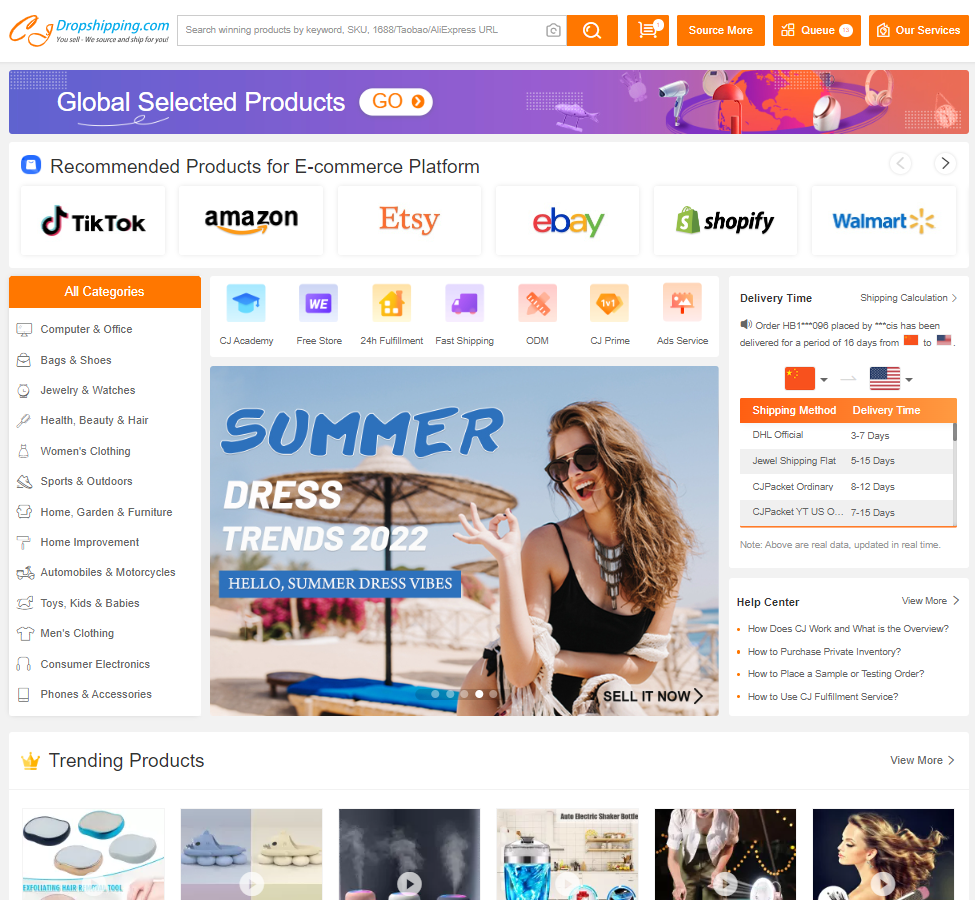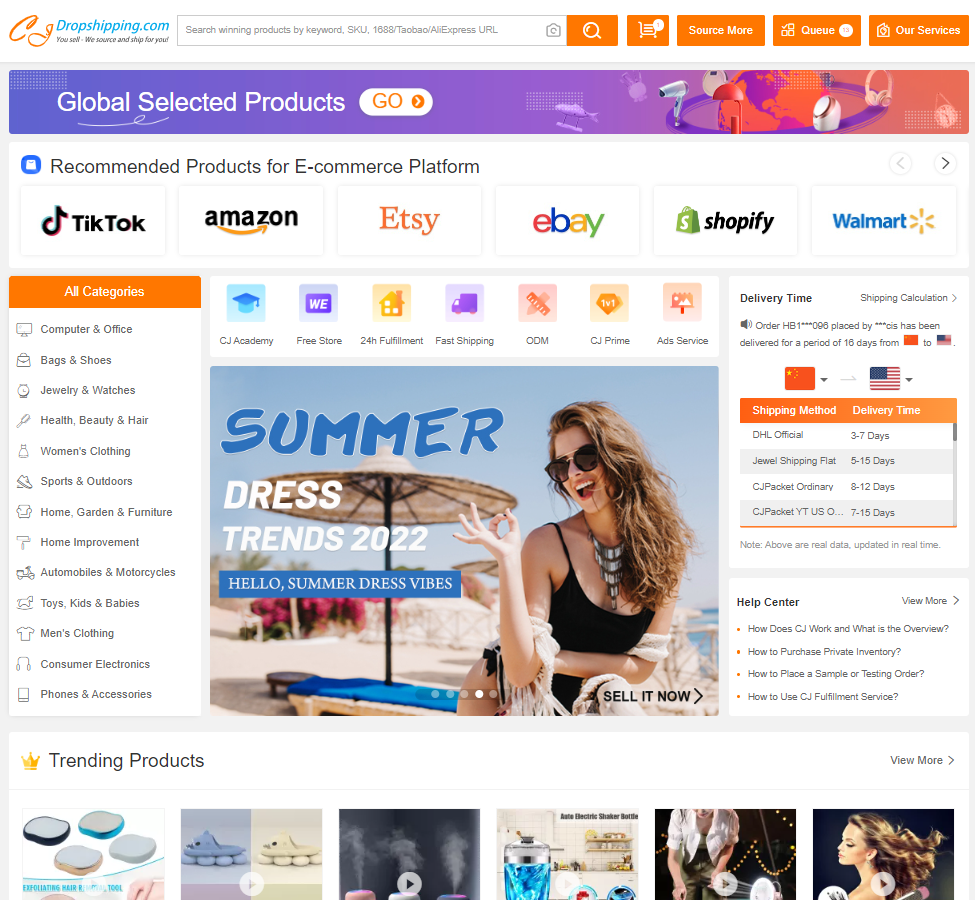 Apart from the homepage features, CJ is updating videos of product recommendations regularly, the products recommended were hand-picked by product specialists. And you can get product reports of trending products for free, which include bestsellers, most listed products, products with great potential, and the like with detailed product information.
Ecomhunt
Ecomhunt is a professional website to help e-commercial business runners to pick products. You will find the products on this website meet all the features of a product that is suitable for dropshipping.
So it's a website gathering the products dropshippers are selling, summarizing information like the margin, total stores selling the products, and so on of the products. But if you wanna know more information such as Facebook ads, targeting, or links, you should pay to gain a pro membership.
Facebook
For e-commercial business runners, Facebook is not only social media, but it is also a platform to place ads for their products, courses, or stores. Running Facebook ads is the most selected way to draw traffic and convert to orders as for dropshippers, it is an easy and quick return.
The products e-commercial business runners choose to run Facebook ads are usually tested to be good profitable products, so it is an easy and practical way for you to find what's on trending on Facebook.

How to find products on Facebook?
Browse on the News Feed page, and you will get some sponsored push, like the ads for dropshipping products, and you can also follow e-commercial posters, then you will receive more and more of these kinds of ads push.
Instagram and Pinterest are two alternative options, you can follow some promo pages, and check regularly which products are in ads.
FindNiche
Then we would recommend FindNiche, a powerful dropshipping tool for you to analyze profitable products with the potential for a massive return on investment. It has the ability to analyze over 6 million Aliexpress products in 50 thousand different niches and covers over 600,000 different Shopify stores.
You would be impressed by its huge database and data processing ability. As an eCommerce store owner or dropshippers, FindNiche would help them to do product research and find a profitable niche.
It is a very professional analytic tool built with the most innovative technologies in today's digital business and has been proven to be helpful for many startups looking to break in and compete in the eCommerce industry.

Currently, it started to charge a fee, but you still can pay $1 to get a free trial, and you will not miss its powerful features.


AliExpress
You have no chance of never hearing of Aliexpress if you are an e-commercial business runner. To a certain extent, Aliexpress is a competitor of ours, but we do not mind recommending Aliexpress here because each of us has our strong points.
One strong point of Aliexpress is that the total volume of products on Aliexpress is tremendous, to be honest, much more than those products on CJ App.
But, we have a feature to cover this weakness, we have a product sourcing service, once you find a product you want to list to your store, we can source and post it on CJ App for you, usually with a lower price, that's why many clients start with Aliexpress but turn to us for scaling up.
Odditymall
Just as its name, Odditymall is an excellent website to find something interesting and special, we can see that products on this website are hardly seen in ordinary stores.
But half of the products are not suitable for dropshipping because they are too large, and the shipping costs far surpass the budget.
Myip. ms
On this website, you can check the world site's popular ranking of all of the Shopify stores.
What can we do with the statistic?
There are top Shopify stores selling dropshipping products, which are very successful dropshipping stores with high traffic. Sort out these stores, there are about 5 stores in the top 100 according to rough statistics, and spy on what is being sold in these stores.
As long as they are successful stores, they must have a unique perspective on product picking, can it be easier to copy homework from a straight-A student?
Amazon
Amazon is a great website to find trendy products by searching niches. It is very easy and clear to find winning products on Amazon because Amazon makes it very user-friendly.
There are many tags under the search bar, like bestsellers, today's deals, new releases, and the like. The best-sellers are updated hourly, you can check them by specific sub-niches, the classification is meticulous and clear, and you can easily find the products you are interested in.
I highly recommend the Movers & Shakers, this page shows the biggest gainers in sales rank over the past 24 hours, you can find what's on trending here.
As Seen on TV
As seen on TV is like a select store on Amazon, when you click on a product you are interested in, you will go to Amazon for that product. Just as the site name, the products on this site are something you may see on TV, so most of the products you can find very attractive videos for advertising.
And all of the products are perfect for dropshipping, the prices are suitable, and the sizes are good for shipping. And this site classifies the products into ten niches, household, kitchen, outdoor, and the like, these ten niches are almost the hottest niches on dropshipping.
Inspire Uplift
It's a very successful general dropshipping store. The monthly visits to this site are 2M, with impressive traffic. So the products on this site are definitely winning products. From the menu, we can see there are four categories, kitchen, household, beauty, and wellness, you can find many many gadgets here.

Spy.com
The products on this site are recommended in posts. One post recommends a collection. I think the posts are like some kind of advertorials, so the sellers pay writers to add the product links to their articles.
So they are essential advertisements. People run ads for products with great potential, so this is a good site for you to see what products are trending. The monthly visits to this site are 601k, and the traffic is on an upward trend, so this is a great site for hunting products.
1688 & Taobao
Like Aliexpress, these two sites are run by Ali Group, China. The advantages of these two sites are, incalculable product listings and dirt cheap prices, especially 1688, most of the original suppliers of dropshipping are from 1688, so they have the bottom price.
But they are not friendly to overseas users, only a few sellers support overseas shipping, and the shipping time is not promising, because the orders have to wait to be delivered when they reach the minimum amount to ship. And most of the sellers can't speak English, so it is arduous to communicate.
CJ developed a wonderful tool to help users source or buy from 1688 & Taobao just by some clicks-install CJ Google Chrome Extension, then you can post a sourcing or purchasing request to CJ with one click, and CJ will add the product to the CJ marketplace, and inform you to list or buy it. For more information about how to use the tool, please check this video.