Is crystal lamp a profitable product to dropship? If you search crystal lamp or table lamp on google, you will find this crystal table lamp with rose light is popular in the market recently. Many dropshippers believe this fancy light product is a great product to sell in 2022.
Yet, there are still plenty of entrepreneurs who do not know if the crystal table lamp is really a good product to sell. So today we will talk about the potential and trend of this product in the global market.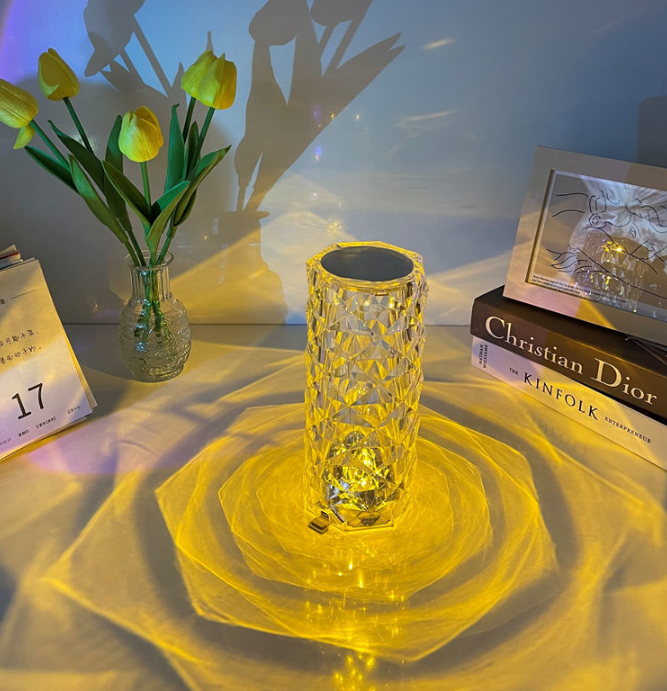 Selling Potential of Crystal Lamp
Market trends of crystal lamp
The statistic from Google trends shows the term "crystal table lamp" has always been fluctuating in the past. However, the latest data shows the trend keeps rising since this September, and it may reach a peak in the next few months.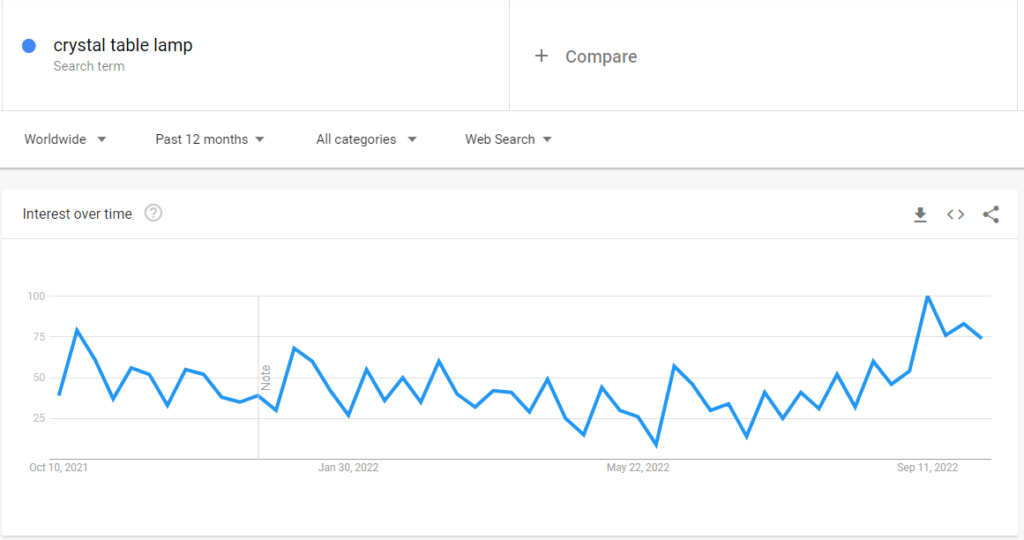 Besides, there are also plenty of popular marketing posts and videos about the crystal lamp on social media such as Tiktok and Facebook. Most comments under these posts are positive and there are plenty of people who want to purchase one lamp for themselves.
Thus, if you want to catch up with the trend, then this might be the best time to list this product in your store.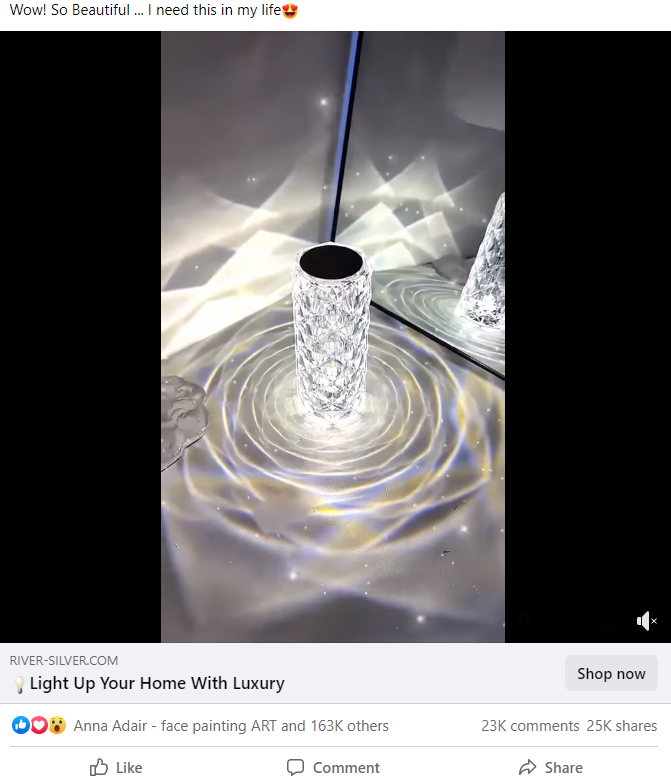 Product Feature
The Crystal table lamp attracted many people by its unique features, let's see what makes this product so special.
Selectable Dynamic Light: The crystal lamp displays vivid light effects that can create a colorful atmosphere. If you like a simple and casual atmosphere, you can choose the 3 color version. If you prefer more color options, the 16-color version is there for you.
Aesthetic Design: The product is designed as a lamp that can create rose shape light effect. This unique design combines modern technology with classic aesthetic ideas. Placing the product in the bedroom or dining room is a great choice for declaration.
Safe to Use: The product is made of high-quality acrylic with LED light, it's completely environmentally friendly and non-toxic. Even if sometimes you accidentally hit the lamp, the smooth edge line can prevent possible damage.
Various Applicable Scenarios: The crystal lamp can be placed anywhere in your home. You can put it in your bedroom as a nightlight, or put it in the living room as a romantic decoration. Besides, it is a perfect birthday gift for your friends and loved ones.
Rating of crystal lamp
The crystal lamp also can be found on Amazon, and the average rating of the product from the top seller is around 4.2. Most customers think the lamp is great as a home decoration or night light.
However, there are also about 10% of negative reviews suggesting that not all customers are satisfied with the quality of the product. Some customers say that the lamp looks cheap, and some people received defective products which would automatically turn on and turn off.
In order to avoid these negative reviews, merchants should find a reliable supplier to corporate with. Also, you may ask the supplier to provide the complete quality certification to ensure the quality of the lamps is as promising.
Overall, 4.2 for an averaging rating is not bad for a trending product, listing this product to your store won't influence your store's credibility. If you want to receive as many positive customer reviews as possible, providing good customer service is key to achieving it.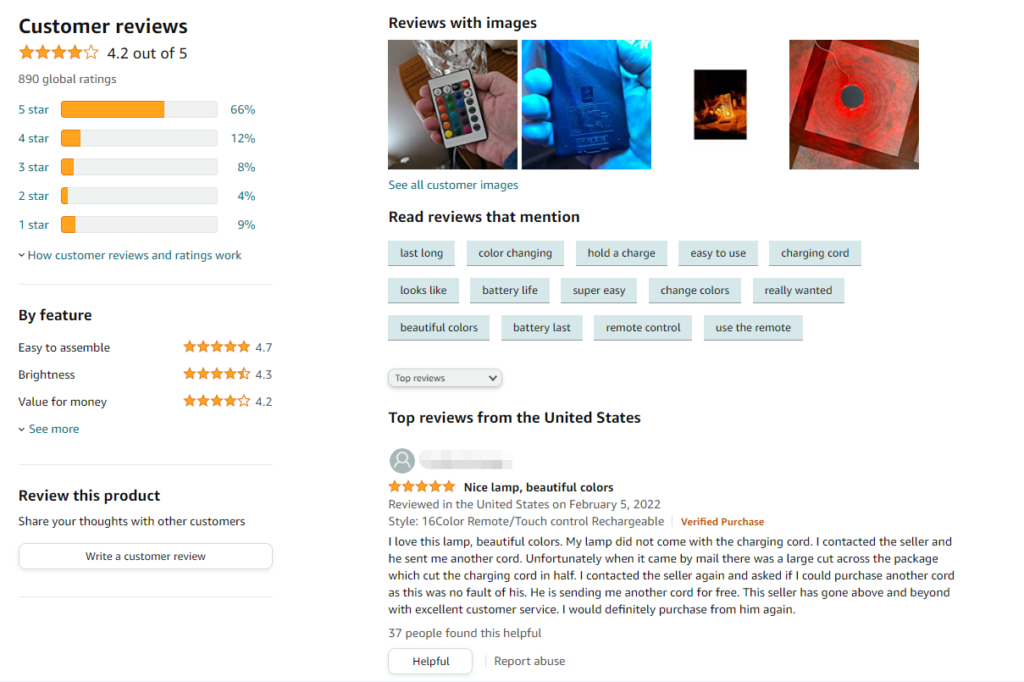 Pricing
If you check crystal lamps on Google Shopping, you may find that most stores are selling this product for around $34-$49 including the shipping fee. It is obvious there are significant price variations between different stores. This means you don't have to follow a strict number when pricing the product.
One simple pricing method is to set the selling price 2 or 3 times as much as the dropshipping costs. In this way, you can ensure your profit while having enough budget for marketing.
In addition, most stores addressed their shipping takes 7-20 business days for the product to get delivered. Thus, if you want to list this product in your store, it's better to work with a supplier who can offer a shipping method that can deliver the product within 20 days.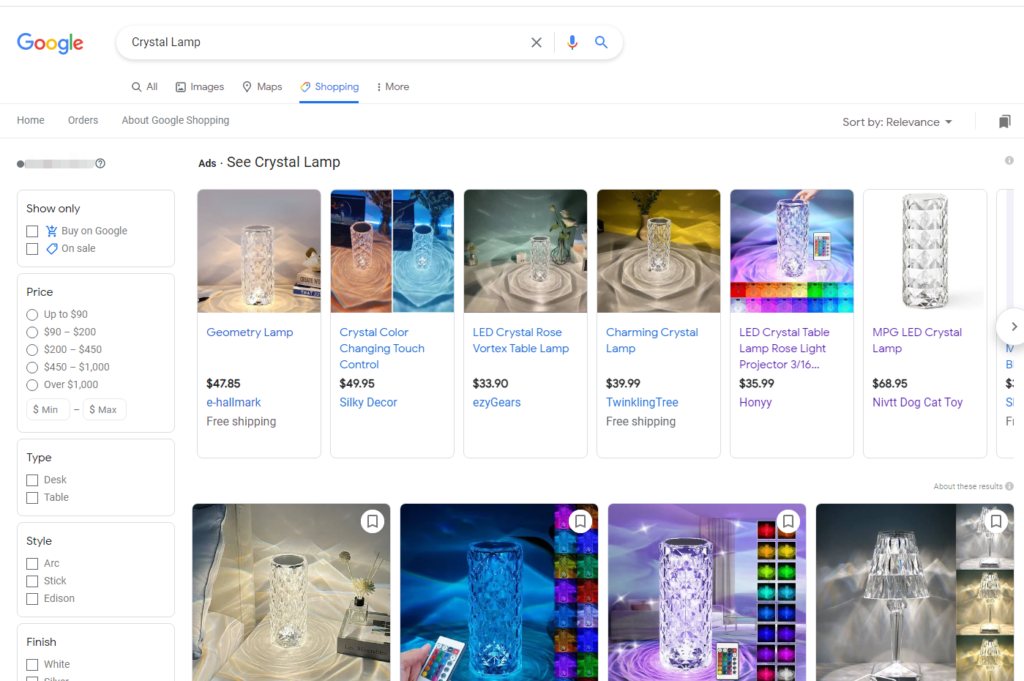 Product Video
For now, there are many videos about this crystal lamp on Youtube, Tiktok, or Facebook. These videos are either tend for marketing or reviewing the product.
For example, the following video from the Youtube channel Chelsey shows a complete unboxing process. You can learn how the product features actually looks in real-life scenarios by checking videos like this.
Dropshipping Costs & MOQ
Shipping Rates of crystal lamp
Many dropshippers do not want to ship furniture like lamps because they can be fragile and they also took plenty of space during shipping. These features make shipping companies charge shipping costs by using the dimensional weight of these products. Therefore, shipping furniture would be much more expensive than shipping regular items.
However, the crystal table lamp is well-balanced in weight and size. So, even though this product is light that contains electrical parts, you can still ship it with a relatively cheap shipping method.
Besides, since the product is made of high-quality acrylic, it is not as fragile as it looks. So unlike other light products, it doesn't need to pay a lot for extra protection to ensure the product is safe during shipping.
Now let's check how much the dropshipping costs it takes for dropshipping the crystal lamp from Aliexpress and CJDropshipping.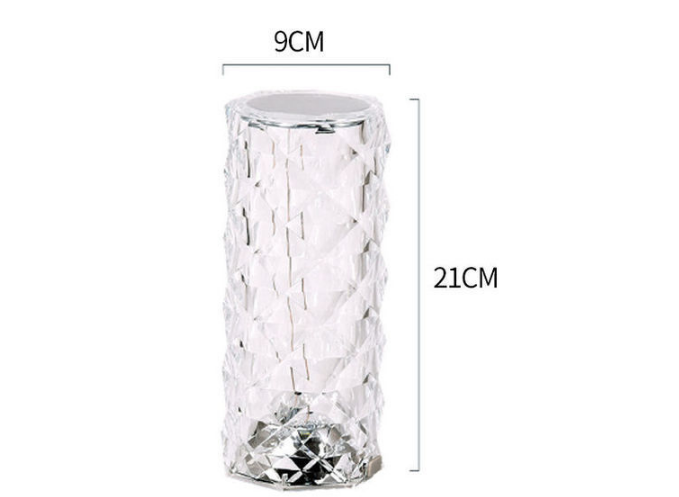 CJ Dropshipping
Total Dropshipping Cost: $15.70
Processing time: 1-3 days
Shipping time: 8-18 days
Shipping method: CJPacket Sensitive
The crystal lamp is priced at $3.13 on CJDropshipping. The best shipping method is CJPacket Sensitive and it takes $11.06 shipping cost + $1.51 service fee. So the total dropshipping cost is $15.70.
Moreover, shipping takes 8-18 days with CJPacket Sensitive to the US. Considering the processing time is 1-3 days, so the customer may receive the product after 9-21 days.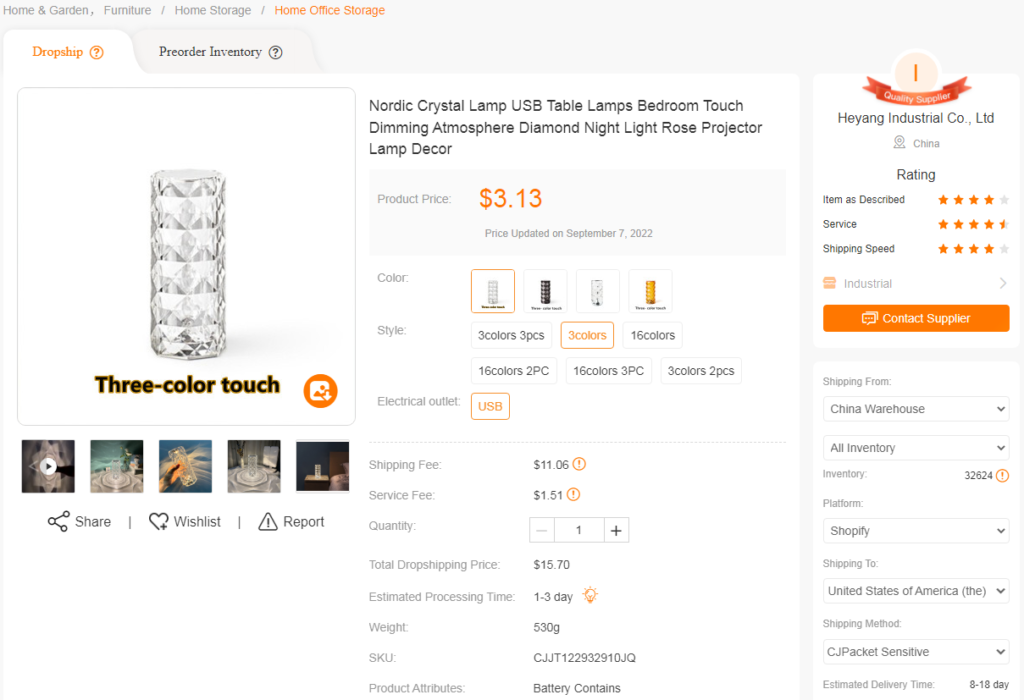 Aliexpress
Total Dropshipping Cost: $14.45
Processing time: 1-5 days
Shipping time: 26 days
Shipping method: AliExpress Standard Shipping
From the top seller on Aliexpress, you can get this crystal lamp by paying $14.45 in total. The most convenient shipping method is AliExpress Standard Shipping, the shipping time is estimated within 26 days. In addition, some comments say you can receive the product in 3 weeks, so the shipping might be faster than the website shows.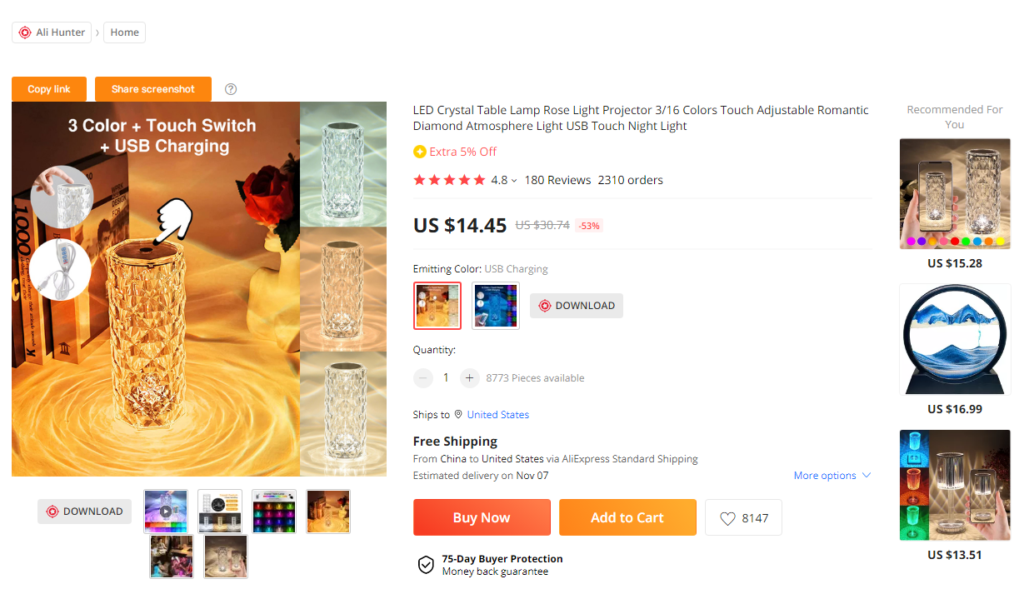 Comparison
Comparing the price, the total dropshipping cost of the lamp does not have a big difference between the two platforms. The product is $1.25 cheaper on AliExpress if you only purchase one unit only. So if you only consider the price, AliExpress is a good choice.
However, you also need to consider the shipping time in dropshipping business. If shipping takes too long, your store will not be able to attract more customers.
Since most online stores are selling this product with 7-20 days shipping time, the shipping method you select should be within the same time range. Thus, CJPacket Sensitive would be the ideal option if you want to get a faster shipping method for your store.
Besides, the shipping fee of CJDropshipping will be significantly cheaper if you purchase multiple products in one order. So the CJ actually got a price advantage when it comes to bulk purchasing.
In addition, If you want to have faster shipping and less processing time, you can also use the warehousing service CJ provides. By storing bulk purchased products in various international warehouses in advance, your dropshipping orders will become way faster than your competitor stores.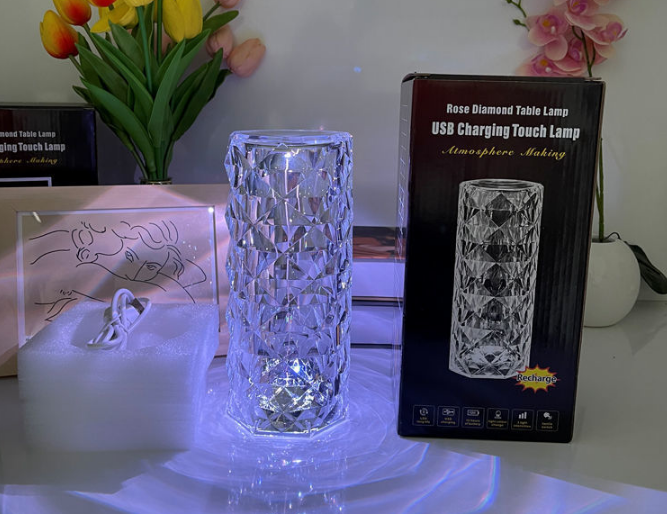 Certifications
After confirmation, we find the supplier from CJDropshipping is able to provide various export certificates in detail. For example, common necessary certifications for dropshipping businesses such as CE and RoHS are all available.
So the product quality is ensured by qualified authorities, and it is totally okay to export the crystal lamp aboard. If you need to check the specific files of the certifications, you can directly contact the supplier to view them.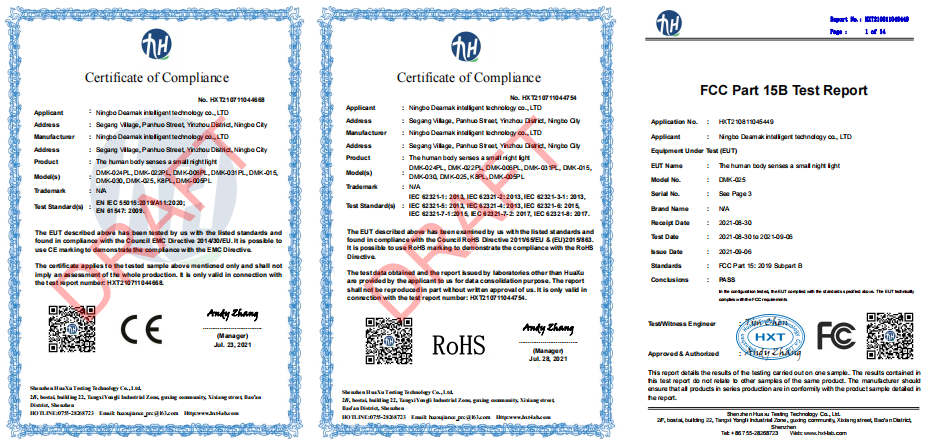 Customization
If you want to make your own brand and sell this product as a winning product for your store, you can send the customization requests to the CJ supplier.
The supplier offers support logo printing, product redesigning, and customized packaging services for all clients. However, since it takes a significant amount of cost to customize a product, there will be a MOQ requirement.
Therefore, after you send a customization request to the supplier, they will review the request and send you the needed MOQ based on the content. Usually, it will be 200-500 pieces but it really depends on what the request exactly is. So if you are interested in customization, feel free to contact the supplier to discuss details.
In addition, the supplier is now developing a new model of crystal lamp with solar power. So it is possible to see the product become applicable in outdoor scenarios in the future, and this might be another winning product in the next year.
If you want to have the earliest access to the product, join CJ Dropshipping to be one step ahead of others!