Selling jewelry is a high profit with low investment business. Over the last two decades, online shopping has expanded into just about everything. A change in clientele has pushed the jewelry niche into digital retailing, especially in Dropshipping industry.
CJ Dropshipping is keen to reinvent the experience of buying jewelry for the digital age and has been leading the transformation. If you are exploring the money-making jewelry niche, here is our guide for top sell jewelry to help you get started.
Jewelry Niche
The jewelry niche is worth more than $270 billion, and it has both a demand and a market. Looking at the Google trend in the past three months, it is obvious that there has always been high demand.
This year, CJ Drop shipping also has always been committed to creating an innovative jewelry niche. After all, in the field of e-commerce, it is vital to find good products with long-term demand.
The jewelry niche has many categories, and it is difficult to stand out in the market without a clear concept. For this reason, CJ has collected creative styles in a targeted manner and all of them are now on the shelves, so you can quickly find your favorite products in CJ Dropshipping from four categories: rings, bracelets, necklaces, and earrings.
Rings
 Price: $2.84
 Material: Copper
 Color: Gold, Silver
 Shape: Wave-shaped
 Size: No. 6, No. 7, No. 8
 Diameter: 28mm(No. 7)
 Weight: 9.56g
Irregular wave shape gives this product a sense of dimension.

 Price: $0.54
 Material: Alloy
 Color: Purple, Sky blue, Green
 Shape: Heart-shaped
 Size: Adjustable
 Treatment process: Electroplating
 Weight:5.3g
The heart shape is a very popular pattern, and the adjustable size makes this product available to a wider audience.
 Price: $1.35
 Material: Alloy, Acetate ball
 Color: Gold, Silver
 Modeling: Geometry
 Weight:7.6g
This is a ring with an acetate ball, and the acetate ball is a leopard pattern. Leopard print is a very popular pattern in the United States for both men and women. Therefore, Leopard products are also selling very well. The acetate ball is rotatable, which makes it much more interesting.
Bracelets
 Price: $2.63
 Material: Zinc Alloy, Rhinestone
 Color: Gold, Silver
 Shape: Cuban Bracelets
 Size: Length 20cm, Width 1.9cm
 Weight:40g
It is a unisex Cuban bracelet. The Cuban chain is a standard for rappers and a symbol of hip-hop culture around the world. The cultural and entertainment industry derives many products through celebrities. Fans rush to buy the same or similar models, so this type of product can easily become a hot product.
 Price: $0.59
 Material: Glass rice beads, String
 Color: Color
 Length: 18cm-30cm, Adjustable
 Processing technology: Handweaving
 Weight:0.7g
The rainbow symbolizes beauty and happiness, there is always a rainbow after the storm. In addition, the woven bracelet is a popular niche for DIY jewelry, and many people enjoy the sense of accomplishment after completing it.
Necklaces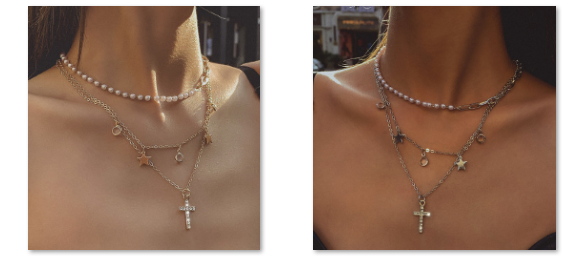 Price: $1.26
 Material: Alloy, Imitation Pearl, Rhinestone
 Color: Gold, White
 Shape: Asymmetrical
 Circumference: 21cm (inclusive)-50cm (inclusive)
 Weight:10g
It is a multi-element necklace that contains religious crosses, pearls, and star-shaped accessories. These elements are designed on the same necklace through different lengths of chains, which makes it very chic.
 Price: $1.34
 Material: Alloy
 Color: Silver
 Shape: Heart-shaped
 Size: 44.8cm
 Extension chain: 10cm or less
 Circumference: 21cm (inclusive)-50cm (inclusive)
 Treatment process: Electroplating
 Weight:23g
This necklace has a slightly thicker chain with a strong punk style and is very personal. It is also known as a collarbone chain because it is positioned right at the collarbone. It goes well with clothes that show the collarbone.
 Price: $1.92
 Material: Alloy, Shell, Imitation Pearl
 Color: Gold
 Shape: Butterfly
 Size: 46.6cm
 Weight: 19g
The shells and freshwater pearls on this necklace make it shiny. It looks very delicate. Butterflies, pearls, and thin chains all add a feminine touch. The length of its necklace can be adjusted, the maximum length is 46.6cm. It is a beautiful lady necklace.
Earrings
 Price: $1.29
 Material: Shell, Silver Needle
 Color: Color
 Style: Bohemian
 Modeling: Geometry
 Weight: 12g
It is a bohemian-style tassel earring, consisting of shells and silver needles, which are irregular and very characteristic. Bohemian style is also one of the very popular styles, representing romance and freedom, and is very popular.
 Price: $1.34
 Material: Resin, Imitation Pearl
 Color: Gold, Silver
 Shape: Waterdrop
 Size: 4.7*1.8cm
 Weight:17g
It is a vintage-style cat's eye earring with faux pearls that are very shiny. It is made of resin. size Information is 4.7*1.8cm. The retro design is a trend and has a place in furniture, jewelry, clothing, architecture, and etiquette.
 Price: $1.18
 Material: Alloy, Rhinestone
 Color: Blue, Red
 Treatment process: baking varnish
 Set Combination: Hand Ornament and Ear Ornaments
 Weight: 23g
It is a twisted set combination of two rings and one earring in the same color. This is a very novel and bold set of jewelry, which is a matching set in itself. The irregular design is very eye-catching.
POD
Regardless of the category, POD is a featured service. It is also indispensable in CJ's innovative products. CJ will put more POD products on the shelves, such as letter bracelets, so stay tuned.
Customized Package
"Even though the jewelry is vintage, we wanted to ensure that it would rival the look and feel of new," Ms. Zuydervelt said. "The customer service, the packaging — it's the luxury experience."
At CJ, customers can buy their favorite accessories and suitable packaging. Another advantage of CJ is to provide Custom Packing, which is very necessary for Jewellery. Jewelry needs packaging to show its value. As shown in the picture, you can even design your packaging.
For the jewelry box, CJ will take out the jewelry from its original packaging and position it at a particular place in the box. If the box is a normal one without any positioner, then put the jewelry into the box along with the original packaging.
If it also shows a flannel drawstring pouch in the order, then all the original packaging will be discarded. CJ will put the jewelry into the flannel pouch and further into the box. If you have requirements, you can make a note when placing the order, and CJ will package the products according to your requirements.
As Ms. Zuydervelt said, if you want to bring vintage products to life, you must also pay attention to customer service, and the packaging, and learn to look for needs from the customer's perspective. CJ also be committed to helping customers build their brands.
Logistics Advantage
Jewelry is a small-sized product unless it is ordered in very large quantities, generally speaking, the weight is very light. CJ has a special logistics line "Jewel Shipping" for jewelry, where the price figure is as small as the weight of the jewelry, which is very cost-effective. This is a low-investment small-business niche that makes a great entry point for dropshipping.
Jewelry niche's products, packaging, and logistics prices are very cost-effective, but the market demand has always been high. Such a niche is also very good for CJ. CJ will insist on sourcing from the perspectives of style, user habits, trending, target culture, and innovation, and put more products on the shelves.