What is the best dropshipping product to sell this winter? In the summer of 2022, shark slippers became one of the most popular trending products that generated incredible sales. Following this trend, many suppliers recently introduced new winter slippers with the design of shark slippers.
If you search social platforms such as Instagram or Tiktok, you will find there are tons of videos and posts promoting the shark slippers. Such a good selling trend made many dropshipping agents believe shark slipper is the best product for dropshipping beginners to earn their first bucket of gold.
Although the sales of shark slippers now have dropped in the market after several months, there is still a lot of market potential for EVA slippers (slippers made with ethylene vinyl acetate material).
Thus, as the supplier of shark slippers introduced the new winter version of shark slippers, this article will check if it is a good product to sell on the market this winter.
Now let's get started!
Selling Potential
Market Trend
Shark slide has been a popular product this year. If you check it on Google Trends, you will find the popularity of shark slides reached a peak in June 2022. Thus, this product attracted many dropshippers to list it in their stores, and they also made a great profit by selling this product online.

Although the popularity gradually drop after Summer ends, it still left a great impression on people around the world. Thus, before the popularity fades, manufacturers of the shark slippers introduced this winter version of slippers for dropshippers to catch up with the sales trend of shark slides in Q4.
Moreover, according to the records from the last few years, the selling season of winter slippers is coming soon in Q4. So if you want to sell winter slippers during Q4, this is the best time to prepare for it.
Product Feature
Economical Friendly: The product is mainly made of durable EVA material. It's recyclable and non-toxic. So it's completely healthy for the human body.
Soft & Comfortable: The slippers are designed for casual use. The feathery softness and lightweight make the slippers comfortable for both men and women.
Wide Applicable Occasions: The slippers apply to all seasons. People can wear them both indoors and outdoors, it's also suitable for shower use since it comes with an anti-slip function.
Extra Plush for Keep Warm: This version of shark slides is specifically designed for the winter season. Extra plush is also added to the product to keep your feet warm through the whole winter.
Pricing
Most individual online stores are selling winter shark slippers at a price of $30. This is a fair price considering the total dropshipping cost of a pair of big slippers is around 16$- 18$. So if you are going to sell this product, the selling price should be no lower than $30 for ensuring your profit.
Besides, although there are only a few sellers selling the same winter shark slides, the competition in selling winter slippers is still fierce. So if you are interested in selling this product, you should prepare and list it as earlier as possible.
Rating
The product rating of winter shark slippers is 4.7 on AliExpress. Most customers are satisfied with the product design and quality. However, on AliExpress, it is common that product ratings are higher than what you expected. And some ratings may not able to reflect the actual performance of the product.
So if you want to test out the quality of the product, it's better to get a sample from the supplier on your own.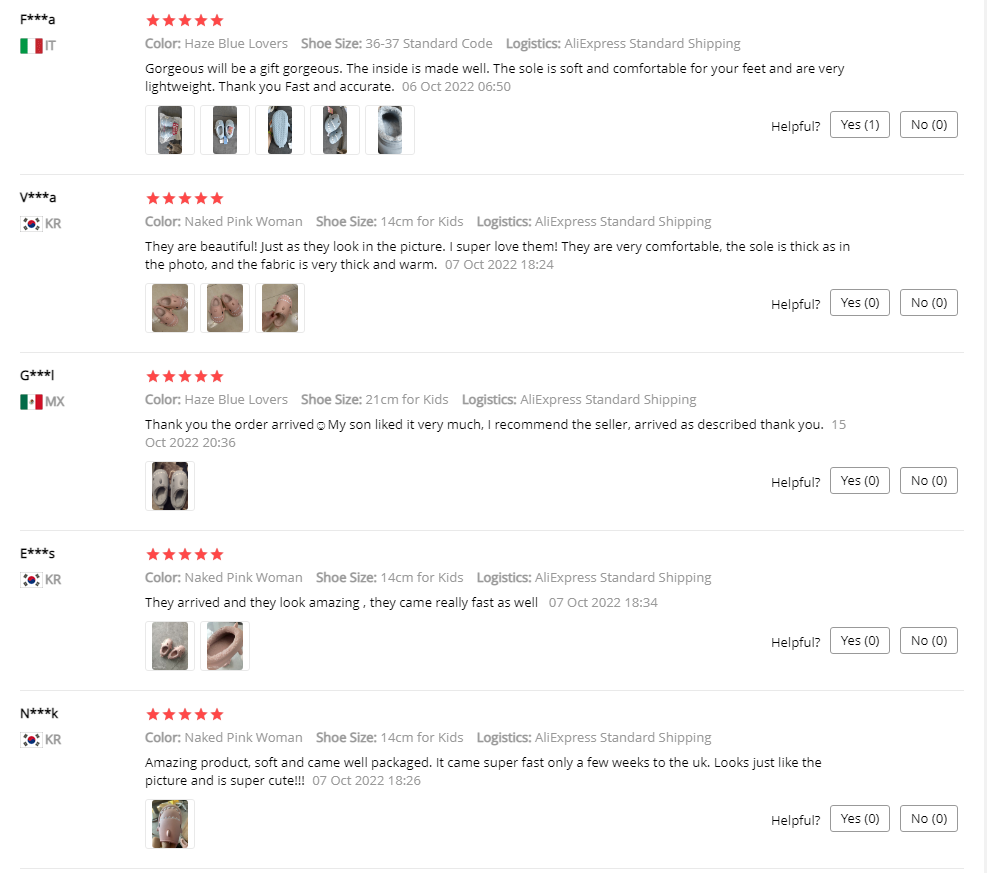 Dropshipping Costs & MOQ
Shipping Rates
CJ Dropshipping
Total Dropshipping Cost: $16.88
Processing time: 3-4 days
Shipping time: 7-15 days
Shipping method: CJPacket Ordinary
Purchasing a pair of winter shark slides from CJDropshipping and sending them to the US takes $18.61 in total. The cost includes $6.92 for the price and $10.29 for the shipping with a $1.40 service fee. For US orders, the shipping estimate takes 7-15 days. If you want to ship the product to other countries, the shipping time may have significant variations with different shipping methods.
AliExpress
Total Dropshipping Cost: $16.23
Processing time: 1-5 days
Shipping time: within 28 days
Shipping method: AliExpress Standard Shipping
Buying shark slides from AliExpress supplier to the US takes $16.23 in total. The cost includes $8.57 for the product and $7.66 for the shipping.
The best shipping method is AliExpress Standard shipping, and it can deliver the product within 28 days after the supplier send the product out.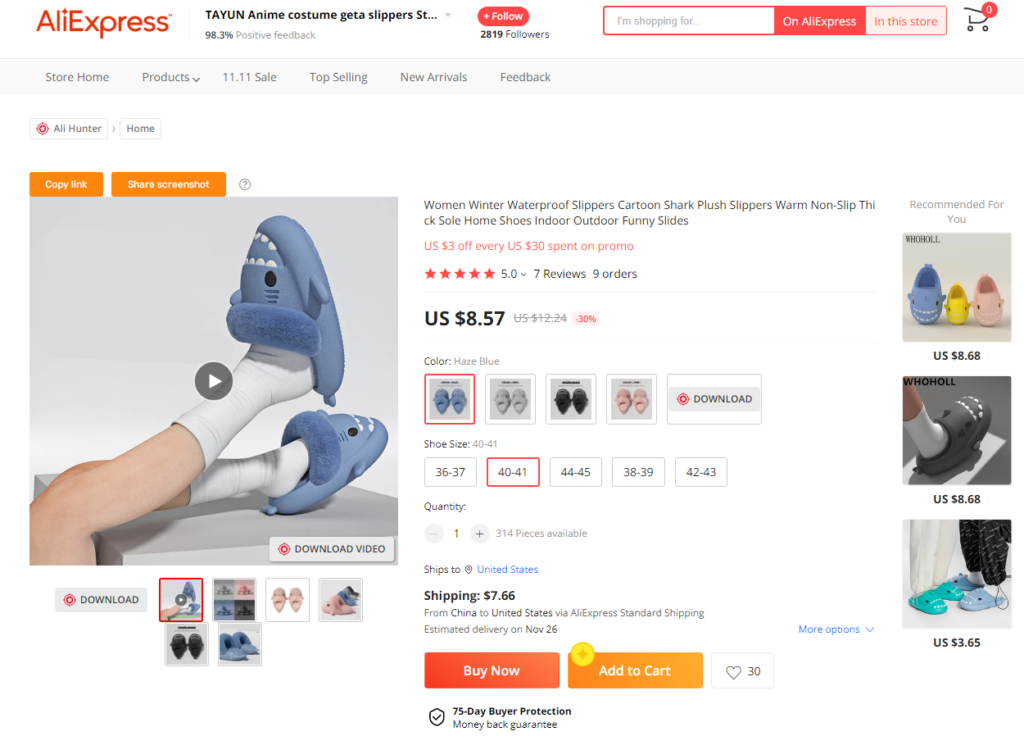 Comparison
Shipping shark slippers can cost more than shipping other slippers or sandal products. That's because the unique shark shape design also needs an extended big package during the shipping process. So freight company will identify the winter shark slipper as an oversized product and charge more shipping fees for its extra size.
Comparing the price differences between top sellers on CJDropshipping and AliExpress, it is obvious that AliExpress got a $0.65 price advantage. However, this doesn't mean it's a better choice to choose AliExpress seller as the supplier. If you compare the shipping time between the two platforms, you will find the shipping time of the AliExpress product almost takes 1 month. And most customers nowadays will not wait for 1 month to just get a pair of slippers, so it might be a better choice to select a faster shipping method to ship your products.
In addition, the shipping cost on CJDropshipping can actually be cheaper if you purchase multiple products together or use wholesale methods to buy some inventory stock. Thus, if you are going to sell this product as a winning product or sell it on a larger scale, CJDropshipping would be a better option for your store.
Customization
For dropshippers who want to brand their products with their own logos, the supplier of winter shark slippers provides logo printing service on the product or on the packaging.
You can send your design or customization request to the suppliers or dropshipping agents. Then suppliers will give you an MOQ for the request. Based on the MOQ, you can check how much cost it would be for the customization process.
However, if you are just a dropshipping beginner, it is not recommended to do branding for your store. Because factories usually require a lot of budgets and orders to start manufacturing branded products. So you will need to invest a lot of money in the beginning. Also, if dropshippers can not ensure consistent sales, the branded products can possibly become unsaleable.
Certifications
The supplier of CJ Dropshipping provides complete certifications to prove their product quality is meeting international standards. As a seller, if you need the certifications for your store, you can also request the supplier to provide detailed files of the certifications.
Yet, shipping an ordinary slipper product to other countries usually doesn't need many certifications like other sensitive products, so sellers normally don't have to worry too much about certifications as well.