Shopify is one of the best platforms for starting a dropshipping business. With Shopify, you can receive access to nice design tools, over 2000 apps with dozens of dropshipping apps, and payment processing settings that help you secure your transactions and expedite the checkout process from it.
Using apps that make your operations efficient is a way to offset the cost of products as well as grow sales. These tools can also save you time and money by freeing up countless hours, allowing you to focus on your online store. The article will introduce how to choose Shopify apps for your dropshipping store and 11 top apps that cover your marketing, store design, etc.
How to Choose
There are 5 steps for choosing Shopify apps:
1. Filtering
You can filter the available apps by category that covers marketing, sales, shipping, etc, and collections that include launching your shop, growing your business, managing a POS, etc, and also by price, just according to your goal and feature demand. Thus you have a list of apps to compare and choose from.
2. Check review scores
It is useful to filter the Shopify apps by their review scores. Look for apps that have a large volume of high scores across a consistent length of time. Both quality and quantity are important the reason that apps with a small number of high-scoring reviews may not accurately reflect the apps' capabilities. Don't purchase an expensive app with several similar reviews which may be left by the developer's friends and family.
3. Request For ALive Demo
Many popular apps provide a link to request a live demo where you can check out how the app functions in real time. If it's a front-end app, this will help you better envision how the app looks like in your store, unless it's a back-end app. This will help you how the app will speed up and improve your processes.
4. Research The Support
Different apps provide varying levels of support, from the community help to email or phone support, which will show under the "support" section.
You should research the level of support of your list of apps to find out the apps that provide good support. It is a good idea to refer to the reviews to check out whether the support provided is accessible, timely, and reliable or not as well as how accessible support is for any given app integration.
5. Check The Last Updated Time
Recent updates indicate that the app is still running actively to add more features and improve your experience. Don't choose an app that hasn't been updating its features.
11 Top Apps
1. CJDropshipping
CJdropshipping is a free app that provides complete support to fulfill your orders. You just authorize your Shopify store to CJdropshipping, and import products to your store, then CJdropshipping will draw and fulfill your orders automatically.
In addition, CJ also provides services like sourcing, photo & video shooting, local warehousing, quality checking, and more. This is a one-stop service app for your dropshipping business.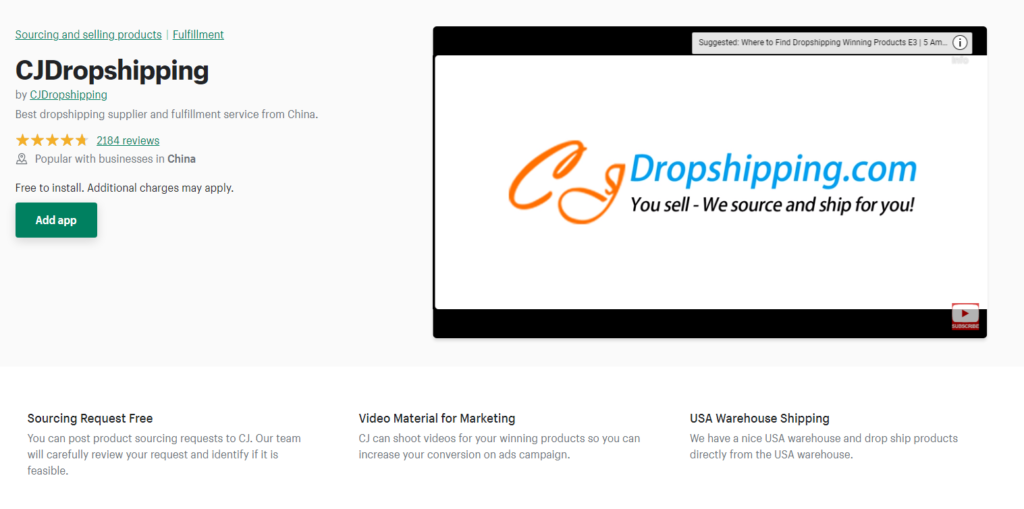 2. Free Shipping Bar by Hextom
The free shipping bar allows you to show the free shipping offer on the different website pages which is fully customizable. And it shows progressive messages when customers put more items in their shopping carts.
There is no doubt that it makes customers see the shipping details easily to help ease them into a purchase. For it is clear and visible, it allows viewers to get access to shipping information without having to go through the checkout process. It also likely helps lower abandoned carts.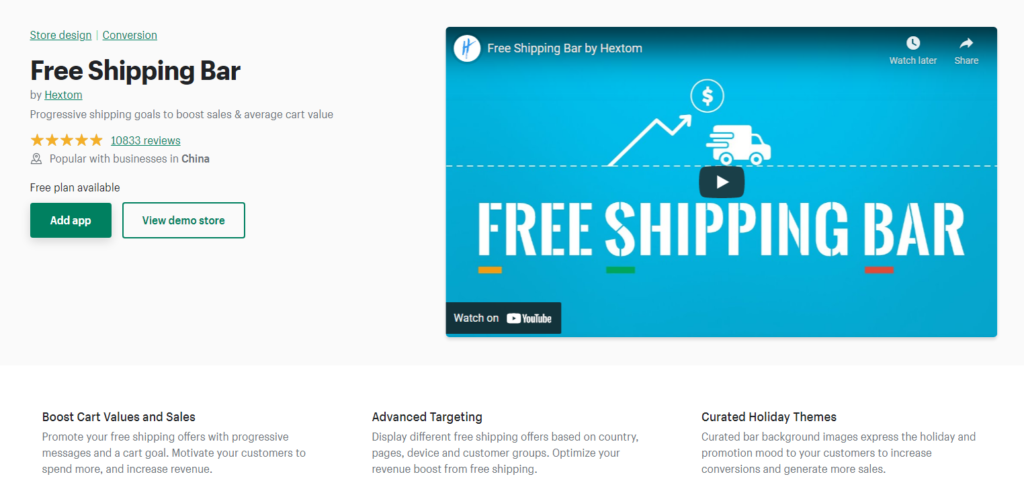 3. Ads by Varinode
Ads by Varinode is a free Ad exchange catered specifically towards the eCommerce vertical. It helps share traffic with other stores, and reach new customers interested in your products. With this powerful and efficient sales channel, you can acquire new targeted traffic, and increase sales for your store. And the app is completely free and can save your marketing spend.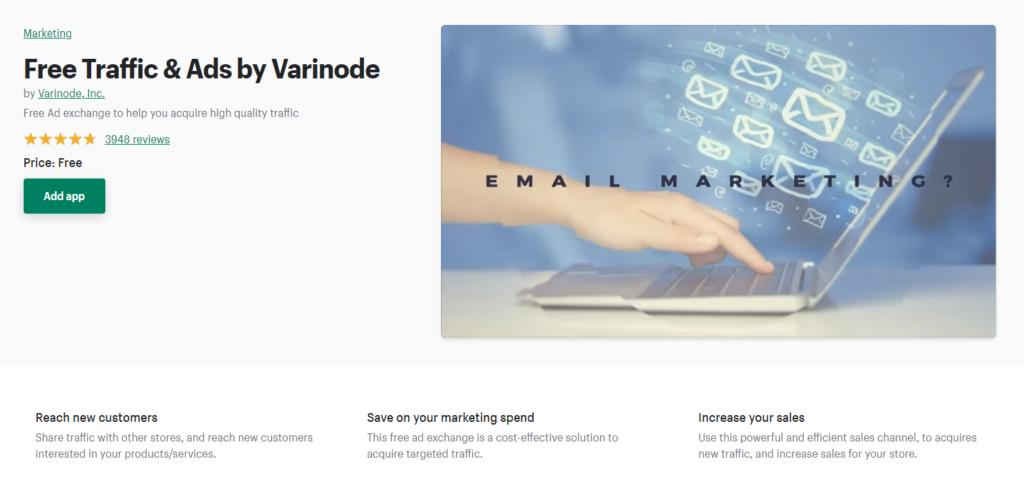 4. Loox ‑ Photo Reviews
Loox allows you to get those photo reviews that you can host on any page of your stores, such as below the product that is being shown in the pictures, or even a dedicated review page. You can send automatic emails to ask your customers for reviews.
In return for those reviews, offer discounts any time the photos are submitted. According to Loox, products that included photo reviews increased conversions by up to 91%.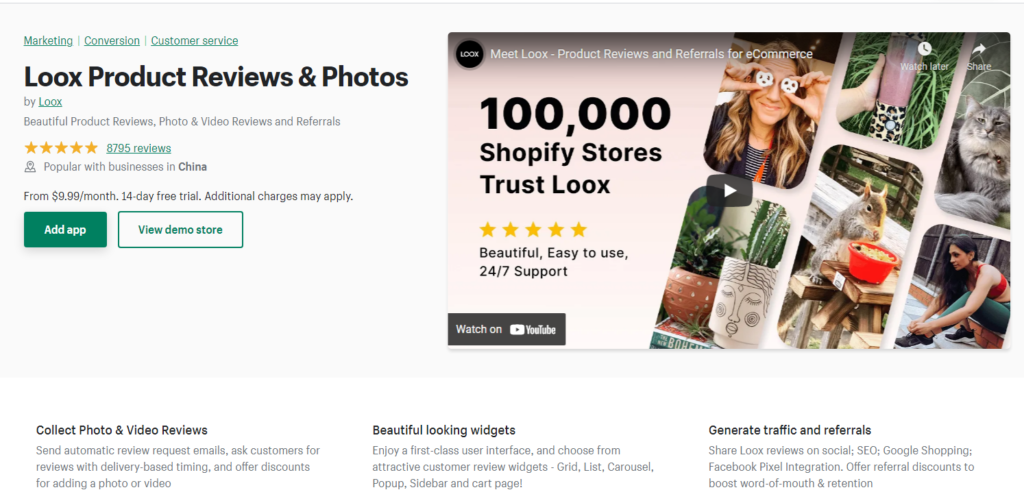 5. Shogun Themes and Page Builder
Shogun can customize landing pages, the home page, product pages, blog pages, thank you pages, collection pages, sliders, tabs, and video backgrounds. And theme editor enables sections anywhere for total control of page layout.
You can also get custom page performance analytics and AB testing for sales funnels, add-to-cart, countdowns, upsells & more. It is trusted by over 10K stores including the top brands on Shopify like K-Swiss, Leesa Mattresses, Chubbies Shorts, and MVMT Watches.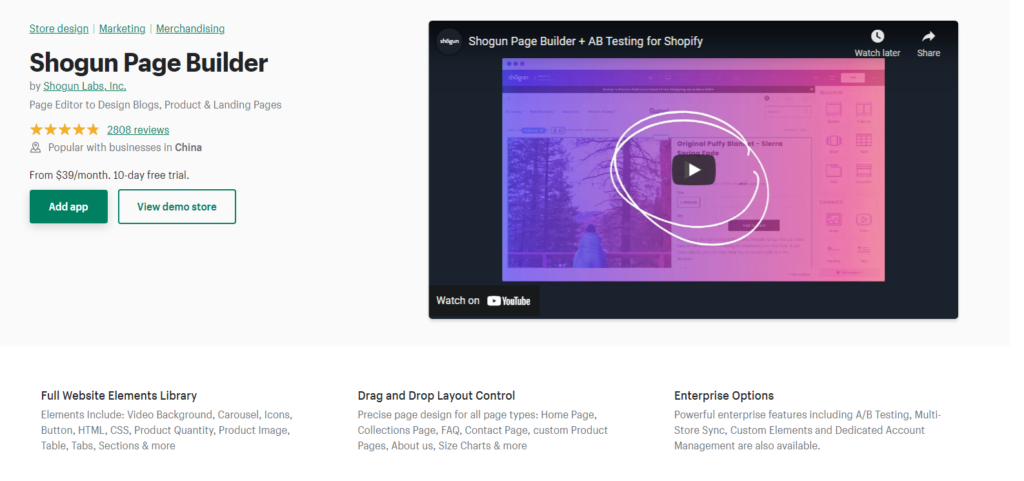 6. Judge.me Product Reviews
Judge.me helps you collect and display reviews about your products and Shopify store. This increases your conversion rate, organic traffic, and buyer engagement by leveraging your user-generated content. It has an unlimited forever-free plan with no limit on orders or requests while also providing paid features such as photo reviews, Facebook social push, etc.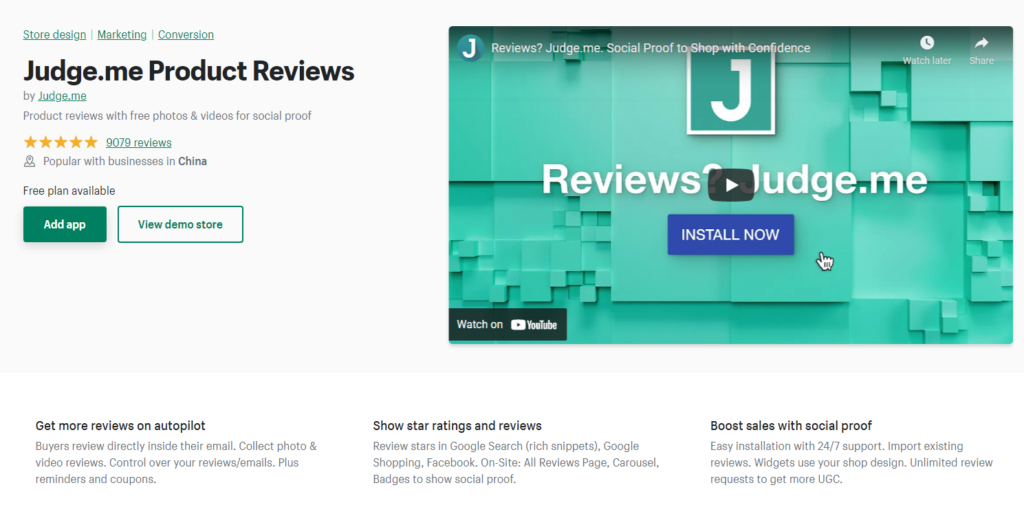 7. BEST Currency Converter
The app can convert the price automatically based on your customers' location which creates a pleasant and easy shopping experience for your customers. You can have it run only in the background. Your customers will still see the converted prices without seeing the currency converter. There are 3 different currency converter themes for you to choose to have a beautiful design.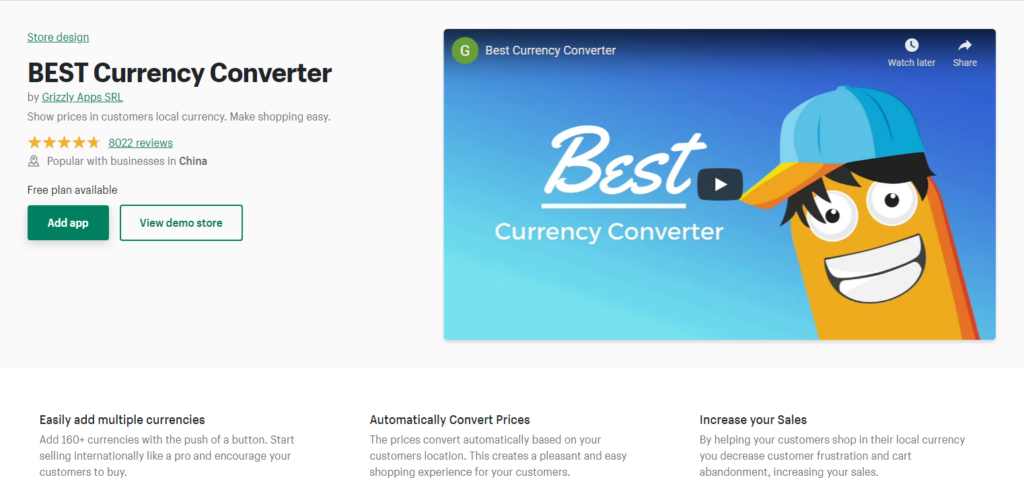 8. AfterShip – Track & Notify
AfterShip is a shipping app that allows you to track all of your shipments in one place and generate a tracking page for each shipment which later can be customized by including your store URL, brand logo, and even Instagram pictures. Thus your customers will have all the information they need about your delivery.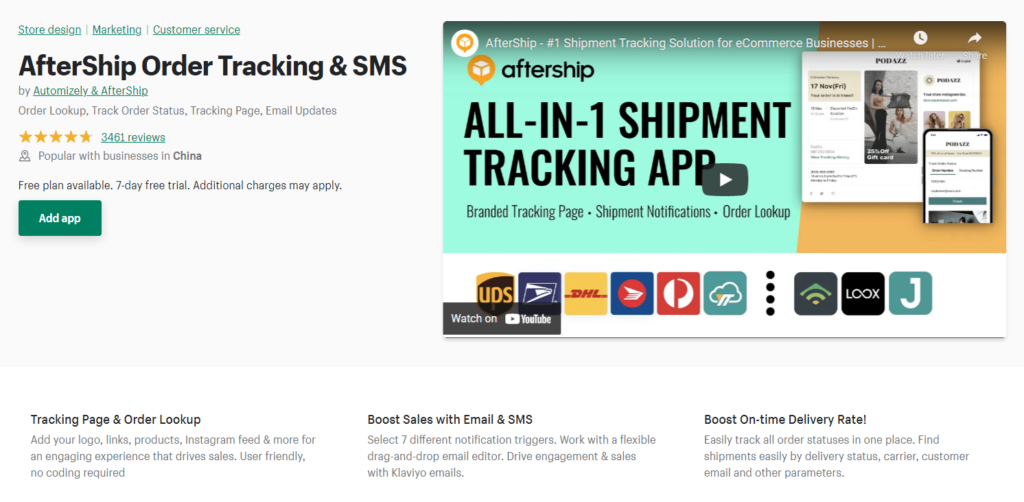 9. Smile: Rewards & Loyalty
Smile offers three rewards programs, including a loyalty points program, referral program, and VIP program with both free and paid features. It encourages you to build emotional connections and customer loyalty. Furthermore, Smile lets you issue reward points based on creating accounts, sharing products on social media, following your brand, and so on.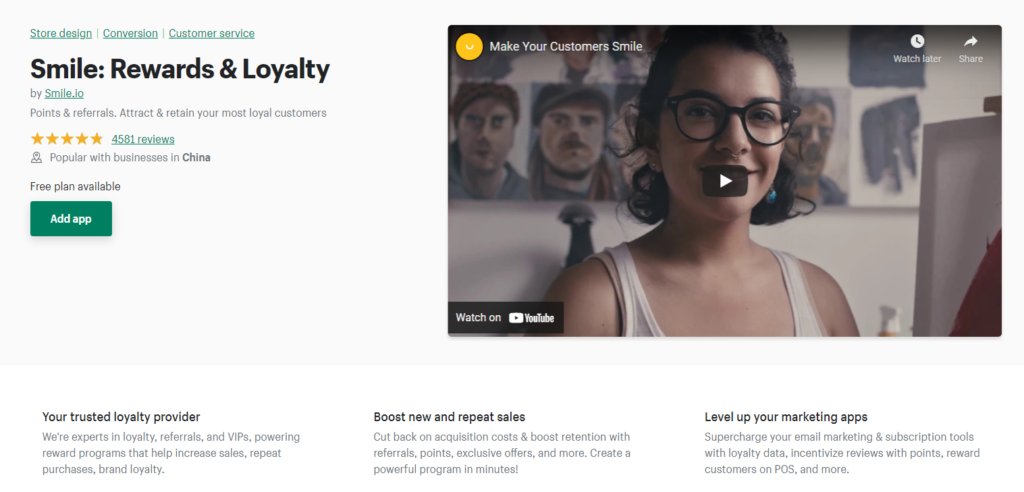 10. Omnisend Email Marketing & SMS
Omnisend Email Marketing & SMS can handle all your marketing activities across multiple channels in one platform, not just email marketing. It connects your e-commerce business with potential and existing customers across multiple channels: email, SMS, Facebook, Google, and others. With powerful, actionable data and personalization, you can reach more customers in smarter ways on more channels and sell more.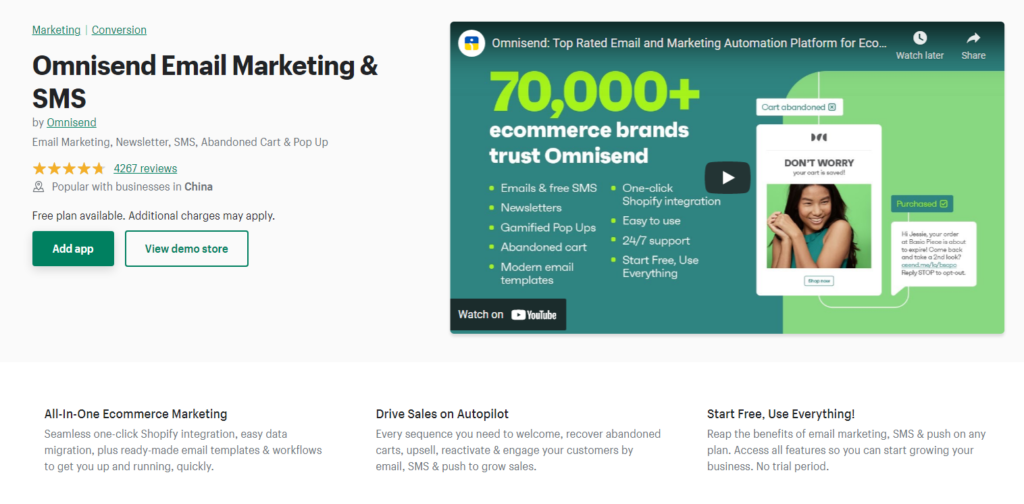 11. Plugin SEO
Plugin SEO helps you find, troubleshoot, and fix search engine optimization (SEO) issues so you can get more web traffic to your online store. It provides free features such as unlimited SEO, Blog, Speed problems checks, fixes instructions & code, automatic email alerts, and email help & support. If you need additional features like structured data, and powerful SEO control, you need to pay $20 per month.
To refer to more details about the apps above, please enter into the Shopify App Store and search for them.