Essentially, as you know, dropshipping is a simple selling model that you can find third-party suppliers who are capable of shipping, product inventory, and to fulfill the orders and all you need to do is to find products and engage potential customers to purchase.
The dropshipping market has been keeping on growing over the past 7 years as you can see the global interests from google trends.
Or take a look at the analysis and forecast of the dropshipping market, which shows the size in 2020 was at 128 billion dollars, and also it indicates an estimated annual growth rate at 32% from 2021 to 2026.
In this article, we talk about the exciting opportunity and challenges dropshippers may come across in 2022, as well as suggestions about how to do dropshipping easily this year featuring a brand new CJ plan.
New opportunity for dropshipping
Thanks to Covid and the Internet, people's shopping habit has completely changed now, and another significant reason why dropshipping is still thriving is that it is so flexible that can integrate with new trends easily.
One of the amazing new opportunities for now is, how dropshipping is merging with viral social media platforms. You probably heard about the TikTok dropshipping model, by using TikTok, dropshippers can either get access to the massive free traffic on TikTok by having their channel to do marketing or utilize ads and influencers to promote their products, online stores, and brands to a huge audience group.
Just think about the one billion monthly active users on TikTok and over 173 million first-time installs on the app store in the Q4 of last year. What's more uplifting, like Shopify, TikTok is exploring more partnership programs with different platforms like Square, Wix, PrestaShop and so much more.
Dropshipping Challenges in 2022
Of course, some challenges are awaiting as well in 2022, since now more and more dropshippers are expanding their business, you might think that is there too much competition? To be honest, this depends on where you are putting your attention to.
First of all, the growing dropshipping market not only reveals more players in the game but also the increasing demand from the customers.
Second thing is that you need to focus more on optimizing your business, like finding a good product but not simply testing loads of products at a time and waiting to see which one hits the point.
Also, you want to improve the product pages and creatives with good-quality copywriting, pictures, and videos but not listing what has already been used thousands of times on the Internet. Remember the customers will eventually turn to sellers who create real value.
Another challenge of this year is order processing, to be more specific, the supply chain is on a higher level of variability now. The heightened inflationary pressures, international conflicts, and slowdown in transition, all of these issues hold order processing back. However, you may also find that more suppliers are working on setting up local warehouses to shorten the processing time.
How to do dropshipping easily in 2022?
To help dropshippers to be well-armed while expanding their online business, lately, CJdropshipping launched a new privilege bundle called CJ Plan.
Aiming at providing more specific services for dropshippers with varying needs, we prepared four different plans for new dropshippers, and growing dropshippers.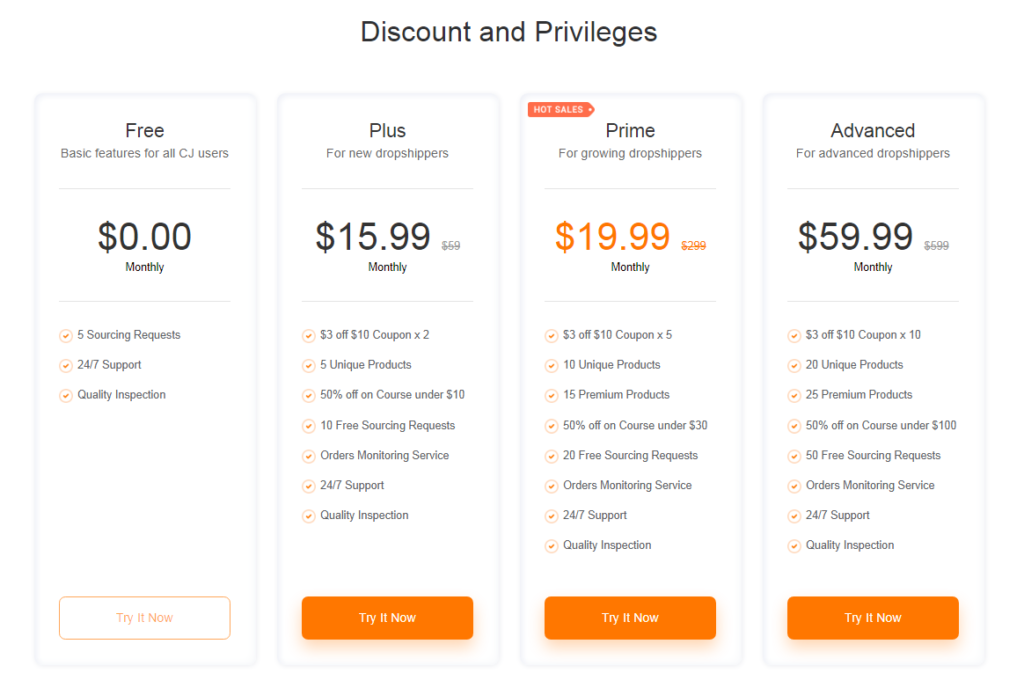 The main privileges in the plans are premium product lists, free photographs, spot-to-spot order monitoring, additional sourcing requests, discount coupons and so much more.
Every month, all the perks in the bundle will be updated and sent to your account. If you are not sure what to look for, we are offering a 3-day refundable option. And now let's break this down about how can dropshippers benefit from these plans.
Hand-pick unique products to save efforts from endless research.
In terms of different plans, every month CJ will additionally send users unique and premium winning product lists. All the products in the list are only available to you, for dropshippers who are pressed for time but want more specific product data firsthand, the premium product list is exactly what you need.
More sourcing queries are available per day to get in touch with more manufacturers with bottom prices.
Every CJ user can post 5 free sourcing requests per day, if the credit was not enough, the CJ plan offers at least 10 more or top 50 sourcing requests additionally every day.
Free photographs to create original high-quality content for ads and listings.
Free photograph service is for dropshippers who want more original product shooting to optimize product listing and ads.
Good copywriting and photographing are two essential skills that will help dropshippers stand out from others. But if you are new here or just have no time to do everything by yourself, CJ plan offers you free photographs according to your editing requests.
Spot-check and monitor orders that processed for more than three days.
If you have too many orders under fulfillment but without enough time to follow them one by one, CJ's operation department will regularly monitor and spot check the status of the orders like no processing update over 4-6 days, shipping delays, and so on to help you speed up the whole process.
Discount coupons help to save more every month.
$3 off $10 Coupons will send to CJ plan users monthly, according to different plans, the total discount amount is different and can be up to $30. If you also got a special offer from your assigned agent, the total check-out amount can be even lower.
Additional discount on dropshipping courses and custom packaging.
Except for coupons on orders, the CJ plan offers a discount on dropshipping courses and custom packaging as well. From product research to a step-by-step dropshipping guide, from thank you cards to self-designed packaging, there are various options for you to choose from on CJ.
Final Words
If you would like to consider it from a further perspective, you will find that online shopping is shaping our new lifestyle and the more people rely on online shopping, the eCommerce industry is going to expand and upgrade accordingly, and so does dropshipping.
Before starting your dropshipping business, take a few minutes to consider how you are going to be on point to show your potential buyers the real value of your store. If you feel like getting lost or seeking powerful backup, CJ is ready to help.