Back pain affects millions of people worldwide, often stemming from poor posture, prolonged sitting, or physical strain. To alleviate discomfort and promote spinal alignment, back pillows have gained popularity as a supportive solution. However, for entrepreneurs and e-commerce enthusiasts, a crucial question arises: Is selling back pillows a profitable business venture?
In this article, we will delve into the benefits of back pillows, examine market trends, and analyze the potential profitability of entering the back pillow market.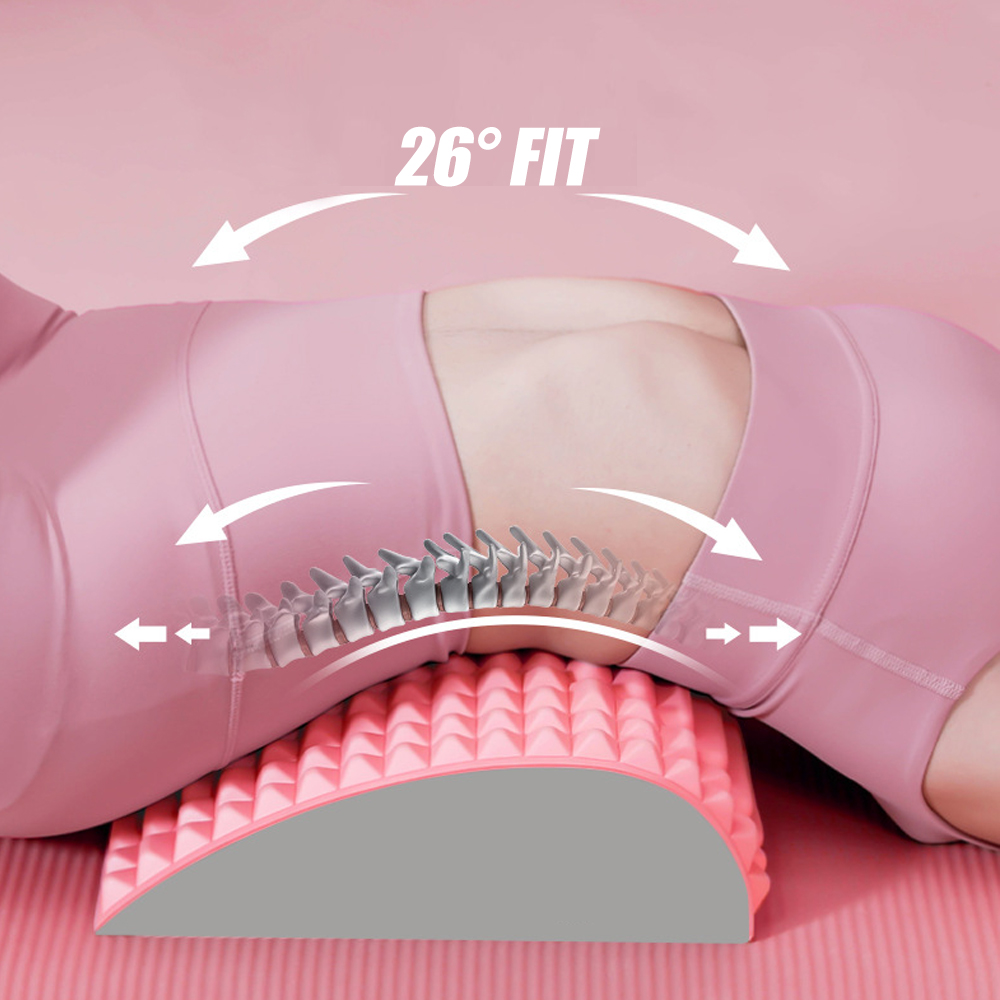 Selling Potential of Back Pillow
Market Trend
According to Google Trends, the search trend for Back Pillow has seen fluctuations over the past several months but shows an upright trend recently.
Back pillows, also known as lumbar pillows or support cushions, are designed specifically to provide comfort and support for the lower back. They are typically made from high-quality foam or memory foam and are contoured to fit the natural curve of the spine. By promoting proper spinal alignment, back pillows can alleviate pressure on the back, reduce strain, and prevent long-term damage.
Back pillows are not limited to use in office chairs. They can provide ergonomic support during a wide range of daily activities. From long road trips to sitting on the couch, using a back pillow promotes proper alignment and reduces strain on the back muscles. Whether you're working, driving, or simply relaxing, incorporating a back pillow into your routine can make a significant difference in your comfort level.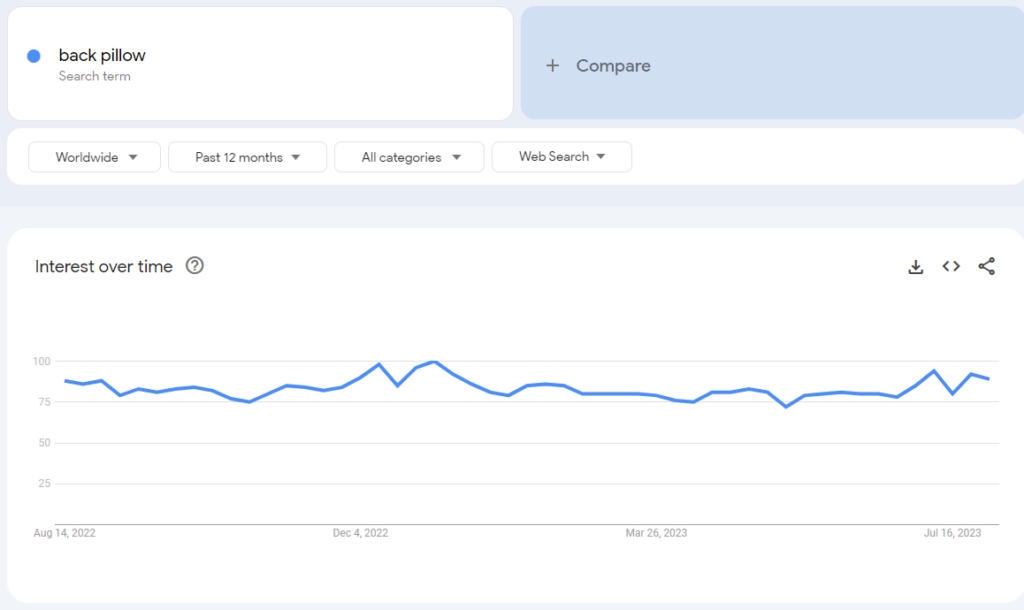 Product Features of Back Pillow
Promotes Spinal Alignment: Back pillows are ergonomically designed to provide optimal support to the lower back, promoting proper spinal alignment. By maintaining the natural S-curve of the spine, these pillows can alleviate back pain and promote a healthier posture.
Supports Healthy Posture: Prolonged sitting, whether at work or during long journeys, can strain the back and lead to discomfort. Back pillows, especially those with lumbar support, can help maintain a neutral posture and reduce the stress on the spine and surrounding muscles.
Enhances Comfort: Back pillows come in various shapes, sizes, and materials, catering to different comfort preferences. Memory foam, for instance, molds to the natural contours of the back, providing personalized support and optimum comfort.
Versatile and Portable: Back pillows are not limited to home or office use. They can be easily transported and used in various settings such as car seats, airplanes, or even during outdoor activities. This versatility makes back pillows a sought-after solution for individuals on the move.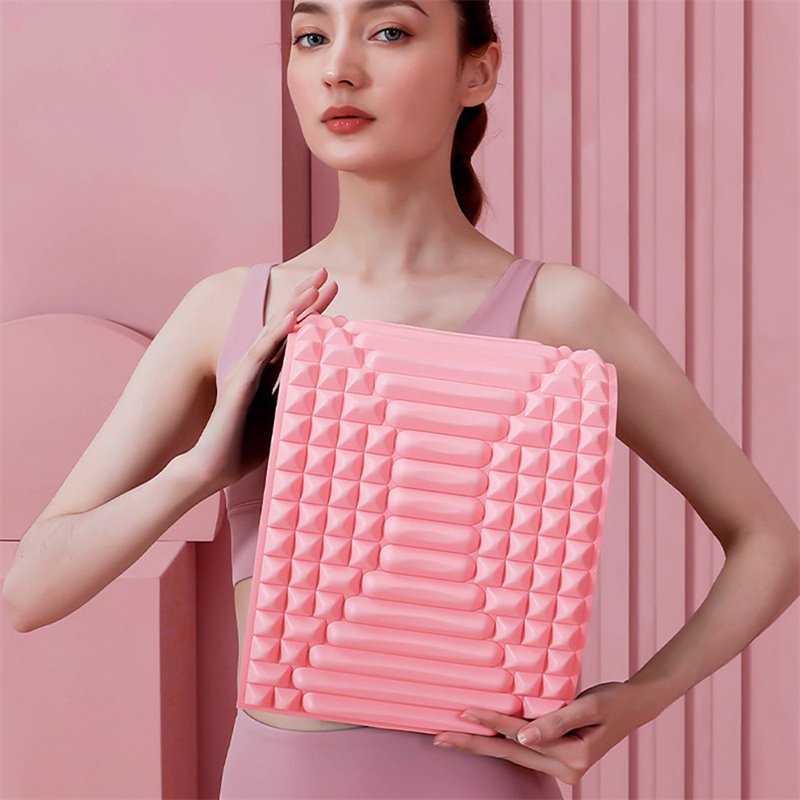 Rating
The major of customers seems to approve of the quality of this product. The overall rating of the Back Pillow is perfect overall. For instance, on Amazon, it has an approved rating of 4.2 out of 5.
One thing you should pay attention to when it comes to dropshipping is packing. Undoubtedly, packing and shipping play two critical roles in international transportation. Definitely, a damaged package can negatively affect your business. Luckily, we have confirmed that CJ can provide quality inspection service, which means all products in CJ will undergo a round of quality inspection before dispatch, thereby vastly reducing the risk of damage. It could be a reliable source for dropshipping businesses.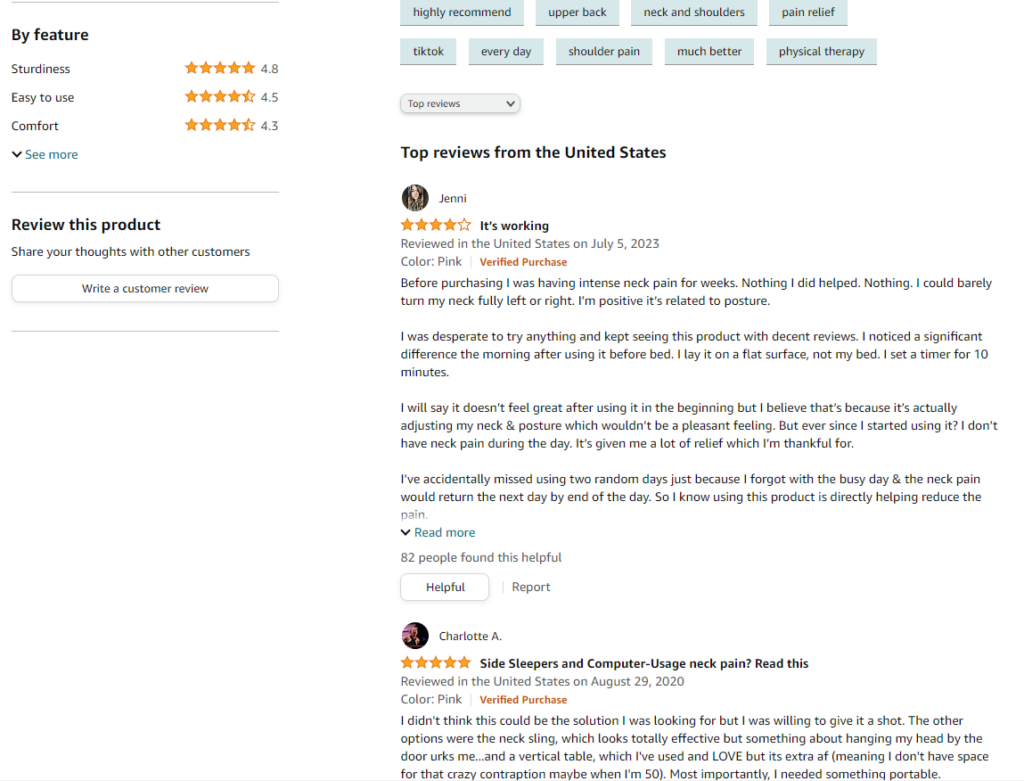 Pricing
The market price of one Back Pillow is around $35, while the one we recommend stands at $15, leaving you a considerable profit range.
In case you are puzzled as to price-setting, we suggest that you may make it in conformity with your total dropshipping cost. For example, if your cost is $15, then $30 is fair.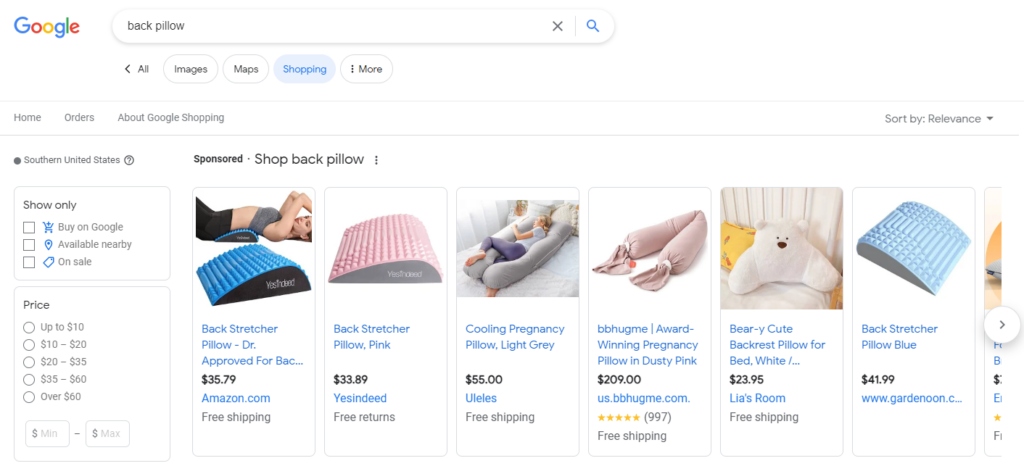 Dropshipping Costs of Back Pillow
Shipping Rates
Back pillows are valuable tools in supporting spinal health and improving overall well-being. By promoting proper posture and providing targeted support, these pillows can alleviate back pain, reduce muscle strain, and prevent long-term damage. Whether you're working, driving, or simply relaxing, incorporating a back pillow into your routine can make a significant difference in your comfort level. Remember to choose a high-quality back pillow that suits your needs and follow the recommended guidelines to use it effectively. Invest in your health today and experience the benefits of a back pillow for yourself.
To maximize the benefits of using a back pillow, it's important to follow some simple guidelines. Maintain proper sitting posture by placing the pillow against the lower back and ensuring it remains in contact with the spine. Adjust the pillow height and position based on your individual comfort. Take regular breaks from prolonged sitting and incorporate stretches and exercises to strengthen the back muscles. By combining the use of a back pillow with these practices, you can significantly enhance its effectiveness.
So how much does the Back Pillow exactly cost? For your reference, you may compare the dropshipping cost from the following two major platforms so as to pick a trustworthy supplier if you want to sell this product.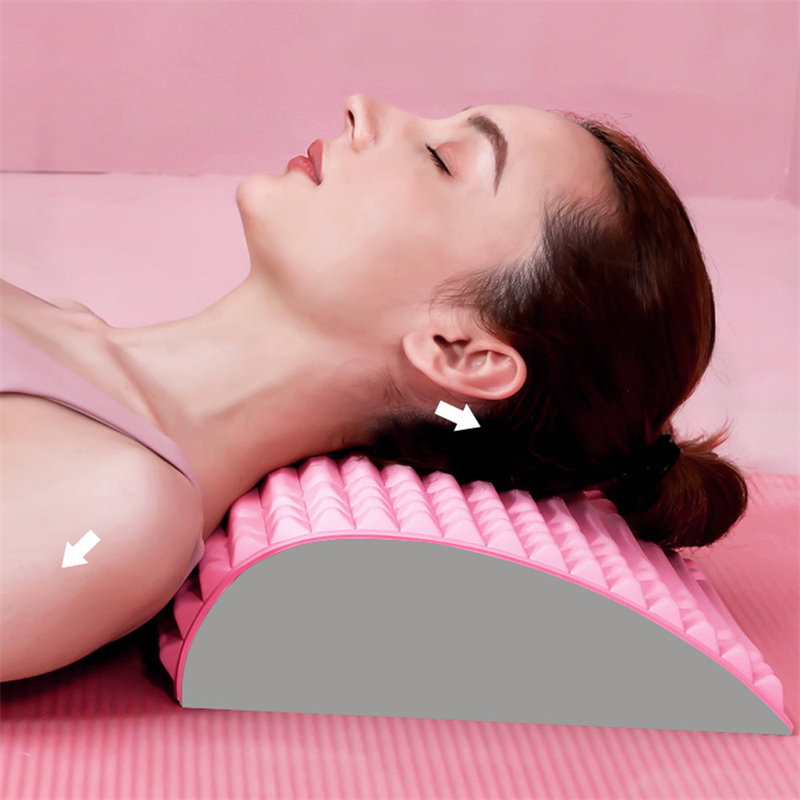 CJ Dropshipping
Total Dropshipping Cost: $14.25
Processing time: 1-3 days
Shipping time: 8-15 days
Shipping method: CJPacket Ordinary
On CJdropshipping, the total dropshipping price of the Back Pillow is $14.25 The price includes $4.1 for the product and $8.93 for the shipping plus $1.22 for the service.
If you want to sell it in the US, the most cost-effective shipping method is CJPacket Ordinary, which provides 8-15 days of shipping time.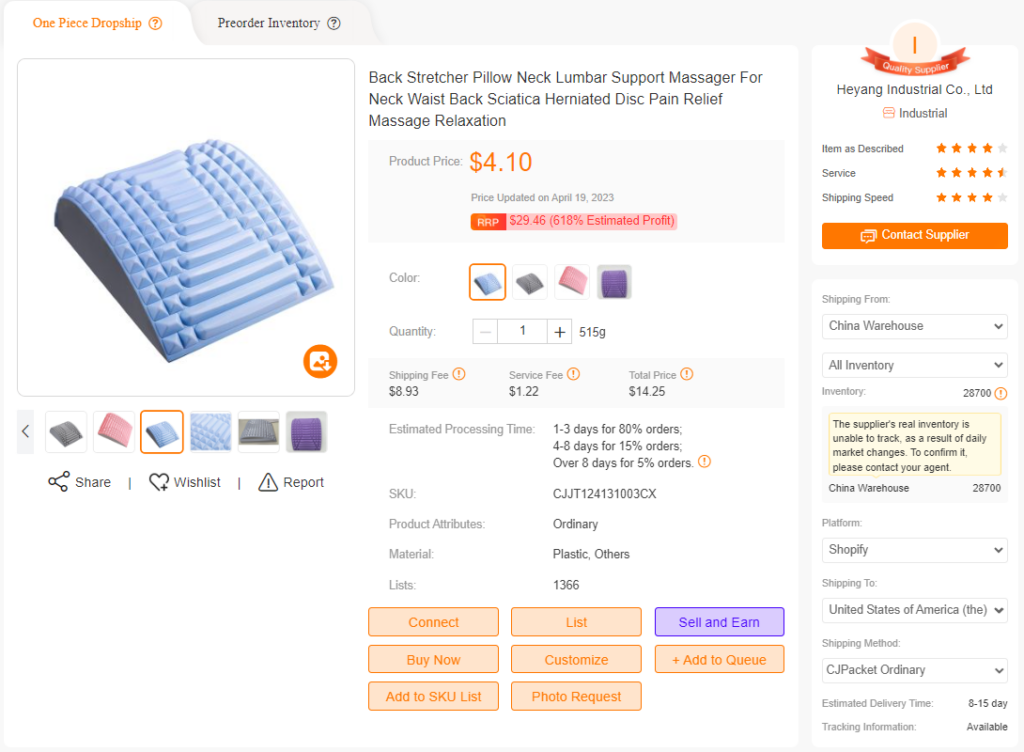 AliExpress
On AliExpress, the price of shipping the Back Pillow to the US is $13.35, with $1.06 for the shipping.
Total Dropshipping Cost: $13.35
Processing time: 1-5 days
Shipping time: 20 days
Shipping method: AliExpress Standard Shipping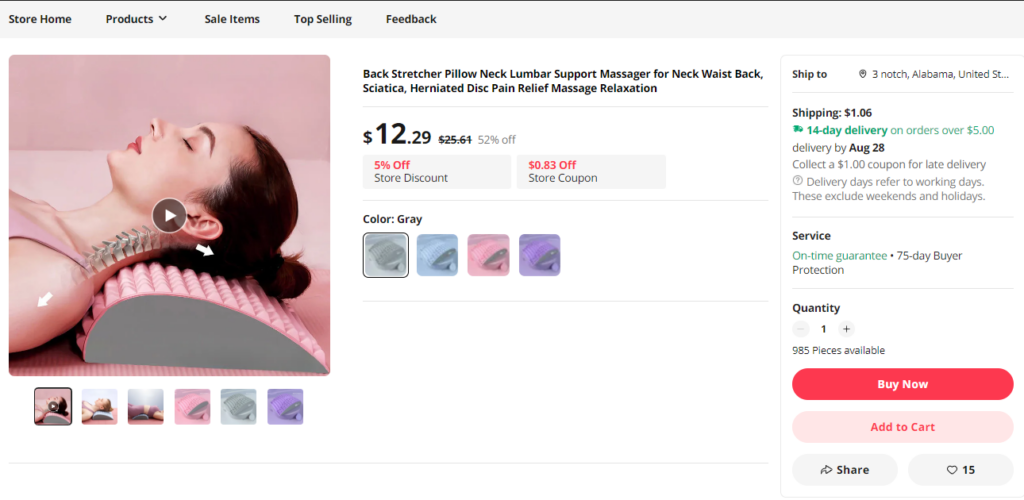 Comparison
We can see that AliExpress has an edge over CJ when it comes to pricing, with a price difference of around $1.
Moreover, when it comes to shipping, the latter seems to outperform the former, with a time gap of around 5 days at least. Shipping time is doubtless a critical point many dropshippers fret about in the dropshipping business.
If you think a shipping time of 8-15 days is also comparatively long, CJ also offers a global warehouse delivery service. For instance, you may buy inventory on CJ to have them stocked at such warehouses as in the US, so that the shipping time can be curtailed to only 2-6 days, almost identical to the speed of domestic logistics.
Customization
For experienced dropshippers who want to scale up their business, branding is a good option to increase revenues. Common methods of branding include logo printing, packaging designing, and product customization. Some people also choose to put stickers with logos on the products or outside packages for the purpose of budget saving.
However, no matter which method you want to choose, branding always requires a minimum order quantity. This means if you want to print logos or customize packaging for the product, you will have to purchase it in large quantities to get started. For example, if you are using CJdropshipping as a supplier, you can request the suppliers to provide logo printing services. If you are interested, you may turn to CJ agents to ask for the MOQ.
This MOQ is not too much considering its unit price in the manufacturing industry but it can still be difficult for many dropshippers. So we do not recommend dropshipping beginners request customization in the first place. But if you are an experienced dropshippers with enough budget and stable sales, selling branded products is a great way to boost your sales.