Summer is around the corner, many people are looking for a solution to erase their body hair. Is there an innovative product right there to help people get rid of body hair problems?
Yes, crystal hair eraser probably is the star product for this summer even this year. It is a really good product to sell this year, let's check out the reasons.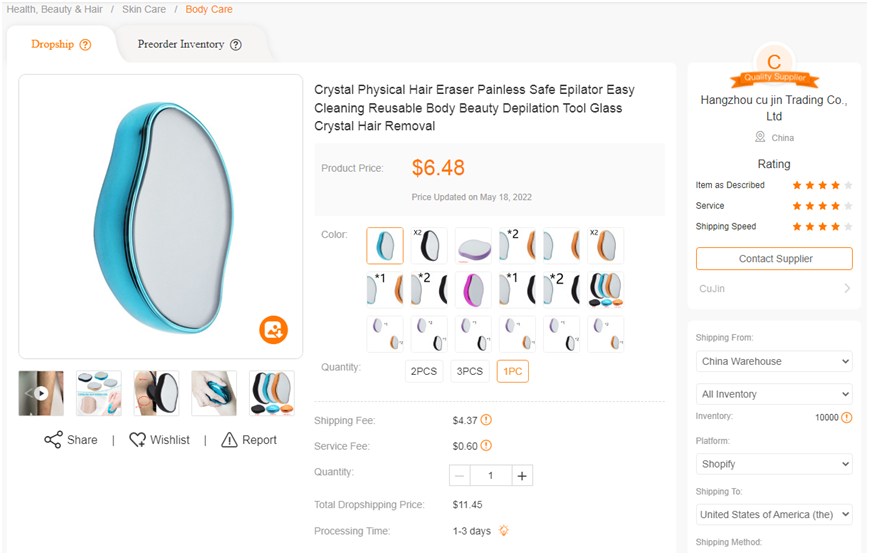 Selling Potential
Market Trend
From Google Trends, the search trend of hair erasers is climbing rapidly recently all over the world. According to Amazon sales data, we find that the sales of hair eraser products increased by 23% in one month. And 2,970,000 searches were generated for the term "crystal hair eraser" in April.
Yet, this product still got a great potential on the market. By doing research on Lazada, Shopee, and Aliexpress platforms, we find there aren't many sellers who started selling this product. If you catch the trend by now, this product may be the next winning product in your store.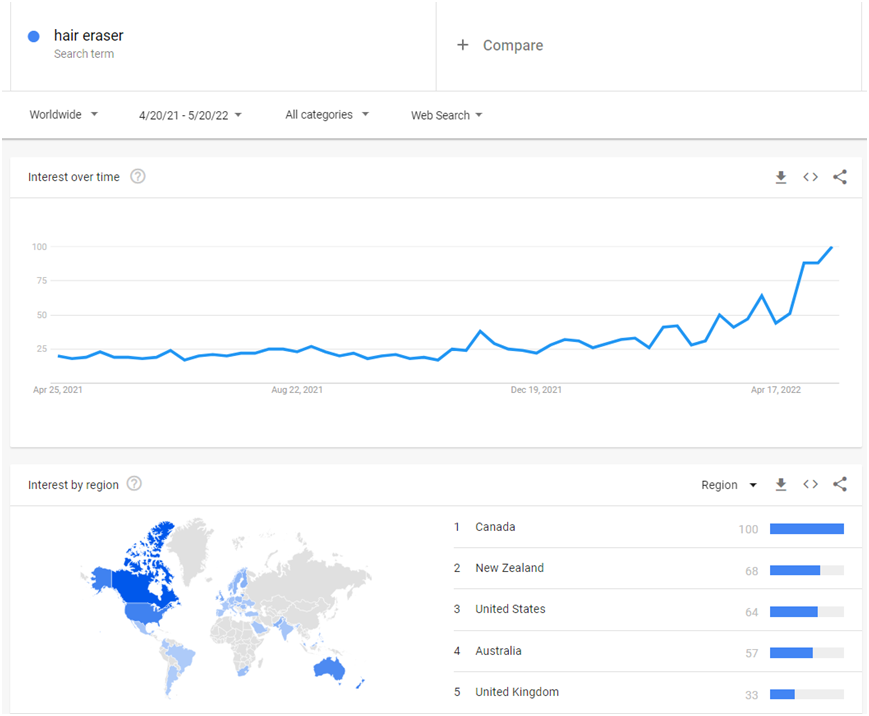 Product Feature
Applicable to most body parts: Customers can use a crystal hair eraser for most body parts such as legs, arms, back, or chest.
Easy to use: Crystal hair eraser is really easy to use. Customers only need gently rub the product on the skin hair for a few minutes, then the hair will be rubbed away.
Eco-Friendly: The product contains no electronic parts, and it doesn't require using a power source. Also, the manufacturing process doesn't involve damaging natural resources. The material used for the surface is non-toxic and friendly to human skin, so it is a completely eco-friendly product.
Nanocrystal Technology: The surface of the hair eraser is produced with nanocrystal technology. It can clean your hair from your body without causing any itchy issues.
Easy to Carry: The product is small and compact, and does not take up much space in a bag or suitcase. So you can use it even during traveling. Not recommended for frequent use: The hair eraser is an effective product for removing hair on specific body parts. But using it too much is not good for sensitive parts of the skin. Because while erasing the hair, the product will also remove dead skin to reveal new skin. Frequent use may also cause skin damage.
Rating
The overall rating for this product is 3.1/5, which is not too bad but it could have been improved.
Most negative comments about the product suggested the product is not painless. Some customers stated that the product is effective in removing hair, but the physical process can cause unavoidable pain. This is why some sellers suggest customers apply lotions after using the hair eraser.
One possible solution to this issue is selling skincare products such as lotions and soaps with the hair eraser. Offering such choices to customers may reduce the negative review, and it is also a good way to boost sales.
Some customers say it would be better if there are some instructions when they are using the product. So providing complete instruction on how to use the product properly may also help avoid possible improper use of the product. There are many videos about this product on Youtube that shows you how to use this product. If you can't find the instructions, you can also contact us for support.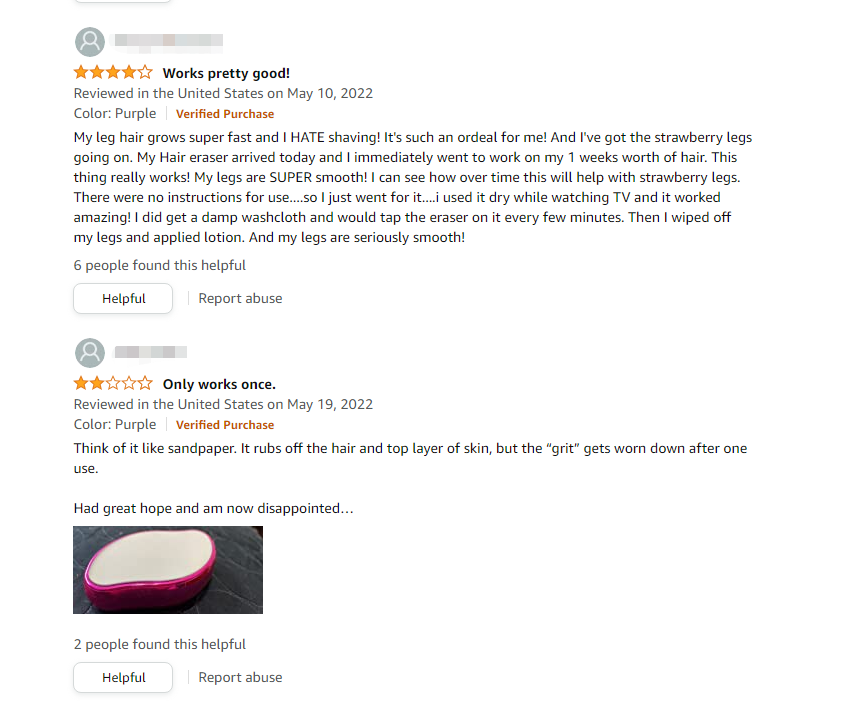 Pricing
If you search the top-selling store of this product, you will find the product is currently priced at $39. Such good pricing makes it really good to generate profit. Even if we consider the dropshipping cost, the profit of selling it can still reach 27$ – 29$ per order!
With the high profit, you can get more budget to invest in advertisement and boost future sales. If you wish to sell the product at a more compatible price, you can also refer to the selling price on Amazon. Currently, the average price of a hair eraser is about $25 for each order.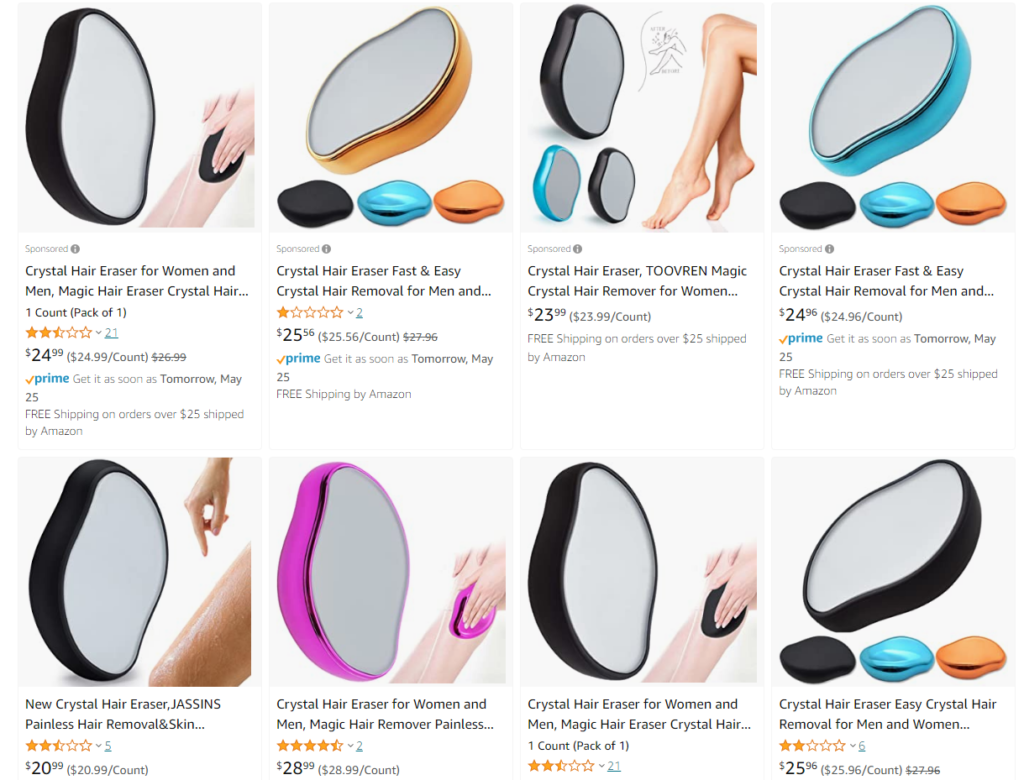 Infringement Check
By consulting law experts, we confirmed the crystal hair eraser is not an infringing product. So you can list and sell the product in your store.
However, there are also some reports about stores that listed the product as receiving copyright warnings. After we investigated these stores, we found they all have listed the product by using images, descriptions, and videos from other popular stores.
Thus, if you want to list this crystal hair eraser, do remember to use your original advertisement content. If you use the images or descriptions from other online stores, you may face copyright issues and eventually be forced to close the store.
In addition, if you want to find a professional team that can provide quality videos and images for advertisement, you can also check the photography service on CJ Dropshipping.
CJ photographers are able to provide good quality visual content at an economical price. And once you purchased these videos or images, you can use these contents on any website or social platforms without any copyright issues.
Dropshipping Costs & MOQ
Shipping Rates
The shipping cost of crystal hair erasers usually will not be so high. Because this product got small in size and lightweight, it is not an oversized product. It is really good for ensuring your profit because most shipping companies will price the product based on its weight and packaging size. By the way, most of the suppliers of crystal hair erasers have prepared enough stock for this product since the market demand keeps increasing. So there is no need to worry about stock issues.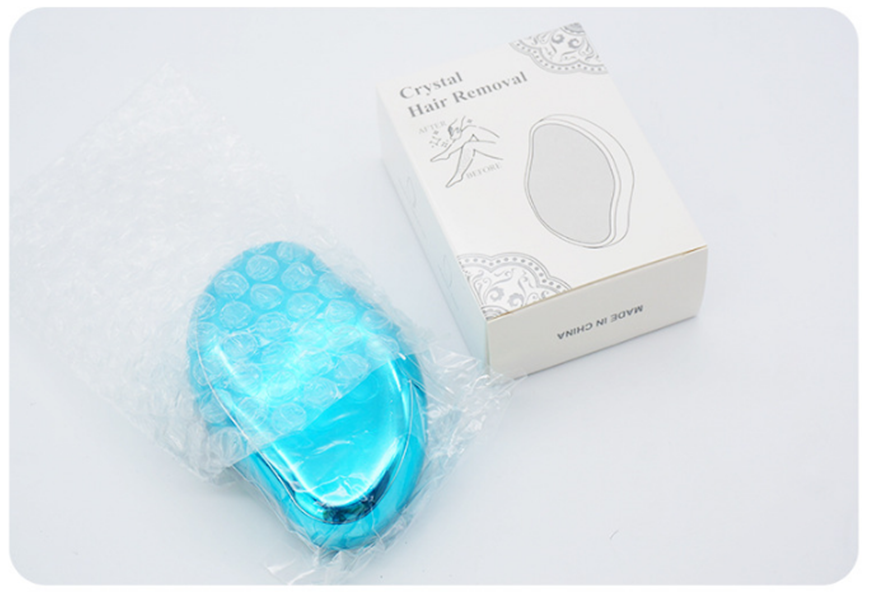 CJ Dropshipping
Total Dropshipping Cost: $12.63
Processing time: 3-5 days
Shipping time: 6-10 days
Shipping method: CJ packet YT ordinary
On CJ Dropshipping, ordering one unit of hair eraser to the US takes $6.48 for the product fee. For now, the best shipping method we recommend is CJ packet YT ordinary, it takes $5.41 shipping cost + $0.74 service fee with 6-10 days shipping time. So then the total dropshipping cost will be $12.63.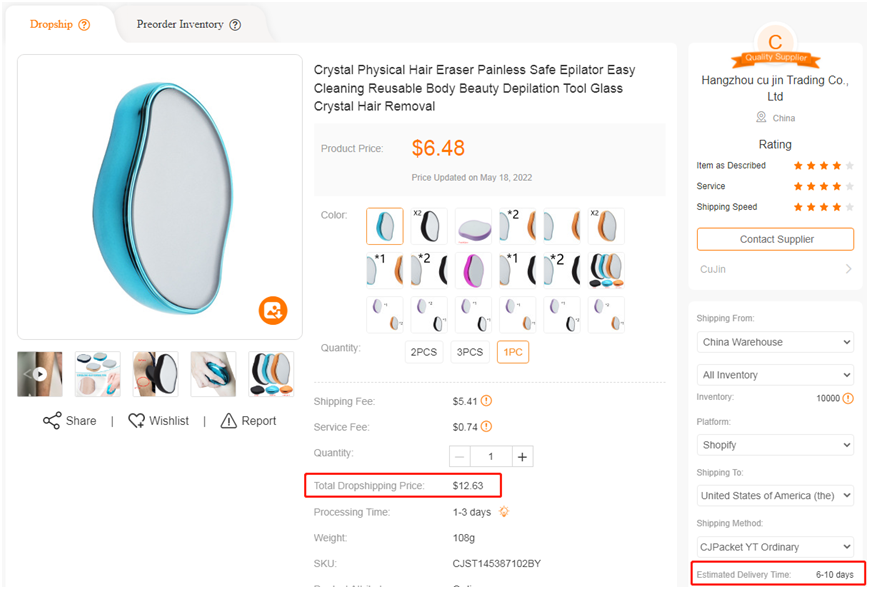 Aliexpress
Total Dropshipping Cost: $9.6
Processing time: 1-5 days
Shipping time: 25 days
Shipping method: AliExpress Standard Shipping
On Aliexpress, shipping one piece of hair eraser takes $7.34 product cost. If we use the most common shipping method AliExpress Standard, shipment will take $2.26 with an estimated 25 days shipping time.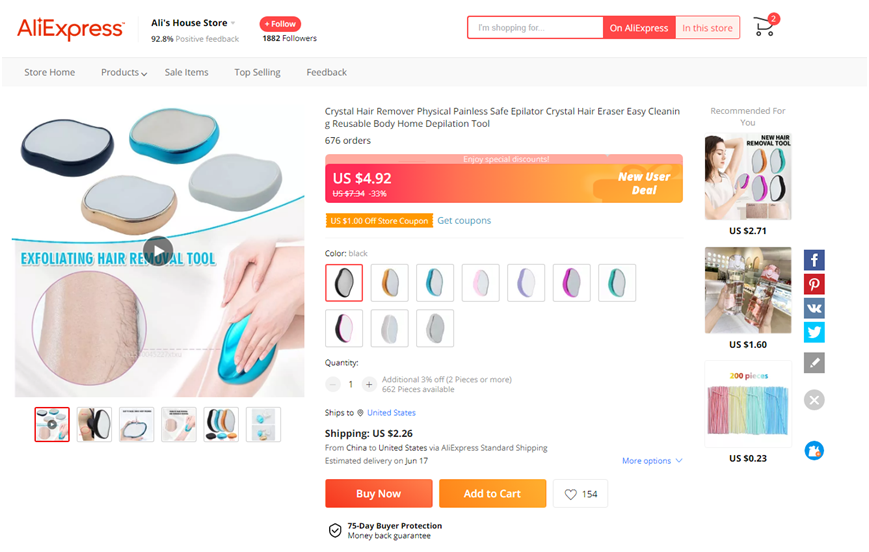 Comparison 
From the above information, we can tell that the price of one hair eraser is cheaper on AliExpress. Yet, the difference is based on the fact that the shipping method used by CJ Dropshipping is way faster than AliExpress.
The 25 days shipping time is a really long period for delivery nowadays. Unless you got your own international warehouse, otherwise the shipping time is not compatible at all on the market.
Of course, you can choose other faster shipping methods on AliExpress, but the price can be much higher than those fast shipping methods on CJ Dropshipping. So considering all the facts, CJ packet YT ordinary is the best option to ship crystal hair erasers for now.
Still, it's your choice to decide which platform suits your store most. You can view more information on other dropshipping sites to see if any other supplier can provide better offers.
If you got bulk orders and wish to talk with the suppliers, you can also try directly connecting with the agents or suppliers. This is the best way to find out which platform suits you most.
Customization
For dropshippers who want to make their own brand in the market, it is important to know if a product is customizable. After consulting with several suppliers on the market, we confirmed the following information:
Logo on the product:200 pcs
Customized packaging:1000 pcs
Sampling fee:$100
If you need to print your own logo on the hair eraser, the supplier will require a 200pcs bulk ordering amount at least. This means the factory will only be able to print your logo on the products after you purchased 200pcs products at once.
Besides, the modeling fee for the first time printing is $45.
The MOQ for customized packaging has a higher MOQ requirement than logo printing. Suppliers say this is because the factories only work for bulk orders, and they need an order of 1000pcs to start making and modeling.
Still, if you are not planning to purchase 1000pcs at once, you can also try another alternative way to make your brand.
For example, CJ Dropshipping also works with some factories that offer custom packaging services. And many of these factories do not require such high min order quantity. If you only wish to order a small quantity for the start, you can also try to brand your products with CJ custom packaging first.