Heating knee massagers have gained immense popularity in recent years due to their potential to provide relief from knee pain and discomfort. As entrepreneurs and businesses explore various niche markets, it is essential to examine the profitability of products like heating knee massagers.
In this article, we will conduct a comprehensive analysis to evaluate the potential profitability of selling heating knee massagers. We will discuss the benefits, market demand, competition, and marketing strategies to help you make an informed decision.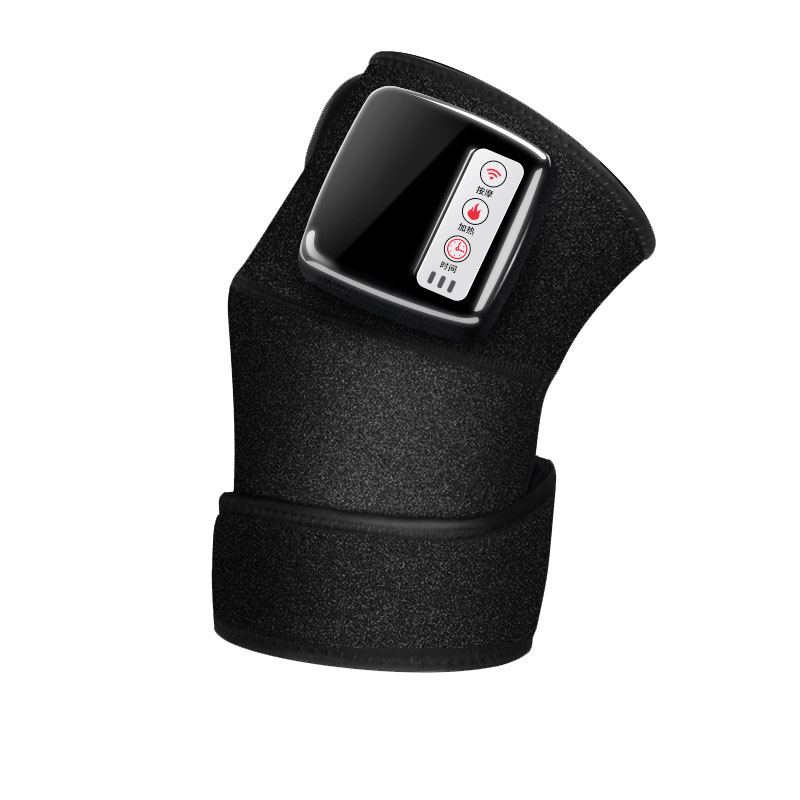 Selling Potential of Heating Knee Massager
Market Trend
According to Google Trends, the search trend for Heating Knee Massager has seen fluctuations over the past several months but has kept a high trend recently.
To determine the profitability of selling heating knee massagers, it is crucial to understand the existing market demand. Some key points to consider are:
Growing aging population: With an increase in the aging population, the prevalence of knee-related issues has risen, driving the demand for knee pain relief products.
Active lifestyle enthusiasts: Athletes, fitness enthusiasts, and individuals engaged in physically demanding activities often experience knee discomfort. They seek effective pain relief and recovery solutions, making heating knee massagers an attractive choice.
Rehabilitation and physical therapy centers: These facilities regularly use and recommend heating knee massagers as part of their treatment regimens, creating a consistent demand.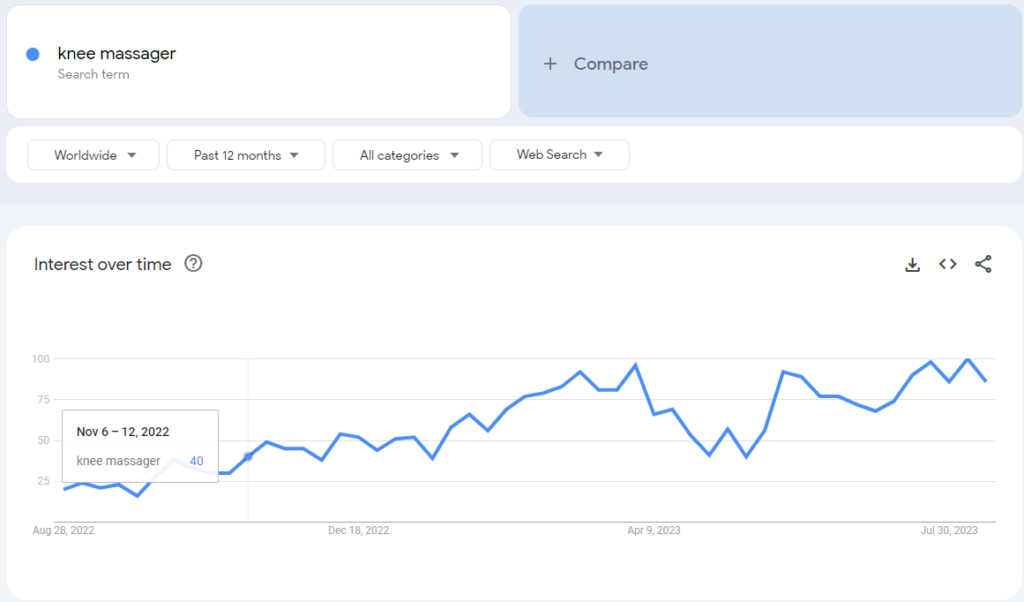 Product Features of Heating Knee Massager
Heating Function: The knee massager is equipped with heating elements that provide soothing warmth to the knee area. This helps to relax the muscles, improve blood circulation, and relieve pain.
Massage Modes: Most knee massagers offer multiple massage modes to cater to different needs. These modes may include kneading, vibration, or a combination of both. They help to alleviate muscle tension and promote relaxation.
Adjustable Intensity: The intensity of the massage can usually be adjusted to suit individual preferences. This allows users to customize the massage experience according to their comfort level and specific requirements.
Compression Therapy: Some knee massagers also incorporate compression therapy. This involves applying gentle pressure to the knee area, which helps to reduce swelling, improve circulation, and enhance the overall effectiveness of the massage.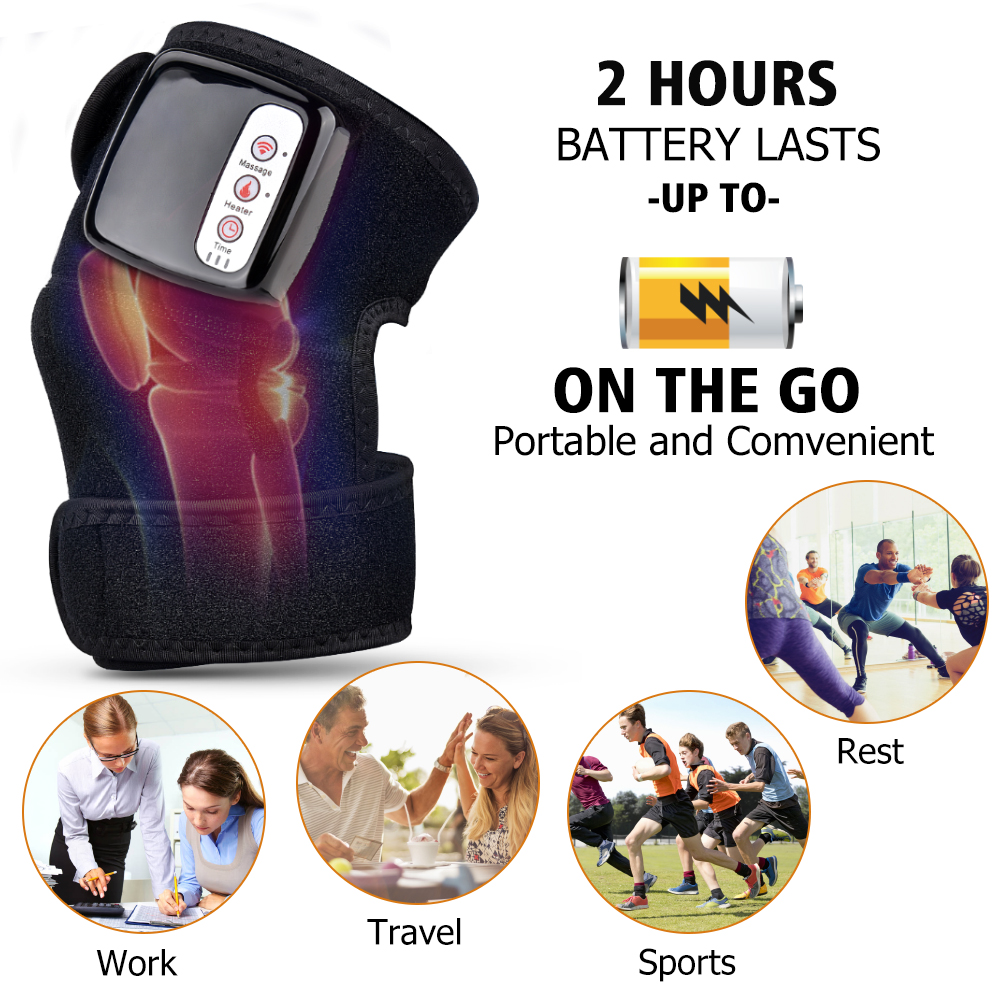 Rating
The majority of customers seem to approve of the quality of this product. The overall rating of the Heating Knee Massager is perfect overall. For instance, on Amazon, it has an approved rating of 4.3 out of 5.
One thing you should pay attention to when it comes to dropshipping is packing. Undoubtedly, packing and shipping play two critical roles in international transportation. Definitely, a damaged package can negatively affect your business. Luckily, we have confirmed that CJ can provide quality inspection service, which means all products in CJ will undergo a round of quality inspection before dispatch, thereby vastly reducing the risk of damage. It could be a reliable source for dropshipping businesses.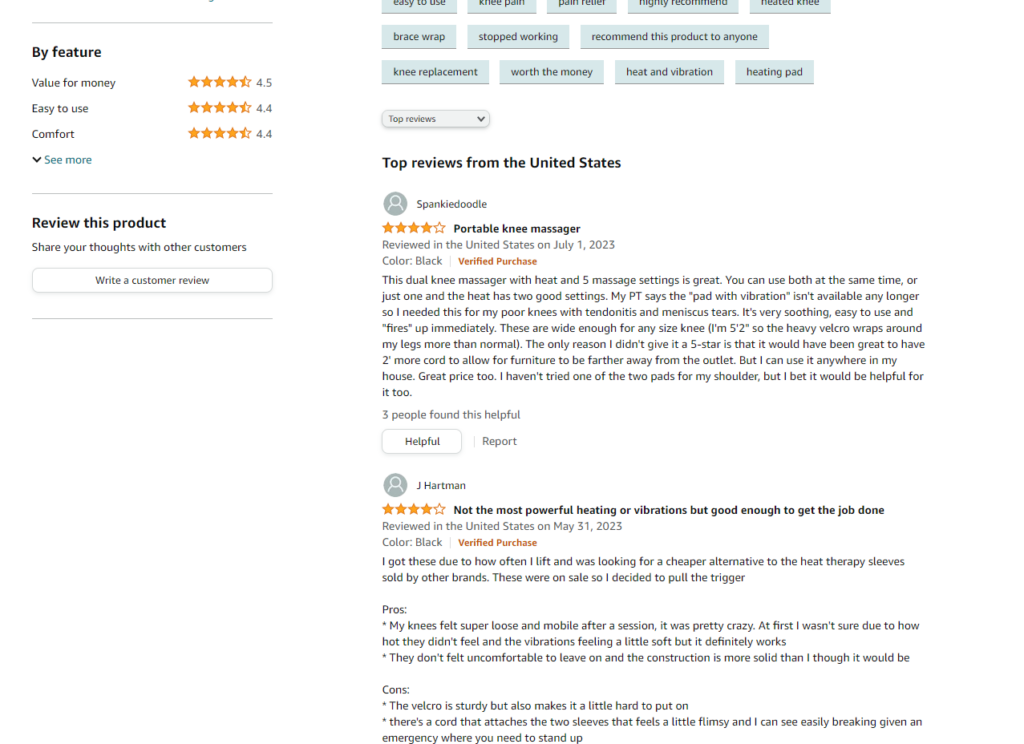 Pricing
The market price of one Heating Knee Massager is around $50, while the one we recommend stands at $19.36, leaving you a considerable profit range.
In case you are puzzled as to price-setting, we suggest that you make it in conformity with your total dropshipping cost. You may set up either a comparably high price to earn more single profits or a low price to gain more traffic, both of which are good ways to market.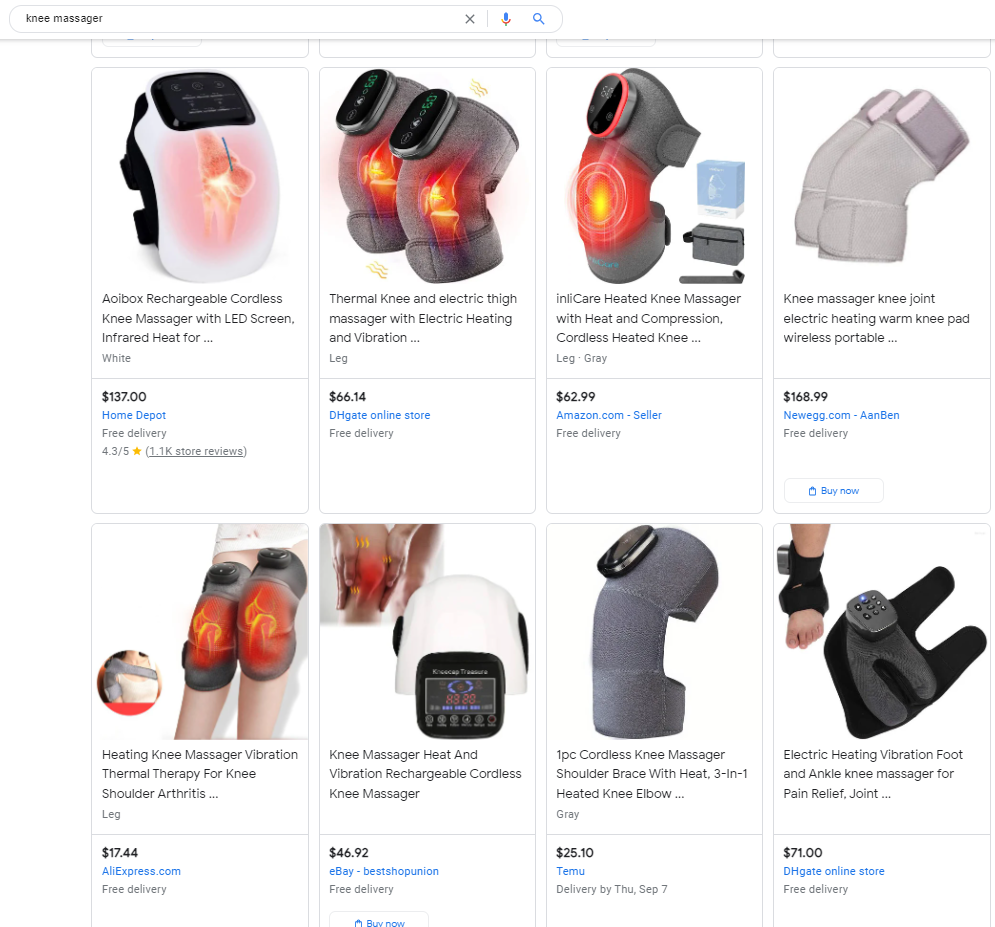 Dropshipping Costs of Heating Knee Massager
Shipping Rates
Heating knee massagers offer a non-invasive and drug-free solution to alleviate knee pain, improve mobility, and enhance overall well-being. The soothing heat combined with the therapeutic massage not only provides immediate relief but also promotes long-term knee health.
By understanding the mechanisms behind heating knee massagers and selecting a high-quality device that suits your needs, you can take control of your knee health and live a pain-free life. Invest in a heating knee massager today and experience the multitude of benefits it has to offer.
So how much does the heating knee massager exactly cost? For your reference, you may compare the dropshipping cost from the following two major platforms so as to pick a trustworthy supplier if you want to sell this product.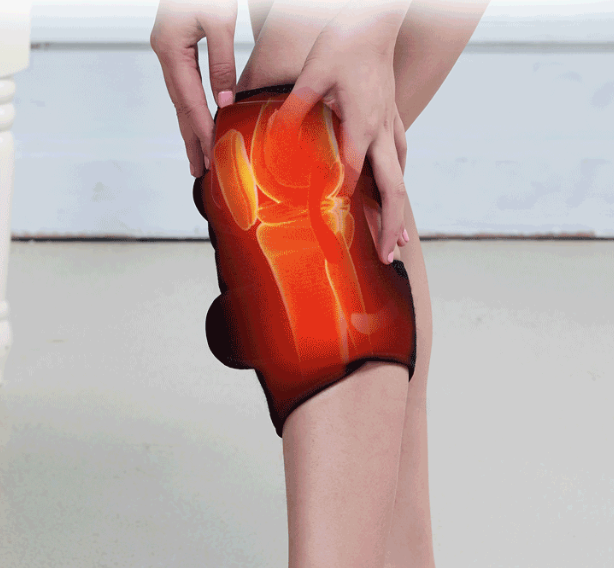 CJ Dropshipping
Total Dropshipping Cost: $19.36
Processing time: 1-3 days
Shipping time: 8-15 days
Shipping method: CJPacket Sensitive
On CJdropshipping, the total dropshipping price of the Heating Knee Massager is $19.36. The price includes $10.16 for the product and $8.10 for the shipping plus $1.10 for the service.
If you want to sell it in the US, the most cost-effective shipping method is CJPacket Sensitive, which provides 8-15 days of shipping time.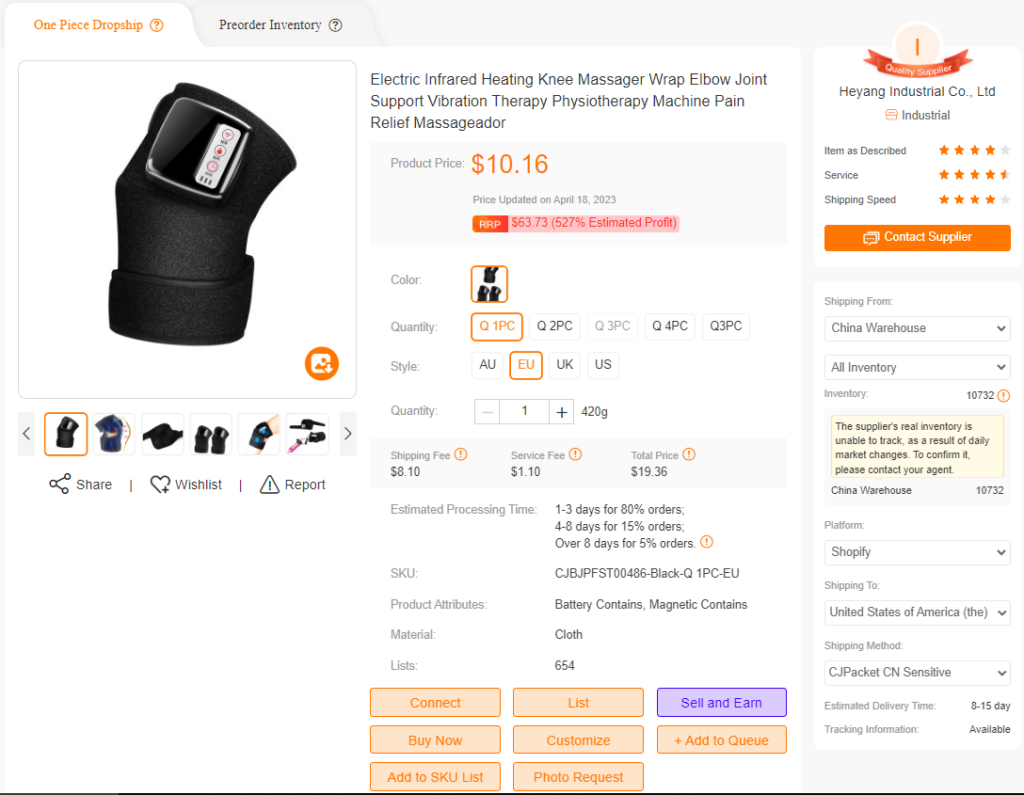 AliExpress
On AliExpress, the price of shipping the Heating Knee Massager to the US is $28.25, with $4.44 for the shipping.
Total Dropshipping Cost: $23.81
Processing time: 1-5 days
Shipping time: 35 days
Shipping method: SHUNYOU_STANDARD_SG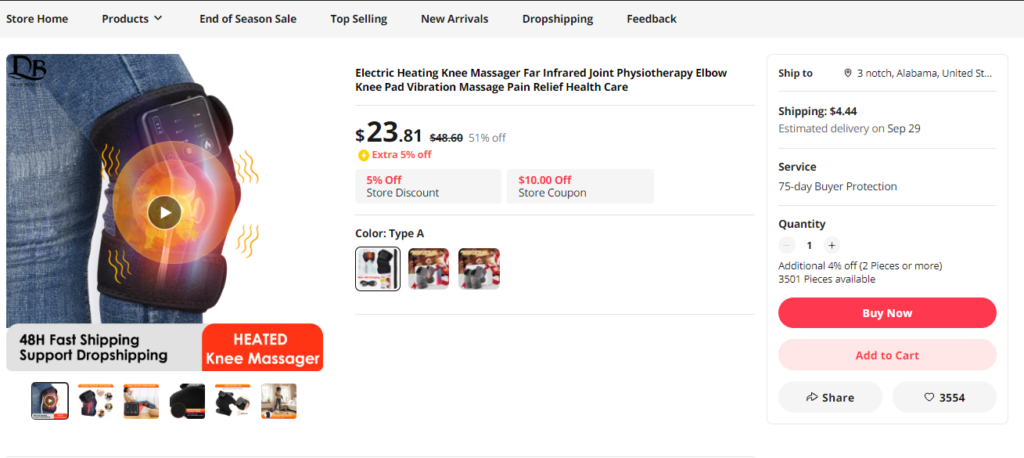 Comparison
We can see that CJ has an edge over AliExpress when it comes to pricing, with a price difference of around $8.
Moreover, when it comes to shipping, the former seems to outperform the latter, with a time gap of around 13 days at least. Shipping time is doubtless a critical point many dropshippers fret about in the dropshipping business.
If you think a shipping time of 8-15 days is also comparatively long, CJ also offers a global warehouse delivery service. For instance, you may buy inventory on CJ to have them stocked at such warehouses as in the US, so that the shipping time can be curtailed to only 2-6 days, almost identical to the speed of domestic logistics.
Customization
For experienced dropshippers who want to scale up their business, branding is a good option to increase revenues. Common methods of branding include logo printing, packaging designing, and product customization. Some people also choose to put stickers with logos on the products or outside packages for the purpose of budget saving.
However, no matter which method you want to choose, branding always requires a minimum order quantity. This means if you want to print logos or customize packaging for the product, you will have to purchase it in large quantities to get started. For example, if you are using CJdropshipping as a supplier, you can request the suppliers to provide logo printing services. If you are interested, you may turn to CJ agents to ask for the MOQ.
This MOQ is not too much considering its unit price in the manufacturing industry but it can still be difficult for many dropshippers. So we do not recommend dropshipping beginners request customization in the first place. But if you are an experienced dropshippers with enough budget and stable sales, selling branded products is a great way to boost your sales.