In today's fast-paced digital world, portable technology has become increasingly popular. One such innovation is mini portable printers that allow users to print documents, photos, and more on the go.
Mini portable printers have gained significant popularity due to their convenience and versatility. These compact devices allow users to print documents and images without the need for a traditional desktop printer or a computer nearby. With wireless connectivity options such as Bluetooth and Wi-Fi, individuals can easily print directly from their smartphones, tablets, or other portable devices. The increasing demand for instant gratification and the need for easily accessible printing solutions have contributed to the rise in popularity of mini portable printers.
But is selling these devices a profitable venture? In this article, we will delve into the world of mini portable printers, examining their market demand, profit potential, target audience, and the factors that can contribute to their success in the e-commerce space.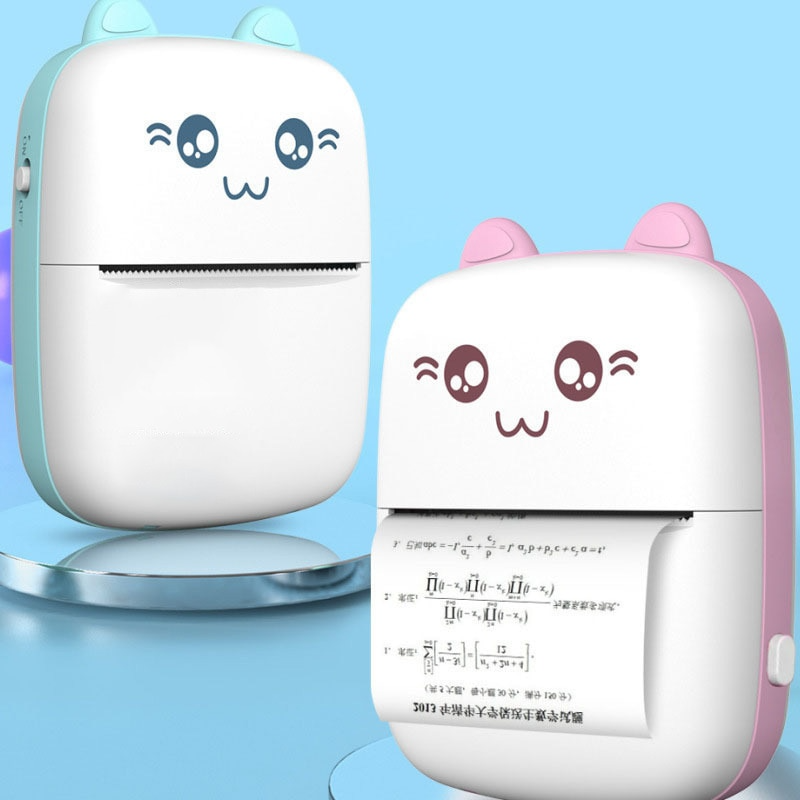 Selling Potential of Mini Portable Printer
Market Trend
According to Google Trends, the search trend for Mini Portable Printer has seen fluctuations over the past several months but shows an upright trend recently.
Before entering any market, understanding the demand is crucial. Market research on the demand for mini portable printers can help identify the target audience, assess the competition, and determine if the product has profit potential. Analyze existing e-commerce platforms, forums, and social media channels to gauge customer interest, feedback, and purchasing patterns. Look for key indicators such as search volume, trends, and sales data to assess the market demand for mini portable printers.
Determining the target audience is essential for effective marketing and sales strategies. Mini portable printers have a broad customer base due to their versatile nature. Students, professionals, photographers, travelers, and small business owners are some potential customers who may benefit from the convenience of a mini portable printer. Understanding their needs and preferences will help tailor marketing campaigns to resonate with the target audience and increase the likelihood of sales.
Dropshipping mini portable printers can be a profitable business venture if executed strategically. Dropshipping offers several advantages for entrepreneurs, such as low initial investment, reduced inventory management, and the ability to offer a wide range of products to potential customers. However, it is important to be patient and invest in time for a successful business.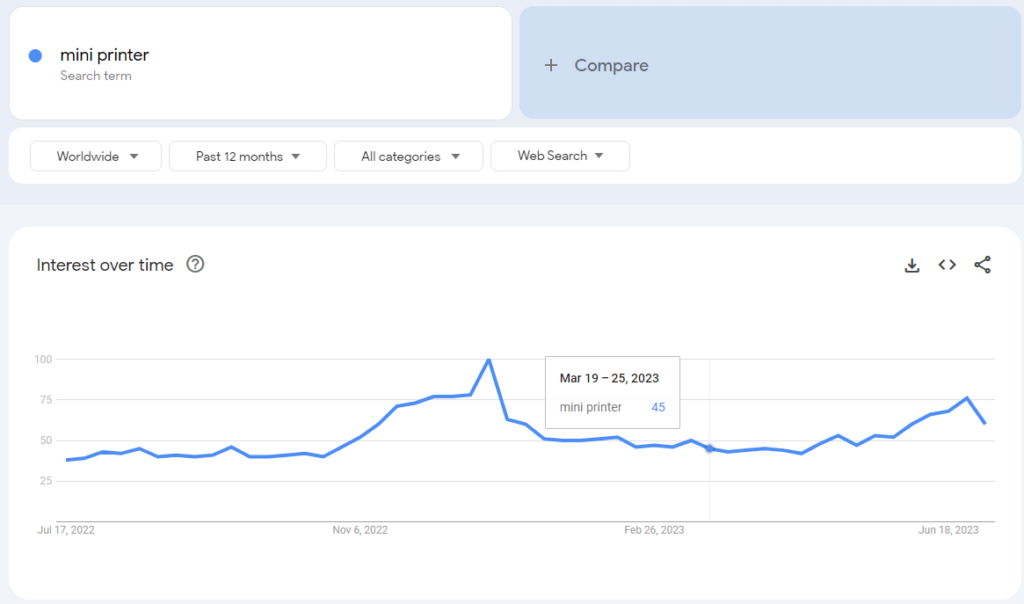 Product Features of Mini Portable Printer
Portable Mini Printer: This printer is mini and portable. 11 x 8 x 3.5cm in size and 160g weight, you can easily put it in your pocket or a bag, convenient to carry on and use anytime, anywhere.
Quick Print & Photos Clear: This phone printer is equipped with an excellent quality thermal print head with long service life, no need for ink cartridges or consumables, 200dpi high resolution, and convenient to quickly print different black and white images.
Bluetooth Connection & APP Operation: This photo printer is easy to use and supports most iOS and Android devices. Just follow up on the manual to download the APP, then connect your phone's Bluetooth to operate and print all kinds of beautiful photos you want.
Good Helper for Learning: Built in 1200mAh rechargeable battery, printing speed 10mm/s, quick plot and printing in low noise. Save time copying notes, assist learning, and improve learning and working efficiency. The wrong questions and notes are no longer messy.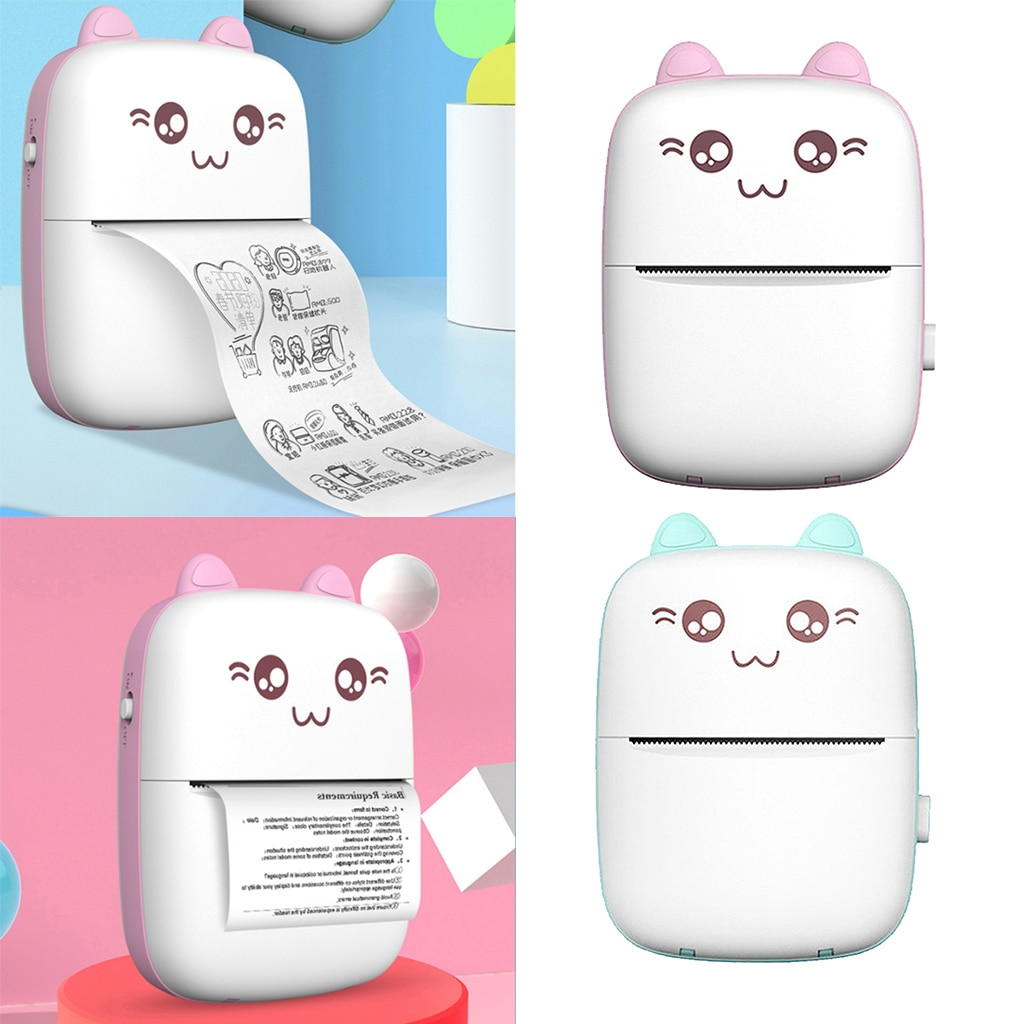 Rating
The major of customers of this product seems to approve of the quality of this product. The overall rating of the Mini Portable Printer is perfect overall. For instance, on Amazon, it has an approved rating of 4 out of 5.
Some people giving negative reviews claim that this product doesn't come with instructions, which makes it hard to use. The one we present today is of course not fall into this category. So, you may feel at ease to purchase.
One thing you should pay attention to when it comes to dropshipping is packing. Undoubtedly, packing and shipping play two critical roles in international transportation. Definitely, a damaged package can negatively affect your business. Luckily, we have confirmed that CJ can provide quality inspection service, which means all products in CJ will undergo a round of quality inspection before dispatch, thereby vastly reducing the risk of damage. It could be a reliable source for dropshipping businesses.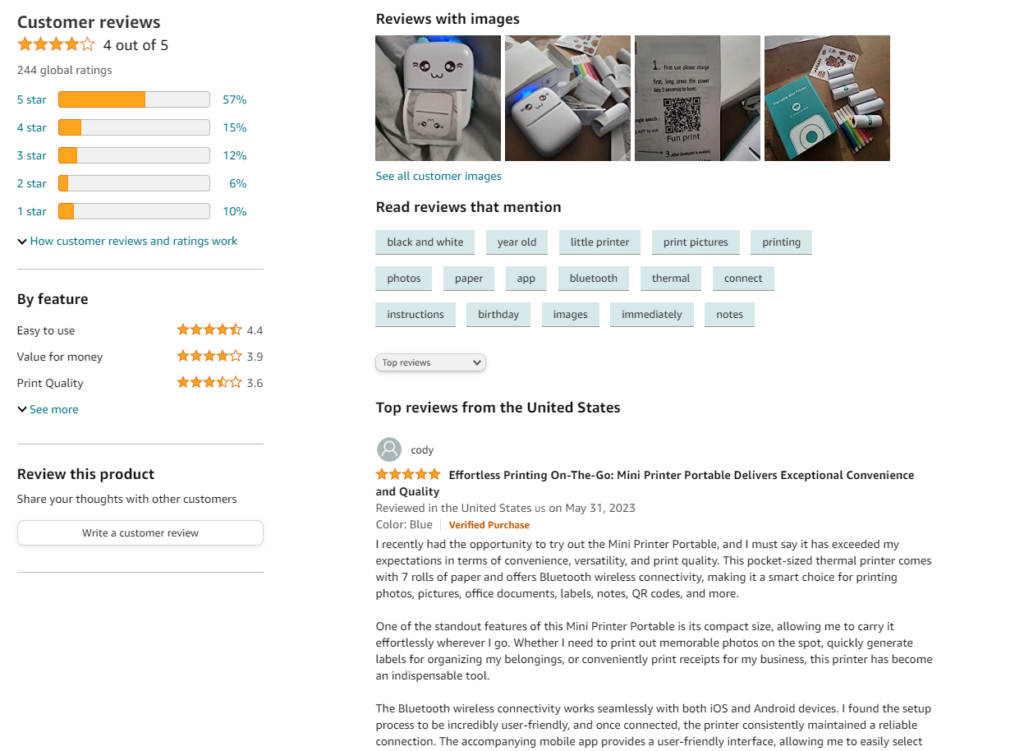 Pricing
The market price of one Mini Portable Printer is around $30, while the one we recommend stands at $21, leaving you a considerable profit range.
In case you are puzzled as to price-setting, we suggest that you may make it in conformity with your total dropshipping cost. For example, if your cost is $20, then $30 is fair.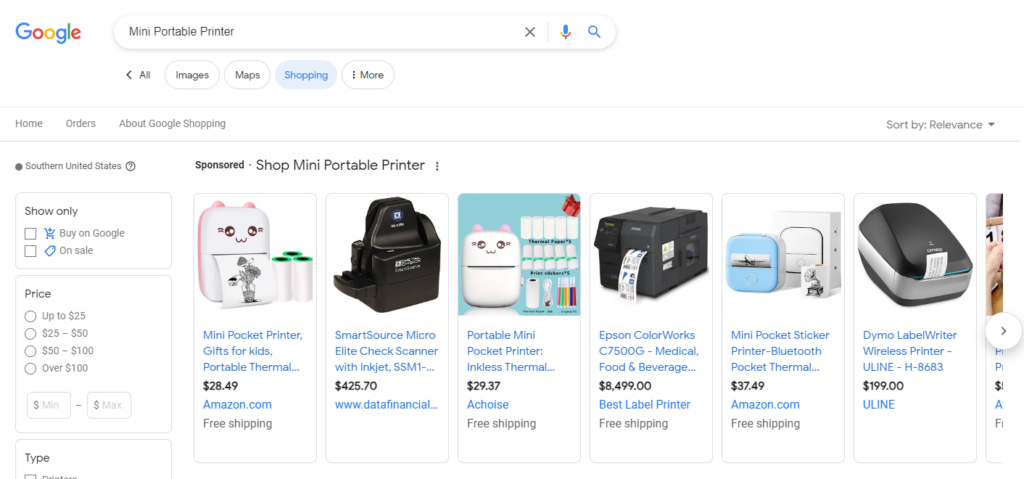 Dropshipping Costs of Mini Portable Printer
Shipping Rates
Mini portable printers have revolutionized the way we print documents and photos in today's fast-paced world. Offering convenience and versatility, these compact devices allow us to print anytime, anywhere, without the need for traditional desktop printers.
Mini portable printers have revolutionized the way we print documents and photos in today's fast-paced world. Offering convenience and versatility, these compact devices allow us to print anytime, anywhere, without the need for traditional desktop printers.
So how much does the Mini Portable Printer exactly cost? For your reference, you may compare the dropshipping cost from the following two major platforms so as to pick a trustworthy supplier if you want to sell this product.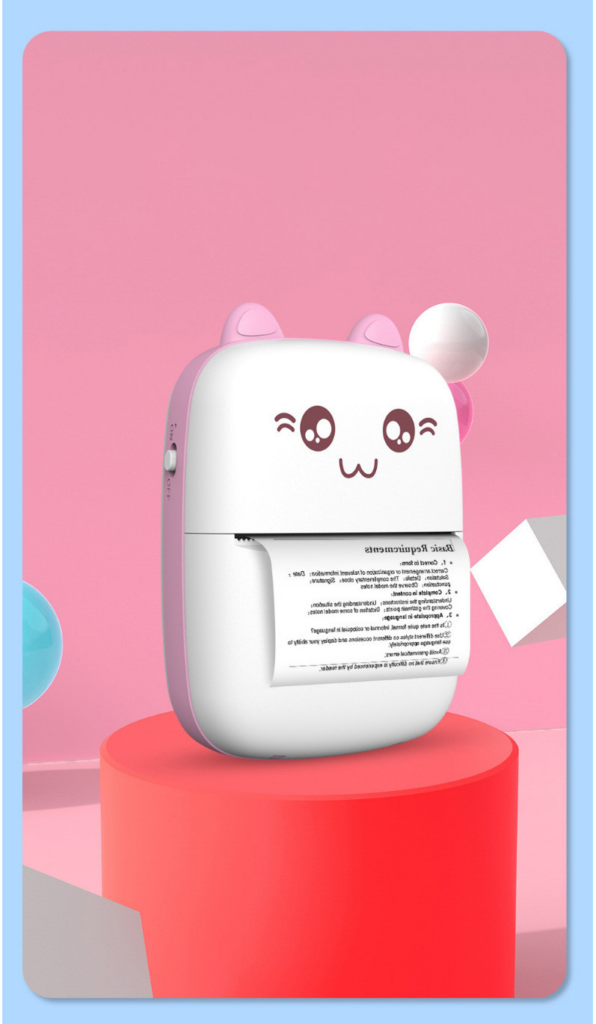 CJ Dropshipping
Total Dropshipping Cost: $21.05
Processing time: 1-3 days
Shipping time: 8-15 days
Shipping method: CJPacket Sensitive
On CJdropshipping, the total dropshipping price of the Mini Portable Printer is $21.06 The price includes $9.32 for the product and $10.32 for the shipping plus $1.41 for the service.
If you want to sell it in the US, the most cost-effective shipping method is CJPacket Sensitive, which provides 8-15 days of shipping time.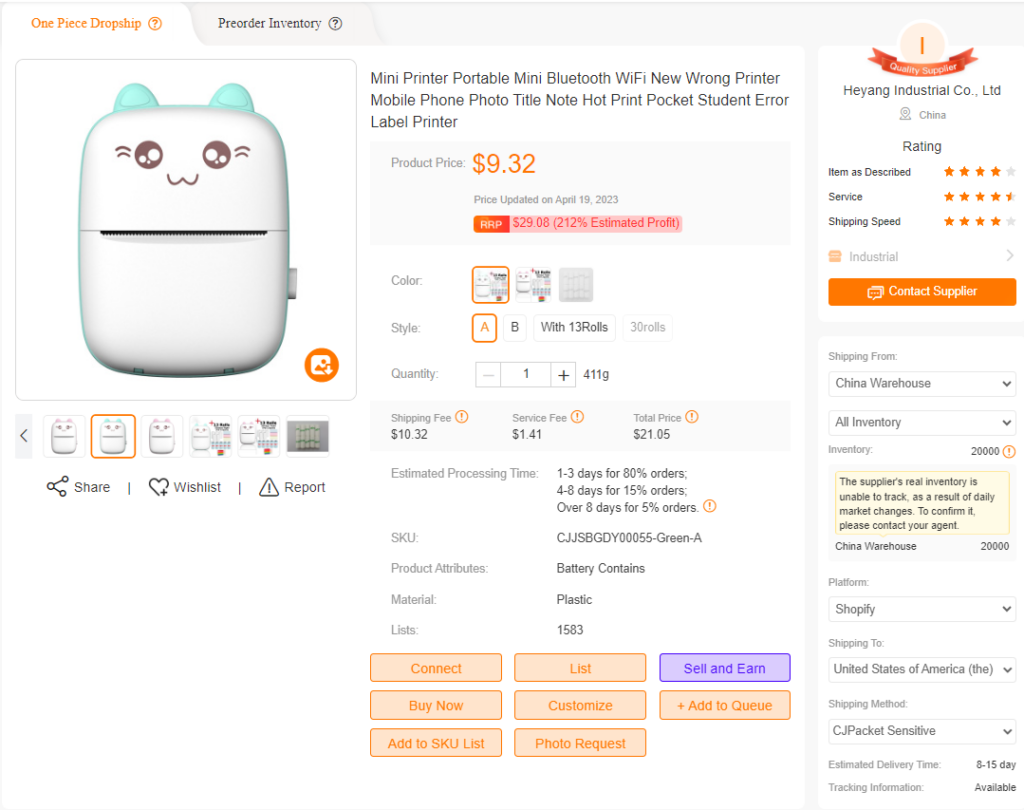 AliExpress
On AliExpress, the price of shipping the Mini Portable Printer to the US is $34.30, with free shipping.
Total Dropshipping Cost: $34.30
Processing time: 1-5 days
Shipping time: 14 days
Shipping method: AliExpress Standard Shipping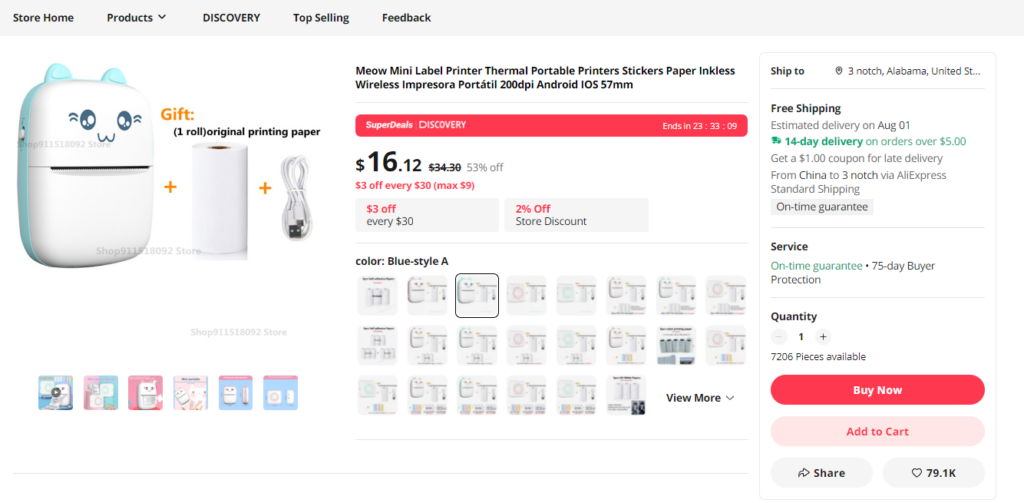 Comparison
We can see that CJ has an edge over AliExpress when it comes to pricing, with a price difference of around $13, which is a huge gap considering how much it will generate over the long run.
Moreover, when it comes to shipping, the two seem to have no much difference. Shipping time is doubtless a critical point many dropshippers fret about in the dropshipping business.
If you think a shipping time of 8-15 days is also comparatively long, CJ also offers a global warehouse delivery service. For instance, you may buy inventory on CJ to have them stocked at such warehouses as in the US, so that the shipping time can be curtailed to only 2-6 days, almost identical to the speed of domestic logistics.
Customization
For experienced dropshippers who want to scale up their business, branding is a good option to increase revenues. Common methods of branding include logo printing, packaging designing, and product customization. Some people also choose to put stickers with logos on the products or outside packages for the purpose of budget saving.
However, no matter which method you want to choose, branding always requires a minimum order quantity. This means if you want to print logos or customize packaging for the product, you will have to purchase it in large quantities to get started. For example, if you are using CJdropshipping as a supplier, you can request the suppliers to provide logo printing services. If you are interested, you may turn to CJ agents to ask for the MOQ.
This MOQ is not too much considering its unit price in the manufacturing industry but it can still be difficult for many dropshippers. So we do not recommend dropshipping beginners request customization in the first place. But if you are an experienced dropshippers with enough budget and stable sales, selling branded products is a great way to boost your sales.