Having a massage at home is a great way to rest and reduce stress after work. Nowadays, more and more people prefer using various massage products to relax instead of visiting a therapist. This phenomenon made the neck massager niche become one of the most popular categories in the dropshipping industry.
However, with more and more people joining the market, finding a good massage product to sell is becoming harder than ever before. To help dropshippers find the ideal product they need, this article will check if the neck roller massager is a good product to sell for dropshipping business this year.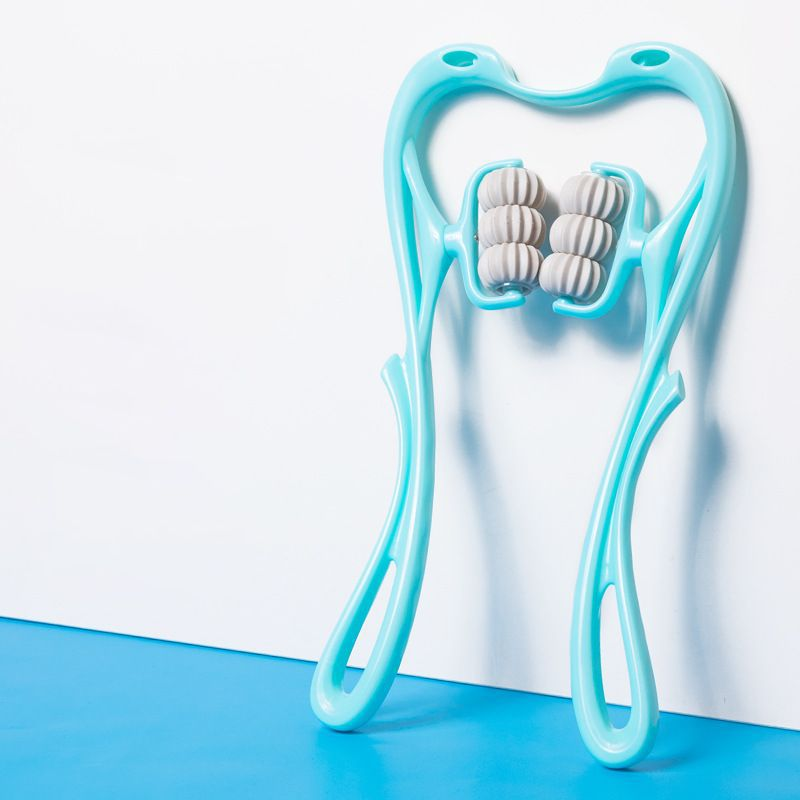 Selling Potential
Market Trend
Google Trends shows the term neck massager got unique popularity trends in the past 5 years. Especially during quarter 4 of each year, the popularity would reach its peak. So according to the records, we can tell that the on-season of neck massager products starts in November, and the search trends may also reach another peak this year.
However, because this niche has been popular on the market for a long time, so you may encounter a lot of competitors if you list this product in your store as a winning product. But, for dropshippers who just started their own business, listing such an evergreen is a great option to get some sales for the beginning.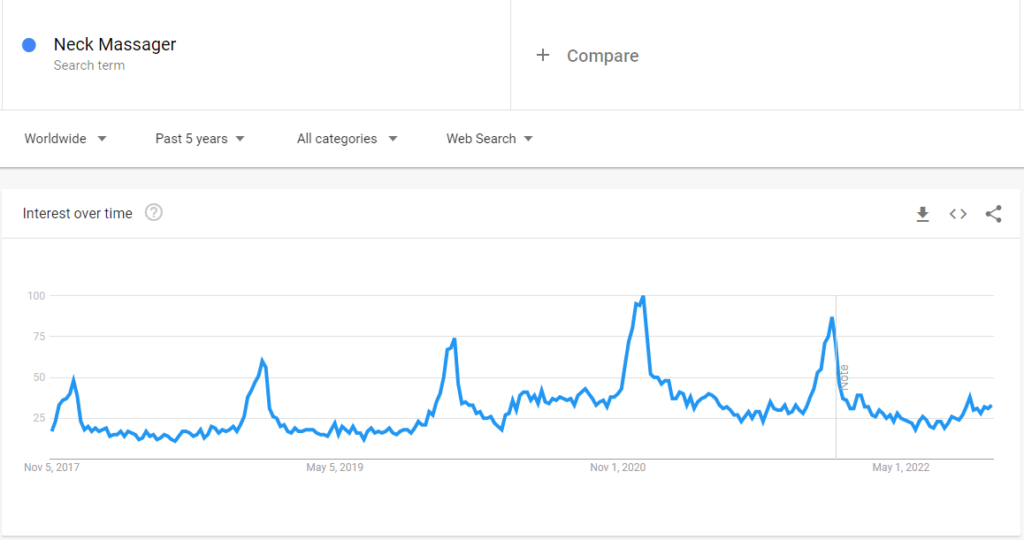 Product Feature
Now let's check what features this neck roller massager as an evergreen product.
Better Enjoyment: The neck massager is designed with 6 roller massage balls that can be rotated to adjust to your most comfortable angle and massage deeper into the muscles with a larger area and relieve pain immediately, allowing you to enjoy the best massage experience.
Easy to Use: The product works without battery or electronic parts. You can control the massage speed, intensity, and angle with one hand as your preference. You can enjoy a simple massage at home, in the office, outdoors, or anywhere you like.
Apply to Various Muscle Problems: This neck and shoulder massager helps to release tight, stiff, and sore muscles in the neck, shoulders, or legs. It helps blood circulation to release fatigue and improves various kinds of muscle problems.
Eco-Friendly: The neck Massager is made with eco-friendly components that are BPA, PBDE, and TBBPA free. You can use it while taking a shower and apply it to your skin directly.
Pricing
Checking the price of the neck massager on google shopping, we find the price of this product is about $29.99. Considering the low manufacturing cost and economic shipping price of this product, this price is good for dropshippers to earn profit.
Moreover, selling products as bundles is a great way to boost sales. Since most massage products can be used with essential oil, you can also sell the neck massager and essential oil together as a bundle in your store. In this way, you can raise the price per order while saving some shipping costs, and your profit will be higher eventually.
In addition, most individual stores provide 7-15 days shipping time for delivering the neck massager to customers. So if you want to compete with these stores, you should find a shipping courier who provides the same or even better shipping services.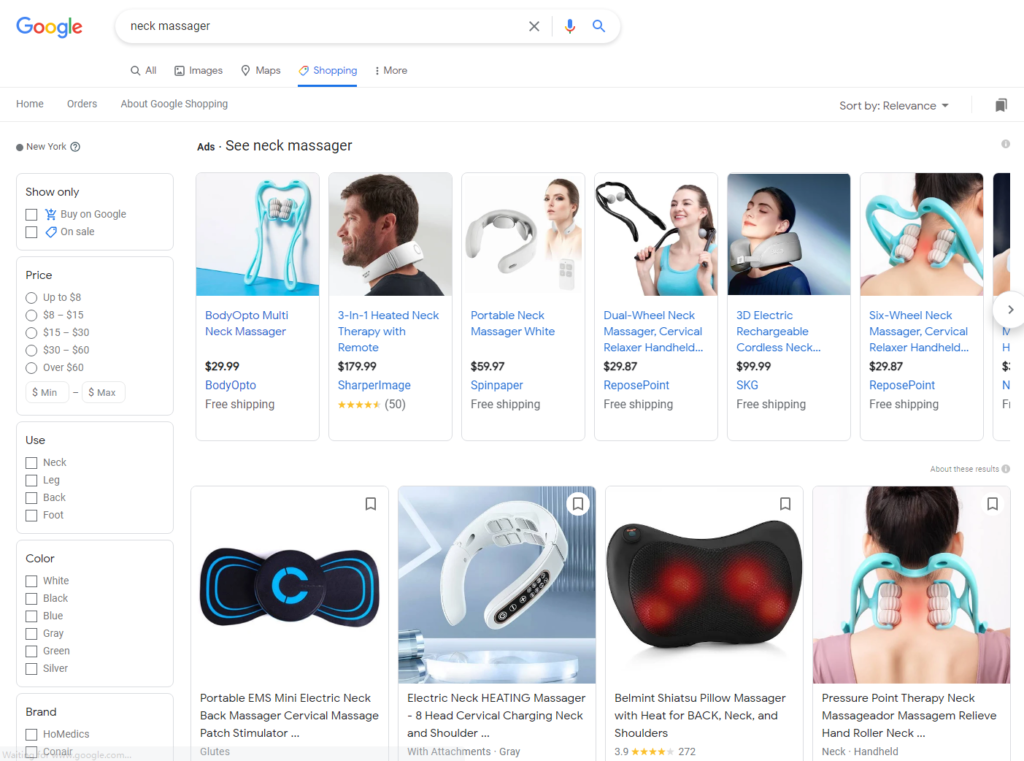 Dropshipping Costs & MOQ
One major problem with shipping massager products is they are usually big heavy items that have expensive shipping prices. However, the neck massager we are sharing today is light and flexible. Such wonderful features make it a great product for saving shipping costs for dropshippers.
Therefore, the neck massager is a great product for online stores to sell in terms of saving dropshipping costs. In this section, the total dropshipping price of sending one unit of neck massager to the US will be presented. Comparing the price from AliExpress and CJdropshipping, you can check how much it will be for dropshipping one unit of neck massager to US customers.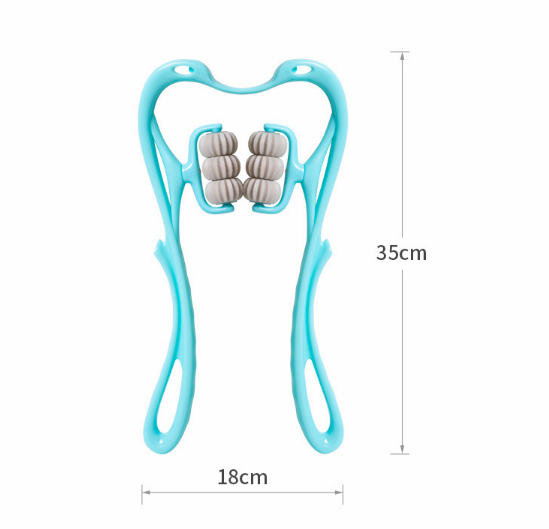 Shipping Rates
CJ Dropshipping
Total Dropshipping Cost: $8.04
Processing time: 1-3 days
Shipping time: 7-15 days
Shipping method: CJPacket Ordinary
Dropshipping one neck roller massager from CJdropshipping cost $8.04 in total. The price includes $1.57 for the manufacturing and $5.69 for the shipping added with a $0.78 service fee.
For orders shipping to the US, the best shipping method is CJPacket Ordinary. It provides a 7-15 days shipping time with only 1-3 days processing time, so most customers can receive their massager in 2 weeks after purchase.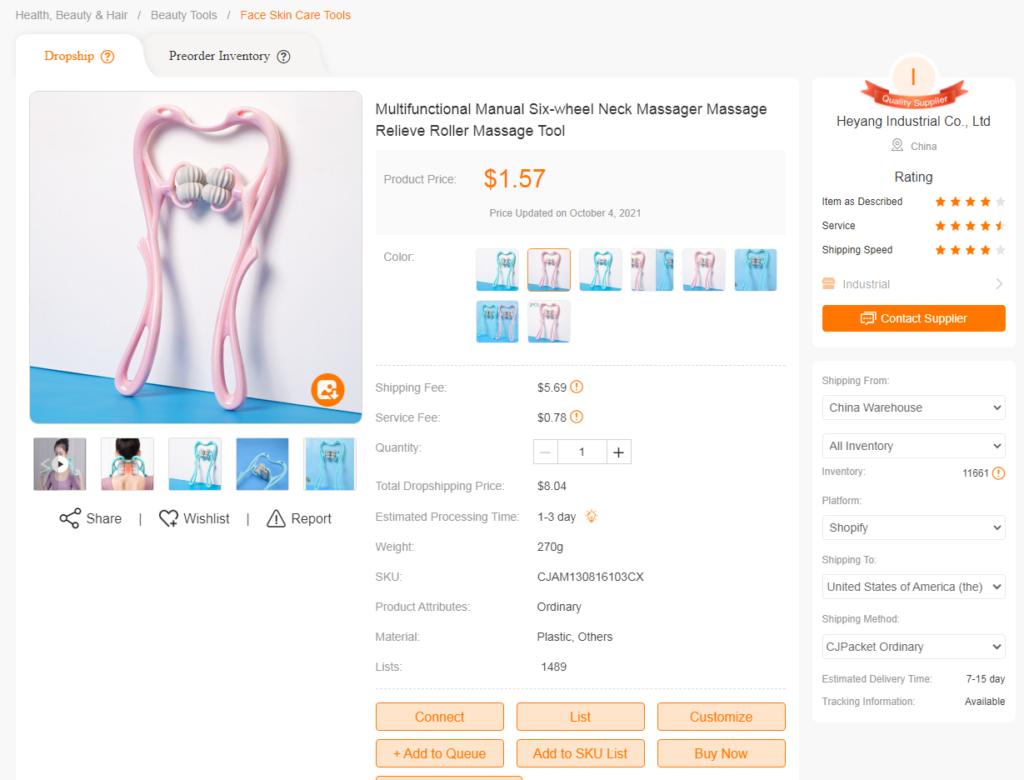 AliExpress
Total Dropshipping Cost: $8.52
Processing time: 1-5 days
Shipping time: 30 days
Shipping method: AliExpress Standard Shipping
Dropshipping one neck roller massager from AliExpress cost $8.52 in total. This includes $5.96 for the product and $2.56 for the shipping.
The best shipping method is AliExpress Standard Shipping, which can deliver the product to the US in 30 days. If we consider the processing time, customers may have to wait for more than 30 days to get their ordered products.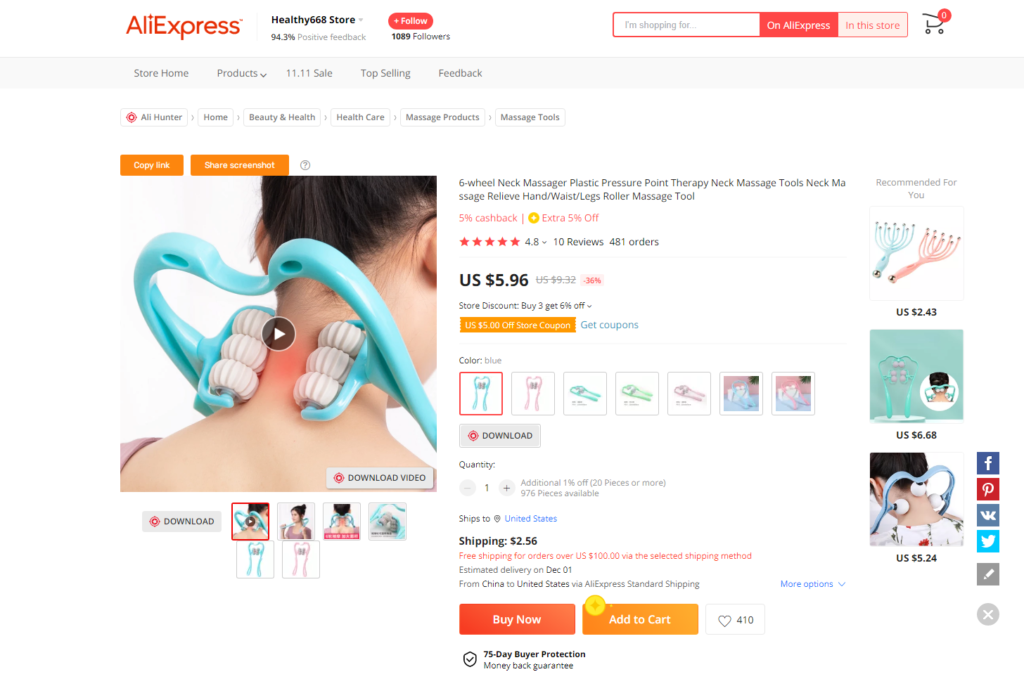 Customization
If you want to sell the neck massager with your own branded logos, make sure you contact a reliable factory that is able to handle orders with large product quantities. Because only factories with long-term working experiences can handle large orders while ensuring product quality and manufacturing time.
Besides, after consulting the suppliers from CJdropshipping, we confirmed that they are able to handle various customization requests including logo printing or packaging designing. If you want to brand the neck massager product customization, the MOQ is 3000 for bulk orders.
This quantity is not a big number in the manufacturing industry but it can be a tough number for many dropshippers. So we do not recommend dropshipping beginners request customization in the first place. But if you are an experienced dropshippers with enough budget and stable sales, selling branded products is a great way to boost your sales.
Certification
Consulting with the supplier of neck massager from CJdropshipping, we confirmed that this product has all the essential certifications. So it is completely legal and safe to ship this product internationally.
Besides, if you want to show these certifications to your customers to prove the quality of your products, you can contact the suppliers through CJdropshipping. CJ agents also provide translation services to facilitate communication between you and your suppliers.
If you want further information about the neck roller massager, feel free to contact our email box or CJ online chatroom to get more details about the latest trending products!