Recently, this convenient phone screen cleaner has been trendy among dropshippers. Many stores listed this product and set up marketing plans for it. Meanwhile, there are also many Instagram and Facebook posts promoting this product.
So it's obvious that this product is quite trendy recently. But is this phone screen cleaner really a profitable product for dropshipping? Let's find out.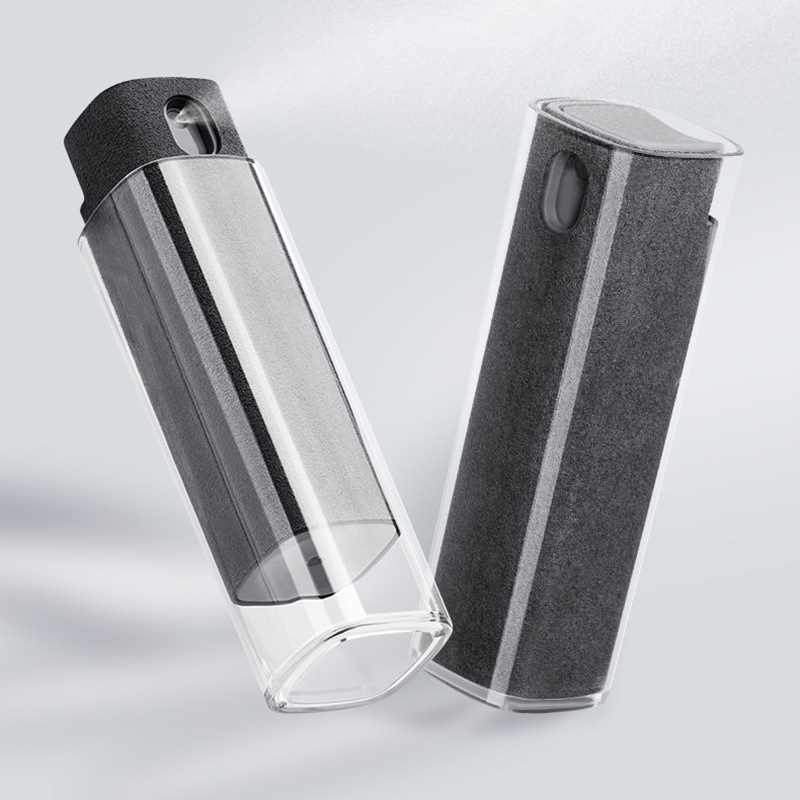 Selling Potential
Market Trend
Google trends show the searches for "screen cleaner" is stable and steadily increasing recently. Most searches are generated in Australia, the United Kingdom, New Zealand, and the United States. So this phone screen cleaner still got great potential in these market regions.
If you search for the term "screen cleaner" on Instagram, you will find plenty of posts promoting the same item. Most of the posts are just published recently in the middle of August, so it's still not too late to catch up with the trend by now.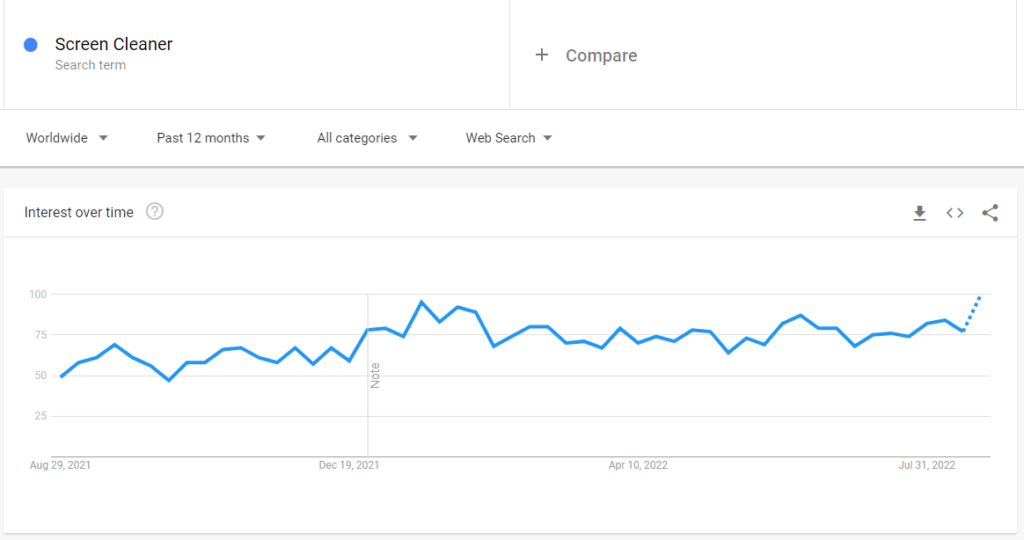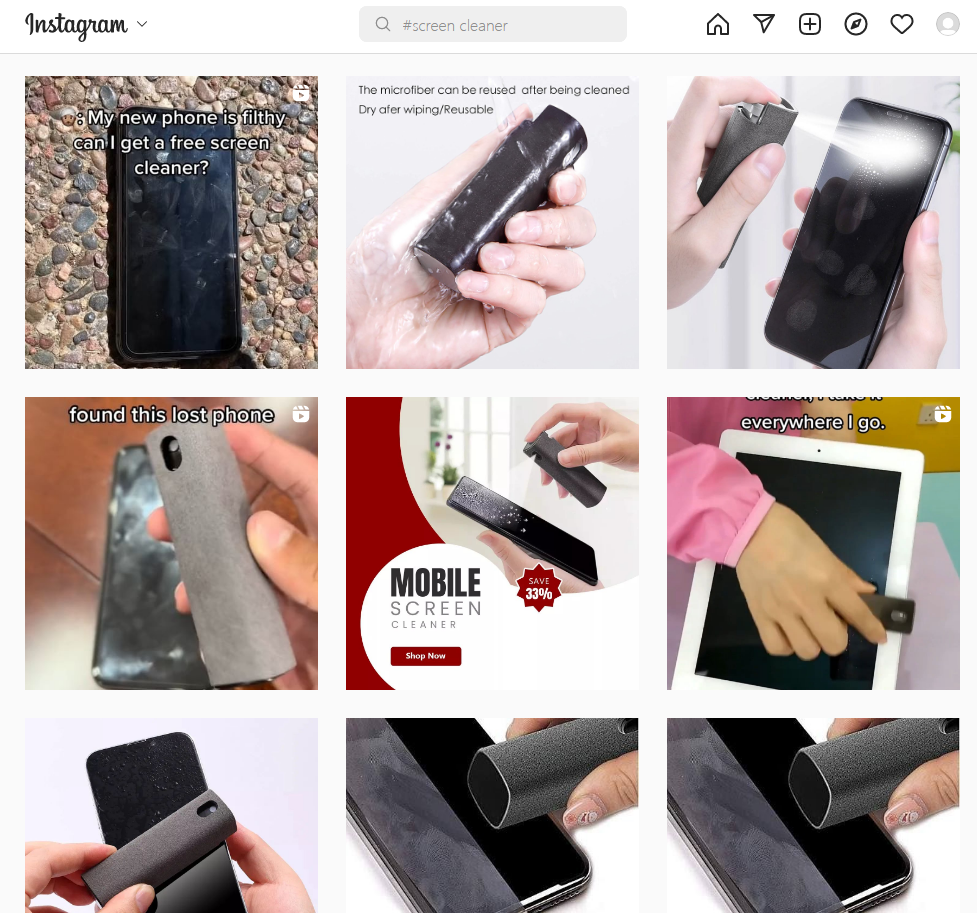 Product Feature
Multiple Functions: The product can be used on cellphones, tablets, PCs, notebooks, televisions, and any other electronic devices. It not only works as a container of cleaning liquid but also as a soft wiping cloth.
Great Cleaning Ability: The screen cleaner cleans without leaving streaks, residue, lint, or static electricity. After wiping, the product will be clean as new.
Eco-friendly Material: The product is made of microfiber cloth and eco-friendly cleaning liquid. It doesn't contain alcohol, ammonia, or any odor. Also, it's completely non-toxic to the human body and it will not do harm to the screen.
Rating
On Amazon, the average global rating for the phone screen cleaner is around 4.5. Most customers left positive reviews and think this product is worth buying. Yet, there are also some negative comments about this product.
Some comments say the product is too small for cleaning larger screens, and it is not easy to use. Furthermore, some customers complain that this product doesn't have a protective shell or case, so it can easily get dirty.
If you want to sell this in your store, you will need to consider how to deal with those possible negative comments carefully. Besides, if you want to provide more options for your customers, you can list both the shell variant and non-shell variant in your online store.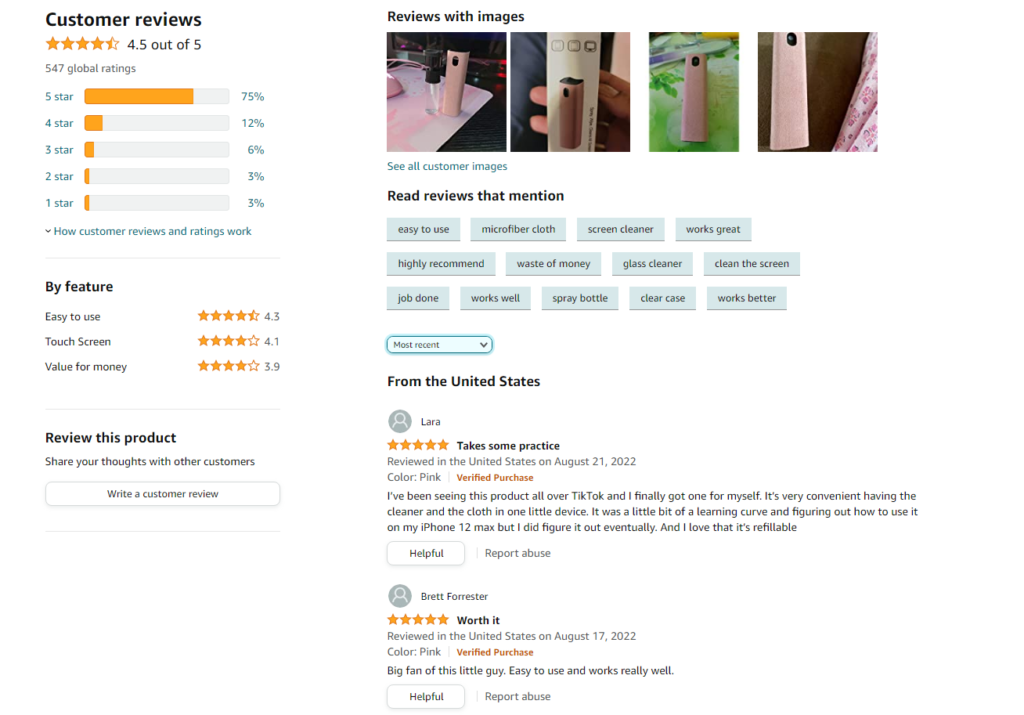 Pricing
The average price of phone screen cleaner on the market has a wide variation. Big platforms such as Amazon price this product around $14 – $15, and some AliExpress seller even gives a $0.01 price for the first order.
Most individual online stores sell this product from $14 – $30, it shows most dropshippers price the same product differently. So for now this product does not have a determined best price, you can choose your own best price for this product when selling it.
For dropshipping beginners, it is recommended to set up a selling price that is 2-3 times higher than the dropshipping cost. This is an ideal price range for most dropshippers to ensure good profit from each order.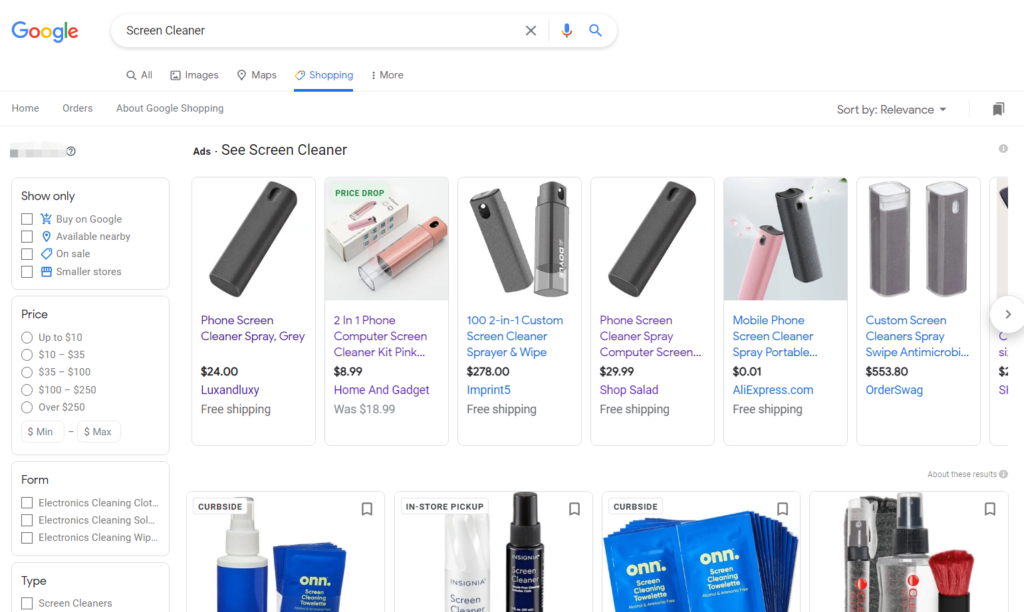 Product Review Video
On Youtube and Tiktok, there are also some good product review videos about the phone screen cleaner. If you search the term "screen cleaner", you will find them.
For example, this video from the Youtube channel of Unbox Everything PH showed all the interesting details of this product, it also direct the customers to purchase the product in another online store. For that store, this video is great marketing content.
If you want to sell this product, you can choose to create your own unique images or video ads contents with the photography service CJ provides.
Dropshipping Costs & MOQ
Shipping Rates
Shipping a phone screen cleaner usually won't take much shipping fee. Thanks to the compact size and lightweight, shipping this product usually only takes $5 or less.
However, there is still one problem with this product. Because the phone screen cleaner contains cleaning liquid, so shipping company will only ship it with international liquid shipping methods. These shipping methods usually are really slow, and sometimes customers need to wait more than one month to receive the parcel.
Such a long shipping time is not good for building a good brand, so dropshippers need to pay extra attention to the shipping time when choosing the right shipping company.
Overall, the phone screen cleaner is an ideal product for dropshipping and anyone can get a high profit from selling it. But since it contains liquid, the shipping time of this product can be longer than other regular products.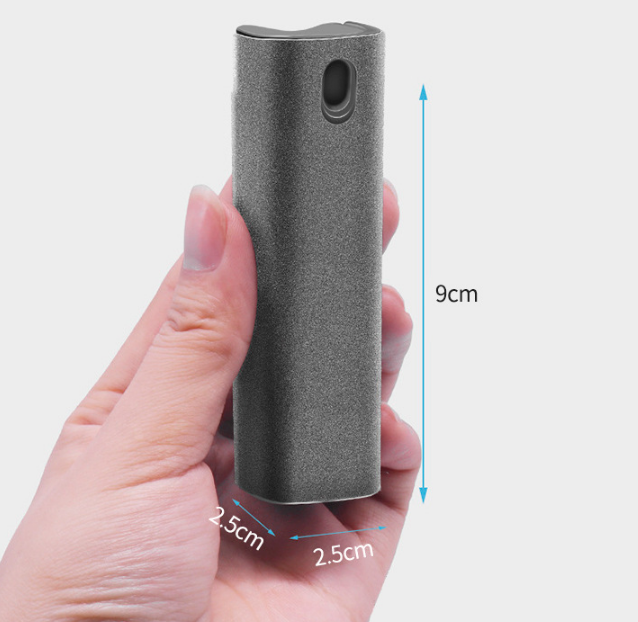 CJ Dropshipping
Total Dropshipping Cost: $5.25
Processing time: 3-5 days
Shipping time: 18-35 days
Shipping method: USPS
The phone screen cleaner is priced at $0.78 on CJ Dropshipping, the choice of extra plastic shells is also available. Normally, shipping a screen cleaner to the US needs $5.25 in total by using CJPacket Liquid US.
But among all the available shipping methods CJ provides, we recommend USPS for shipping this product. Because USPS can deliver the product to customers within 8-16 days, the $5.62 dropshipping shipping cost is relatively cheap as well.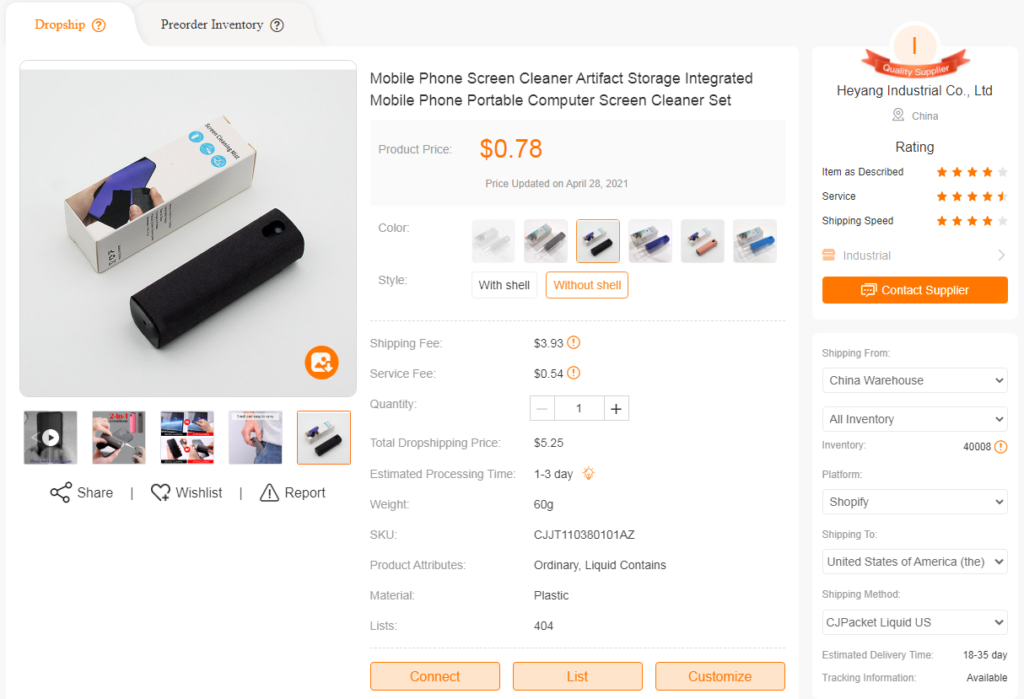 AliExpress
Total Dropshipping Cost: $5.49
Processing time: 1-5 days
Shipping time: 22 days
Shipping method: Cainiao Standard For Special Goods
The phone screen cleaner is priced at $1.98 on Aliexpress. If you want to sell the product with the plastic shell, you only need to add an extra $0.39 for each item.
Considering the shipping price, the total dropshipping cost for a screen cleaner is $5.49. This is a fair price for a product containing liquid.
However, the shipping time is too long for a dropshipping product. The recommended shipping method is Cainiao standard for special goods. It takes about almost 2 months to deliver the product to the customer. Nowadays, not many customers will wait for a product that may almost take 2 months to get delivered.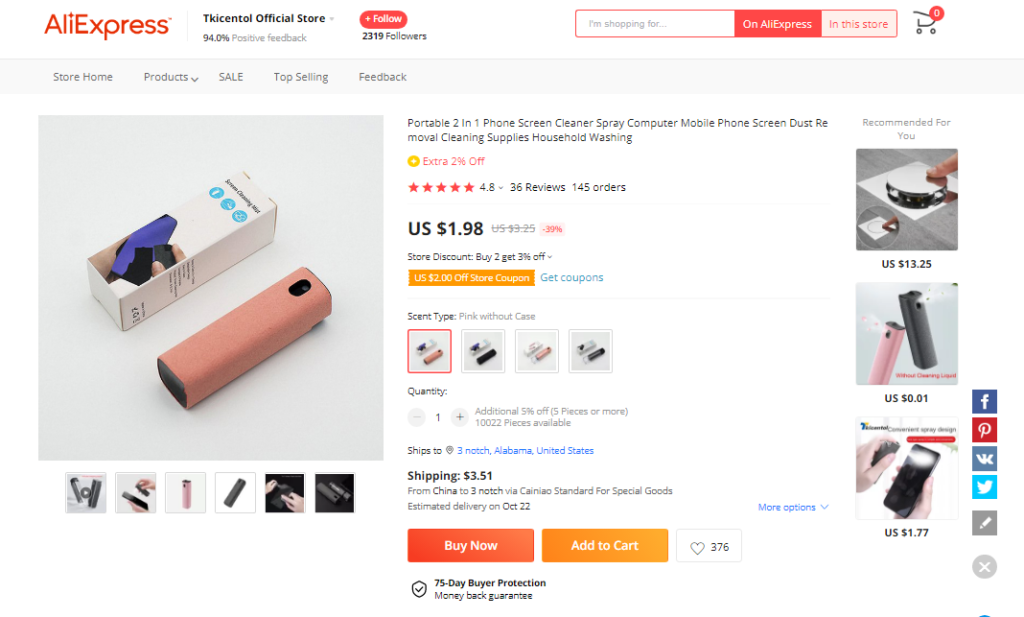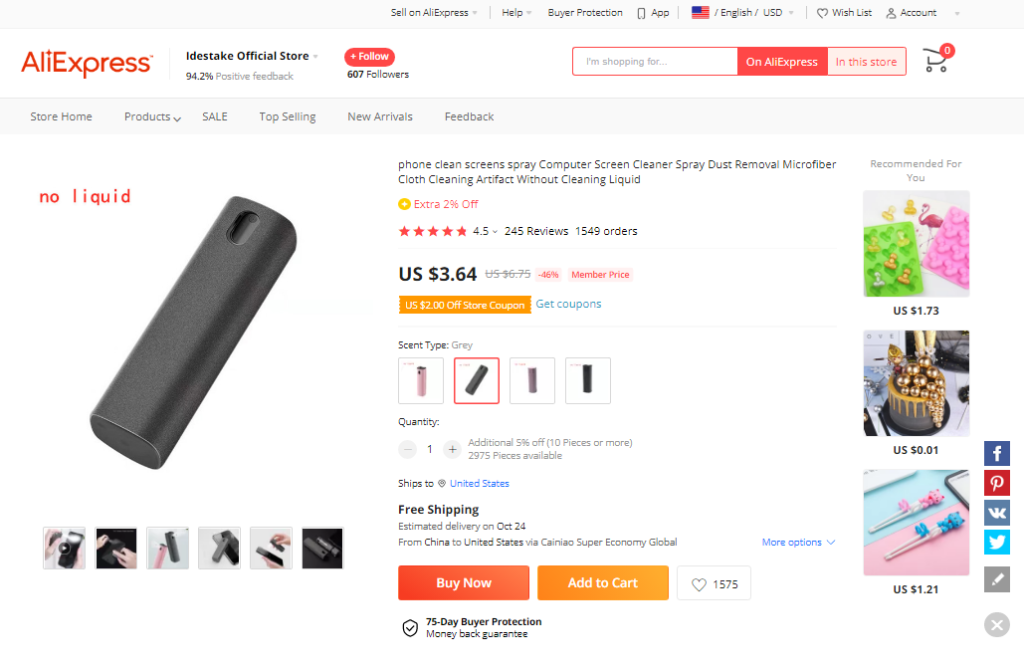 Comparison
On both platforms, the dropshipping shipping price of the screen cleaner is fair and close. But the difference can be significant for wholesalers and bulk orders. So if you want to sell this product as a winning product for your online store, then CJ Dropshipping will be a better choice as it got a better price.
Secondly, the shipping time of CJ Dropshipping is also way faster than Aliexpress when shipping this product. Generally speaking, it is understandable that suppliers need a long time to ship this product. Because for products containing liquids, shipping options are always limited and restricted. Usually, shipping companies can only provide a special shipping line with a relatively long shipping time to ship these products.
However, customers will not understand the difficulties of business. Nowadays if an order takes too much time to deliver, the customer would rather cancel the order and ask for a refund. So choosing a shipping line that takes almost 2 months for delivery is not good for dropshipping business.
On the other hand, if you want to have a faster shipping method for your customers, you can also choose the CJ USPS shipping line. This shipping method provides 8-16 days of fast shipping to deliver the product, and it doesn't require much shipping fee as well.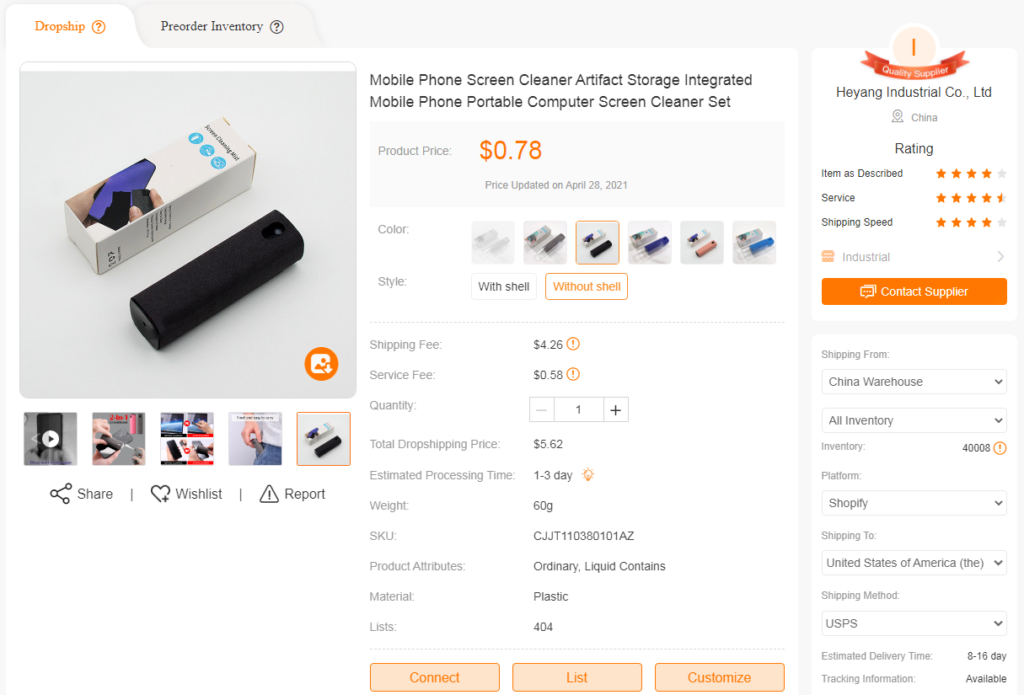 Customization
For many dropshippers, whether a product is customizable is really important. Because branded logos or customized packaging will add more value to the product, so then dropshippers can sell it at a higher price.
After confirming with the supplier, we determined that the phone screen cleaner is a customizable product. However, customization isn't a free option. Most dropshipping products require a MOQ (minimum order quantity) to customize.
If you want to print your own logo on the phone screen cleaner, then the MOQ will be 100. It means you need to order 100 pieces of phone screen cleaner to start customization. Besides, based on the complexity of your logo, each supplier will also charge a printing fee for it.
Thus, if you want to brand the product by adding a logo to it, you will need to prepare enough budget and marketing plan in advance.
Still, this doesn't mean you can't make your own brand as a dropshipper beginner. Dropshipping beginners can choose the custom packaging service of CJ Dropshipping. With customized packaging, you can sell branded products with a relatively low MOQ.