When it comes to toys, few things offer as much sheer excitement and joy as a rocket launcher toy. For generations, children of all ages have been fascinated by the thrill and adventure of playing with rockets, blasting off into imaginary worlds and exploring the universe beyond. And with advances in modern technology, today's rocket launcher toys are more advanced and realistic than ever before.
So what is it about rocket launcher toys that make them such a perennial favorite among kids and adults alike? For starters, they offer the chance to channel our imagination and creativity, allowing us to dream up all sorts of incredible missions and adventures. Whether we're blasting off into space to explore distant planets or defending our fort against invading aliens, the possibilities with a rocket launcher toy are truly endless.
In fact, this article aims to share detailed information about this product for dropshippers. With this article, business owners can figure out if it is a lucrative product to sell. So, let's get started now.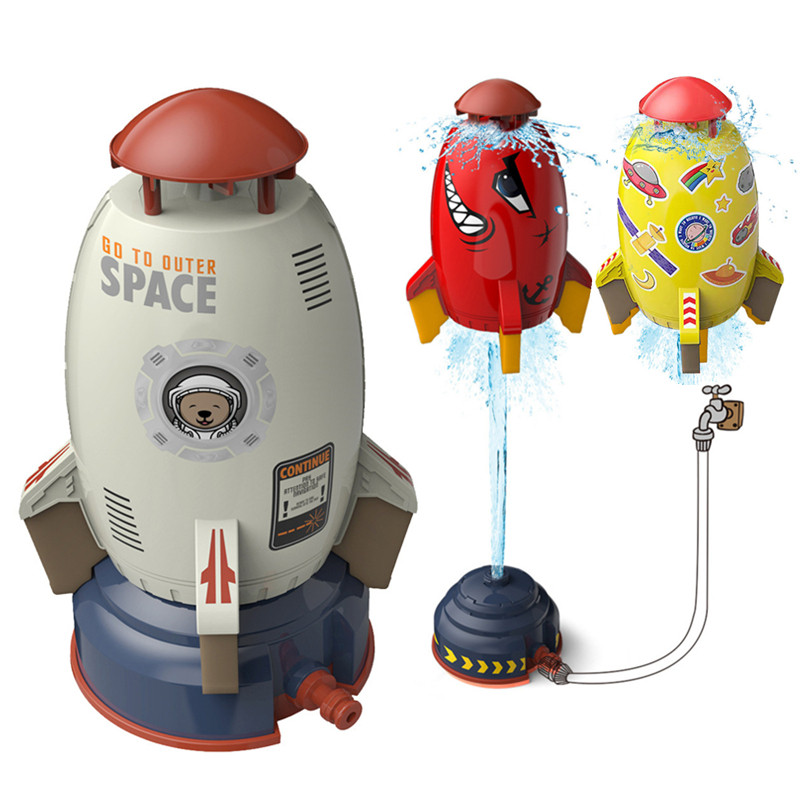 Selling Potential of Rocket Launcher Toy
Market Trend
According to Google Trends, the search trend for rocket launcher toys has been flat in the past several months but shows an upright trend recently as summer is just around the corner.
Firstly, they are a classic toy that have been popular for generations, making them a familiar and nostalgic item that many parents and grandparents may remember playing with. This nostalgic appeal can help to draw in customers and generate interest, especially if they have fond memories of playing with similar toys when they were younger.
Additionally, rocket launcher toys tap into children's natural fascination with space, rockets, and exploration, making them exciting and aspirational toy that children will want to play with.
Furthermore, rocket launcher toys offer a range of educational benefits, such as teaching children about science and physics in a hands-on and engaging way. This appeal to education can also attract parents and educators who are looking for toys that promote learning and development, making it a popular choice for both home and school use.
Lastly, rocket launcher toys come in a range of different styles and sizes, making them suitable for a wide range of ages and interests. You can find smaller, simpler rocket launchers for younger children, and larger, more complex sets for older children and adults who are serious about rocket launching.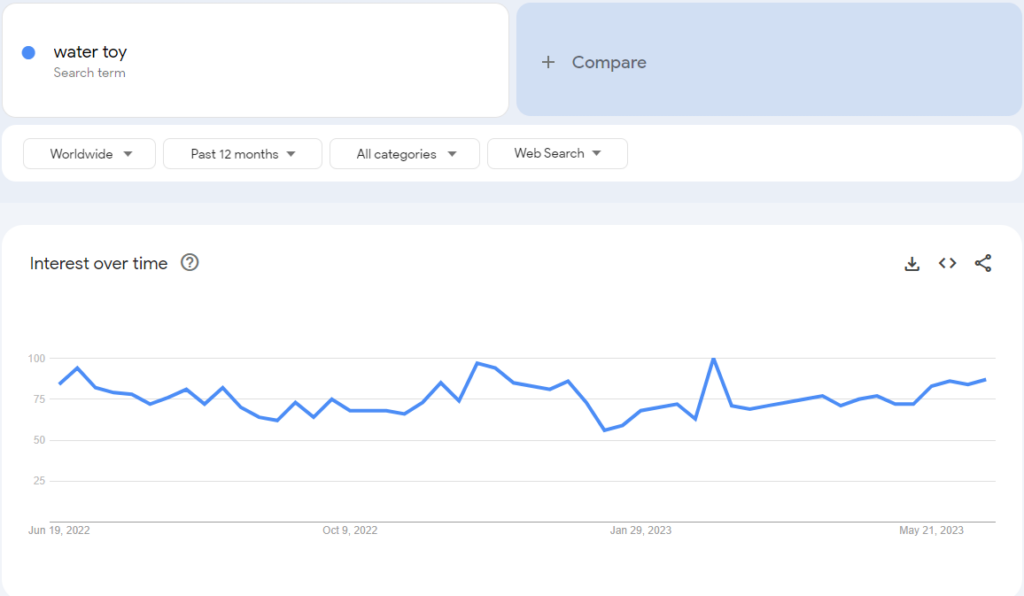 Product Features of Rocket Launcher Toy
The spray height will vary according to the water pressure and the spray height is about 1.6-1.8m.
Comfortable and smooth touching feel, takes care of children's hands.
High-quality and non-toxic ABS material, thickened and resistant to falling.
Easy to use, Connect the water pipe to the connector, insert the connector into the transmitter base, last, put the rocket on the base and turn on the faucet.
Enjoy hours of outdoor play with the rocket launcher toys for kids! It is a good outdoor toy for children, and can also learn about gravity and balance.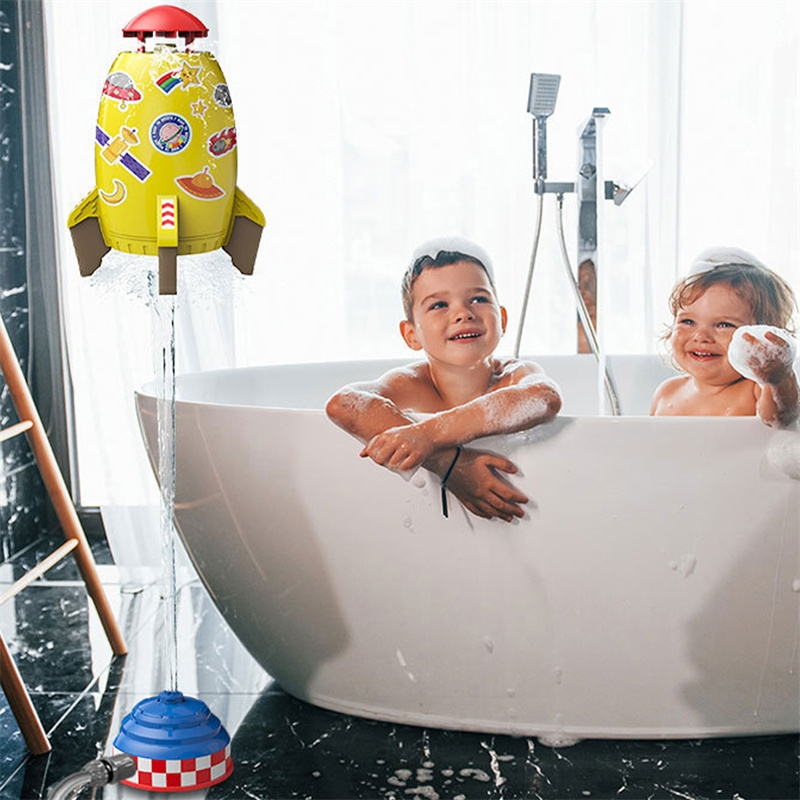 Rating
The overall rating of Rocket Launcher Toy is next to perfect in major dropshiping platforms. For instance, on AliExpress, it has an approved rating of 4.8 out of 5.
One thing you should pay attention to when it comes to dropshipping is packing. Undoubtedly, packing and shipping play two critical roles in international transportation. Definitely, a damaged package can negatively affect your business. Luckily, we have confirmed that CJ can provide quality inspection service, which means all products in CJ will undergo a round of quality inspection before dispatch, thereby vastly reducing the risk of damage. It could be a reliable source for dropshipping businesses.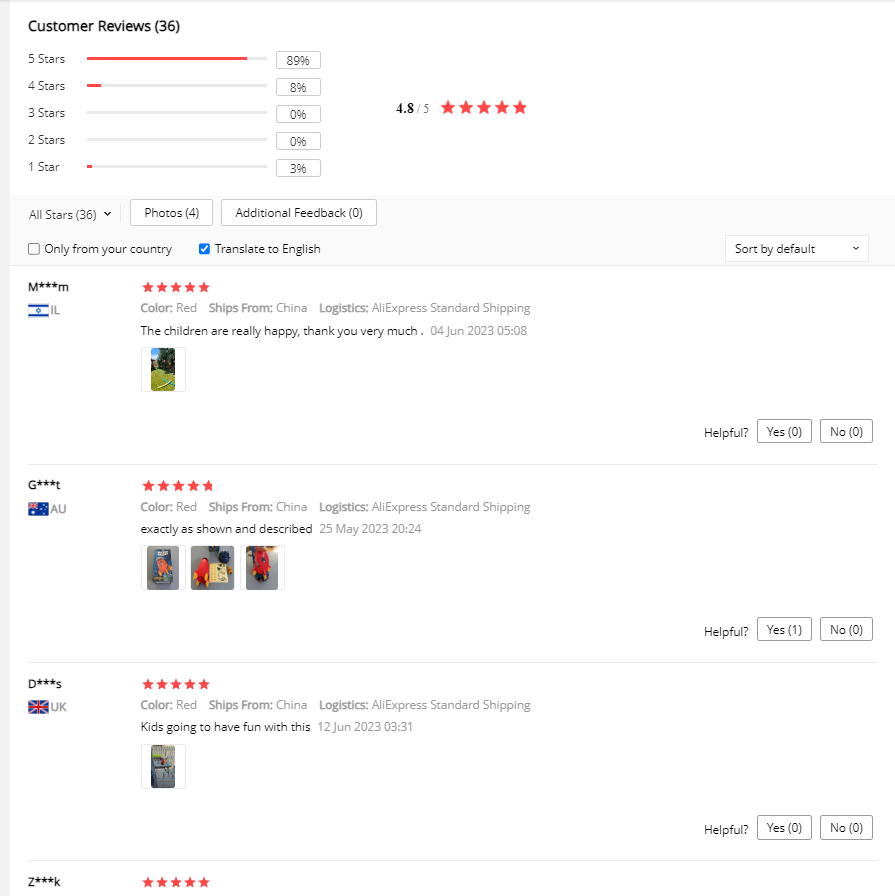 Pricing
The market price of one Rocket Launcher Toy is around $35, while the one we recommend stands at $20.88, leaving you a tremendous profit range.
In case you are puzzled as to price-setting, we suggest that you may make it in conformity with your total dropshipping cost. Generally speaking, the selling price should be two to three times the cost. For example, if your cost is $20.88, then $35-$40 is fair.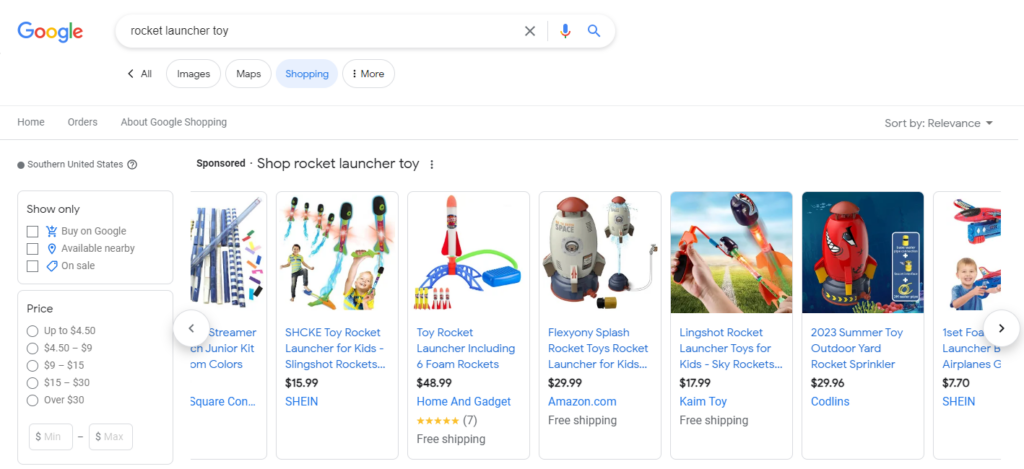 Dropshipping Costs of Rocket Launcher Toy
Shipping Rates
The toy industry is a competitive market, but it also has a lot of potential for sales as toys are a popular gift item for children. However, it is important to note that the popularity and profitability of specific toys can vary depending on trends and market demand. This means that if you choose to dropship rocket launcher toys, you may need to stay up-to-date on industry trends and consumer preferences to stay competitive.
So how much does the rocket launcher toy exactly cost? For your reference, you may compare the dropshipping cost from the following two major platforms so as to pick a trustworthy supplier if you want to sell this product.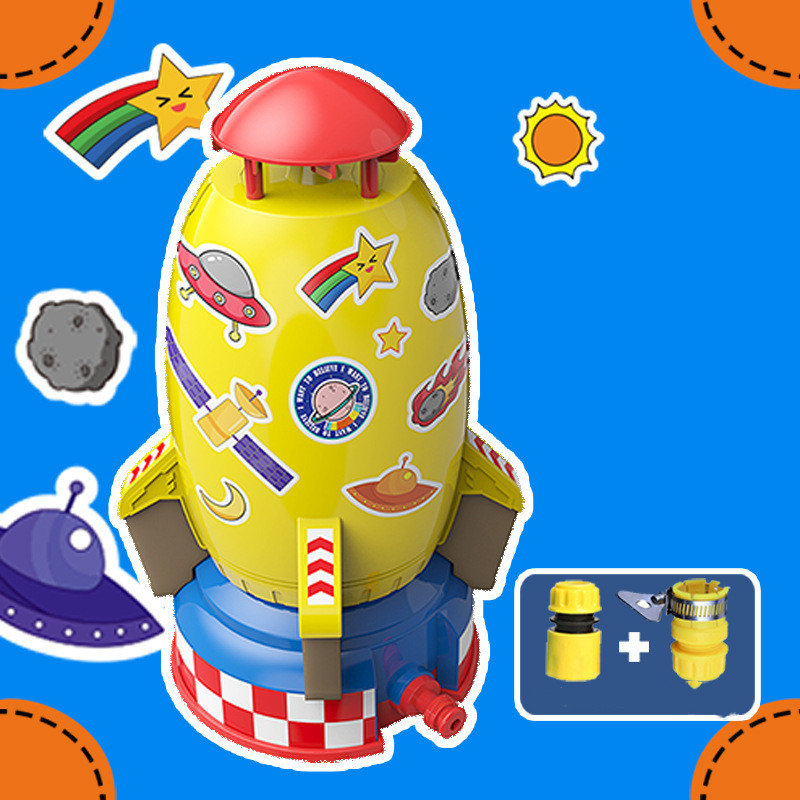 CJ Dropshipping
Total Dropshipping Cost: $20.88
Processing time: 1-3 days
Shipping time: 7-15 days
Shipping method: CJPacket Ordinary
On CJdropshipping, the total dropshipping price of the Rocket Launcher Toy is $20.88 The price includes $6.06 for the product and $13.04 for the shipping plus $1.78 for the service.
If you want to sell it in the US, the most cost-effective shipping method is CJPacket Ordinary, which provides 7-15 days of shipping time.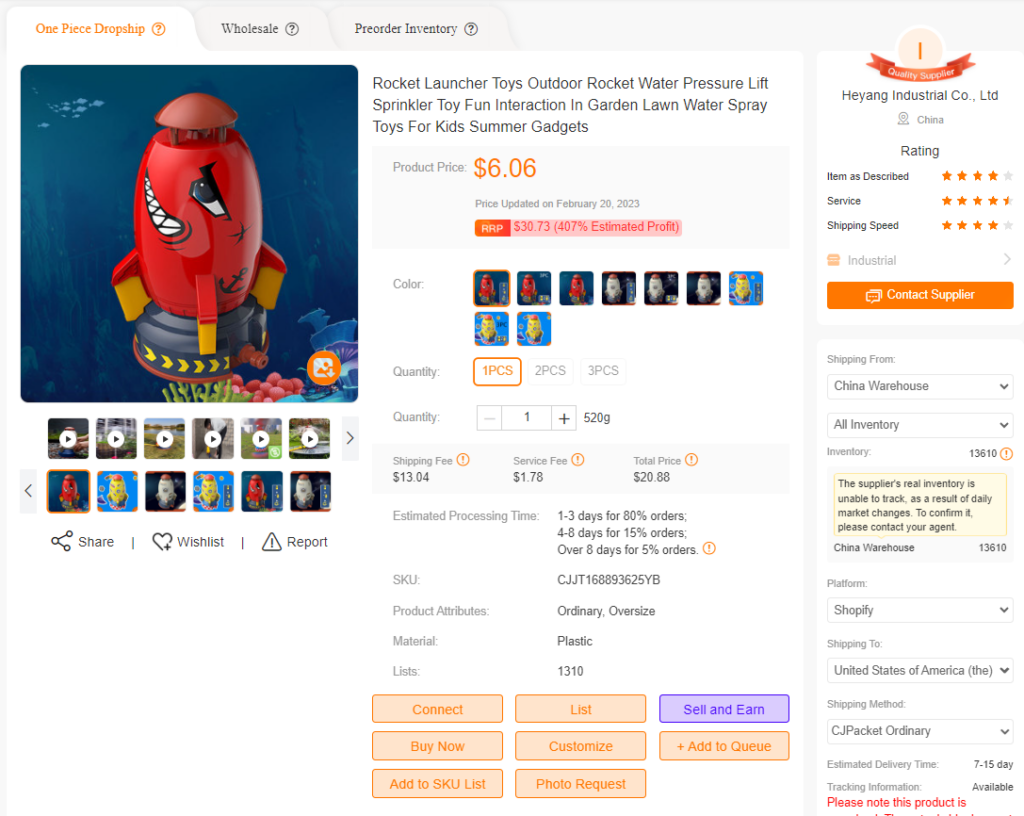 AliExpress
On AliExpress, the price of shipping the Rocket Launcher Toy to the US is $20.08, including a shipping cost of $15.24.
Total Dropshipping Cost: $20.08
Processing time: 1-5 days
Shipping time: 25 days
Shipping method: AliExpress Standard Shipping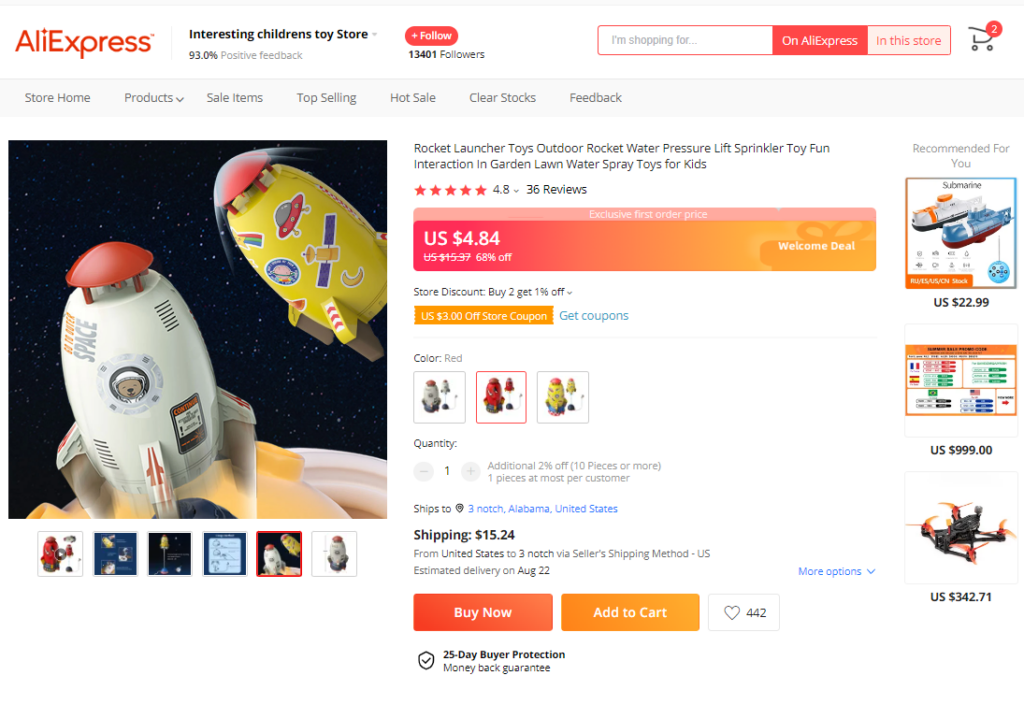 Comparison
We can see that AliExpress has an edge over CJ when it comes to pricing, with a price difference of $0.6, one that is not too narrow to take into consideration when it comes to supplier-selecting.
Moreover, when it comes to shipping, the latter has a significant advantage over the former. Shipping time is doubtless a critical point many dropshippers fret about in the dropshipping business. A shipping time of 25 days is unimaginable for many. Therefore, when choosing a supplier, this factor should be paid special attention to.
If you think a shipping time of 7-15 days is also comparatively long, CJ also offers a global warehouse delivery service. For instance, you may buy inventory on CJ to have them stocked at such warehouses as in the US, so that the shipping time can be curtailed to only 2-6 days, almost identical to the speed of domestic logistics.
Customization
For experienced dropshippers who want to scale up their business, branding is a good option to increase revenues. Common methods of branding include logo printing, packaging designing, and product customization. Some people also choose to put stickers with logos on the products or outside packages for the purpose of budget saving.
However, no matter which method you want to choose, branding always requires a minimum order quantity. This means if you want to print logos or customize packaging for the product, you will have to purchase it in large quantities to get started. For example, if you are using CJdropshipping as a supplier, you can request the suppliers to provide logo printing services. If you are interested, you may turn to CJ agents to ask for the MOQ.
This MOQ is not too much considering its unit price in the manufacturing industry but it can still be difficult for many dropshippers. So we do not recommend dropshipping beginners request customization in the first place. But if you are an experienced dropshippers with enough budget and stable sales, selling branded products is a great way to boost your sales.