The influence of Roe v. Wade overturn on the Market
On June 24, 2022, the Supreme Court of the United States overturned the case of Roe v. Wade that established abortion rights. This historical event eliminated the chances for people who seek abortions, leaving many pro-abortion protesters unsatisfied with the result.
Such a political change not only influenced the social trends in the USA, but also brought an impact on dropshipping business. Since a few days ago, many products representing feminist ideals have become popular on the market. People start to wear or use these products to show their support for feminism.
Among these products, there are several trending accessories popped up in public eyes. They are all designed by the iconic collar worn by Ruth Bader Ginsberg on the day she opposed the Supreme Court. Such inspirational design presents a strong feminist symbol for independent women.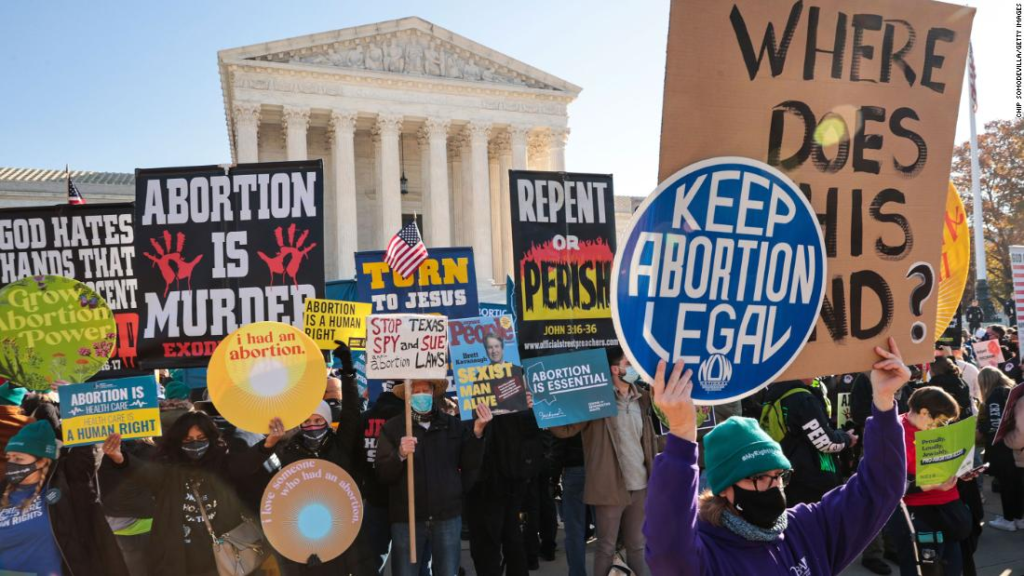 Who is RBG?
Joan Ruth Bader Ginsburg, also known as RBG, was an American jurist who worked as an associate justice of the US Supreme Court. From 1993 to 2020, she devoted her life to improving justice and equality in the US.
As the first Jewish female who works in Supreme Court, her contribution to the development of feminism is significant. When she was in the Supreme Court, she spent much of her career supporting gender equality and women's rights.
Therefore, Ginsburg's path of fighting for equality for every human being inspired many people. People who admire or respect her would quote "I dissent". Because this phrase is her most famous saying in court arguments.
Furthermore, creative designers came up with the idea of making the collar that RBG usually wears on the court into stylish products. These products will show the idealism of feminism. Many unique jewelry products were manufactured as a memorial to this incredible woman who has achieved significant contributions.
In the following sections, we will introduce some of the most popular products from verified a supplier.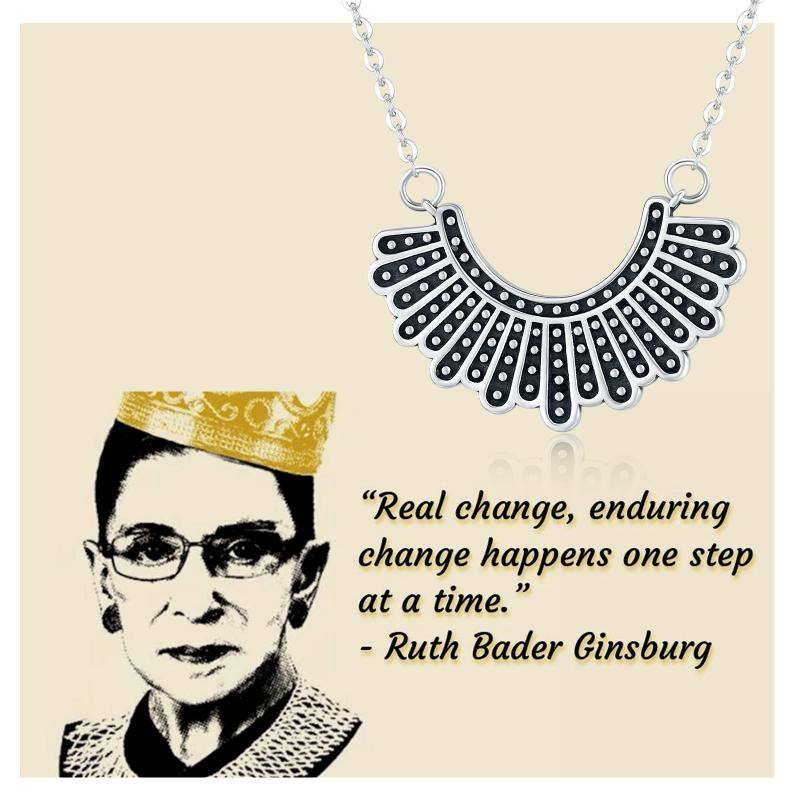 Trending RBG Accessories
Sterling Silver Ruth Bader Ginsburg Pendant
The first product is this sterling silver RBG pendant. This product is a perfect example of a symbol of the RBG collar.
Besides, the product packaging comes with an elegant jewelry box and gift bag. Which makes it a great gift for people who want to send it to their female friends or families.
Dropshipping Cost: $18.99
Shipping Time: 5-8 days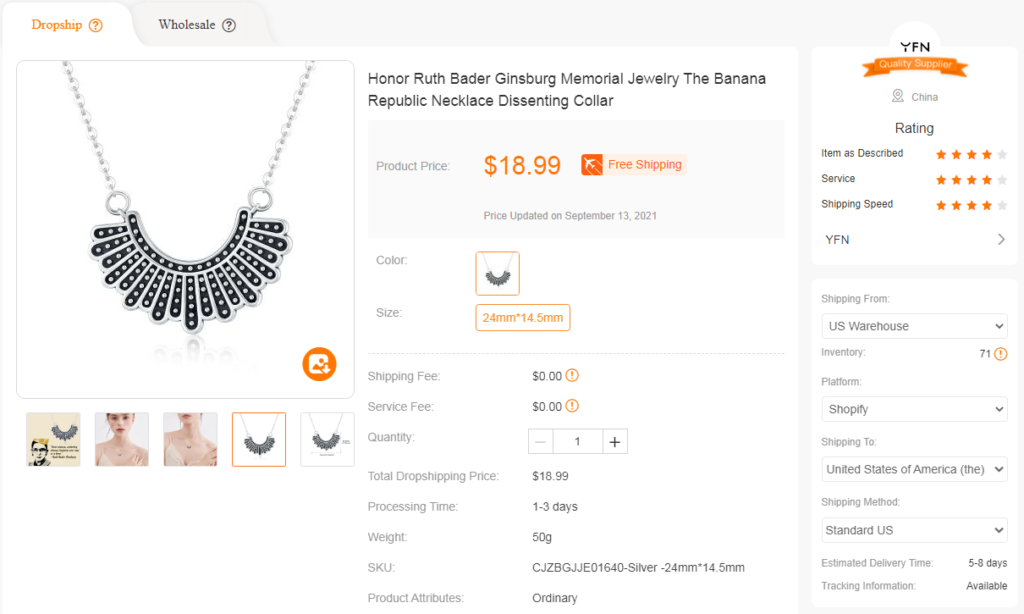 Sterling Silver Drop/Stud RBG Earrings
The second product is a set of sterling Drop/Stud silver RBG Earrings. It includes maintenance instructions in the package to help customers maintain the earring with the correct method. So customers can use it to keep the product shining as always.
In addition, the elegant drop design of this earring makes it a perfect accessory for attending parties, customers may buy this product for themselves or send it as a unique gift for festivals or anniversaries.
Dropshipping Cost: $19.99
Shipping Time: 5-8 days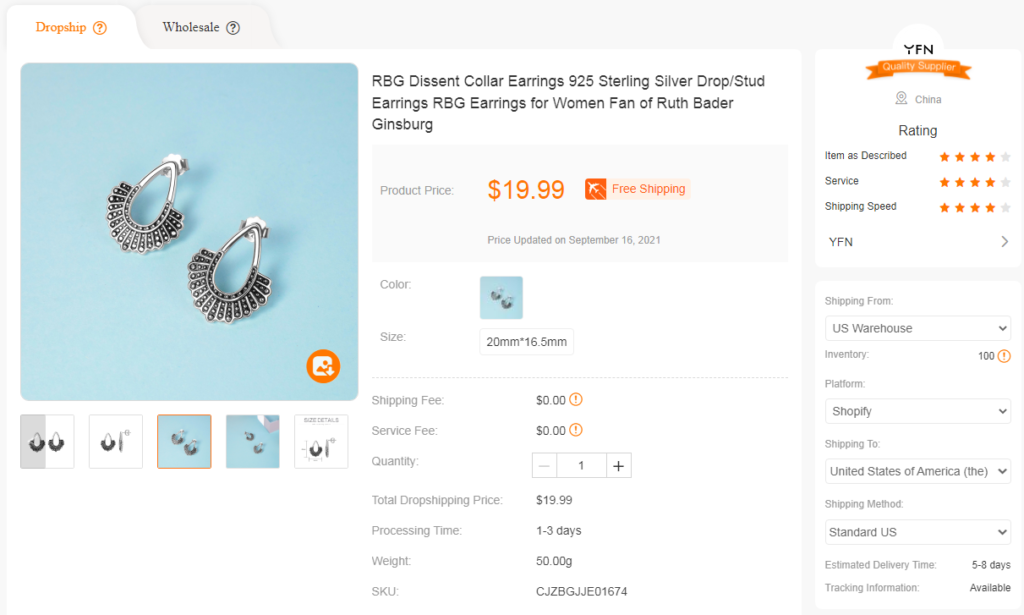 Two-tone RBG Earrings
The following product is Two-tone RBG Earrings. This product is also made of 925 silver, but the alloy used in manufacturing makes it show a glowing golden color. Customers can wear it on any daily life occasion.
Furthermore, because feminism supports equality for all genders, the RBG products are also not only limited to females. The featured design is also suitable for male and LGBT customers to show their personality and pride.
Dropshipping Cost: $15.99
Shipping Time: 5-8 days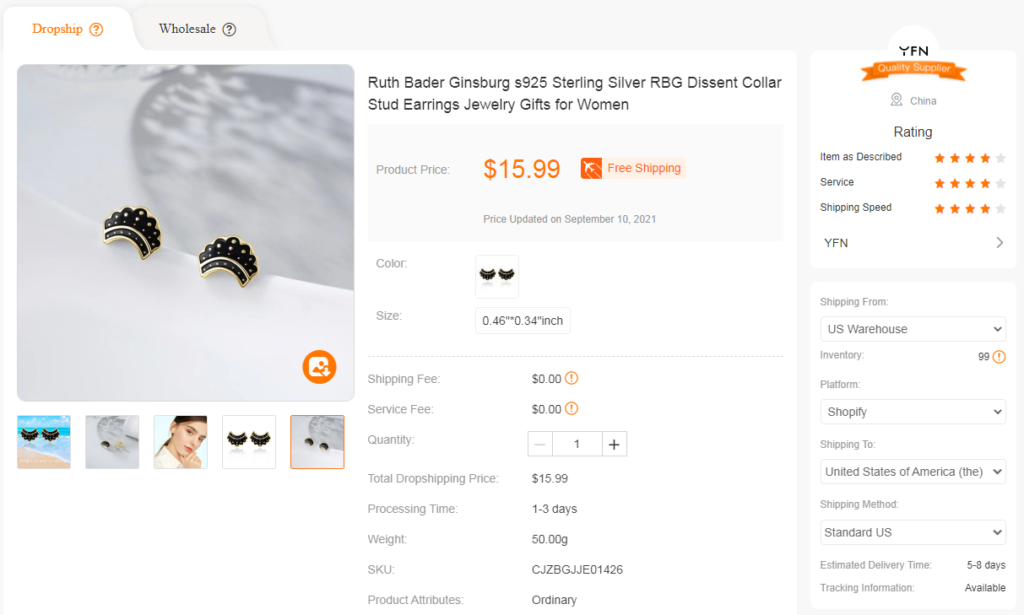 RBG Dissent Brooch Pin
The next trending product is the RBG dissent brooch pin. The featured word "dissent" represent the famous quote from RBG, showing the persistent spirit of the supreme judge.
Also, the engraved word "I Dissent" basically narrated the life of RBG, an incredible woman who has been fighting against prejudice and discrimination as the first female Jewish Supreme Court Judge.
The product is made of zinc alloy and the manufacturing process is totally natural friendly. There are also 3 selectable variants available for people who have different preferences to choose from.
Dropshipping Cost: $4.86
Shipping Time: 8-16 days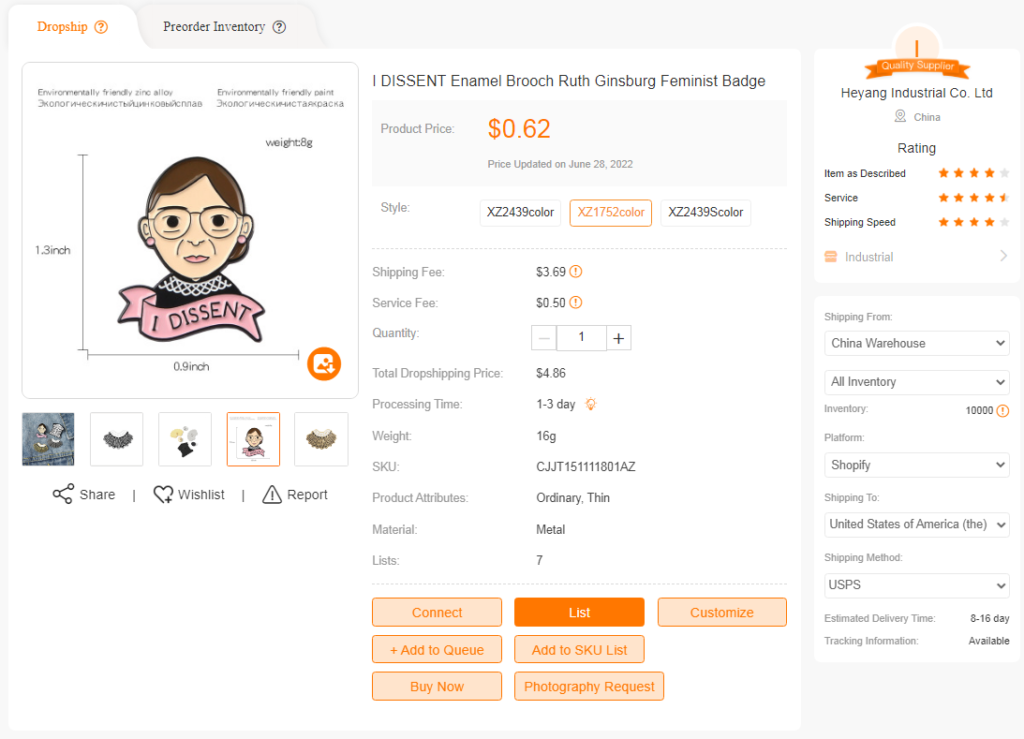 Silver RBG Necklace with Crystal Pendant
The last product is a Silver RBG Necklace with Crystal Pendant. This product is featured with a crystal stone pendant. In memorial of Ruth Bader Ginsberg's great achievement, the pendant was engraved with her name "RBG".
Below the crystal stone, a 925 silver dissent collar attachment was added to show the pure and persistent spirit of the owner.
Dropshipping Cost: $22.99
Shipping Time: 5-8 days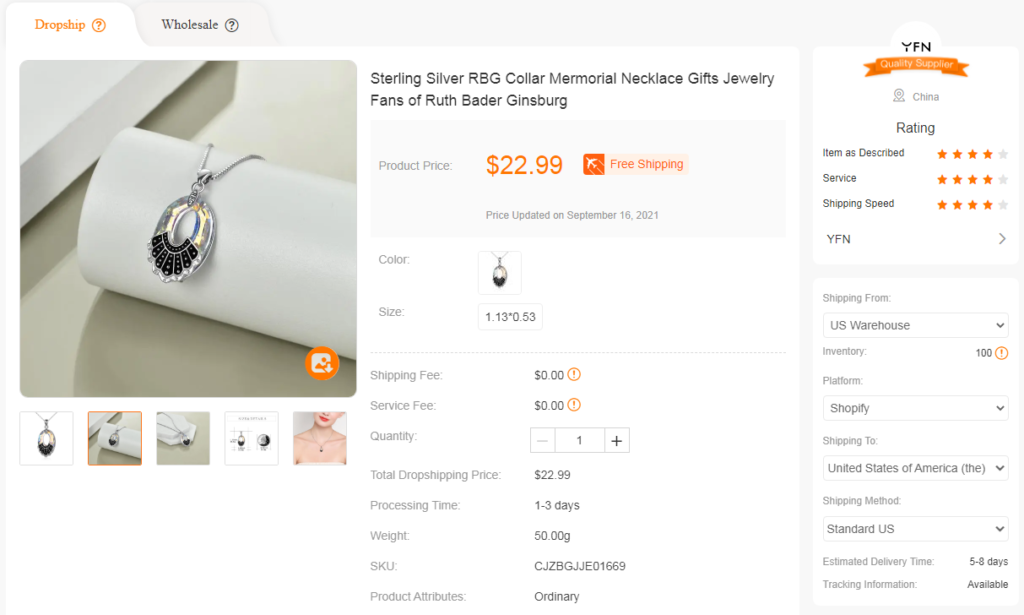 Unique Delicate Packaging
Most of the above products are provided by CJ's verified supplier YFN, a testified supplier who has been working in the jewelry industry for years.
YFN understands that many having unique gifted packaging would help a lot in marketing and advertising for dropshippers. Thus, they will pack every jewelry order with a delicate jewelry box and a gift bag. Then when the customer receives the products, the jewelry can be well-protected and delivered as gifts.
Such a good packaging method is really friendly to dropshipping beginners who have just started their business.