Are you looking for a quick and reliable method to start a dropshipping business with 0 cost? Do you know what is the latest dropshipping method to earn profit? WED2C got all the answers for you.
This article introduces the latest popular dropshipping platform WED2C. If you are a dropshipper or eCommerce learner, this guidance may help you get a better understanding of how to earn money by building an online store. Now, let's get started!
What is WED2C?
Brief Introduction
WED2C is an eCommerce platform that provides dropshipping services for dropshippers to start an online store without any initial cost or experience. On WED2C, you can find any trending product and sell them directly to your customers or fans by sending the product link to them.
Unlike building a Shopify store, you don't need to make a store from scratch when using WED2C. Instead, WED2C will automatically generate a store link for your account. Once your customers ordered the products they want from the store or your shared link, you will receive a profit from every order related to your WED2C account.
In addition, WED2C is originally designed as a cell phone app because most customers nowadays use smartphones for shopping. So it is more user-friendly for people who like to use cell phones to work.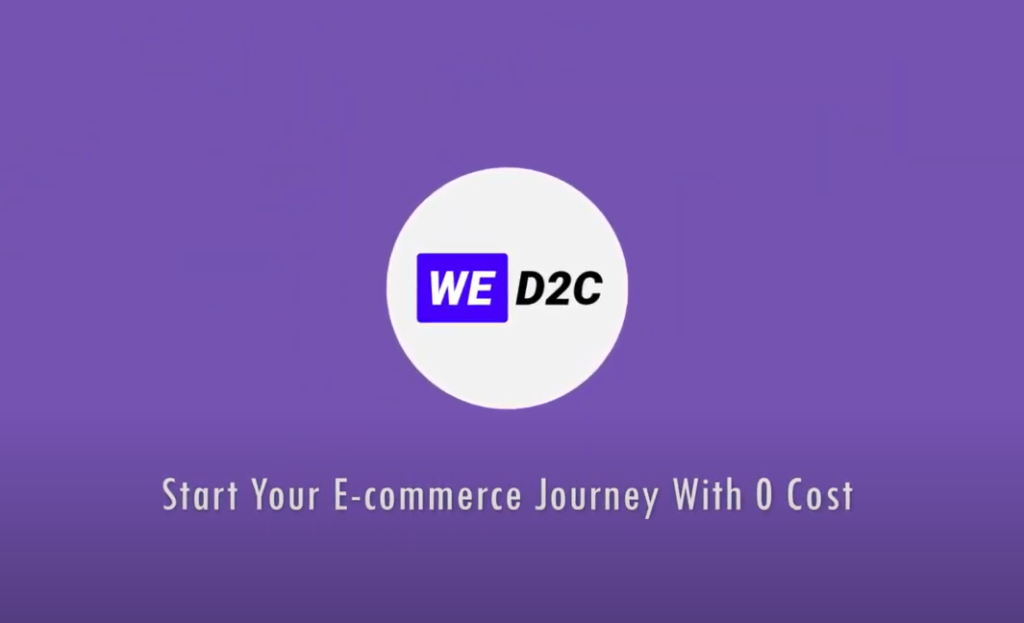 How does it work?
Nowadays, anyone can start an online business with a computer and the internet. No matter whether you are an office worker or self-employed, you can open a store online through various eCommerce platforms and earn some extra income without plenty of budgets.
WED2C is one of these eCommerce platforms that you can use to start a business. It integrates the functions of product supply, shipping, and marketing, and also allows you to open your own store with a simple process.
Once you registered your own store on the platform, you can send any product link from WED2C to your customers. Every time your customers purchase a product through your store URL or product link, you will get a profit after the platform deducted the product price and shipping cost.
Besides, you can also set up the price of the product as you need based on your marketing budget. So you can choose to set the price higher to earn more from each order or set the price lower to attract more customers.
How to use WED2C to start your own dropshipping business?
To use the services of WED2C, you can register a WED2C account to activate your own dropshipping store on WED2C. If you have a CJdropshipping account, you can also use the same account to quickly register on WED2C.
Choose your winning products
The first and most important thing for starting a dropshipping business is to find what product to sell. Therefore, WED2C has a wide collection of trending dropshipping products for dropshippers to choose from. Once you find the products that you wish to sell, you can add these products to your store and set up their prices. Once you decide how much you wish to earn from each product, you can then share the links with your customers to start marketing.
Besides, if you do not know which product is good to sell on the market, you can also go to the store section to get a free store with well-selected product collections. So then you don't have to pick up products one by one on your own.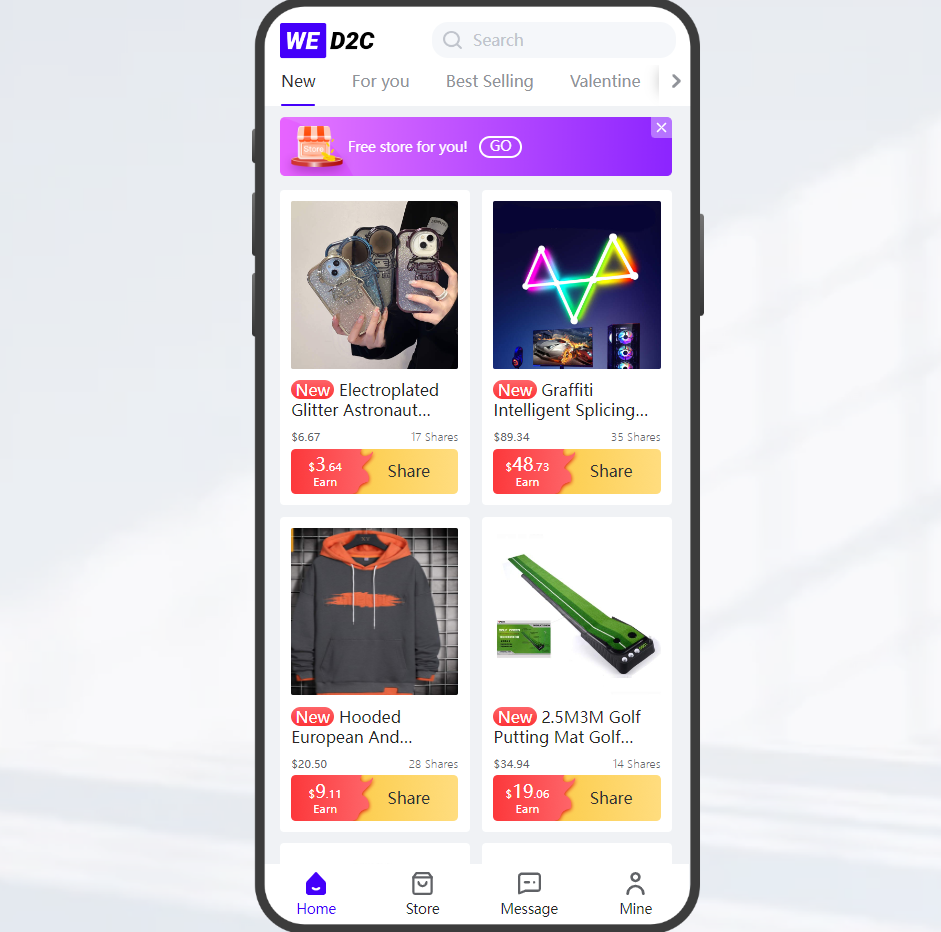 Furthermore, if you want to sell a specific product but WED2C doesn't provide it. You can also try to source the product on CJdropshipping. As one of the leading dropshipping platforms, CJdropshipping offers free professional sourcing service for every user. So if you can't find a particular product on WED2C, you can always post a sourcing request on CJdropshipping to get the same product.
Since CJdropshipping is a business partner of WED2C, some products you find on CJdropshipping also can be directly linked to WED2C. On the CJdropshipping product page of these products, you can click the Sell and Earn button to directly generate a link for your WED2C store. So with this method, you can use the complete CJdropshipping services and convenient WED2C features at the same time.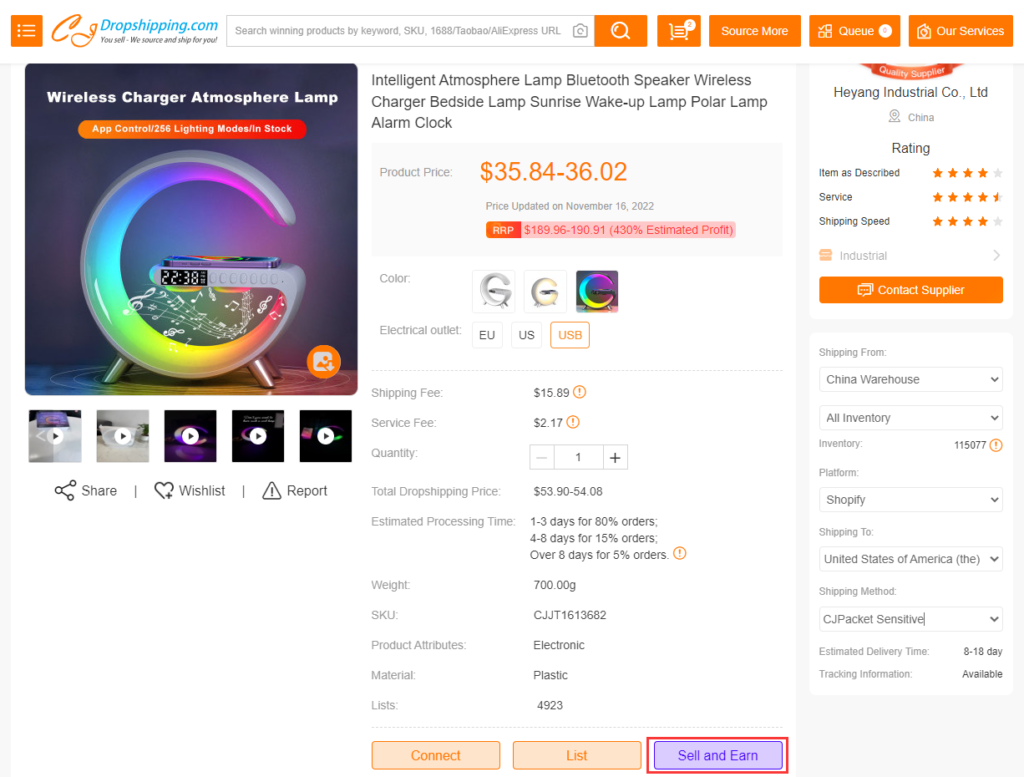 Set up your own store on WED2C
WED2C allows you to pick up and set up your own online store from various store models. Now let's check how to do this.
First, you can pick up a default store model in the store section, then enter your individual URL and your preferred store name on the WED2C app. Therefore, with 1 simple step, your own individual online store is available now!
Next, you can edit the store as you like. For example, you may upload your own store logo and story to let people recognize your brand. If you don't want people to notice that your store is created on WED2C, you can also choose to have a private domain in the settings. After you completed all the basic settings, your online store is ready to open!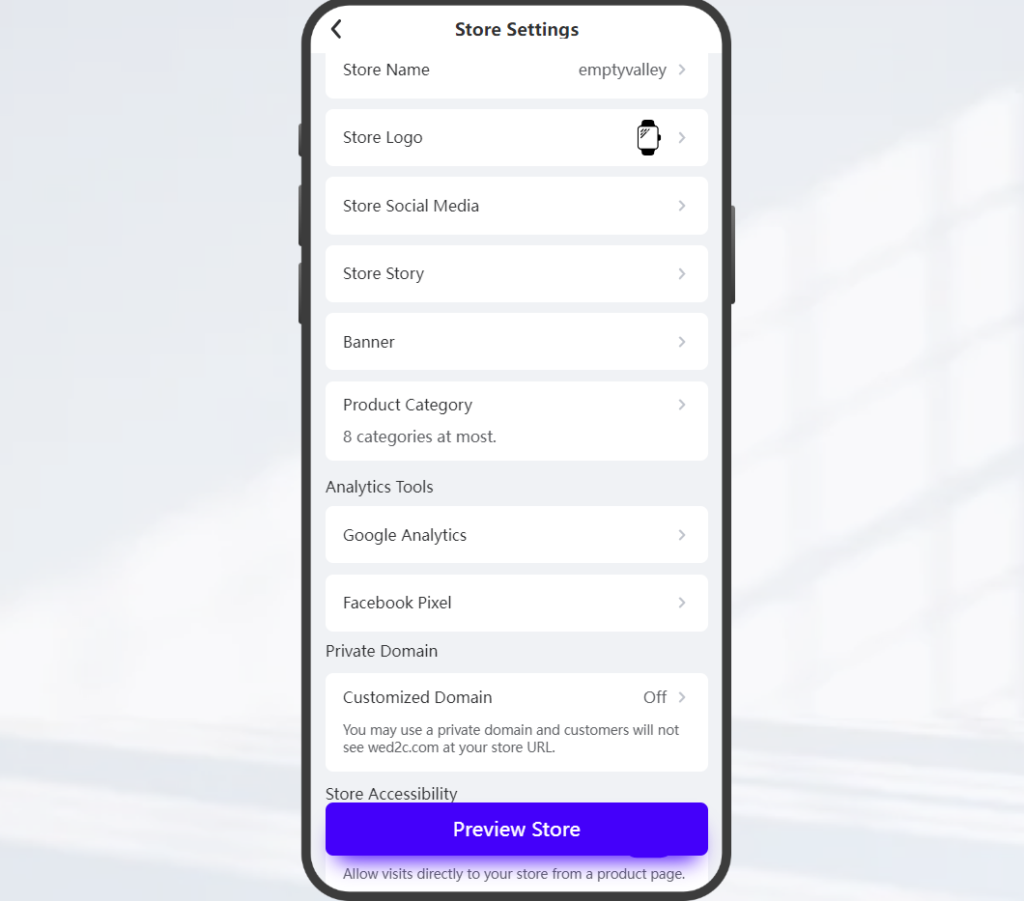 Moreover, you may also want to check the prices of your store products so you can either set them higher or lower. On the storefront page, you will find your product collection, and you are able to edit their price one by one.
Also, although most dropshipping products are cheap they all have manufacturing costs and shipping costs. So do remember these fees will be deducted from customer payment, and you can earn the difference after the deduction. So if you want to earn more profit from each order, you should select the products with higher earnings to sell.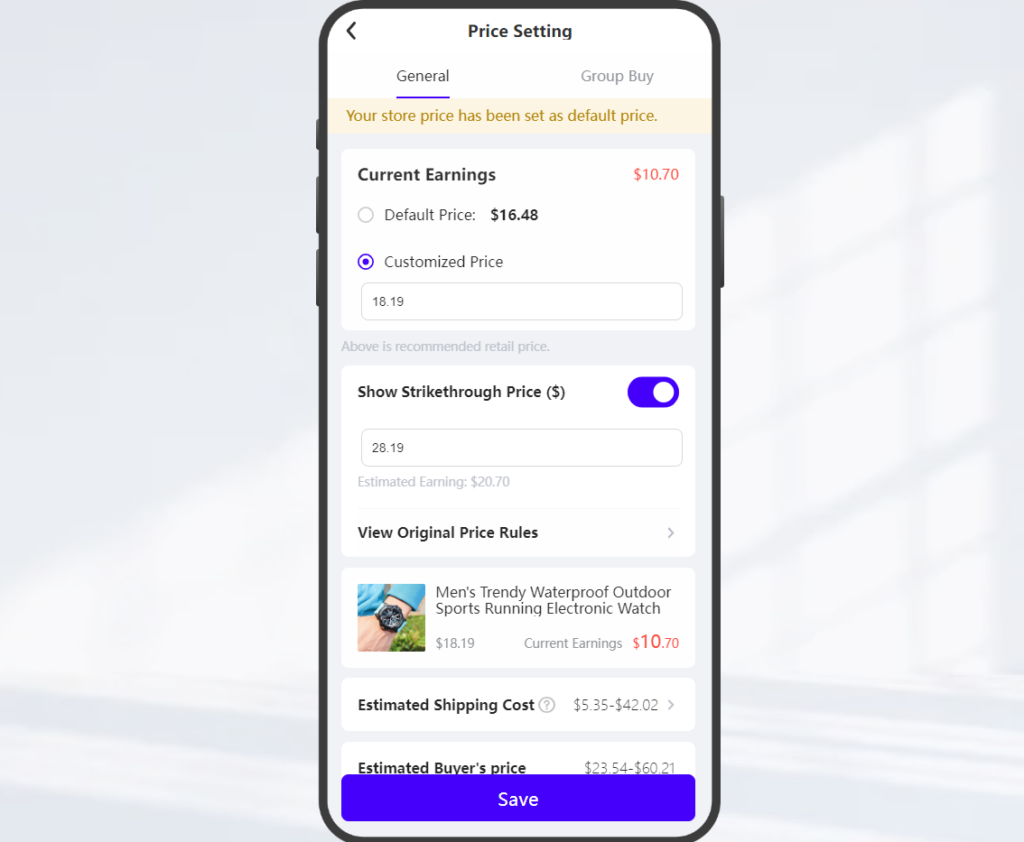 Use social media platforms to market your store
After you set up your WED2C product collection and online store, you can use various methods to market your store. Nowadays, there are no standard marketing methods for eCommerce, you can use any way you prefer to introduce your customers to the customers.
In recent years, the most popular and profitable marketing method is to use short video posts on platforms such as TikTok or Youtube to attract people to visit your site.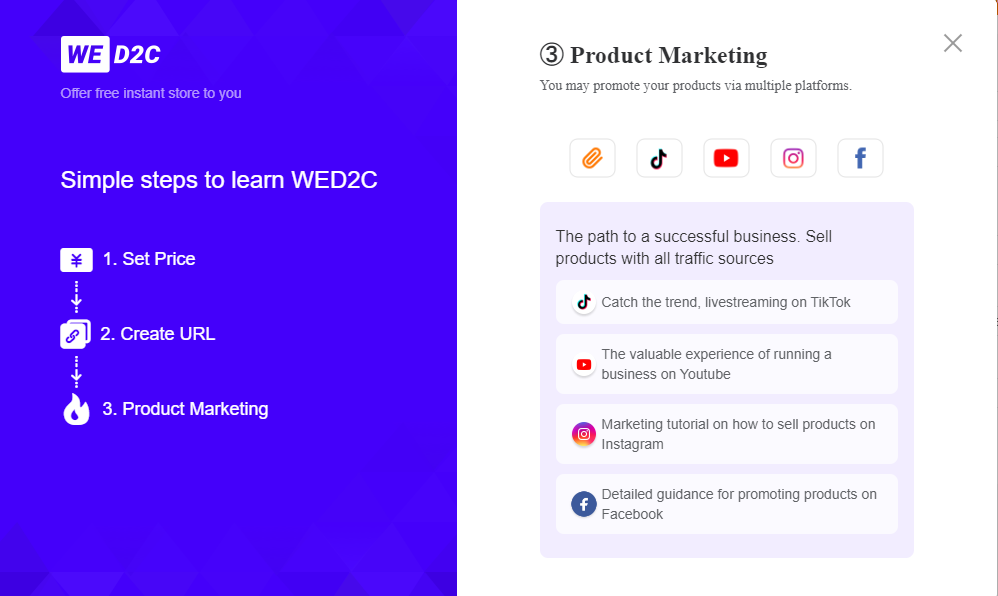 So if you wish to become a successful dropshippers, you may also need to become an influencer or even invite some celebrities to advertise your products. By posting some interesting or surprising content related to the products on popular social media, your store will gradually get more and more visitors and customers.
For example, there are many successful dropshippers are now using TikTok as their marketing front page. In their TikTok account, they continuously post funny or intriguing videos to attract visitors. If visitors are interested in these products, they can click the referral WED2C link to check out the products.
There might be only a few customers visiting the store in beginning. But with more and more good content related to the product appearing on social media, eventually, your store will get more and more customers.
However, if you are not interested in influencer marketing, you can also use other common marketing methods. For example, WED2C completely supports marketing on classic social media such as Facebook and Twitter, so you can also use Facebook ads or Instagram posts to do marketing for your WED2C store.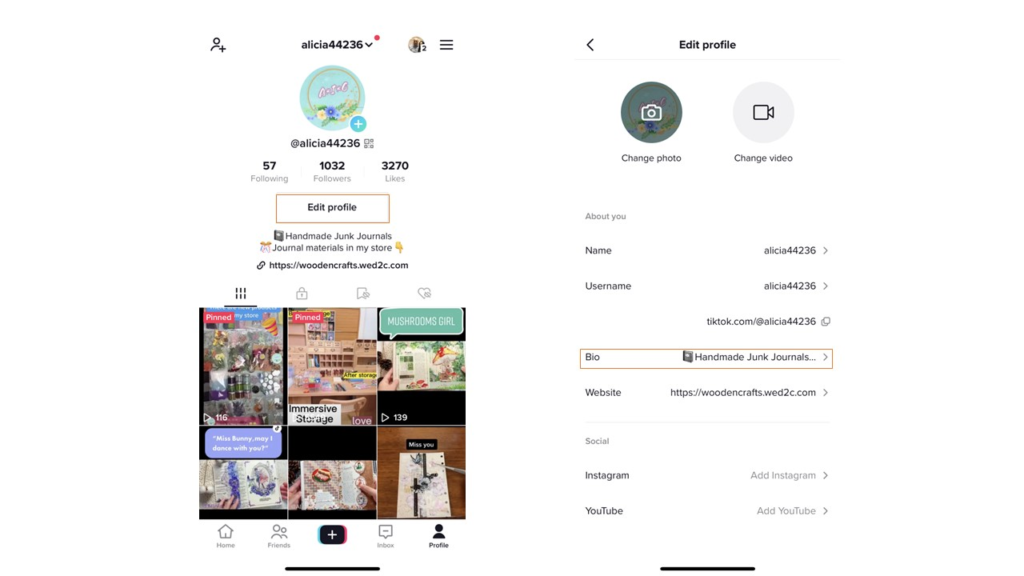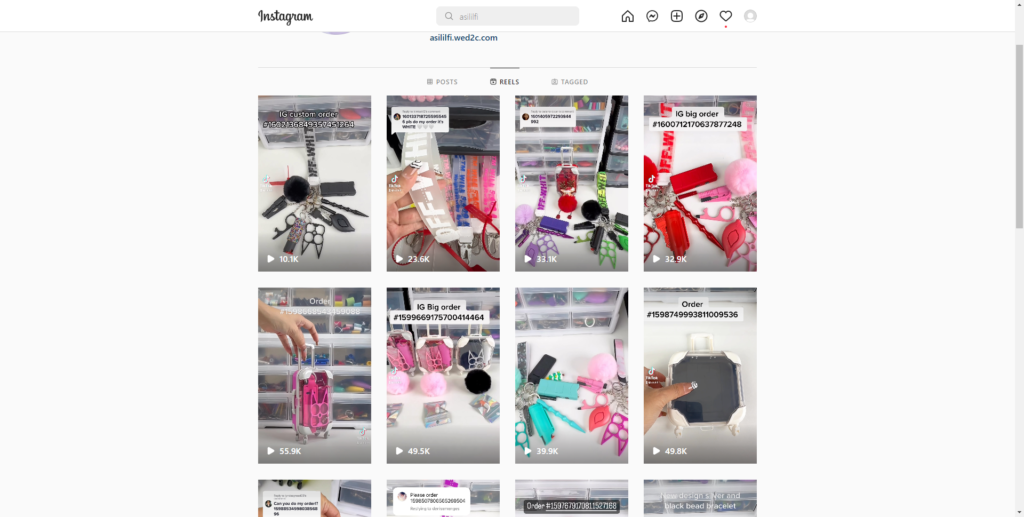 Conclusion
To wrap it up, WED2C is a good dropshipping platform designed for eCommerce entrepreneurs. It offers a one-stop solution for most common problems in dropshipping industry and it provides a simple method for anyone who wants to start a business in a convenient way.
If you have just started your dropshipping journey as a beginner, WED2C surely is one of the best options to practice your business plans.