Self defense keychains have become one of the trending niches in recent years. Seeing many dropshippers become successful and rich by selling this niche, there are also many entrepreneurs who also want to try it out.
However, since more and more people are joining the eCommerce industry, earning profit through a simple dropshipping business seems harder than ever before.
Therefore, to lower the shipping costs and get a greater business scale, a lot of our clients are now wondering if they can sell self defense keychains with a wholesale model. In order to help dropshippers who have similar questions, this article will provide a comprehensive guide to this topic.
So, is buying wholesale self defense keychains and then selling them out really a good choice for your business? Let's find out!
Market Trend of Self Defense Keychains
First of all, if you want to succeed in selling your products or services, it is crucial to understand the market trends. For merchants selling online, we can understand the trend by specific keywords relevant to the products they want to sell.
Now let's check how self defense keychains perform in the global market.
Google Searches
Firstly, you can check Google Trends to check the market trend of the product. The records on Google Trends show the searches of self-defense keychains began increasing in 2020 and reached a peak in May 2021. This trend suggests that self defense keychain products have once become phenomenally popular on the market.
After the peak time, the popularity of self defense keychains decreased significantly but it has already attracted consumers and formed a stable market. So at the beginning of 2023, there are still many buyers searching for this product.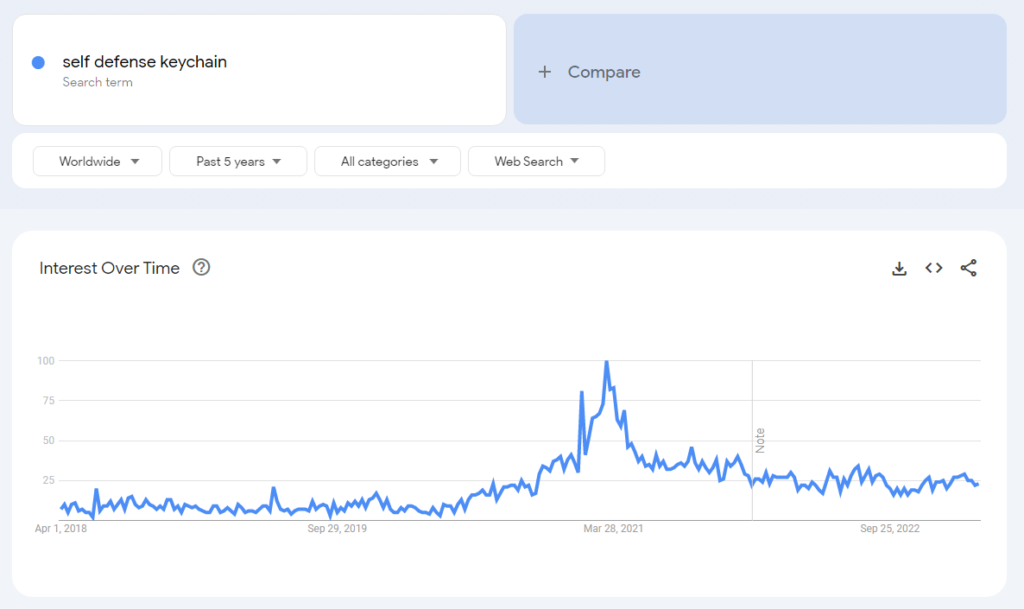 TikTok Views
Next, we can also check how the videos related to self defense keychains perform on TiTok.
For example, you can go to TikTok and search the term self defense keychains. Then you will find some videos about the same product that have received millions of views.
Under these videos, comments show there are many people who are interested in buying a set of self defense keychains. Besides, many of the videos were just posted recently in 2023. So it is no doubt that this niche has attracted countless TikTok users and it is still trending on the market.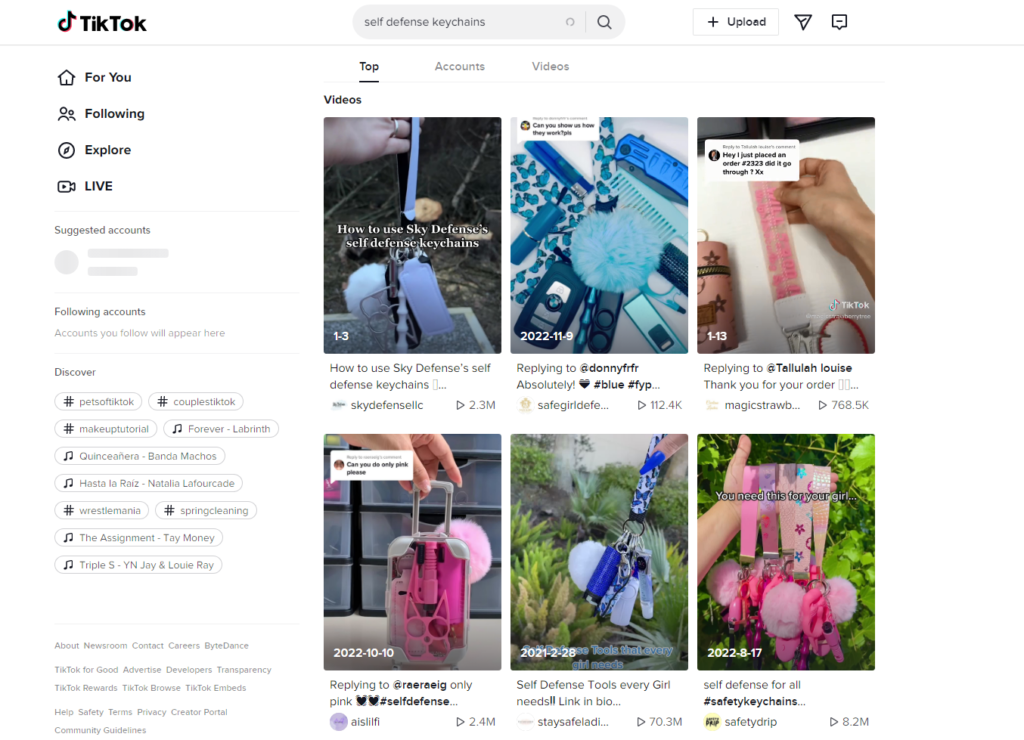 Customer Reviews
Customer reviews on various shopping platforms can also show the products perform on the market. If the product you want to sell is receiving negative reviews most of the time or almost does not have reviews, then you may need to reconsider your choice.
Let's take the reviews of a popular self defense keychain set as on AliExpress an example. By checking the reviews rates and comments left by customers, you can see that most customers are satisfied with the quality of the product.
If you check some more items, you will notice that most self defense keychains do not have negative reviews about poor quality. Instead, many customers have complained about the long shipping time for receiving this product.
These details show that most manufacturers in this niche are stable and the defect rates are low. Thus, we can tell selling self defense keychains is a good choice for most dropshipping stores. And if you are going to sell this niche, just make sure to cooperate with a reliable shipping partner to get fast shipping for your store.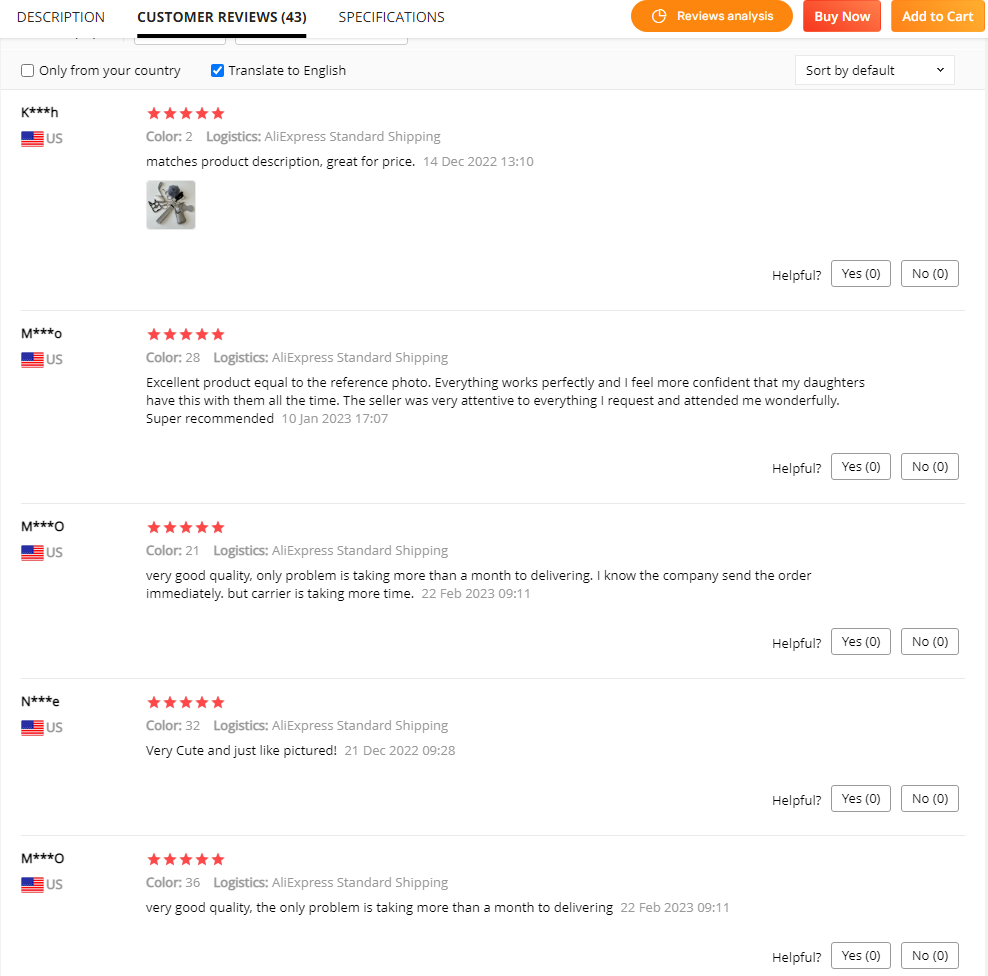 Where to Find Self Defense Keychain Suppliers?
There are several online dropshipping or wholesale platforms where you can find good self defense keychain suppliers.
For example, CJdropshipping is a reliable dropshipping platform that you can use to find various suppliers. If you are looking for suppliers who provide a wide collection of self defense keychains with different styles, CJdropshipping surely is one of the best options.
Besides, CJdropshipping is also a shipping platform that offers order fulfillment services. You can use it to set up fast shipping methods for your online store to improve your customers' shopping experience.
Of course, you can also choose some other well-renowned supplier platforms such as AliExpress and Alibaba to search for good manufacturers.
However, most of these supplier platforms are only specialized in providing supply chains. So most of the time they can't give fast shipping options as CJdropshipping does.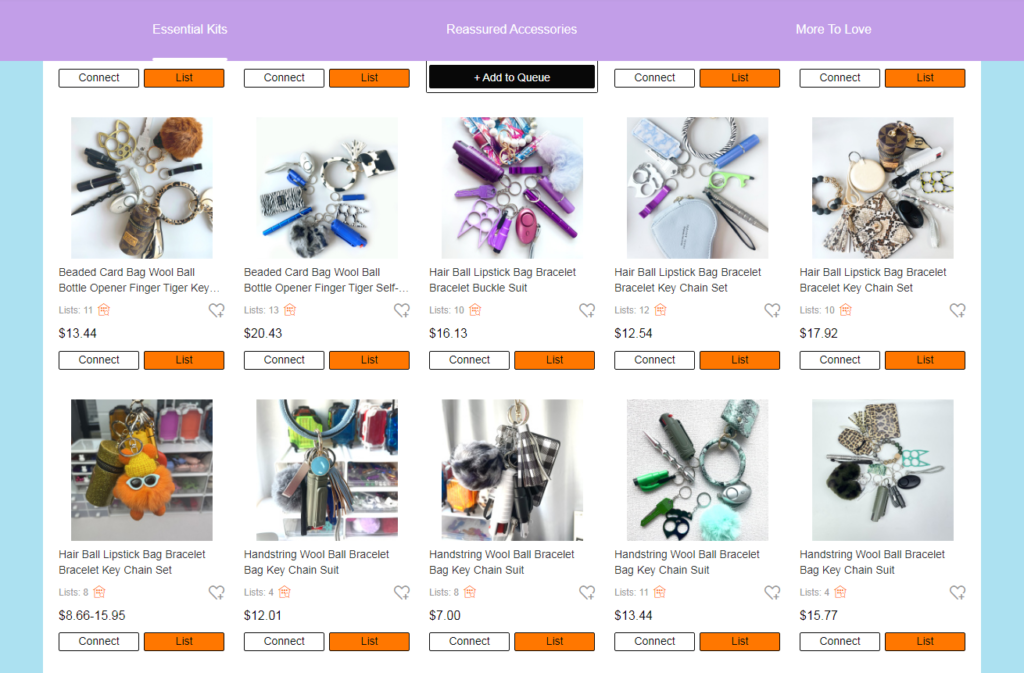 Buying Wholesale Self Defense Keychains
On CJdropshipping, you can choose to buy sets of self defense keychains or to buy individual accessories in bulk. For the stock you bought, you can either choose to store them in CJ warehouses or ship them to your own address.
Furthermore, CJdropshipping suppliers offer products with differential pricing. So no matter how big your business scale is, you can enjoy the special wholesale prices as long as the items you ordered reach the MOQ range.
Besides, self defense keychain suppliers on CJdropshipping also accept customization requests. This means you can ask the suppliers to print your store logos or apply your unique design to the products. So if you want to purchase the products in bulk, just feel free to contact the suppliers.
In addition, remember when it comes to wholesale business, the price of products is often negotiable. So if you think the price of a specific product is not the best, you may always contact the CJdropshipping suppliers to negotiate.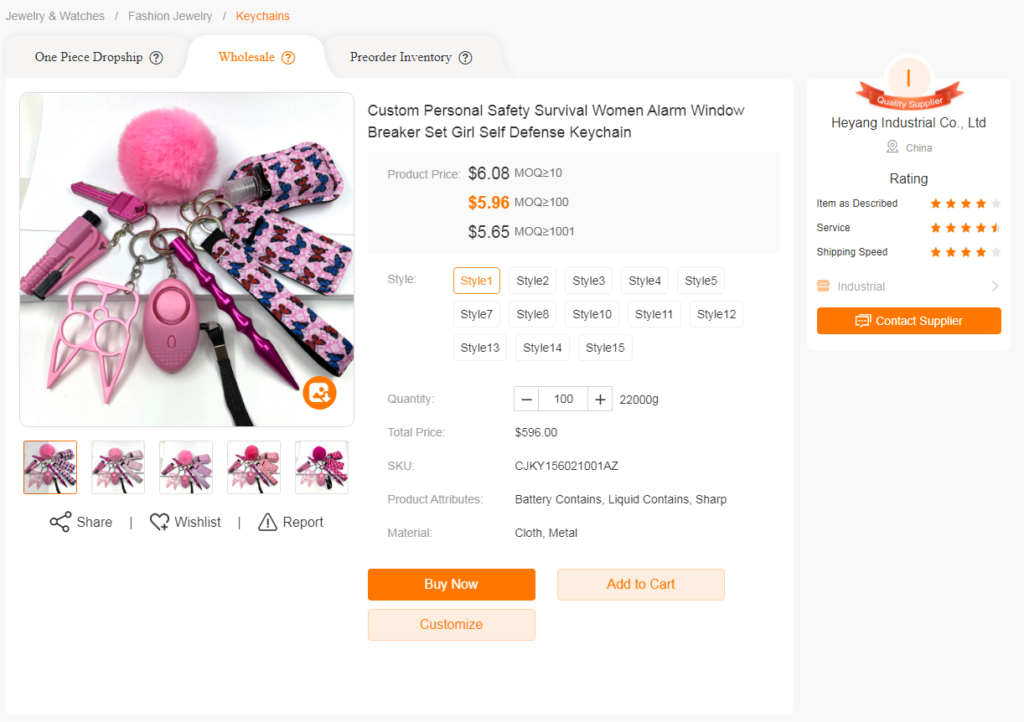 Dropshipping Self Defense Keychains
If you are not interested in wholesale or just want to begin with a simple dropshipping business, you can also use CJdropshipping as your supplier platform.
For example, a personal self defense keychain kit is priced at $6.27 on CJ Dropshipping. Let's say you want to ship a set of self defense keychains to a US customer, then you can use CJPacket Sensitive Pro as the shipping method.
By now, the shipment is priced at $7.39 with a $1.01 service fee. Therefore, dropshipping a self defense keychain kit will cost you $14.67 in total.
Besides, the shipping time of CJPacket Sensitive is 10-20 days. If we add the processing time to the consideration, then it may take 11-23 days for the customer to receive the order.
Therefore, CJPacket Sensitive is not bad for most dropshipping stores. But if you want to provide a faster shipping method for your customer, then you can choose CJPacket Fast US. By adding a $3 to $4 shipping fee, this shipping method can deliver your products to customers within one week!
Total Dropshipping Cost: $14.67
Processing time: 1-3 days
Shipping time: 10-20 days
Shipping method: CJPacket Sensitive Pro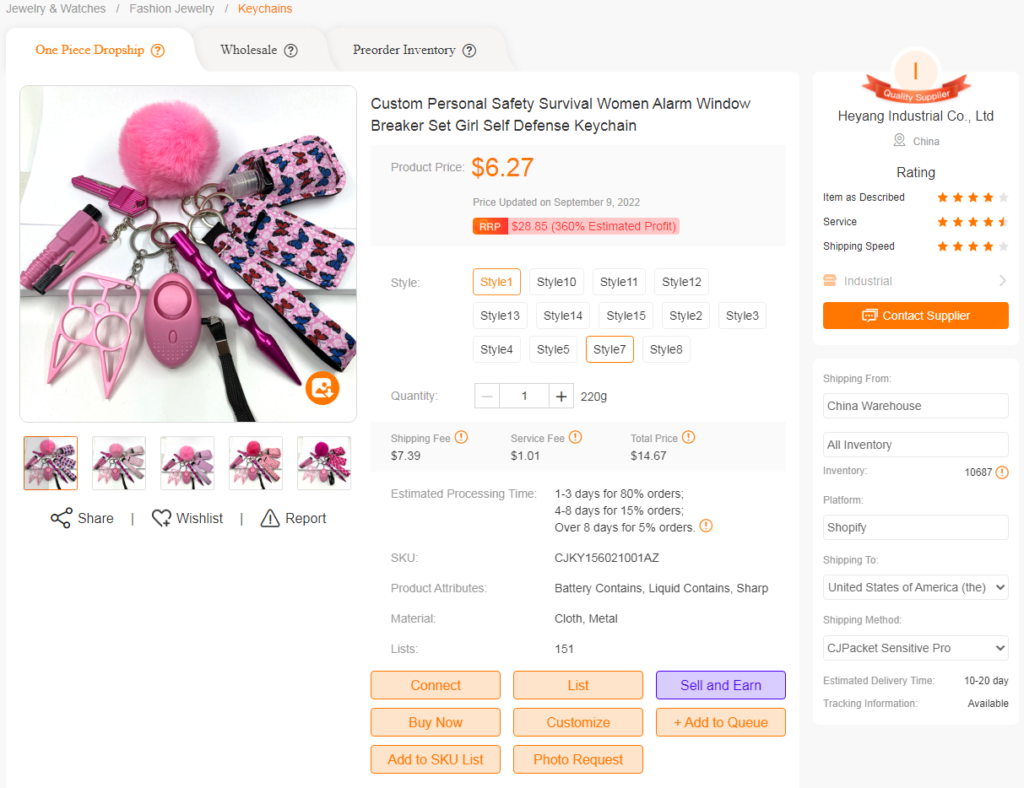 How to Sell Self Defense Keychains?
So now you know self defense keychains are still trending on the market. And there are also some good platforms you can use to find reliable suppliers.
But the question is what is the best way to sell self defense keychains? How can we market these products? To answer these questions let's learn some basic tips about how to sell self defense keychains.
Set Up Your Online Store Store
Setting up an online store is an essential step in selling self-defense keychains. It allows you to reach a wider audience and sell your products around the clock.
When setting up your online store, make sure to choose a user-friendly platform that makes it easy for customers to browse and purchase. For example, Shopify is a great online store platform preferred by many merchants for its convenient store management system.
Besides, if you want some reference ideas, just search the term "self defense keychain" on Google. Then you will find there are already dozens of stores selling the same product with profitable prices.
Also, ensure that your website is optimized for mobile devices, as many customers prefer to shop on their smartphones.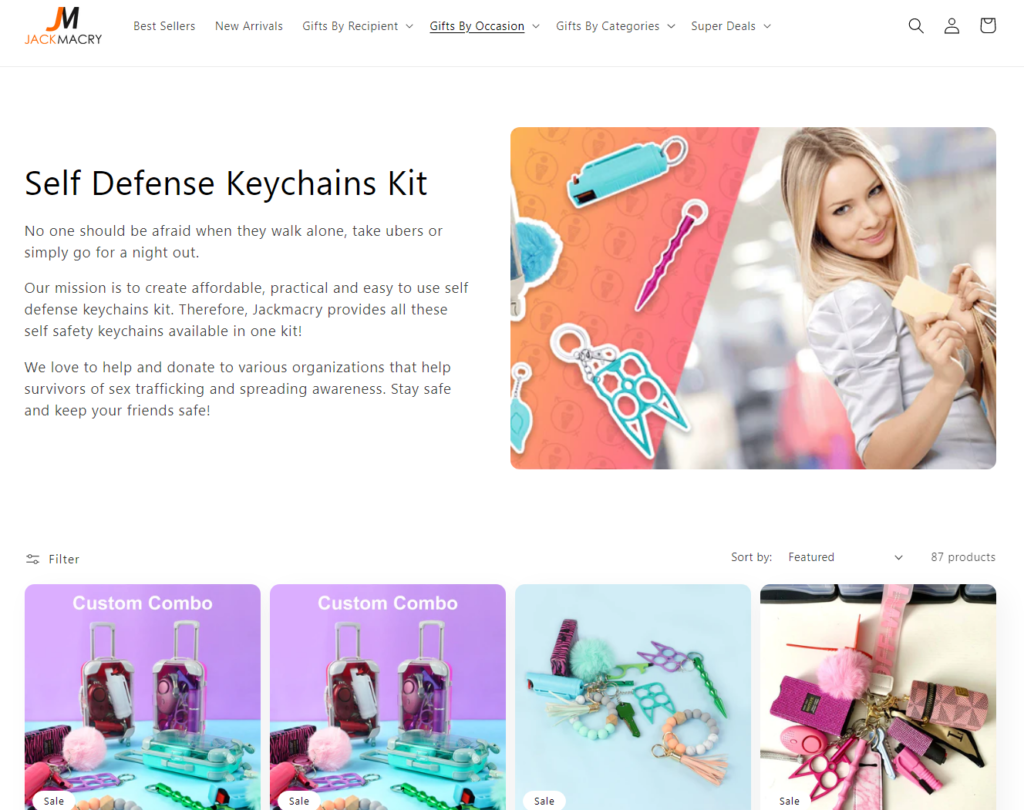 Set the Price Reasonably
Coming up with a reasonable price that can make a profit and satisfy the customers is not easy. When it comes to pricing your self-defense keychains, it's important to strike a balance.
Besides, you should consider the cost of production, shipping, and other overhead expenses. If you do not know which price range is the best, set up the price as 2 or 3 times the total dropshipping cost is always good.
Also, research the prices of similar products in the market to ensure that your price is competitive. Offering discounts and promotions can also be an effective way to attract customers and increase sales.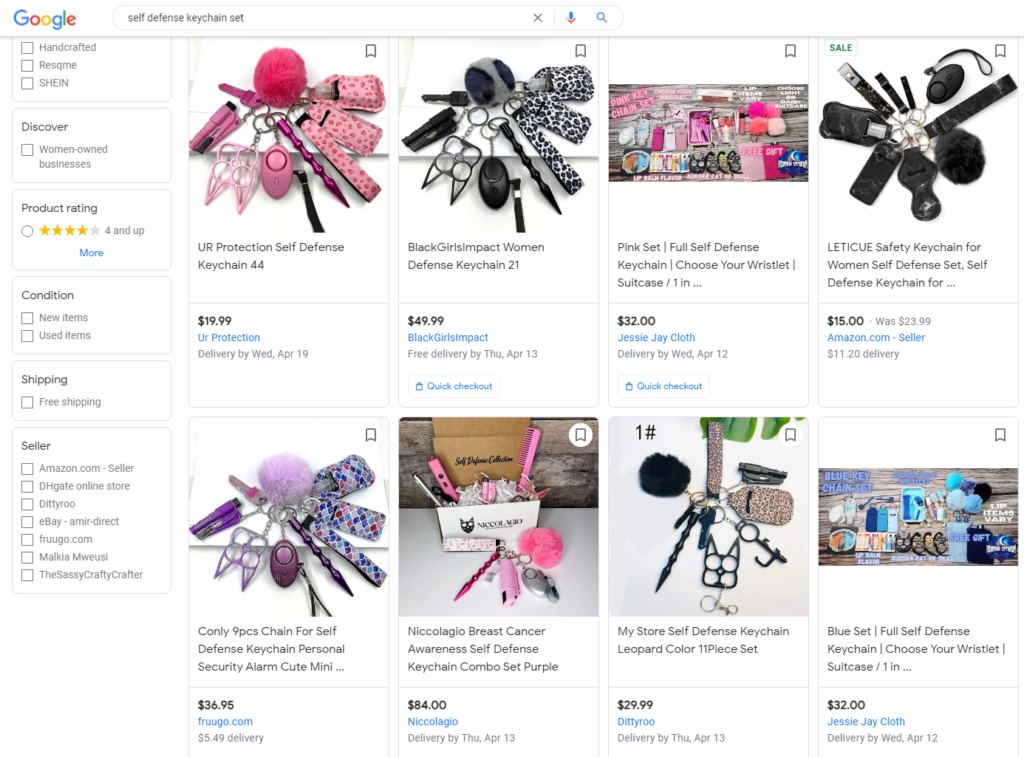 Use Social Platforms to Market Your Product
Not every customer likes to search for the products they want on Google, especially nowadays a lot of young people just view and buy things through social media links.
You can use platforms such as TikTok, Instagram, and Facebook to reach a wider audience and promote your products. On these platforms, you can show how your products look and function through interesting images and videos.
If you want to know what kind of content is best for your self defense keychain business, just search the key term on these social media to learn from the post with the most likes.
Lastly, remember always to engage with your followers, and respond to their comments and questions. In this way, you can build your own community with loyal returning customers.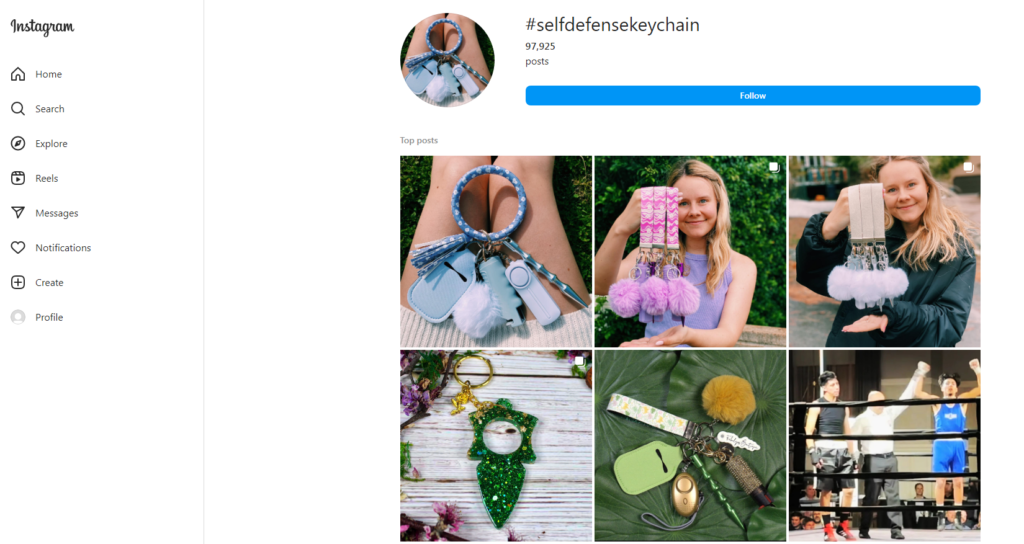 Conclusion
In conclusion, self defense keychains have been a trending niche in recent years. With a stable market and a large number of potential buyers, selling self defense keychains can be a good choice for most dropshipping stores.
Also, buying wholesale from reliable suppliers can help lower costs and improve business scale. If you want to find a reliable business partner, CJdropshipping is a great platform to source self defense keychain suppliers. It offers options for both buying wholesale and dropshipping.
With the right supplier and shipping method, you can also build a great store for selling self defense keychains!