This article will summarize how dropshipppers use CJdropshipping to improve their dropshipping experiences and scale their businesses. Please follow the article to start.
How CJ works/The workflow of CJ
CJ Dropshipping is one of the best dropshipping suppliers and solutions for dropshippers. It can be considered as a combination of Oberlo and AliExpress. You can connect your WeD2C, Shopify, WooCommerce, eBay, Lazada, Shopee store, and use CJ automatically order processing system.
It is also a comprehensive platform to help every dropshippers from start to success, including product sourcing, warehousing, order processing, and shipping, literally every aspect involved.
To make it more clear, we create a simple flowchart to cover the main steps: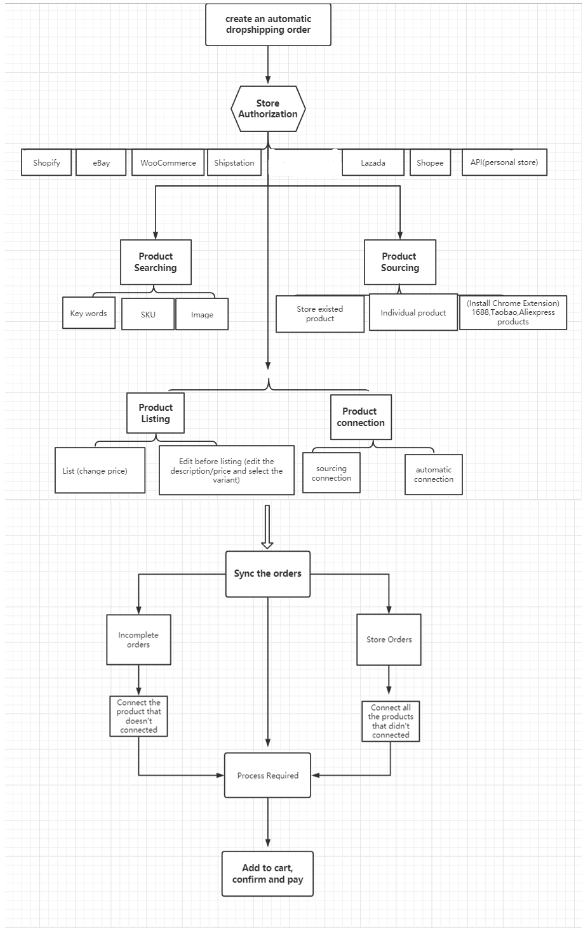 Read More: The overview of CJ
Get started
Authorization
The advantages of authorizing your online stores to CJ
Easily post sourcing requests regarding the existing items in your store;
Connect the items in your store to your sourcing results on CJ;
Automatically synchronize your orders to CJ for processing.
Steps for store authorization
Log in to your CJ account, find the "My CJ" on the navigation bar and click it.
Then find and click "Authorization".
Choose the platform you want to connect with CJ.
Sourcing
What is a sourcing request?
If you couldn't find the goods you want through the CJ searching engine, you can post a sourcing list. Sourcing offers a solution when you do not find your preferred products on the CJ platform. After you post a sourcing request, we will try to add the product to the platform. Then you can list it in your store for sale.
Steps to post a sourcing request to CJ
Click Sourcing on the home page;
Click "Post Sourcing Request" on the top right corner;
Store Existing Products/Individual Products;
Enter the necessary information > Submit;
Check the request.
Note: CJ has a new feature of sourcing by image
Read More: How to Search or Source a Product by Image on CJ?
Listing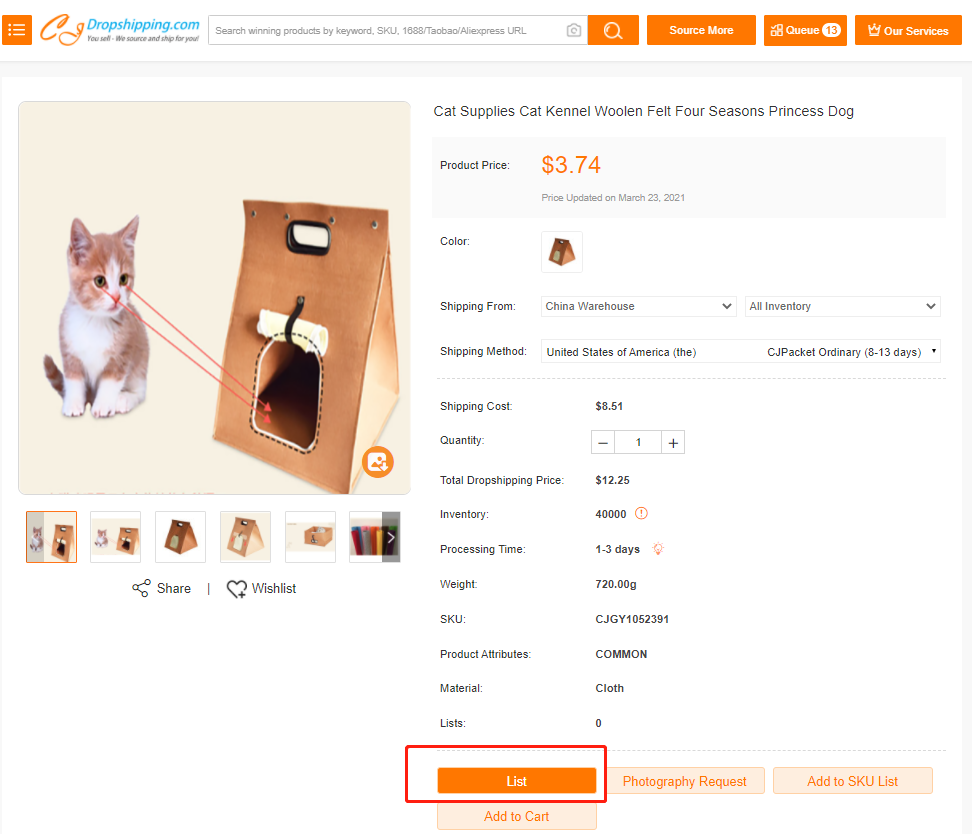 Steps to list CJ products in your stores
Find products on the CJ platform;
Click the product to enter the product page;
List the product to your store;
Enter the required information > List It Now;
Edit Before Listing > Enter the information in every section > List It Now;
Check Connection and Listed in your store.

Note: If you fail to list the products from CJ, please click here to know more:
How to List CJ Products to Your Store?
Connection
CJ production connection
CJ Product connection allows data to flow from CJ to your store so that your products are published with the description and other essential information. And you can easily skip the step of revising the product listed in your store.
Steps to connect your products with CJ
Products > Connection > Add Automatic Connection;
Sync the store > Search the products in your store > Click Search image/Match/enter SKU directly > Pin the product when the product shows up > Click Connect;
Select the variants and connect;
Products > Connection to check the connection.
Note: Please ensure the connection is correct, or they can affect your later orders as customers get the wrong goods.
More to view for Bundle Production Connection
Steps to sync inventory
Here are 2 methods to sync the inventory:
Go to My CJ > Authorization, and enable "Inventory Sync;"
Go to My CJ > Products > Connection, and enable "CJ Fulfillment."
Steps to manage your inventory
List and find the product in your store;
On CJ, click "View it on the store" when you list it successfully;
On Shopify, click "All Product" to find the product;
Select the variants to edit;
Go to Inventory > Inventory Managed by > choose "CJdropshipping;"
Click "Save" to complete it.
Account Management
Email verification
For security reasons, your email address needs to be verified. After registration, you will receive a verification link, in which you can click the "Activate Email" button to verify your email address. Or you can choose to provide a 6-digit verification code that will be sent to your email box.
The function points rewards
When placing orders on CJdropshipping, you can get a certain amount of points proportional to your sales amount. For example, if your sales amount is 1000 dollars, you can get 100 points which will show in your CJ dashboard. You can use them to exchange certain services that you can use when coming to or planning to travel to China.
Read More: What Are Points Rewards? How to Use Them?
Costs
Free of charge
Charges
Support
If you have any questions or suggestions, you can contact us in two ways, submitting a ticket or entering the chat room. Generally, you can contact your agent for anything. Go to your profile page and find your agent's contact button or enter the chatroom from CJ's website.
Feature
How to split overweight orders on CJ app?
Dropshipping Center > Imported Orders > click the split sign;
Edit the number/Click "+" or "-" to change the quantity and weight.
How to combine orders on CJ for the same receiver?
Select the orders you want to combine;
Check order information carefully;
Check it in Imported Orders.
Read More: Combine Orders on CJ
Global Source
Global warehouses
There are 29 Warehouses in China, Thailand, US, Germany, Indonesia, Australia, Japan, Canada, Mexico, India, Brazil, Russia, Britain, Singapore, Malaysia, France, Czechia, Uganda, Romania, Pakistan, Vietnam, Philippines, Laos, Cambodia, Saudi Arabia, UAE, Spain, Italy, Chile, and New Zealand.
Products in CJ supplier warehouse are free-shipping and delivered in one week. They are packed with local shipping labels, which can avoid related label issues. Besides, you can choose high-value products and oversized products, too.
Read More: CJ Warehouses Home and Abroad
Order fulfillment
How to sync store orders?
Orders will be automatically synced to CJ if you have authorized your store to CJ and connected your products with CJ's. However, the synced orders may fail to appear on the CJ platform. Then you need to sync the orders manually. Here are two ways:
Sync from all stores.
Click Sync Store Ordes > choose all stores > Sync now.
Check orders on the Orders or Invalid Orders respectively.
Read More: How to Proceed When Shopify Orders Syncing Failed?
How to deal with invalid orders?
Some failed syncing orders may turn into invalid orders. Wrong connections can be the cause, so you need to re-connect the products in your orders to process them. Here are the main steps:
Imported Orders > Invalid Orders > Click the icon under Action;
Search the product both in your store and on our platform;
Pin the product > Connect;
Update the order > Check it in Orders.
How to import orders through excel or CSV?
If you do not have a store or website connected with our platform, your orders still can be dealt with by importing Excel Template manually.
Log in to your CJ account > DropShipping Center > Imported Orders > Click the icon;
Click "Download" to download our template;
Open the Excel File at the bottom and enter the necessary order information;
Go back to My CJ > Import Orders > Upload the edited Excel.
Read More: How to Fix the Orders are Failed to Import to CJ?
Shipping and Delivery
Introduction of CJPacket:
Shipping methods can be critical in the dropshipping business, while delivery time & cost vary on product attributes, warehouses, destinations, and different shipping methods. CJPacket provides insurance for packages from China to most countries. CJ will make a refund or resend if the package is damaged or lost during the transition.
Read More: How to Find a Fast and Cheap Shipping Method?
Payment
Available payment methods:
Steps to pay orders
Imported Orders > Select the orders > Add to cart;
Click "Cart" or enter the Cart section > Select the orders > Submit;
Order Confirmation > Submit;
Select the payment method > Pay.
Steps to link your PayPal account to Payoneer:
Community Federal Bank Account.
Contact Online Agent on Payoneer.
Link the Account to PayPal.
Steps to generate an invoice
Click "Wallet-Billing History";
Select the period you need;
Click "Generate Invoices".
Tracking Orders
Steps to view your orders' status
For a better understanding of how CJ processes your orders, we added a feature for you to check the status of each order. With that feature, you can clearly know if we have prepared and stocked the products, or if we have shipped them out.
Choose the order;
Click the "Order Logs" icon for the status;
Check "Inventory Status."
Read More: Order Logs Available! Get All Your Orders' Status in Hand
Different Order Status in Dropshipping Orders
| | |
| --- | --- |
| 1. Awaiting payment | Unpaid orders will be listed in Awaiting Payment where you can find and pay for them whenever you're ready. |
| 2. Pending | Paid orders will be listed in Pending before the tracking numbers are generated within the next 24 hours. |
| 3. Processing | Orders will be listed in Processing while your parcels are being prepared for pickup. |
| 4. Dispatched | Orders will be listed in Dispatched once they have been dispatched and departed from the warehouse. |
| 5. Completed | Orders will be listed in Completed once they have been delivered. |
| 6. Closed | Orders will be listed in Closed 7 days after delivery. |
How to add an order tracking feature to your store?
Authorize the Shopify store in the App;
Add Items in Main/Footer Menu;
Check from Your Storefront.
Read More:
Why is My Tracking Number Not Synced to Shopify?
Sync Tracking Numbers Before or After Dispatch?
After-Sale Service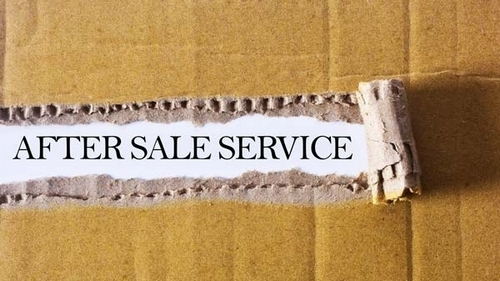 Refund, Resend, and Returns Policy
CJ will provide a Refund, Resend, or accept Returns for any of the following cases:
Order delayed
Orders not received
Products damaged
Incorrect or missing products
Orders cancellation
Important Interpretation
Deadline of Opening Dispute.
Force Majeure.
Shipping Method Limits.
Destination Limits.
Return.
Service Products.
Unacceptable Disputes.
How to get a quick dispute solution?
Provide photos or videos of the damaged item to prove the damage is made during shipping.
Or screenshot of the e-mail or dispute received including name, date, and content.
The products need to be returned to CJ if our Dispute Team asks for a return on the AS Service Center.
Read More: Refund, Resend, and Returns Policy
How to open or close a dispute on CJ?
How to return dropshipping orders?
In case your customers are not satisfied with the products received and want to return them, please contact agent first for the products can be returned to the China warehouse only. Here are the main steps:
Go to My CJ > Dropshipping Center > AS Service Center > Return;
Setting > Fill in a store link and a store image;
Send the return link to your customer;
Order Number and Email are necessary.
Read More: How to Return Dropshipping Orders to CJ?
Value-added services
Print on Demond
Print-on-demand (POD) allows businesses to order print materials on an as-needed basis in a piecemeal fashion. It is a process in which you work with a supplier to customize white-label products with your own designs to sell them on a per-order basis under your own brand.
The Advantages of POD
Easy Set-Up: You don't need to hire the best web designers to get your print-on-demand business up and running.
Low Startup Cost: With traditional businesses, you must have a good stock of cash to purchase inventory and get your store up and running.
No Inventory Management: Your supplier handles pretty much everything from order printing, packaging, and shipping which means you don't need to handle any amount of inventory.
Ability to Customize: One of the biggest advantages of print-on-demand is that it gives you a chance to create and sell unique designs.
Scale & Test with No Risks: With print-on-demand, you aren't directly involved in printing or production so there's no major monetary investment from your side.
Read More:
How to Dropship POD Products: Bring Value to the Customer
Why You Should Choose POD Products over Normal Ones
Fulfillment Services
How do CJ fulfillment services work?
Sevice product is a kind of CJ fulfillment service that allows you to ship your own products to our warehouse in Germany, Thailand, the US, Indonesia, and China. Then, we will pack them and ship them to you. When you receive orders, you can directly place them to CJ and we will ship them from our warehouse while we only charge some service fees—processing fees.
Read More: How to Use CJ Fulfillment Service?
How to Get a Fulfillment or Dropshipping Agreement?
To ensure the legitimacy and transparency of dropshipping business, e-commerce platforms including eBay, Amazon, Shopify, Lazada, and Shopee require dropshippers to upload Dropshipping Agreement or Fulfillment Agreement before starting a business. We provide Agreement formats for download.
Quality Inspection Service
All products shipped from CJ will experience a quality inspection in our warehouse before shipment. We offer two charge plans. One is ordinary Products: Basic items, including clothes, jewelry, shoes, bags, etc. Another is sensitive Products: Items with special attributes, like consumer electronics, batteries, magnetic items, etc.
Private Inventory
Steps to use private inventory
The deduction of private inventory is really simple and smart. You can choose to deduct your inventory when you check your orders on the order confirmation page. The main steps are as follows:
Add Orders to Cart and Submit them.
Set Inventory Deduction.
Pay for Orders.
Read More:
How to Purchase or Bulk Purchase Inventory on CJ?
Questions about the warehouse:
Why you need a warehouse?
1. Shorten order processing time and delivery.2. Continuous ads on vacations. 3. Fulfill the needs of some country-sensitive customers.
What's the policy to use CJ US warehouses?
1. The quantity of one SKU is no less than 10pcs for a variant and no less than 100pcs for a total.2. The goods cannot be oversize.3. Customers place the USA inventory orders and pay only for products.
How much does CJ charge using CJ US warehouses?
1. If your products are sourced from CJ, it's totally free to use the CJ warehouse.2. CJ will charge service fees such as processing fees and storage fees.
What's the procedure to buy the private inventory in US warehouses?
1. You only pay for the products. After receiving your purchase request, CJ will prepare products and ship them to CJ US warehouses by DHL.2. You can start to run your ads advertising with domestic shipping service and promising 2-4 delivery.
Custom packaging
What is Custom packaging?
Custom packaging is boxing that is specifically tailored to your company and the product your company is making and shipping. It aims to fit the product perfectly and is designed to protect the product better than standard and generic packaging. Plus, it renders your band impressive.
Benefits of custom packaging
Increased brand value. The packaging of a product increase brand awareness, and value, and simply makes the customer experience better than standard packaging.
Better customer experience. Beautifully created and designed packaging stands out to customers and makes them feel happy and special.
Better product protection. If you have a product that is a unique shape or more prone to breaking, custom packaging is a great option for better shipping protection.
CJ Custom Packaging
CJ offers everything you need to create your own brands. And in order to help dropshippers build the brand and give consumers a better experience, CJ updated the custom packaging system. Through the new version, you can get more options and a better experience.
Read More: How to Use CJ Custom Packaging 2.0
Video & Photo Shooting
Basically, we offer shooting services for three kinds of products: CJ products, your store's products, and individual products. The following are the introductions for how to post a photography request for each type of product.
Read More: How to Use Video/Photo Shooting Service?