If you are planning on using Amazon to make some passive income or expand your eCommerce businesses, and want to see which fulfillment model is right then this article is for you – here we are talking about selling on Amazon in 2022, comparing two popular fulfillment options: Amazon FBA and Amazon Dropshipping.
Selling on Amazon in 2022
Benefits selling on Amazon 2022
When it comes to selling on Amazon, one of the most significant benefits is how massive the global market Amazon itself could be – up to now, there are 310 million global active users on Amazon, and more than 197 million people use Amazon every month.
The US is the largest marketplace, with more than 4,000 items sold every minute.
On top of that, as the largest online retailer in the world, Amazon got a very developed online selling process & infrastructure set up, making everything easier for sellers to start and that's the second benefit that many people opt to choose Amazon to start their businesses.
Drawbacks selling on Amazon 2022
However, along with the non-stopping expansion of Amazon, the competition is getting fiercer now, and that's true – according to the data from business insider, there are over 3700 sellers joining the game every day last year, and the number is going up in 2022.

Aside from that, affected by pandemic and inflation, the cost of selling on Amazon continues to go up, 5% fuel and inflation surcharge has been added to all Amazon FBA fees since April 28, 2022, leaving more pressure on the profit margin.
Is Amazon still profitable or not in 2022? (especially for small businesses)
In terms of the research data, the answer is still, yes. There are nearly 2 million third-party small and medium-sized businesses on Amazon by 2022, and, 76% of smb sellers are profitable.
Speaking of sales earning, 22% sell over $10,000 monthly on average, and about one-third of amazon sellers earn profit margins above 20%, and 65% of sellers got their profit margins higher than 10% in 2022.
Source from jungle scout
Keys to success on Amazon in 2022
First and foremost, it may sound pretty basic, but it's the principle: let customers see enough value that you can bring them. And that's the incentive the customers need before they are thinking about purchasing something.
To be more specific, there are many doable strategies like creating add-on offers along with your product, it may be some gadgets or digital content, or services which really depends on what are you selling, to make buyers feel they got everything ready without paying twice;
Or you can leverage bad product reviews, to see what customers are complaining about and what's their pain point, and then optimize your product and better make your stand-out points obvious on the detail page.
The second thing is that you want to figure out what kind of sellers Amazon prefers, and take advantage of their incentives to optimize your listing. Making sure to maximize the support from the platform is an important way to help your businesses go further and safer.
What's more, you want to choose a selling model that is suitable for your business to avoid unnecessary costs. To be competitive, there are so many processes you may want to improve, lower product price, better supplier, shipping, warranty, etc.
But it's hard for especially smb owners to take care of everything. At first, we can choose the fulfillment option that's right for your business.

Amazon FBA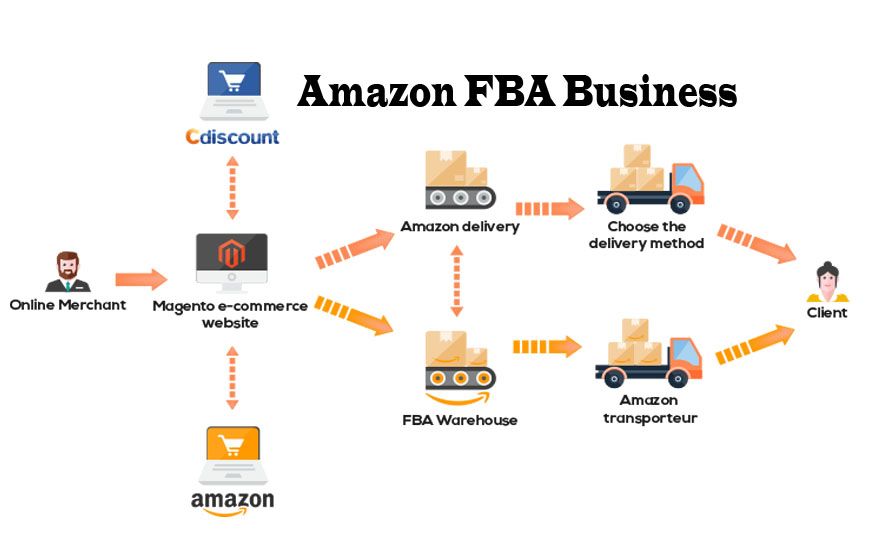 Fulfillment by Amazon is a done-for-you fulfillment service offered by Amazon. The service includes the complete pick-pack-ship deal – from storing products in the warehouse to packing, labeling, and shipping them off to the customer.
Even the customer support operations are handled by Amazon as well.
All you have to do is send your items to Amazon's fulfillment centers.
Pros of Amazon FBA
Highly hands-off while running your online business
Relatively lower shipping rates
No need to be tech-savvy nor conversion optimization from 0 to 1
More preference from customers by getting access to Amazon Prime
More growth opportunities and support from Amazon
So one of the best parts of Amazon FBA is that it's highly hands-off, you are leaving your inventory and shipping to a trusted one.
Amazon takes care of everything, even the customer services, so you are kind of free from these processes so you can focus on the marketing. You also tend to see lower shipping rates that benefit from amazon's great fulfillment scale.
What's more, you don't need to be tech-savvy or study conversion optimization from 0 to 1 to sell on amazon, your listings also got the chance to get access to Amazon Prime users, who are more likely to purchase on the platform.
Meanwhile, AMZ FBA sellers tend to have more growth opportunities. you can run paid advertising, create a brand identity through storefronts, content, etc. and get a boost in your traffic – it is believed that Amazon will boost your listing if you sell with FBA.
Cons of Amazon FBA
High upfront fee you need to pay Amazon first
More capital like preparing inventory and storage in order to start selling
Higher return rates and additional shipping
Hard to build customer relationships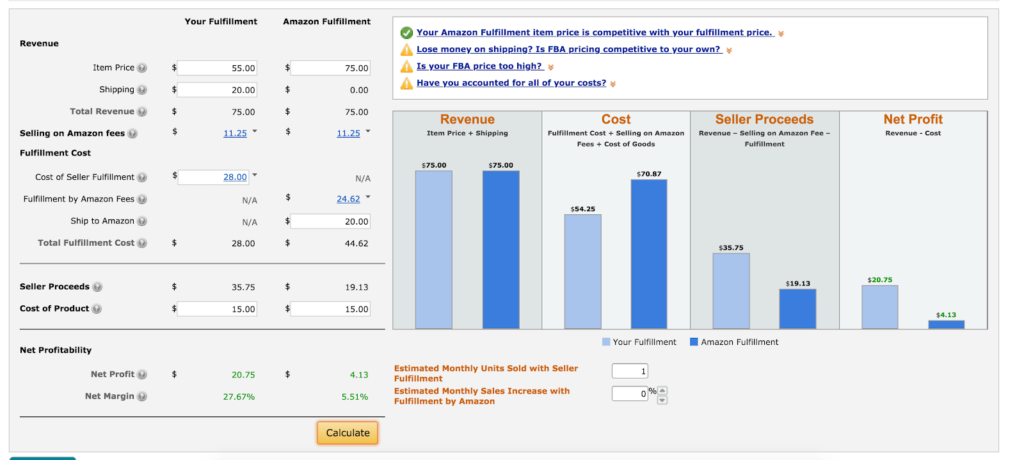 Speaking of which, the first obvious drawback of Amazon FBA could be, the high upfront fee you need to pay first, including order handling, pick & pack, shipping, and storage, and all of these may bring pressure on the profit margin.
Except for the fees from Amazon, sellers also need to purchase inventory and ship them to the Amazon warehouse in order to start selling.
Moreover, Amazon puts customer experience first, it's much easier for customers to return the products if they are not satisfied with them.
For sellers, the return rates could be higher, and you have no choice but to eat the cost. On Amazon, it is also hard for sellers to build deep relationships with customers since Amazon holds their information but not you.
Amazon Dropshipping
Dropshipping is another different type of fulfillment that focus on demand. Sellers only need to notify the supplier when they got orders, and the supplier then ships the product directly to the Amazon customer on your behalf.
If you are wondering if dropshipping is legit on Amazon, the answer is yes, Amazon allows dropshipping on their marketplace as long as you follow their rules.
Pros of Amazon Dropshipping
One of the easiest ways to start online selling with lower barriers
Lower risk and startup cost since there's no requirement on huge upfront fees
No need to purchase inventory
No need to find warehouse for storage
So when it comes to the pros of Amazon dropshipping, it may be one of the easiest ways to start online selling, the barrier of entry is relatively lower, and the risk of upfront cost is lower too since there's no requirement for huge start-up cost.
All you need to do is find a reliable supplier and they will fulfill the orders for you. You don't need to purchase inventory or, if you do, you can find suppliers who can even store the inventory for you with no additional cost.
In a nutshell, dropshipping is an easy-to-start model for beginners with little experience.
Cons of Amazon Dropshipping
Less control over order processing
Risk of running out of stock and poor customer reviews
Hard work on maintaining Amazon account safety
Easy sometimes comes along with risk as well, for sellers who choose dropshipping, a reliable supplier is vital. Since you are likely to have less control over the order processing, you even do not need to see or touch the product, the supplier does all these jobs.
Sometimes you can not get a real-time update when the stock is running out, but you don't know and the new order is coming in, which is a condition Amazon does not welcome, and it's hard to reduce the risk of poor customer reviews since you don't know how the quality control is made.
And all of these may become threats to the safety of your seller account, cuz you know Amazon got a quite strict seller policy.
Also, your profit margin may be unstable since you will be likely to drop the price in order to win the buy box at the same time Amazon takes part of your revenue and you have to be prepared for additional costs yourself, then you may find a thinner profit margin over there.
Which one is right for your business?
If you want to know about the conclusion first, ask yourself what's your goal of selling on Amazon? What kind of risk is acceptable for you?
If you plan a safer selling to grow steadily, Amazon FBA may be your choice, or if you are ready to take some risk to launch your business to test everything as soon as possible without upfront cost, then dropshipping on Amazon is a way to go.
In the end, there's one more thing to know the eCommerce industry continues moving forward even during a recession time, since people still need to purchase what they need and nowadays online shopping is shaping our daily life habits, there will only be more people shopping online.
Even though it doesn't mean selling on Amazon is easy like what it used to be years ago, new opportunities and ways of playing the game actually keep coming up, and there are always people who adapt it and leverage everything they got.